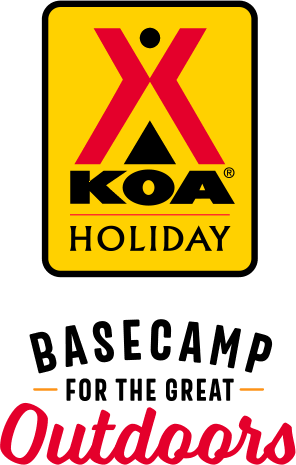 KOA Holiday Campgrounds
Whether you're exploring the local area or hanging out at the campground, KOA Holidays are an ideal place to relax and play. There's plenty to do, with amenities and services to make your stay memorable. Plus, you'll enjoy the outdoor experience with upgraded RV Sites with KOA Patio® and Deluxe Cabins with full baths for camping in comfort. Bring your family, bring your friends, or bring the whole group – there's plenty of ways to stay and explore.
KOA Holidays Feature:
RV Sites with a KOA Patio®
Deluxe Cabins with full baths
Premium Tent Sites
Group meeting facilities
Directions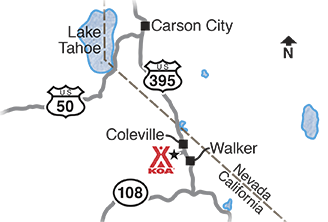 GPS: N38.551895, W119.5023
Directions from the North: On US Highway 395 south thru Coleville. Hwys 80, 50, 88, 89 across the Sierra to Highway 395, then south thru Coleville proceeding 1 mile, campground on the right (west side).
Directions from the South: On US Highway 395 north to 1 mile south of Coleville. Hwy 120 or 108 across the Sierra to Hwy 395 then north to Coleville.
Note: We are located outside of Coleville approximately 1 mile south of the Coleville High School & 3 miles north of Walker.
Get Google Directions
Dec 13, 2020
The spot had plenty of space. It was level. We were right next to the freeway, but it was quiet. The amenities were great. Nice clean bathrooms and laundry room. The staff was super friendly. Cute little store. Wish we were there for more than one night. It was a rest stop, but we could've stayed for two or three nights. Right by Topaz Lake. Great spot!
Nov 25, 2020
The owners are very helpful and make sure the park is kept to the highest standards. Great location! Will stay in this park every time we are in the area.
Nov 11, 2020
Tim and Scott are awesome and this place is clean, beautiful, and well run. We will definitely be back.
Nov 10, 2020
Amazing hosts, property is kept clean, great location. Loved this spot.
Nov 08, 2020
The facility is very clean and the room is very spacious and kitchen got the necessary utensils. Also, excellent customer service.
Nov 08, 2020
Very nice and clean with friendly staff.
Nov 08, 2020
Beautiful setting, immaculate facilities. We will definitely return!
Nov 04, 2020
Wonderful location, awesome scenery, great hosts, excellent facilities, very clean and well maintained.
Nov 03, 2020
The best KOA we've stayed at. Everything was exceptional. Extra clean. Extra maintained. Extra everything. Great sites. Fabulous staff. Extraordinary restrooms. Nice group sitting areas. Even the grill was clean. Two great dog play areas. Have no constructive suggestions. Thoroughly enjoyed our stay. Would def stay here again. �ϋ�
Oct 30, 2020
Very quiet, below freezing overnight, but NO snakes (contrary to warning sign on K9 Kamp).
Oct 30, 2020
The Coleville/Walker KOA is one of the very nicest, most beautifully located KOA facilities we have ever stayed in. The bathrooms were clean, spacious, and well appointed with wonderful showers. The grounds were well cared for, the RV spaces were ample in size, and the rock formations which are the backdrop to the park are absolutely magnificent. We would definitely stay here again.
Oct 27, 2020
It was a clean campsite and clean and heated restrooms. We have stayed in a lot of KOA'S and this has been one of the nicest. The people who run it were very nice.
Oct 27, 2020
Amazing place to stay! Staff was excellent, bathrooms/showers clean, park in great shape. Views were amazing! A great base camp to explore the eastern Sierras!
Oct 27, 2020
Super clean facility with a kind staff. Beautiful backdrop!
Oct 26, 2020
Absolutely wonderful! Nicest people to deal with. Even helped me out with my popcorn! Clean and spacious sites. Could not ask for more.
Oct 26, 2020
It had been a couple of years since we had stayed here last. The property is in wonderful condition! The pride of ownership is definitely evident. The staff was wonderful and they were on top of wiping down outside hand rails and doing extra cleaning I'm assuming adhering to Covid protocols. I noticed quite a few upgrades from marking of the sites, road boundary markers and additional lightin
Oct 25, 2020
The cleanest KOA we have stayed!
Oct 25, 2020
Stunning scenery at this area!Bathrooms are big and clean.Sites are gravel with trees and shrubbery.Sites are good size.Scott/Tim and Don were always very nice to us EVERYTIME we interacted with them!The store is well stocked,even with cute whirley gigs.WiFi was perfect the whole time.We liked space 701 because no trailers in front of you.Cable had like 7 channels.We will definitely come back!
Oct 24, 2020
This is a very nice campground, beautiful surrounding & owners are there for anything u might need. We were the only popup tent trailer and we had an amazing poshy site, with shade and tile patio! My only problem was the distance to the restroom. We do not have a toilet In the tent. Bathrooms were clean and nicely furnished; just wished there was one closer to our site #301 (I go frequently).
Oct 24, 2020
Very nice and clean. We will stay again
Oct 24, 2020
Stayed in one of the tent sites which was more than adequate. Even had cable outlet so I watched the news from inside my tent. Bathrooms very the best I have ever seen at a KOA, individual bathroom and shower which were spotless every time. Host was friendly and helpful.
Oct 24, 2020
Great place to stay. Very clean, Had a great spot with patio in the site with table w/umbrella, chairs, and wood burning fire ring. There was also an upper level with chairs, benches and a propane fire ring. Awesome for evening relaxation.
Oct 23, 2020
We have stayed two times now at this KOA and love it! it is only one hour from our home and a very clean, friendly and well taken care of campground. This last visit we stayed at the premium spots. While the spot is a little on the higher price, it was awesome! Concrete patio, 4 chair dining set with umbrella, BBQ-with filled propane and 4 chair with fire pit (side note, NO fires allowed) love!!
Oct 22, 2020
Very clean, friendly folks. Convenient location on 395. Large shower/bathroom combos.
Oct 21, 2020
Staff is very courteous and the park was in excellent condition.
Oct 21, 2020
very pleasant. will stay there again. excellent facilities for big motorhomes.
Oct 21, 2020
Easy check in , clean and friendly staff. Large spots and level. Spent one nite. The road noise from 395 all nite long was unexpected. Not the KOAs fault, but not very restful.
Oct 20, 2020
bath shower rooms very clean, office lady very nice, site was clean and well managed.
Oct 20, 2020
Nice dog park. Very clean. Nice bathroom and easy friendly check in
Oct 20, 2020
Traffic noise was my only complaint! The nicest and cleanest bathroom I have ever been to in a KOA!
Oct 20, 2020
So spacious and well cared for. Beautiful mountain back drop with clean level sites, restrooms, and laundry. The owners are so nice and accommodating. You will love it.
Oct 20, 2020
We had a wonderful visit at this KOA Campgroud. Came to see the fall colors at the eastern Sierras and was not disappointed! They escort you to your camp site and they were very helpful in letting us borrow a cable line so we could hook up to their network! I was able to watch the 49rs game Sunday evening. I am planning on making reservations for next June to stay again!
Oct 19, 2020
Great little KOA and the grounds were kept nice and clean. Staff was great as well.
Oct 19, 2020
The park is clean, well appointed and friendly. This was our second visit and we will return again.
Oct 19, 2020
The campgrounds were nice and wide and well taken care of, The location was great!!!
Oct 19, 2020
Quiet park with bathrooms that I would say are the nicest I've seen at a campground. Staff were courteous and present. The keep a clean park. Nice weekend.
Oct 18, 2020
best Koa in Calif.
Oct 18, 2020
We had a great stay at this park, thanks to Tim and Scott and their efforts to take care of things. Nice spots; clean and easy to get in to.
Oct 18, 2020
We only stayed one night. However, in that short of time we found the campground especially well maintained. The staff was very friendly. We will absolutely stay again!!! Thank you!
Oct 17, 2020
Clean, efficient, quiet other than some road noise. Caught a couple days without smoke, great fall colors this week.
Oct 16, 2020
We really enjoyed our stay. Everyone was quite nice and the park.is beautifully done.
Oct 26, 2020
Now this is the golden standard for KOA campsites. The sites are level, the main host was super helpful and friendly, it's in a nice location, there are a number of amenities, the WiFi works fairly well, and it even have trees and landscape decorating the area. The best part is the bathrooms. They are immaculate! They are sparkling clean and are nicer than most hotel bathrooms! Honestly, I wish every campsite was like this!
- Andrew Chwalik on Google
Oct 03, 2020
Very nice, clean campground with beautiful surroundings. Highway is very close but not much traffic at night.
- Susan Currie on Google
Sep 29, 2020
Wonderful place!!
- Carlos Young on Google