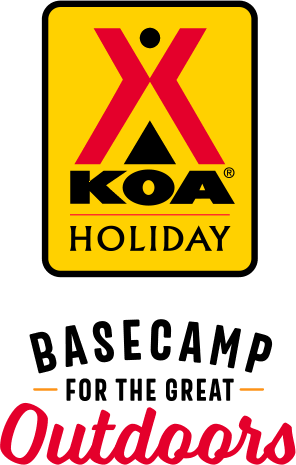 KOA Holiday Campgrounds
Whether you're exploring the local area or hanging out at the campground, KOA Holidays are an ideal place to relax and play. There's plenty to do, with amenities and services to make your stay memorable. Plus, you'll enjoy the outdoor experience with upgraded RV Sites with KOA Patio® and Deluxe Cabins with full baths for camping in comfort. Bring your family, bring your friends, or bring the whole group – there's plenty of ways to stay and explore.
KOA Holidays Feature:
RV Sites with a KOA Patio®
Deluxe Cabins with full baths
Premium Tent Sites
Group meeting facilities
Directions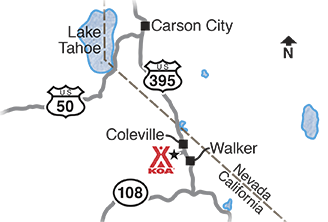 GPS: N38.551895, W119.5023
Directions from the North: On US Highway 395 south thru Coleville. Hwys 80, 50, 88, 89 across the Sierra to Highway 395, then south thru Coleville proceeding 1 mile, campground on the right (west side).
Directions from the South: On US Highway 395 north to 1 mile south of Coleville. Hwy 120 or 108 across the Sierra to Hwy 395 then north to Coleville.
Note: We are located outside of Coleville approximately 1 mile south of the Coleville High School & 3 miles north of Walker.
Get Google Directions
May 08, 2021
Beautiful area, very clean plus many amenities in this campground! Nice!
May 08, 2021
We had a beautiful end patio site with an incredible view of the bluff. What a treat! Staff was incredibly friendly and helpful. Bathrooms were a little older but clean. The owners have done a lot of work to upgrade the facility. We have a 36 foot fifth wheel with deep slides and had plenty of room although we did unhook.
May 08, 2021
Wonderful park and staff.
May 07, 2021
Such a beautiful park in an amazing setting. The hosts are so helpful and knowledgeable about the area. Great pool, dog park and fire pit. Will be back for sure.
May 06, 2021
Wonderful park. Long wide spaces. Exceptionally clean. Whole park maintained beautifully. People are the best. And the cliffs are amazing!!! Definitely a spot to come and relax! Easy access. Loved our stay and will definitely be back. Thank you!!
May 06, 2021
Great location, beautiful scenery. Right next to the highway, but not loud. Super clean facility, helpful staff. Really impressed with the quality and pride of ownership.
May 06, 2021
Beautiful campground. Very clean and attention to detail is amazing! Wonderful staff!
May 04, 2021
Hands down the best campground I've ever stayed in. Super friendly and helpful staff. Will bend over backwards to insure your time there is a pleasant one! Highly recommend!
May 03, 2021
If I could give a higher rating for this campground, I would. By far one of the cleanest, well kept, well laid out campgrounds I have been to. Beautiful bluffs to one side & green pastures to the other. Pulled into our spot (all are extremely level) and it was spotless. We watched staff clean all hook-up areas after each departure. Super friendly staff going above and beyond. Highly recommend!
May 03, 2021
This campground was so nice. First, it is a beautiful location. Seriously! Second, the campground itself was immaculate. The sites were level. The patio was well cared for. The furniture provided was comfortable. Lastly, the hosts were really hosts. If you needed something, they were there. They helped us back in to our site (this was our first back in experience). Amazing stay!
May 03, 2021
The campground is beautifully maintained and is in a scenic location. The only downside is the traffic noise.
May 03, 2021
This is a beautiful, well keep clean place with spectacular views
May 02, 2021
One of our favorite places to stay. Love the new patios and fire pits you have put in to sites 612 and 611!
May 02, 2021
We've been staying at KOAs for over 20 years. Colevile/Walker Holiday is THE BEST! Staff very courteous and helpful. They pay attention to every detail. Campsite very well maintained. Wifi excellent. Amazing setting with the cliffs behind the site and the valley in front. We LOVED IT!
May 01, 2021
Came after dark but all good as promised!
Apr 30, 2021
One of the very best KOAs that we've stayed at! Friendly staff, loved the welcoming stack of firewood, nice and quiet. The patio furniture was brand new. It was the cleanest, neatest KOA. I thought that we would hear the highway 395 traffic but it was not so.
Apr 30, 2021
The property is beautiful and very meticulously cared for! The staff (Don and Sandy) were extremely helpful and went out of their way to accommodate our memorable stay. I'll quote Arnold here...We'll (I'll) be back!!! Thank you KOA Coleville/Walker, Sincerely Ron Willis
Apr 30, 2021
So clean.. friendly staff.. one of the best KOA we've been to... spacious sites and a beautiful setting!
Apr 30, 2021
Very nice place to stay with beautiful surroundings. Clean bathrooms, laundry and friendly staff.
Apr 29, 2021
Super location and service
Apr 29, 2021
This was our first RV trip ever. We felt welcomed and taken care of. The campground was so well cared for. It was clean and showed great pride and attention to detail. We certainly will return. We say...Thank You!!
Apr 27, 2021
The staff was very friendly and helpful.Very clean campground.Will definitely be going back..
Apr 26, 2021
Very clean, quite park, good spacing between sites. Management and staff welcoming and informed. Excellent place to stay. Safe and secure. Will return when traveling in the area
Apr 26, 2021
Always clean and the owners are always friendly and helpful
Apr 26, 2021
We had a wonderful stay and will come back should we travel in that area again. Thanks for being so helpful
Apr 25, 2021
Very accommodating and took good care of us
Apr 25, 2021
Beautiful location, very well kept, staff are friendly and helpful. Great get away and close to lots of exploring, come here at least twice a year.
Apr 24, 2021
The RV camp has complete facilities and a very good service. Highly recommended.
Apr 24, 2021
Large, level, nicely laid out camp sites. Well maintained park, staff friendly and helpful. Would recommend to anyone.
Apr 24, 2021
Pretty setting, quiet, very clean. Good hosts.
Apr 23, 2021
Awesome place! Great sites, facilities and views. The staff are all top notch. From the first welcome, nice touches during the stay to a goodbye when leaving, they really care about us, our stay and the resort. Looking forward to our next stay.
Apr 23, 2021
The park is immaculate. The scenery around the area is beautiful. The staff was very friendly and accomodating. I would stay here again if ever in the area it was one of the nicest KOA's yet.
Apr 21, 2021
This is one of the nicest campgrounds we have stayed at. I always try to leave my campsite cleaner than I found it but that was hard to do at Coleville. It was meticulously cleaned already. This location has beautiful views of the valley and mountains to the east and incredible bluffs to the west. The owners and staff are all very nice and professional while attending to your camping needs.
Apr 21, 2021
Best campground I have ever visited. Very clean, beautifully landscaped and maintained, 5 star service from owners and staff. I can not wait to visit again.
Apr 21, 2021
If someone wants best service, extreme cleanliness and friendliest stuff, then Coleville/ Walker KOA is the place to have it all.
Apr 21, 2021
wonderful and clean park. The owners and employees are great.
Apr 20, 2021
Excellent facility!! The owner greeted us when we got there, and has done a fantastic facility. Loved the walking course he had layed out, and very pet friendly. Would highly recommend this facility.
Apr 20, 2021
Wonderful place. Well kept and very friendly people. Would definitely go back.
Apr 20, 2021
Stayed in a tent, just one night. We arrive late and all instructions were clear so checkin was a breeze. The site we were assigned had a working sink which was great. Unfortunately, all the tent sites are on the outer boundary closest to the highway, so traffic noise was annoying. Staff were nice and friendly.
Apr 19, 2021
What a great stay! Tim and Scott are great hosts and very attentive to every detail. The campground is so clean and the spaces are wide and very well maintained. This was our first stay there and we plan to be going back many times in the future!
Apr 19, 2021
Coleville / Walker KOA is one of the very nicest RV Parks we have stayed at. The Park is clean well maintained and the staff are great. We always look forward to our visits at this park. The owners are doing a great job constantly making improvements to their facility and making patrons feel welcome.
Apr 18, 2021
This is quite possibly the finest KOA that we have stayed at(our 3rd visit here). The owners are the managers and really strive to keep the place up to and higher than standard. The sites are kept very clean and tidy and the view is really spectacular. We highly recommend the Coleville/Walker KOA.
Apr 16, 2021
Beautiful! Snowed while we were there. Sits at base of hill/mountain. Very well maintained. Level sites. Only a "tiny" bit of road noise. Hosts were very pleasant. Love to go back again!
May 06, 2021
Beautiful, well maintained, large spaces, great wifi, great people. Stayed in 5th wheel for 8 days. Will be back again for a longer stay.
- Patty Foreman on Google
May 04, 2021
What a beautiful campground! So nicely kept. Large sites. Highly recommend this park.
- Julie Denney on Google
Apr 25, 2021
Very nice place.
- Fred P. on Google