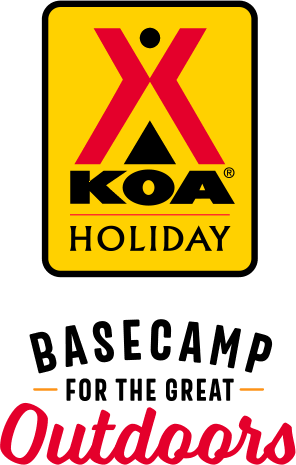 KOA Holiday Campgrounds
Whether you're exploring the local area or hanging out at the campground, KOA Holidays are an ideal place to relax and play. There's plenty to do, with amenities and services to make your stay memorable. Plus, you'll enjoy the outdoor experience with upgraded RV Sites with KOA Patio® and Deluxe Cabins with full baths for camping in comfort. Bring your family, bring your friends, or bring the whole group – there's plenty of ways to stay and explore.
KOA Holidays Feature:
RV Sites with a KOA Patio®
Deluxe Cabins with full baths
Premium Tent Sites
Group meeting facilities
Directions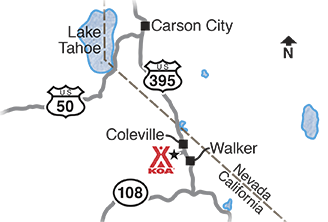 GPS: N38.551895, W119.5023
Directions from the North: On US Highway 395 south thru Coleville. Hwys 80, 50, 88, 89 across the Sierra to Highway 395, then south thru Coleville proceeding 1 mile, campground on the right (west side).
Directions from the South: On US Highway 395 north to 1 mile south of Coleville. Hwy 120 or 108 across the Sierra to Hwy 395 then north to Coleville.
Note: We are located outside of Coleville approximately 1 mile south of the Coleville High School & 3 miles north of Walker.
Get Google Directions
Oct 19, 2021
This hidden gem is a must-stay. The owners take great pride in a clean, well-kept environment and provide the utmost customer service. We'll definitely be back!
Oct 19, 2021
We've stayed here many times and the RV park just keeps getting better. Clean, friendly, professional.
Oct 19, 2021
Very well kept and clean RV park. Cool views too.
Oct 18, 2021
One of, if not, the best KOA i've ever stayed at. This is my fourth or fifth visit here and it just gets better and better.
Oct 18, 2021
We are new to the RV scene and this was a great spot to test out our new toy! Grounds are well kept and staff very courteous and helpful. We stayed in the spot 301 which was a spacious location for our 4 kids and two dogs. Will definitely return!
Oct 18, 2021
We love this campground! It's exceptionally clean and just a nice place to stay.
Oct 18, 2021
Very clean well maintained site.
Oct 17, 2021
Awesome campground. Sites are level, workcampers are awesome. Owners are great. Cooper is a beautiful dog. Bathrooms and Laundry are always clean and the views are awesome. Great photos spot. Awesome to see the cliff at night all lit up!!!!! Best campground I have stayed at
Oct 15, 2021
We had a great stay at the Coleville Walker KOA. Tim and Scott are very accommodating and great hosts. This KOA is centrally located to visit Lake Tahoe, Virginia City, Yosemite and Mono Lake. Would highly recommend a stay here whenever you are in the area.
Oct 15, 2021
We travel a lot and stay at KOA's frequently. Have driven by this one several times and haven't stopped, our loss. We got stuck in a early snow storm and this KOA was able to accommodate us. The owners and camp hosts were top notch. Veteran and dog friendly, we will be back.
Oct 14, 2021
We were on a trip with a goal of closing our cabin in the Caldor fire area of South Lake Tahoe. We had left the cabin quickly and had not properly closed. For several weeks we have been anxious to get back there to close it, but they've had it closed. This KOA was kind enough to hold our reservation for one day when we hit inclement weather. They were very nice.
Oct 12, 2021
We always enjoy staying at the Coleville/Walker KOA! Tim, Scott and their staff go above an beyond!
Oct 12, 2021
We were part of a group of 20+ people. We had 3 hotel rooms and 7 sites. The staff (owners) were extremely rude in two instances and I personally felt cheated as I was not told of the site options when I made the reservations. I was put in the super premium (highest price bracket) and didn't know about the other options until we were completely set up and moved in. Then I looked a the park info.
CAMPGROUND RESPONSE / COMMENTS:
Thank you for staying with us. We are sorry you were disappointed with your interaction with our staff. As you can see from our reviews this Is unusual. You made your reservation on line through KOA.com and selected your site back in February 2021. Safe travels.
Oct 11, 2021
The campground was very nice and clean, but for those in a tent the location is too close to the highway. The sounds of big trucks all night do not allow for much sleep. If I had a RV I would definitely come back.
Oct 11, 2021
Beautiful, well kept park. Spotlessly clean everything. Sites are graded after use, level. Will be back next year for sure. This is second visit this year.
Oct 11, 2021
We had a great time. The staff was very attentive to the campground and us as guests. Very clean. Will certainly return again.
Oct 10, 2021
This is a great park and we were happy to return for our second stay. It is well maintained with great amenities (clean restrooms, great wifi and cable and we'll stocked store). Look forward to staying here again.
Oct 09, 2021
Outstanding gorgeous campground! Staff were so nice and very helpful. So enjoyed our stay and hope to return next season.
Oct 09, 2021
Very attentive and friendly
Oct 08, 2021
Easy location right off Hwy 395. We had a pull through site for our 41 foot 5th wheel. Full hookups including cable. We walked around the park in the morning to stretch our legs. They have a nice green lawn for children to run around on including swings. Beautiful rock view behind our trailer that is lit up at night. Will definitely stay again.
Oct 08, 2021
Always awesome
Oct 08, 2021
Great as always, my reason for being a repeat customer.
Oct 08, 2021
Convenient location to a lot of cool stuff.
Oct 05, 2021
Had such a wonderful stay at Walker KOA. Called at the last minute as we were traveling home and wanted a stop over. Sandy was very kind and helpful and put us in a great spot (which they all are nice). Enjoyed the evening outside on their patio looking out at the beautiful mountains. Great hosts, clean facilities, lots of amenities. We will definitely be returning for a longer stay!
Oct 04, 2021
This campground is situated in a stunningly beautiful place at the foot of the Centennial Cliffs, and across the 395 from the Sweetwater Mountains. Tim and Scott, the proprietors, and staff, Don and Sandy, Allen and Delores are welcoming and accommodating, and the campground is maintained in pristine condition. This is a holiday resort with close proximity to Lake Tahoe and Yosemite,
Oct 04, 2021
Great place to stay, very clean and well kept, nice friendly staff. We will go back.
Oct 04, 2021
Great place to stay! Clean & beautiful with the flowers. The nights are special with the lights on the mountain and all the bright stars. Great owners and staff.
Oct 04, 2021
Wonderfully maintained park in a beautiful area. Very nice level site. Utilities easy to use and well-maintained. I would come back here over and over again! My only disappointment is the fill dirt used in the K9-Kamp So much dust and silt that my dog was dirty all over within minutes. Just from running around. He couldn't even pick up his ball without getting dirt all over his face.
Oct 02, 2021
Excellent campground. Quiet and well maintained. Excellent hosts
Oct 02, 2021
The KOA was clean and the staff was helpful. I liked the facilities and the restrooms-showers. My only complaint was location on Hwy 395. While close to many great places the Semi Truck traffic was noisy all night and we found it hard to sleep. If traffic noise bothers you stay elsewhere.
Oct 01, 2021
Could use a stronger TV signal.
Sep 30, 2021
Great place to stay when traveling hwy 395 will come back every time we go down 395
Sep 30, 2021
Loved our stay here. Conveniently located near lots of places to see. Super clean park with wide space and well maintained. Staff and owner are so friendly and helpful. Will totally recommend this place to anyone traveling down the back side of California
Sep 30, 2021
Beautiful facilities and location. Thanks for the great stay.
Sep 30, 2021
We've stayed here for many years while on our way to and from eastern Sierras and it has always been great. The owners and staff are fantastic and the grounds are lovely.
Sep 29, 2021
This KOA is clean and has nice level sites. The staff is courteous. The Wi-Fi is outstanding.
Sep 29, 2021
Love Coleville KOA, nice large level pads!
Sep 28, 2021
Very clean, and the staff was super friendly. We enjoyed the view of the Slate Mountains, expecially when the sun set.
Sep 28, 2021
Great place to stay, friendly staff, very clean and well kept, we will be going back soon
Sep 27, 2021
The camp ground was well maintained and very clean. The sites are of ample size and they have patio site options that are really very nice. I would recommend this camp ground for anyone needing to recharge for a night or two on a long trip, or anyone looking for a mini vacation. We stayed 4 days and enjoyed out time.
Sep 27, 2021
Great campground! Very well maintained and friendly service. The dog park was fantastic.
Sep 27, 2021
Exceptionally pristine property. Cleaned restrooms I've ever seen in any KOA. Beautiful scenery. Easy to get to. We highly recommend this KOA Campground. Kuddos to the owners and staff.
Sep 25, 2021
Beautiful, very clean! The incredible host, Have stayed here several times I have already booked for next year!!!
Oct 17, 2021
Stayed in the motel. Very friendly and quick check in. Room was very comfortable, clean and quiet. Rooms are far away from the road. Will be back.
- rdloer on Google
Oct 09, 2021
Great place to stop with the RV. Loved the restaurant!
- Tom Laffey on Google
Oct 06, 2021
Love it what a nice place super neat and clean very reasonable in the deluxe RV spaces are to die for!
- scott carey on Google