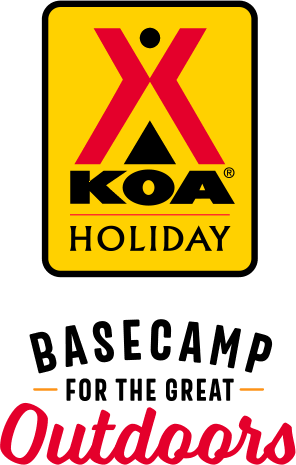 KOA Holiday Campgrounds
Whether you're exploring the local area or hanging out at the campground, KOA Holidays are an ideal place to relax and play. There's plenty to do, with amenities and services to make your stay memorable. Plus, you'll enjoy the outdoor experience with upgraded RV Sites with KOA Patio® and Deluxe Cabins with full baths for camping in comfort. Bring your family, bring your friends, or bring the whole group – there's plenty of ways to stay and explore.
KOA Holidays Feature:
RV Sites with a KOA Patio®
Deluxe Cabins with full baths
Premium Tent Sites
Group meeting facilities
Directions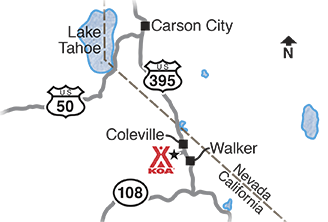 GPS: N38.551895, W119.5023
Directions from the North: On US Highway 395 south thru Coleville. Hwys 80, 50, 88, 89 across the Sierra to Highway 395, then south thru Coleville proceeding 1 mile, campground on the right (west side).
Directions from the South: On US Highway 395 north to 1 mile south of Coleville. Hwy 120 or 108 across the Sierra to Hwy 395 then north to Coleville.
Note: We are located outside of Coleville approximately 1 mile south of the Coleville High School & 3 miles north of Walker.
Get Google Directions
Jul 21, 2021
Disappointed that my 2 friends were not allowed to visit. They drove 8 hours to meet us, and we had to go elsewhere to visit with them. I am not sure it is clearly stated on their website that visitors are no longer allowed.
Jul 21, 2021
We had a lovely stay at Coleville/Walker KOA. All staff members were very friendly and accommodating with any needs we had to make our stay more comfortable. The facilities were very clean and accessible for the small RV/Tent spaces. The pool was refreshing and there was ample shade/seating. Highly recommend! (Please add a community sink to wash dishes near the bbqs and central fire pit)
Jul 21, 2021
The park is very nice. It is well-maintained and attractive. Sadly, one of the employees is a hothead who needs customer service and anger management classes. After we had been set up for *hours* and were relaxing in our trailer, this person banged on the door and had a rant about how we were set up. Why he had to wait until late evening, I don't know. He was very rude. Doubtful we'd return.
CAMPGROUND RESPONSE / COMMENTS:
Thank you for your feedback. We are delighted you enjoyed our facilities. We are sorry to hear you where disappointed in your interaction with our staff. We apologize we were not clear when we made an exception to park 2 RV's in 1 site, that you could not plug both RV's into the site's electrical
Jul 20, 2021
Didn't. For tent stay alone, too close to highway. Would've been impossible to sleep b/c the semi's are traveling through the night and you have no sound insulation. If we had had an RV, or booked a lodge room, would've been good (why I gave a middle rating). We didn't stay also b/c of earthquake. Not your fault…
Jul 20, 2021
Great location for our travel north from southern Arizona. Clean facilities, helpful friendly staff.
Jul 19, 2021
Had a great time here! I'd never used a KOA before, but check in was easy, the grounds were very clean and well kept, and the folks in the office were helpful and friendly. When I wanted to extend my stay and decided to spring for the KOA membership, they even applied the discount to the nights I'd already booked. Thank you!
Jul 18, 2021
Beautiful and quiet. Couldn't ask for better. Staff very helpful. Highly recommend. Easy access to Yosemite.
Jul 18, 2021
Tent camping should be at the back of the property away from the highway- RVs would at least have insulation from the noise. Could not sleep for three nights with the loud Highway noise. Electrical should be close to the tent pad not across the campsite from the tent. Sink only had hot water no cold water.
Jul 17, 2021
Very well run facility. The staff was courteous and efficient. The grounds and restrooms were very well-maintained. My family and I enjoyed our stay and will recommend this campground to others.
Jul 16, 2021
Had a great time. A little short with all the earthquakes. But exciting.
Jul 16, 2021
Clean, well maintained, friendly, helpful. Hwy traffic was noisy all night. Several activities (pool, volleyball nets, swings). Best campground we stayed at this trip.
Jul 16, 2021
Campground is beautiful with a beautiful view of the mountains. Bathrooms very clean. My dogs enjoyed the dog park. Nice benches to sit on and watch them walk around. Very nice pool. Sandy and Don were very nice and helpful. This was the nicest KOA we have ever stayed at and we have been camping for 26 years in 46 states. We will definitely recommend Coleville KOA.
Jul 16, 2021
I arrived at 8 pm and there was a site map waiting for me. The site was level and easy to access, and all utilities worked perfectly. The individual bathrooms were spotless. In addition, the surrounding mountains rise dramatically and perfectly framed the moon, but I think there may be an extra charge for the moon. (Not). When I checked out the next morning I was warmly greeted. Fantastic!
Jul 15, 2021
Beautifully maintained campground with stunning backdrop. Owners Tim and Scott are wonderful hosts and always helpful, going out of their way to make the stay enjoyable
Jul 15, 2021
We had an amazing stay! The staff is fantastic. Recommending it to everyone.
Jul 15, 2021
Absolutely beautiful campground with the cleanest amenities and wonderful set up!! Thank you !!
Jul 15, 2021
We've stayed in many KOA's in our travels this summer and this was one of our favorites. The bluffs behind the camp are gorgeous. I like that there are rooms to rent around the pool area. Everything was very clean.
Jul 14, 2021
One of the nicest KOA's we've ever stayed at. Highly recommended.
Jul 13, 2021
This campground is beautifully maintained and clean with gorgeous plants, flowers and trees. The staff are courteous and extremely helpful. I arrived to find firewood in the fire pit and it was replaced with new wood when used. Great little camp store. I will be back!
Jul 13, 2021
I really appreciate it when the site is level!
Jul 13, 2021
Very nice campgrounds, always well kept, and friendly staff
Jul 13, 2021
Very clean campsites for tents and RV. More RV oriented. Bathrooms are amazing clean and spacious shower with fantastic water pressure. The only issue I have and why I only gave it 3 stars is that this location is very very very noisy, cows bellowing, roosters crowing, and so close to Highway 395 that cars and trucks wake you up throughout the night.
Jul 13, 2021
We absolutely LOVED this KOA last year. Though it was out of our way this year, we chose to stay again. I think the management changed, however. It just didn't have the same feeling. Not very welcoming at all. It's still a nice spot, but we will not go out of our way again. Before, it was great- this time… not so much. Maybe if you are 55+?? Family? Meh.
Jul 13, 2021
Quiet, clean and friendly Staff. Thank you!
Jul 13, 2021
Great staff! Looks like a new facility! Great pool!hope to come back
Jul 13, 2021
Loved the people and the facility . Very well maintainrd and managed
Jul 13, 2021
Wonderful campsites - large and spacious. Friendly staff, helped us with tips (we are first-time trailer users). Clean restroom and sore, beautiful scenery.
Jul 13, 2021
Beautifully kept grounds. Great amenities. If I had ANY complaint it would be just a little close to the HWY. Wonderful Campground!
Jul 12, 2021
This was one of the nicest KOA's I've ever had the pleasure of staying at. The sites were spacious, and the bathrooms and laundry rooms were always clean. The staff were all super friendly and led us to our site and even helped us back in. I would definitely stay here again if I'm ever in California.
Jul 12, 2021
Great…even with the earthquake and fire! 10 stars�
Jul 12, 2021
Well maintained, clean, friendly staff.
Jul 11, 2021
Wonderful spot, great campground, really nice people!
Jul 11, 2021
Very clean park. Check-in was so easy after a very long drive.
Jul 11, 2021
This is a clean and beautiful campsite. But…the tent sites are right off the road, with lights and trucks passing by all night. I barely slept all night. Then thought a warm shower would help, only to find no hot water. I think if you have a camper or trailer sleeping would be just fine.
CAMPGROUND RESPONSE / COMMENTS:
Thank you for staying with us. Yes, the tent site you chose did state that it does backup Highway 395. We apologize there was no hot water the evening of your stay but due to the 6.0 earthquake we experienced at 3:50 pm that day, gas was turned off for safety reasons.
Jul 10, 2021
Tim and Scott!!!!! They are awesome and so is every member of their staff!! This is a beautiful site. Clean and well kept. We stayed for 6 days and they were so incredibly helpful! They mow the lawn while having a cigar and walk the grounds at nice with a glass of wine. The internet was great, cable was great, store was great, they'll deliver items to your camp. LOVE THEM And this KOA
Jul 10, 2021
With the exception of ants, everything was 100%
Jul 10, 2021
We had to change vacation plans and this KOA had one space left. We LOVED it here. All staff were very helpful and the campground is immaculate. We stumbled across it but we will make it a point to come back. We stayed a full week. Even endured an earthquake on the last day. Great job Tim and Scott!
Jul 10, 2021
Great campground with a wonderful helpful staff, especially Don and his wife. We had to stay longer then expected because of mechanical problems and they did everything possible to find a spot. Even on the July 4th weekend! One of the nicest KOA we have stayed in anywhere in the country.
Jul 10, 2021
Wonderful park, the staff is great! Thank you for your hospitality �
Jul 09, 2021
We stayed for 2 nights. Went swimming, took walks, talked with very nice people. Enjoyed getting ice cream at the store/office. It was clean, everything worked and the staff are really helpful and communicate well.
Jul 08, 2021
Beautiful scenery… clean… nice pool….. great staff
Jul 07, 2021
We love it every time we stay with you. Great park, location and staff!
Jul 07, 2021
Very well kept campground. Clean and well maintained including the bathrooms. Picturesque setting!
Jul 07, 2021
This is the 2nd time we have stayed here. We love the family feel, and the friendliness of the staff. We have already reserved for next year. Bridgeport is close and they have a great 4th of July celebration. A shake at walker burger is a must. Great hiking and fishing is nearby.
Jul 07, 2021
We had a wonderful time! Campgrounds were very clean, very well kept up. Nights were quiet but not void of activity, very pleasant. Everyone that worked there (including the owners) were very nice, well groomed and professional. Owners were kind enough to lend us a 4wheeler trailer, free of charge when we brought our quads in a toy hauler and did not have a way to get to OHV area. We will be back.
Jul 07, 2021
Great stay. Super helpful and polite staff. Clean, spotless even.
Jul 07, 2021
Probably the best KOA I've stayed in; and we camp a lot. Sites are level and the whole camp is organized well. Could use a pet walking area besides the dog runs.
Jul 16, 2021
We stayed at this KOA motel on our way back east from California. Ive stayed at many KOA's before but this is the cleanest and nicest one I've ever been to. It's very well kept and the lots all look pretty level too. The laundry and bathroom facilities are SUPER clean and nice. The owners and camp hosts are great people!! I'd stay here again for sure !
- Aaron Thornton on Google
Jul 11, 2021
Pretty cool location with great pull through spots. Super friendly staff and a fun little general store. The cliff's in the background have pretty cool lights that come on at night
- Erin Pavelski on Google
Jul 10, 2021
Nice place! Well kept and clean.
- bernard lucido on Google