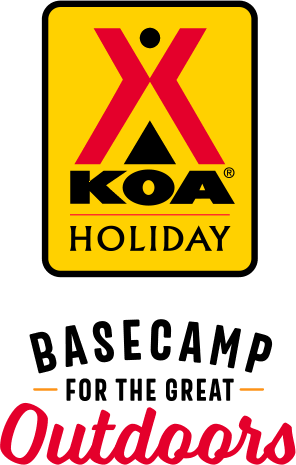 KOA Holiday Campgrounds
Whether you're exploring the local area or hanging out at the campground, KOA Holidays are an ideal place to relax and play. There's plenty to do, with amenities and services to make your stay memorable. Plus, you'll enjoy the outdoor experience with upgraded RV Sites with KOA Patio® and Deluxe Cabins with full baths for camping in comfort. Bring your family, bring your friends, or bring the whole group – there's plenty of ways to stay and explore.
KOA Holidays Feature:
RV Sites with a KOA Patio®
Deluxe Cabins with full baths
Premium Tent Sites
Group meeting facilities
Directions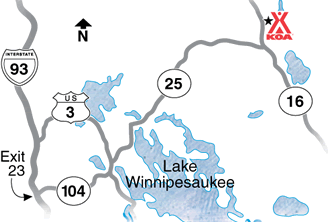 Located on Rt 16: 3 miles north of Rt 25 West, 20 miles east of Lake Winnipesaukee, 13 miles south of Conway.
GPS may be inaccurate, please confirm location with map.
Get Google Directions
Jul 21, 2021
Overall excellent all the way around. The amenities are certainly unparalleled. If there was a super positive out of all I would say the attitude of the staff is excellent. On a 'to do' list…I would say everything needs a serious power spray down once in a while. The wood at the pavilion needs a spruce up so it's not moldy and slippery, and the cabin patios need a spray. Fix the g
Jul 20, 2021
All of your staff is amazingly helpful, cheery and fun! Special thanks to Nancy who drives the shuttle to the cabins - she went way above and beyond by letting me borrow a tabletop Christmas tree for weekend! I wish I could remember everyone's name to thank them individually. Love this place!
Jul 20, 2021
Great place! Friendly, helpful staff. Fun activities. Great hiking trails. Nice big pond for swimming and kayaking. Fully stocked camp store.
Jul 20, 2021
This was our 4th year coming back and we hope to make it a family tradition! Staff is so friendly and the facilities/cabins are very clean. My children are already counting down the days to next July :)
Jul 20, 2021
Wonderful location and staff. Very helpful, pleasant and lots to do in campground area. Dogs love it too ��
Jul 19, 2021
Great time staff was awesome thank you we will be back
Jul 19, 2021
Great time, 2nd year coming and we will be back next year again
Jul 19, 2021
This was our second stay and we will be back! Everyone is so nice, the campground is clean and quiet, yet has many activities for all ages. Our dogs love the dog park too!
Jul 19, 2021
Everyone was so welcoming and friendly. We love the themed weekends. We stayed on Christmas in July. There is so many activities for kids for the kids! We will definitely be coming back
Jul 19, 2021
We chose CCV because of the proximity to our kids and their baby - we babysat at their B&B while they went to wedding events at the Preserve. You have a great family-activity campground. It's not our cup of tea - we like large private sites and don't need or want lots of activities or programs. But we'll pass the word to folks who want that experience! High marks on all criteria!
Jul 19, 2021
We had a great stay at the KOA in Chocorua. Very friendly and helpful staff. Loved the nature walk with our dog. We found this camp ground very dog friendly. They even allow dogs on their rented canoes. The camp sites are bigger than some of the ones you will find in North Conway and most of the sites have a beautiful view of the lake. They have a lot of activities for children and themed weekends
Jul 18, 2021
We enjoyed our visit. The staff were very friendly and helpful as well as the campers. The site was dark and small for our slides. We enjoyed ourselves. Thanks. The Woods.
Jul 18, 2021
We truly enjoyed our stay! Our site was perfect! The kids loved all the different activities and things to do. I just wish we were able to stay longer!! Thank you for having us…we will definitely be back :)
Jul 16, 2021
Staff was awesome. Campground needs maintenance. Showers looked like walls hadn't been cleaned in years. We paid extra for a patio site and grill was dirty and one side very difficult to start. Patio tables also dirty. Roads very narrow and difficult to maneuver. Would help if some trees cut down as RVs larger than when campground originally designed. Also disappointed in small size of pool.
Jul 16, 2021
Everyone was very nice and helpful, we will be back
Jul 15, 2021
We loved the view but a few things: working on a cabin behind our site with an impact gun, circular saw and a sawsall, was not what I call a calming thing to do. This campsite has a horrible problem with red squirrels. The ate through the screen of our camper and I had to throw food away. In all my years camping, that has never happened. We love this place but please fix the squirrel problem.
Jul 15, 2021
Nice place for the entire family to enjoy a break. Lots of activities for everyone.
Jul 15, 2021
We needed to escape the madness of today's world for a couple of nights, and the Chocorua KOA was the perfect place for it. The Hemlock cabin could've been a little cleaner but definitely not a deal breaker…we'll be back.
Jul 14, 2021
Nice place... nice people. Leveling the RV was a challenge in our pull through site, but we did!
Jul 13, 2021
Wonderful, clean, family friendly campground. We have been coming every year for a long time!!
Jul 13, 2021
We had a great stay, from the moment we arrived. Check-in was a breeze, & they escorted us to our site and even helped my husband park. It was the fastest and most efficient parking he's ever done (no bickering with me at all!). The campground was beautiful and many sites were right on Moore's Pond. Great camp store, with everything you could possibly need, including kayak rental. Friendly sta
Jul 13, 2021
Very clean and comfortable cabin stay. Staff is super helpful and courteous. Lots to do and we enjoyed the hiking trails.
Jul 13, 2021
We love the Chocorua KOA. Everyone is so nice and something to do for all (mom, dad, kids and pups). This was our second year going and plan to go back next year.
Jul 13, 2021
had a great time there was a lot to do and the family activities were great breakfast was fantastic
Jul 12, 2021
Park was nice. WiFi was very sketchy Signal was weak, difficult to work online. Didn't attempt to stream anything. Hard time to maintain a signal. Location was good for attractions we wanted to see
Jul 12, 2021
Our site was nice and the staff is exceptional.
Jul 12, 2021
Staff was incredibly helpful and friendly!
Jul 12, 2021
Overall it was a fine experience. It would be nicer if each campsite wasn't practically stacked on each other. I can see that it's a fun place for families with young kids. Due to the sexist remark given to my wife by one of the employees at the site (saying that she won't be able to back the car into the campsite because she's a woman), we can't recommend it to friends and family.
Jul 11, 2021
The man said we were just over a little bridge to the bathroom from our cabin. We were .75 mile away from the bathroom. There was a lot of dog fur in the cabin we swept 3 times. The view was nice but the cabin needed a lot of love. There was a whole in the wall they stuck a Walmart bag. The cabin was cute other than that. The bed was comfy and the staff was real nice.
Jul 11, 2021
This is a beautiful park and the staff that help to run it are friendly and super helpful.
Jul 10, 2021
Site 57 floods easily but is a ok size & close to the activities. There was confusion when I called about whether the site had electric or not- it did but I was told it didn't so I packed for dry camping. $65 a night for no utilities is a lot but I went because my kids like the crafts last year. They were a bit sad that the crafts were mainly coloring this year. Nice staff and cute pond.
Jul 10, 2021
We had a wonderful four day visit. The kayaking on the lake was relaxing with gorgeous views. The campground was quiet and clean. We especially enjoyed the brownie sundaes. The location was perfect for day trips to various places in the lakes region. Thank you for a wonderful week!!
Jul 09, 2021
We stayed in the Chocorua House cabin this year and loved it. Clean, spacious, and the kids loved the loft bedroom. We brought bikes and they enjoyed riding around the Campground. The pond is peaceful and perfect for the kayaks. Another fun year in the books, and we are looking forward to staying again next summer.
Jul 09, 2021
Beautiful campground, quiet, relaxing, nice pool, Great Lake, friendly staff.
Jul 09, 2021
I think my stay was great and all, but something didn't seem as good like 5 years ago when I was here with my parents. 5 years ago when I came here first time camping, we had one more thing on the activities list for the kids, we had a hike/walk, with all the kids to see the frogs, beaver house, and a hidden playground! Now it's not on it! I hope you add it again, so the kids see how fun it is! :)
Jul 08, 2021
Clean facilities, great pond and pool for the kids to play in. Staff was friendly and helpful with good recommendations for local dining. Kids loved the playground and the activity schedule and staff were excellent. My husband was glad to see the ship he played in as a child is still standing (although now its blue). We will definitely be back, hopefully with less rain next time!
Jul 08, 2021
Bathrooms pretty gross. Campground itself was a little run down. Neglected in spots.
Jul 08, 2021
Very nice campsites, not too close to each other. Well kept, clean. Pool was nice. Very friendly staff
Jul 07, 2021
Nice camping experience. If there was one negative it was that the only people that didn't observe the 5 mph speed limit were the workers in golf carts. I was really surprised about that. We will be back though.