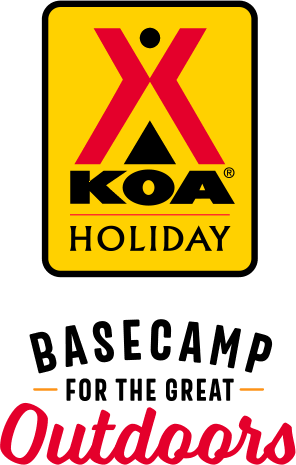 KOA Holiday Campgrounds
Whether you're exploring the local area or hanging out at the campground, KOA Holidays are an ideal place to relax and play. There's plenty to do, with amenities and services to make your stay memorable. Plus, you'll enjoy the outdoor experience with upgraded RV Sites with KOA Patio® and Deluxe Cabins with full baths for camping in comfort. Bring your family, bring your friends, or bring the whole group – there's plenty of ways to stay and explore.
KOA Holidays Feature:
RV Sites with a KOA Patio®
Deluxe Cabins with full baths
Premium Tent Sites
Group meeting facilities
Directions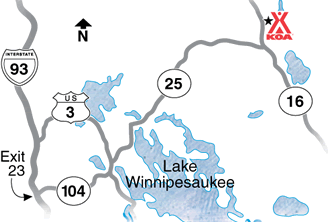 Located on Rt 16: 3 miles north of Rt 25 West, 20 miles east of Lake Winnipesaukee, 13 miles south of Conway.
GPS may be inaccurate, please confirm location with map.
Get Google Directions
May 04, 2021
Great site great time!!
Apr 27, 2021
Awesome campground! Excellent staff.
Nov 05, 2020
Super site overlooking the water; nicely shaded; level and excellent hookups. Chocorua location was an excellent spot to explore the local area. Especially in fall.
Nov 01, 2020
CCV is a great place especially for families. The staff is awesome � This is our 4th year here, and we will definitely be back for years to come.
Oct 26, 2020
We were so glad they were opened another weekend. It was beautiful! The staff is always so helpful and accommodating.
Oct 20, 2020
We love Chocura KOA! We go there twice a year and the staff and campground are both the best!
Oct 20, 2020
Stay was wonderful. Only issue we had was our cabin(hawks nest) had a ton of flys! We literally killed 32 flies in 2 days. Other than that cabin was clean, grounds clean, quiet and staff was kind. We enjoyed our stay very much and can't wait to return
Oct 20, 2020
I WOULD LIVE HERE IF I COULD. Friendly staff, QUIET campground (I thought that was an impossible feat), beautiful trails, NICE rental (Birch Lodge). THANK YOU for a beautiful, calming, restorative nature escape. Can't wait til next year! -- Kathleen Palmer, Nashua, NH
Oct 20, 2020
Fantastic, friendly helpful staff. Great variety of sites. Great location. Will stay here again.
Oct 20, 2020
wonderful! we will be back!
Oct 19, 2020
A chilly October weekend but enjoyed the fabulous Halloween decorations around the camp and the beautiful fall foliage. Really appreciate the privacy afforded by all the trees.
Oct 19, 2020
Campsites are OK and staff was friendly but the bathrooms are cramped, toilets are for persons under 5'8" and the showers are from 1960. In fairness to the camp, the end of October is not prime time to judge a facility but the criticism of about the facilities which are permanent not seasonal. Outdated bathrooms and showers are a deal breaker anytime of year.
Oct 19, 2020
Nice place. No TV reception. Cable TV selections were limited to off-label chancels - no major network for news.
Oct 19, 2020
Great and VERY helpful staff!! We'd like to give a shout out to Gerry for being not only a great guy, but very informative and helpful to people new to the RVing community. Shout out to Barry as well. The dog park was a huge plus, the walking trails well mapped out and lovely.
Oct 19, 2020
We just bought a Camper. This was our first time trying it out just for one evening. It was great.
Oct 19, 2020
So much fun!!! Beautiful view, with that gorgeous lake!! Was simply a sight to wake up to!! We will be going back that's for sure!!
Oct 18, 2020
We fell in love with Chocorua day one! The actual wooded and true "camping" layout. The lake, walking trails, bike trails, huge shady dog park. Rootbeer float nights, ice cream smorgasbord, pancake breakfast, themed weekend activities. The staff; so helpful and friendly. This is how camping was meant to be.
Oct 17, 2020
It was very peaceful. Loved our premium deck site and enjoyed all the nature trails and dog beach.
Oct 17, 2020
Beautiful, huge site, right on the water. Enjoyed a beautiful sunrise on our private deck every morning. Another must stay campground if you are ever in the area. I recommend the upgrade to a super site if it is available.
Oct 15, 2020
We been coming to Chocorua KOA for 5 years. Family has been coming to White Mtn area 61 yrs. My grampa painted Mt.Chocorua 61 yrs ago.We love Halloween weeks at KOA Good to see kids & adults having such great family fun. Much to do at the campground, the staff is great & helpful Paul and I so excited to win (transient )Halloween decorations 2020, not expected. Love this White Mtn. KOA Thank you.
Oct 15, 2020
Love the area. Staff extremely diligent and professional in handling the intricacies of the pandemic-only criticism would be perhaps an updating of the restrooms might be in order-met great people and enjoyed our stay immensely!!!! Thanks!
Oct 14, 2020
Loved it. I was seasonal and sadly had to end our stay because of life circumstance. I will miss it terribly.
Oct 14, 2020
All employees are great. They care about you and your stay. Nice campground
Oct 14, 2020
We had a great time and a unique stay in a teepee! Our kids had a great time which was most important. All the staff were helpful and friendly. The property was well maintained...nice and clean! I do wish the faucets in the restrooms didn't remain on only while holding it...(it made it a little challenging to wash hands), but that's not a very big deal. Happy memories were made for our family!
Oct 13, 2020
Awesome time as always
Oct 13, 2020
As always Chocorua KOA hosted a great Fall Weekend for us. There were plenty of activities available for our dining and entertainment pleasure. The staff was very friendly and did a great job managing all the Covid restrictions. Sophia was a great staff member who worked very hard to help all the campers!
Oct 13, 2020
We love this camp ground property but the staff were very rude and snappy during the checkin process. A women gave our friend a very hard time and was very rude when trying to check in a guest to the site which only had one adult on it and two children. Also every year one or more family in our group gets moved from the site they originally picked. We booked a year ago and got moved.
Oct 13, 2020
We love this campground. So friendly to humans and dogs. I have never seen my Dogs so happy as last Sunday playing at the dog pond with some new doggie friends!
Oct 13, 2020
We had such an incredible time. The stay did not start well as the woman working the front desk when we checked in was so cold and rude. I was really concerned about our stay (it was so impactful that I am still thinking about it even after a great week). Otherwise everyone else was so incredible. My family and I had a blast.
Oct 13, 2020
Staff was great from start to finish. Halloween activities were fabulous. Stay in Woronoake cabin was sufficient except for missing window slat in porch bedroom. Temps to freezing and winds made keeping warm impossible. Very uncomfortable nights. Waking up to that lake view is priceless.
Oct 13, 2020
Beautiful, well kept park with friendly accommodating staff and lots of amenities. Loved our waterfront site which was perfect for fall camping; would love to come back in the summer to enjoy the beach and pool too!
Oct 13, 2020
We had a great time at our first KOA experience. Liked having super clean bathrooms (although those sinks where you have to hold the separate hot and cold water knobs on while rinsing your hands are dreadful). Staff was super friendly and helpful. The walking trails across the marsh were great. It was nice having activities for the kids, even if we didn't do them all. We'll be back!
Oct 12, 2020
We rented Chocorua House, where we have stayed several times before and we have camped at Chocorua for several years (even before KOA came into the picture) with friends and family and always enjoyed it. The campground is beautiful, nice sites (and nicely kept), the services and the people are terrific. And, very convenient to activities and places to eat. Cabin was very clean and nice and warm!
Oct 10, 2020
Thoroughly enjoyed site on the water and the walking trails were beautiful.
Oct 10, 2020
Beautiful place. Very friendly staff. Good place for everyone. Thank you very much.
Oct 10, 2020
Awesome experience! Staff was amazing and site was large and just beautiful! We cannot wait to come back!
Oct 07, 2020
Best staff or group ever. Bob the GM and all staff are great people. Bear, Nancy and Ron are team leaders and will take care of your needs. They go beyond what's needed to make sure you have a great time at Chocorua KOA. Paul, Freelee Steve and Gloria helps keep it running smooth. When we were there, one of the best times of my life. We will be back. Love this campground and the beautiful area.
Oct 07, 2020
We enjoyed a weekend on "the island" celebrating birthdays with friends. The campground is clean and well run. The staff couldn't be more helpful or friendly. There were lots of activities to keep the kids (ages 4-13) busy and entertained without screens!! We will certainly be back. I wish we could have stayed longer this time around.
Oct 07, 2020
Such a wonderful camp with so many activities! Everyone was so kind and welcoming--it felt like family! Will definitely be back!
May 04, 2021
Nice clean restrooms an showers. Right on a beautiful pond. My site was level . Friendly staff. Great dog park!
- ALAN DOELL on Google
Feb 21, 2021
The best campground in New England !!! Over 5 miles of nature trails, small lake and river, daily recreation activities, wooded campsites. There are different levels of lodging available too. Tipis, and RV, deluxe cabins as well as super private off the grid cottages. They have a very reasonably priced camp store with everything you need and a new food service kitchen. Definitely recommend for families, couples, or anyone looking for a pet friendly stay as they have a huge dog park with agility equipment and a dog beach. If weekends are booked, go for a mid-week adventure when it's nice and quiet.
- Tamara Spencer on Google
Nov 03, 2020
Staff was very nice and the site was amazing! Thanks for the help on making Halloween fun!
- Casey Watson on Google