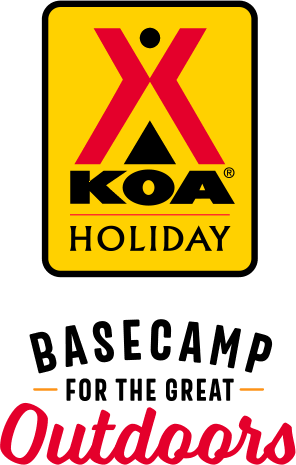 KOA Holiday Campgrounds
Whether you're exploring the local area or hanging out at the campground, KOA Holidays are an ideal place to relax and play. There's plenty to do, with amenities and services to make your stay memorable. Plus, you'll enjoy the outdoor experience with upgraded RV Sites with KOA Patio® and Deluxe Cabins with full baths for camping in comfort. Bring your family, bring your friends, or bring the whole group – there's plenty of ways to stay and explore.
KOA Holidays Feature:
RV Sites with a KOA Patio®
Deluxe Cabins with full baths
Premium Tent Sites
Group meeting facilities
Directions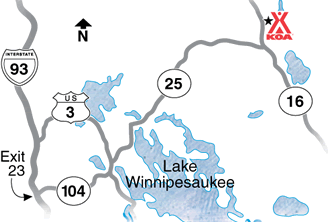 Located on Rt 16: 3 miles north of Rt 25 West, 20 miles east of Lake Winnipesaukee, 13 miles south of Conway.
GPS may be inaccurate, please confirm location with map.
Get Google Directions
Oct 19, 2021
Great activities offered.
Oct 18, 2021
Steve has always been very pleasant and wonderful to work with… love it at this campground.
Oct 18, 2021
Great KOA. Great staff. Booked again for next year
Oct 17, 2021
This was our second year staying at Chocorua for a week in October. We love the peaceful vibe of the campground, the lake, all the walking trails and the Dog Swimming Pond is our retriever's favorite daily place. Steve and his crew are so friendly. The location is great for visiting Conway and driving the Kancamagus Highway through the White Mountain's National Forest.
Oct 17, 2021
Always a pleasure, great time! Oak ridge is always very clean. I never met anyone without a huge hello, smile and willingness to help! Will come back again!!
Oct 16, 2021
We have been seasonal guests for years now! Always enjoyable!
Oct 16, 2021
spent the summer
Oct 16, 2021
Honestly this place is the best camp ground in the Northeast. The staff is super nice. The sites are as nice. The facilities are spiraling and over the top. It is well maintained and I have already booked two stays for 2022.
Oct 15, 2021
These were some of our best summers ever! Being a seasonal camper at an active camp like the Chocorua KOA is like being at "summer camp." The kids loved it, I loved it. Our family looks forward to camping again.
Oct 15, 2021
Online reserv. made late in the afternoon, but prior to 4pm. Rec'd confirm. email. Arrived 6pm. No packet or map with our name. Gated entry. We called campground phone #, AND called the number for 'help' on the gated entry. NO RESPONSE to our calls - at all. We got in by seeing the code on one other reservation. Found a space and stayed. Child out AM. No adjustment, no apology. No
Oct 14, 2021
Nice upgrade!
Oct 13, 2021
For the 10th year we have enjoyed and participated in the great early Halloween weekend. The grandkids love it. I come up the week before for my slice of NH Heaven. During the weeks, the leaves, the cool crisp air, the quiet! Love the place!
Oct 13, 2021
Always have a Wonderful time at Chocorau Koa. The staff go out of there way to make sure not just the kids have a good time but so do the adults. The breakfast was great, lunch and dinner days were fun were a nice break. Pizza is always good. The recreation dept.(Linda) did a great job with the themed weekends, especially Halloween, so fun. Haunted Trail was scarey and fun. Great Time, Thank you.
Oct 13, 2021
The first person I met at the front desk, should not be there. Not a pleasant perso, not the person to have at the front desk. Next was the dog's records, I was not made aware that I needed his records, until the very unpleasant person at the desk ask for them. Since I make all reservations thru KOA site, I would think the site should tell me when I need additional information at different campg
Oct 13, 2021
Nice hosts and many nice amenities
Oct 12, 2021
We love coming there, especially Columbus day weekend. The haunted woods was a fun change this year. All staff were pleasant to talk and joke around with and they are so great with the kids too. We are booked again for next year! See you all then. ~Forrest B.
Oct 12, 2021
Second stay hooked up with friends we had met on our first experience-it was awesome !!!!
Oct 12, 2021
We always have a wonderful time at KOA Chocorua. The entire staff goes well out of their way with the Halloween festivities. Great time all around. We have one constructive comment however. We noticed the bathrooms are getting pretty run down. They're also not as clean as we remember. There is a lot of mold in the showers. We hope refreshing the restroom facilities is on your agenda. Thank you!
Oct 12, 2021
We stayed in the look to the mountain cabin and could not have been happier. This is our 2nd time staying in this cabin but about our 6th time staying here. We just love this campground. Everyone is always so nice and welcoming. It was nice to see the upgrades to the cabin. Steve always makes check in and check out a great experience and I love seeing Doris at the camp store. C U next season. �
Oct 11, 2021
we love it here! love the trails staff is always helpful and friendly.
Oct 08, 2021
Extremely nice people. This is a very rustic in the woods campground. Trees every where, always concerned I might hit one. Very little paved roads. Lots of children stuff. They offer many activities for family. This is a holiday KOA, I was looking for better maintained grounds. The bathrooms/ showers were awful, not cleaned well. I think families would enjoy this place but I didn't
Oct 05, 2021
Such a beautiful campground and wonderful staff! :)
Oct 05, 2021
The haunted walk was outstanding!
Oct 05, 2021
Amazing! Campground was beautiful, clean, tons of activities.
Oct 05, 2021
Staff and campground were awesome. Grounds were clean and organized. Activities were well designed and my kids had a blast! However, site B14 is terrible. It's all gravel, sand and extremely dirty; it was impossible to keep out the mud. It directly faces another site with no fence, so there is no privacy whatsoever. The sewage connection is uphill from the camper pad - so I was unable to use it
Oct 05, 2021
It was awesome!!!
Oct 04, 2021
Good quiet & rustic. Not many access points to fish but we did ok
Oct 04, 2021
Wow what a great campground! All the employees were sooooo nice. Great Halloween events! Kids loved the haunted walk! We will definitely be coming back every year!
Oct 04, 2021
Place was a dump. Run down campers on seasonal sites. Dog crap all over the place. Staff extremely unfriendly. Some of the employees looks like they haven't showered in months and smelt like it also.
Oct 04, 2021
We loved staying in Fox Den - our first tiny house experience! The staff was uniformly friendly and helpful. The seasonal, family feeling that pervaded the campground was wonderful. We enjoyed being included in the Halloween festivities and particularly enjoyed the Haunted Walk. Kudos to the kids who successfully made us scream! Many thanks to all.
Oct 04, 2021
We loved the spacious camp site! It was fun passing out candy �� to the youngsters! The trails are great! And the ice cream was a treat!
Oct 04, 2021
Awesome service, awesome stay. Will be back again.
Oct 04, 2021
We love chocorua KOA, we come every year but this is our first time coming in October and we really enjoyed it!
Oct 04, 2021
This was our first time camping. We chose this site at the recommendation of a friend that works there. We are so happy we did. We all had a BLAST!!!! So many activities to do, great Halloween spooky trail, amazing store with things like fire wood delivered right to your site. Great food in the cafe. Overall an amazing experience and we will be sure to return next season!!!
Oct 04, 2021
dog friendly - great trails
Oct 03, 2021
It is the nicest and cleanest KOA I have ever stayed at And very accommodating and friendly staff always available and very friendly
Oct 02, 2021
Great Cabin. The entire staff was very nice and helpful Would highly recommend this KOA and will definitely be back.
Sep 30, 2021
The best KOA we have ever visited! Felt like a secluded Forest campground with all the amenities of a premium RV Park. Staff was super friendly and eagar to help with even little things like firewood delivery. The premium spots are epic with grills, chairs, and even loungers. Right on a quaint lake with water toys. The highlight was the miles if hiking and nature trails on the property. They even have a dog beach. How special. This is a prefect place to base out of to visit the White Mountains. You can see how special it is from my Picts...
- Scott Latimer on Google
Sep 28, 2021
We stayed here the week of 9/19/21 with our 6 month old in our 23 foot travel trailer. We had a great time. The staff is friendly and talkative. The grounds are very well kept, including the beach area and pool. The shower houses and laundry were dated, but hot water and good water pressure is all I could ask for! Would recommend to others and would come back.
- Thomas Kemble on Google
Sep 27, 2021
Ery nice camp
- Gadi Cohen on Google