Your Guide to Oysters on Virginia's Eastern Shore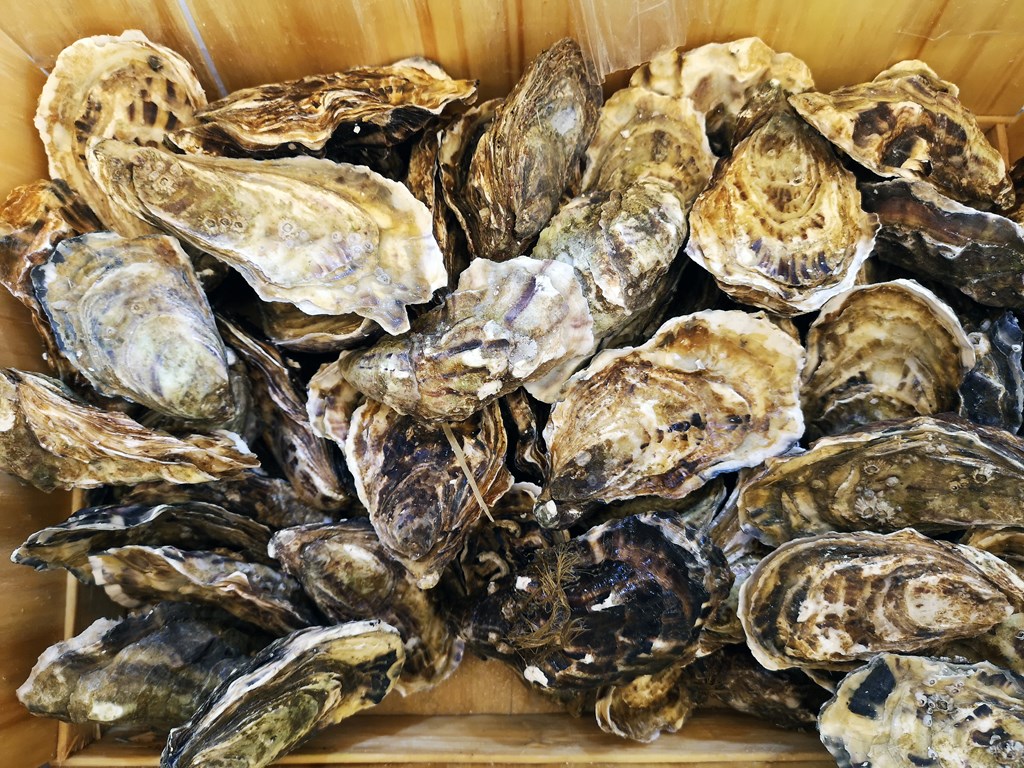 Virginia is known as the oyster capital of the East Coast and the Eastern Shore leads the way in oyster production. There are eight distinct oyster regions throughout the state and four of them are on Virginia's Eastern Shore.
If you've been dying to check out Virginia's oyster scene, a trip to the Eastern Shore is the best way to get more bang for your buck. Here's everything you need to know about experiencing oysters on Virginia's Eastern Shore.
A Brief History of Oysters in Virginia
At one time, wild oysters were so plentiful in the Chesapeake Bay that oyster reefs were a navigational hazard to boats.
In the 1800s, oysters from the Chesapeake Bay and seaside of Virginia's Eastern Shore were shipped across the country. Business was booming. Overharvesting and pollution in the Chesapeake Bay lead to diseases that wiped out large portions of the oyster population in the mid-1900s.
Now, most of the oysters that you'll find on menus across the commonwealth are aqua-farmed. Oysters are spawned in tanks of saltwater in a lab and, when they are big enough, they're transferred into cages that are suspended in the shallow waters of the Chesapeake Bay or Atlantic ocean to finish growing. This new way of cultivating oysters is helping to keep our waters clean and our bellies full!
You may have heard the old adage that you should only eat oysters during months that have an 'R' in them, a.k.a September-April. Thanks to aquafarming, Virginia oysters can now be enjoyed year-round, so eat up!
Oyster Flavors
Because oysters filter water, they taste like the waters they are grown in. Oysters grown in ocean waters will be salty, where oysters grown in the bay will be milder.
There are four oyster regions on Virginia's Eastern Shore and oysters produced in each region have a distinct flavor. Here's how each flavor profile breaks down:
Seaside: bold saltiness at the start with a sweet, buttery finish

Upper Chesapeake Bay Eastern Shore: a balance of salty and sweet with a savory finish

Lower Chesapeake Bay Eastern Shore: Creamy and salty with a mellow sweetness

Tangier: a classic Virginia oyster with a balance of salty and sweet and a creamy finish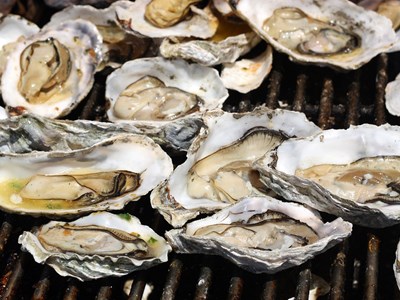 Where to Eat Oysters
Alright, enough background, let's get down to what's really important, where to get your hands on some delicious oysters. Here are a few of our favorite spots.
The Oyster Farm Seafood Eatery
It's right there in the name. You can have your oysters on the half shell, Rockefeller-style or fried. They'll even top a salad with fried oysters. While you're waiting for your fresh, local oysters to arrive, enjoy breathtaking views of the Chesapeake Bay.
The Shanty
If you want to pair your oysters with a beautiful sunset and a delicious cocktail, look no further. Sit on the deck and slurp ice-cold oysters after a day on the beach or grab a seat at the bar and enjoy some juicy fried oysters in a basket or a po' boy.
The Great Machipongo Clam Shack
In addition to a market stocked with local seafood, wine, gifts and more, this seafood shack is serving oysters fried, in a po' boy, on a sandwich, on top of a salad or as part of an array of seafood platters, so take your pick.
Oyster Festivals
In the days when it was only advisable to eat oysters in the months with an 'R' in their name, fall signaled the return of oyster season. Times have changed, but the tradition of fall oyster roast and festivals has stuck and we're glad about it. Who needs pumpkin spice latte season when you've got oyster season? Here are a few fun events to check out:
October, Exmore Rotary Soule Arnold Oyster Roast and Clam Steam
Get your fill of roasted oysters, clam chowder, steamed clams and barbecue with all the fixings.
October 10, Chincoteague Oyster Festival
You'll find oysters served almost every way imaginable at this fall festival. Get your fill of fried oysters, oyster fritters, oysters on the half shell and steamed oysters. Plus lots of other seafood and fixings.
You May Also Like:
The Ultimate Guide to Cape Charles
Can't Miss Events in Cape Charles