Biking in and Around Chesapeake Bay KOA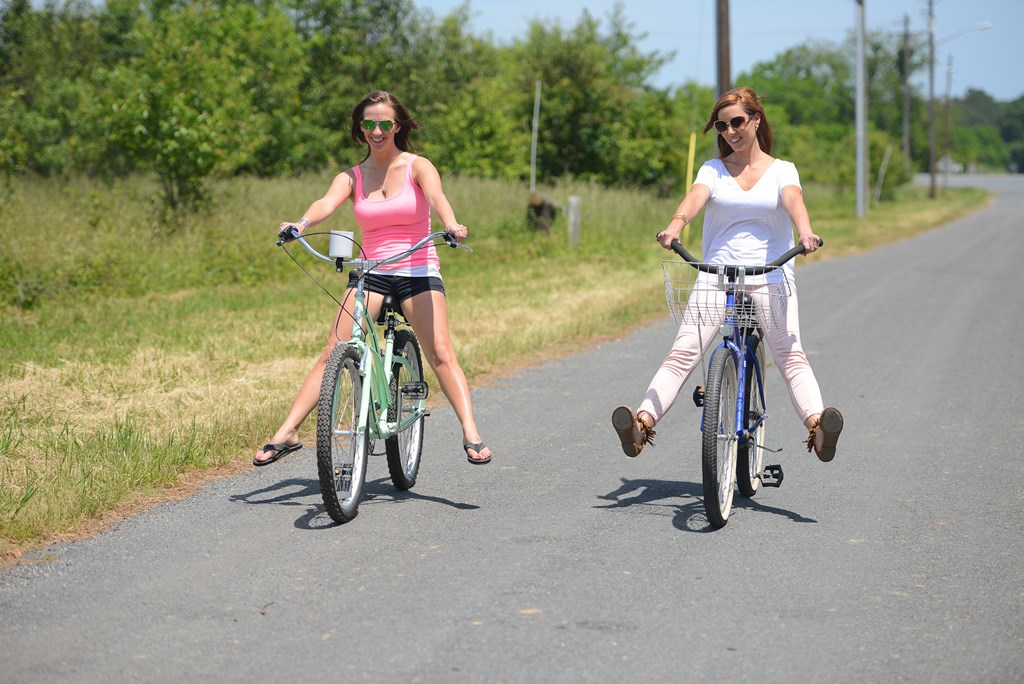 Hopping on a bike is a great way to get some exercise while exploring a new place. Getting on two wheels helps you slow down and immerse yourself in your surroundings.
Luckily, Cape Charles and Chesapeake Bay KOA are bike-friendly! Here are a few fun ways you can explore by bike.
At the Campground
A bike is a great way to get from point A to point B on the campground. Whether you want to ride down to the private beach or head to the campstore for a snack, having a bike will make your stay simpler. You can bring your own or rent one when you get here!
Southern Tip Hike and Bike Trail
This 5-mile trail starts just inside Eastern Shore National Wildlife Refuge, which is just across U.S. Route 13 from Chesapeake Bay KOA.
This tree-lined trail overlooks farmland and is dotted with interpretive signage about local wildlife. Bikers can break off from the path and head into Kiptopeke State Park for additional trails or follow the bike and hike trail to the end for a bite to eat at Stringray's Restaurant.
Kiptopeke State Park
Whether you're hopping off the Southern Tip Hike and Bike Trail or you visit Kiptopeke on its own, it's a great biking destination. This Chesapeake Bay-side park has five miles of hiking and biking trails, and you can bring your bike with you or rent one when you get there. Enjoy beautiful views from bluffs above the Chesapeake Bay on the Bay Overlook trail or stretch your legs a little on the 1.6-mile Songbird Trail. No matter which path you choose, you're sure to enjoy this beautiful park.
Cape Charles
One of the best ways to truly appreciate the charming town of Cape Charles is to park your car on Mason Avenue, the town's main street, and hop on a bike. You can drink in the beautiful tree-lined streets, welcoming storefronts and Chesapeake Bayfront beach. Plus, you can explore the towns shops, galleries and restaurants without worrying about parking!
Next time you stay at Chesapeake Bay KOA don't forget to bring your bike along so you can explore some of these bike-friendly spots.