Local Area Attractions Near Charlottesville KOA Holiday Charlottesville / Albemarle Area Visitors Center
The Downtown Visitor's Center has area information, maps, guides, and two hours free parking validation. Walking tour maps are available. The center is located on the east end of the Downtown Mall at 610 E. Main Street. Call for a free visitor's guide. Open daily. Charlottesville Free Trolley Service - Free rides between Downtown, The Corner, and UVA grounds. 434-293-6789 (12 miles)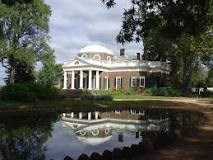 Monticello
Revered home of Thomas Jefferson , third U.S. President and founder of the University of Virginia. The new Thomas Jefferson Visitor Center is now open and includes new exhibitions, theater, museum shop & café. In 1769 at the age of 26, Thomas Jefferson began the design and construction of Monticello. Perched on a mountaintop overlooking the city of Charlottesville, Monticello is a majestic reminder of Jefferson's creativity and talent. House and garden tours. Advance tickets are available on-line. 434-984-9822 (11 miles)
931 Thomas Jefferson Pkwy
Charlottesvill, VA 22902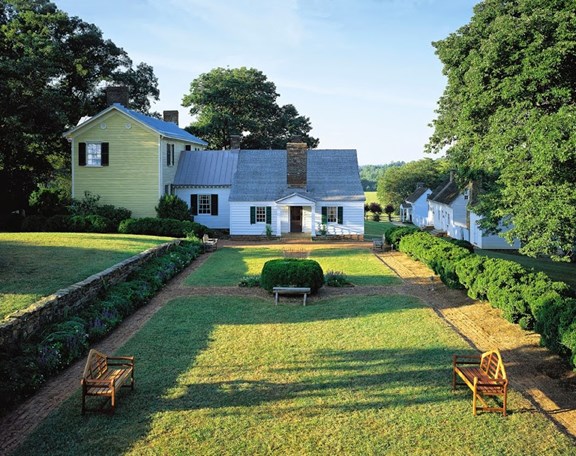 Ashlawn-Highland
Ashlawn-Highland is the restored home of James Monroe , the 5th president of the United States and a close friend of Thomas Jefferson. Monroe's 550 acre estate recreates the atmosphere of a working farm with demonstrations and living history. Tours of the house and gardens are available. There is a summer music festival as well. 434-293-9539 (13 miles)
2050 James Monroe Pkwy
Charlottesville, VA 22903 Michie Tavern ca. 1784
One of the oldest homesteads in Virginia, Michie Tavern , is located on a mountainside near Jefferson's Monticello. Daily interactive tours (9am - 5pm) allow guests to explore 18th-century tavern life, social history and customs. Visitors dine on hearty midday fare in the Tavern's Ordinary from 11:30 a.m. to 3:00 p.m. daily where they are greeted by servers in period attire. At Michie Tavern there is a gift shop, and a grist mill exhibit. 434-977-1234 (10 miles)
683 Thomas Jefferson Pkwy
Charlottesville, VA 22902 University Of Virginia Rotunda & Central Grounds
The University of Virginia is located in Charlottesville. Founded and designed by Thomas Jefferson. Free tours of Jefferson's Academical Village, the Lawn, and the Rotunda. 434-924-7969 (12 miles) Montpelier
A total restoration was recently completed. Located four miles south of Orange, VA, the life long home of James Madison, our fourth President, is a magnificent 1730's Georgian mansion. Daily tours are available of the home he shared with his legendary wife, Dolley, as well as the gardens. A brand new Visitor Center was opened in 2007 with a gift shop and picnic area. (38 miles) Walnut Creek Park
Walnut Creek Park is a 500 acre county park with a 45 acre recreational lake for fishing, boating, and swimming. At Walnut Creek Park, you'll find extensive mountain biking trails. (2 miles) Carter Mountain Orchard
Pick your own apples and peaches at this nearby orchard. Open July through Thanksgiving, Carter Mountain Orchard is close to Monticello. Harvest Festival on select weekends in October. 434-977-1833 (10 miles). Additionally, there are numerous orchards in Nelson County, just south of the KOA. Walton's Mountain Museum
The Walton's Mountain Museum is located in Schuyler, Virginia. The Walton's Mountain Museum is a special blend of history, nostalgia and entertainment. The same building where young Earl Hamner, Jr. attended school now houses replicas of sets from "The Waltons," the memorable television series he created. See where the real "John Boy" grew up and learn the history of the television series. 434-831-2000 (25 miles). Scottsville & The James River
Visit the quaint town of Scottsville, located on the James River. Ride the Hatton Ferry in the summer. Go tubing, rafting or fishing on the river. Rafting companies: James River Runners (434) 286-2338, and James River Reeling & Rafting (434) 286-4386. (12 miles) Appomattox Court House
Gen. Robert E. Lee surrendered at Appomattox to Gen. U.S. Grant April 1865, which led to the end of the Civil War. Visitor's Center, walking tour, film, museum, and living history. (55 miles) Shenandoah National Park & The Blue Ridge Parkway
The Shenandoah National park contains 194,630 acres, including the 105-mile long Skyline Drive. The park holds more than 500 miles of trails, including 101 miles of the Appalachian Trail. CCC built lodge and restaurant, nature exhibits, scenic beauty. The Blue Ridge Parkway is 217 miles in length within the Commonwealth of Virginia. (30 miles) Woodrow Wilson Birthplace & Presidential Library
This attraction is located in Staunton, VA. It is one of the few original Presidential birthplaces open to the public. Woodrow Wilson's first home offers an authentic picture of family life in the pre-Civil War Shenandoah Valley. Tours and gift shop. (40 miles) Frontier Culture Museum
This attraction located in Staunton, VA. The Frontier Culture Museum is a unique museum which offers 17th, 18th and 19th century living history featuring four authentic working farms and a blacksmith's forge. Come trace Virginia's European settlers' roots. (40 miles) Exchange Hotel & Civil War Museum
36 miles- Gordonsville, V A. Former hotel & Civil War Hospital. Open mid-March through December. Tours. Barboursville Winery & Ruins
32 miles -Gordonsville, V A. Crabtree Falls
45 miles - Highest waterfall in the Eastern U.S.A. In the Blue Ridge Mountains. Hiking. P Buckley Moss Museum
25 miles -Waynesboro, V A. Noted artist. Free admission, Guided tours. Wineries
Several wineries offering tours and tastings are located close to the campground. Sugarleaf Vineyards (3.6 miles), First Colony Winery (4.4 miles), Trump Winery/Kluge Estate Vineyard (7 miles), Blenhiem Vineyards (7miles), Ciderworks/Vintage Virginia Apples (6.5 miles), Pippin Hill Farm (8 Miles), Jefferson Vineyards (11 miles), our personal favorite...Keswick Vineyards (22 miles), and many others...