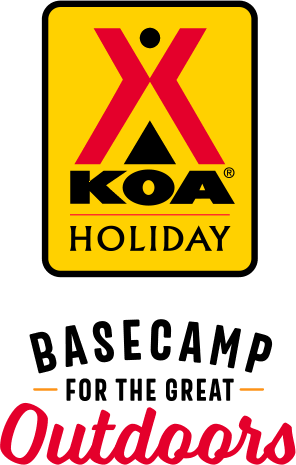 KOA Holiday Campgrounds
Whether you're exploring the local area or hanging out at the campground, KOA Holidays are an ideal place to relax and play. There's plenty to do, with amenities and services to make your stay memorable. Plus, you'll enjoy the outdoor experience with upgraded RV Sites with KOA Patio® and Deluxe Cabins with full baths for camping in comfort. Bring your family, bring your friends, or bring the whole group – there's plenty of ways to stay and explore.
KOA Holidays Feature:
RV Sites with a KOA Patio®
Deluxe Cabins with full baths
Premium Tent Sites
Group meeting facilities
Directions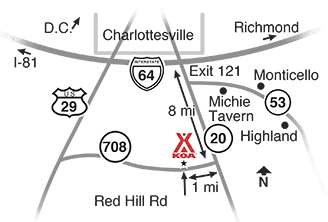 From I-64: Take Exit 121 A to Rt 20 South. Go about 8 miles, take a right onto Rt 708/Red Hill Road. Go 1 mile, KOA on right. GPS directions may be inaccurate. N37.931259, W78.566485
DO NOT TAKE EXIT 120 OFF I-64. Red Hill RD/708 from route 29 is 4 miles of narrow curvy road. We recommend route 20 over 29 if you are coming from I-64.
Get Google Directions
Oct 12, 2021
Very relaxing. Very clean. Staff was exceptional!!
Oct 12, 2021
served the purpose for our reason for staying in the Charlottesville area.
Oct 11, 2021
Great time. Have stayed at Charlottesville KOA several times and will definitely be going again. Love the woodsy, outdoor feel.
Oct 11, 2021
The cabins were clean and updated. The staff was friendly.
Oct 11, 2021
We arrived early and the staff was able to adjust our reservation to accommodate us. With a small trailer, #52 was our spot, very nice next to the tent campers making it more secluded and quiet as well as an easy walk to the pet area and nature trail. Campground is an easy location to see the sites around Charlottesville.
Oct 11, 2021
This was only a stopover for us, but the campground was clean and quite. The bathrooms/showers were immaculate!!!!! As with most KOAs, the sites are kinda close, but I have stayed in closer quarters. Overall its a great campground, if we were planning to stay for more days, it would be on the top of the list. Staff was very friendly and helpful.
Oct 10, 2021
Level site, clean restrooms and showers. Weak wifi. Overpriced.
Oct 10, 2021
Rest rooms very excellent and super clean! Thank you!
Oct 10, 2021
So quiet and secluded. Friendly staff; VERY ACCOMMODATING!! Always enjoy our stay!
Oct 09, 2021
Good for sightseeing. But leaving the campground is very dangerous due to a blind curve. The campground could be better maintained. Many spots were substandard.
Oct 09, 2021
Charlottesville KOA is in a great location, ten minute drive from the interstate with no city lights. Very quiet. At night stars were shinning, fellow campers were talking, it was a great time. Staff are friendly and the bathrooms are clean. We were passing through for a night, we will surely stay there again.
Oct 09, 2021
No escort to the campsite. Never saw any KOA person wandering around (no wood delivery). Dog area had old moldy poop in it. No waste container in the dog pen. Terrible WiFi. The bathrooms were really nice except in the age of COVID, walking into a small room that had a sink, toilet and shower right after someone else (male or female) left, gave us pause. No stool in room and no lid on toilet.
Oct 08, 2021
Great camp but the road in from 29 was xxxx
Oct 07, 2021
We stayed for 1.5 days. We had to leave early when our plans changed. The Charlottesville KOA is always very clean and the staff is very courteous. We always enjoy our stay there.
Oct 06, 2021
Came to area for a wedding.We had a beautiful site # 52 and the bath houses were spotless, looked brand new.Staff were all very friendly and accomodating
Oct 06, 2021
Loved the character and charm of site.
Oct 05, 2021
Pool did not seem to be open.
Oct 05, 2021
The campground is peaceful and beautiful! Everyone we met there was friendly and helpful. We will definately come and stay again.
Oct 04, 2021
Small camp ground, not much as far as activity to do at campground. I wish there wasn't so much red clay around camp site.
Oct 04, 2021
Beautiful campground, friendly and helpful staff. We plan on returning in the future.
Oct 04, 2021
Nice area. Nice people. Great bathroom facilities. Everything was clean.
Oct 04, 2021
Sites are crowded and poor wifi
Oct 02, 2021
Absolutely a wonderful campground. Very impressive and clean. Just a Lovely place to spend time. My first time here and I already look forward to return soon. Staff was friendly and accommodating.
Oct 02, 2021
We just stopped for a night. The laundry room was very clean. For the price, we would think the sites would be more level, but we were okay.
Oct 01, 2021
My mom is a city girl and I'm a country girl, so the deluxe cabin is a happy compromise. It's a lovely set up with a grill, fire ring, and patio plus all the comforts she needs for a good vacation. Great location to hit some wineries, Carter Mountain for all things apple, and a few fishing spots. We love coming here every year!
Oct 01, 2021
Campground was too far off the highway for us. There were a lot of trees so couldn't get much sun. Dog park was too small for dogs to run free. No garbage pick up, no escort to your campsite. Staff was not friendly like all KOA campgrounds are suppose to be. Not very welcoming.
Sep 30, 2021
A very pretty property and was more than I expected. My site was over 100 feet in length and the right amount of privacy and ease of parking. Everything worked the way it should. I would go again.
Sep 30, 2021
Loved the woods and the new bathrooms are really awesome!
Sep 29, 2021
Unfortunately the customer service rep needed further training. WiFi was great
Sep 29, 2021
Loved it there
Sep 28, 2021
Friendly, helpful staff with easy connections.
Sep 28, 2021
Very friendly people.
Sep 28, 2021
Very good service and i like the place
Sep 27, 2021
Very relaxing....enjoyable
Sep 27, 2021
Easy in and out. Thanks.
Sep 27, 2021
Campground is good for an overnight stay or something in the area you are wanting to do. Wouldn't choose to stay for just the campground/amenities. Playground is pretty outdated and the pool wasn't open but looks like it hasn't been used or maintained in several years. Overgrowth all on the fence. It didn't look inviting. We enjoyed the nature trail & fishing but bank is small a dock would be nice
Sep 27, 2021
It was wonderful
Sep 27, 2021
Great location and fairly quiet campground. Was disappointed the playground and jump pad weren't better maintained. Jump pad closes around 5, which the kids weren't too happy. Wish they could have deflated it at dark to give the kids more time.
Sep 27, 2021
beautiful location grounds were neat and clean
Oct 09, 2021
Love most all of the KOAs, this one was great as well.
- Sherri Funk on Google
Sep 08, 2021
A hidden gem in the woods. So peaceful and quiet. Sites are far apart and private. The store has some unique items and was well stocked. Highly recommend.
- Linda Tiedeman on Google
Sep 03, 2021
We called them in a bit of a panic because our destination campground in Pennsylvania had called to say they had no power and many of the roads nearby were closed due to damage caused by hurricane Ida. Since we were already on the road from our home in South Carolina, and pretty far into our trek, we needed to find an overnight spot (the Thursday before a long holiday weekend.) The person who answered and took care of us couldn't have more more kind and helpful. We arrived, pulled right into our spot and had a lovely overnight stay. The campground is very quiet with lots of trees. Our site was private and roomy. The bathrooms were so nice-newly renovated and clean. Each shower was in its own room complete with a toilet and sink. We liked it so much that we decided that what started as a plan b, would be the way we do this trip every year!
- Jen Connelly on Google