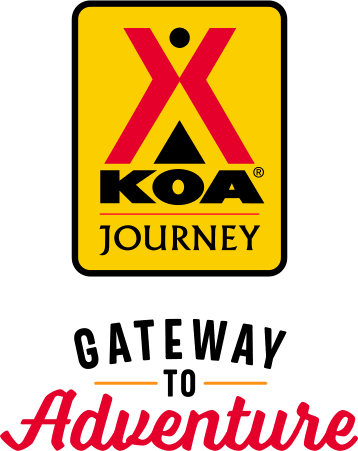 KOA Journey Campgrounds
KOA Journey campgrounds are the perfect oases after a day on the road. Whether it's along the way or a quick getaway, they've got you covered. Located near the highways and byways of North America with long Pull-thru RV Sites, they deliver convenience to the traveling camper. Pull in, ease back and take a load off.
KOA Journeys Feature:
Pull-through RV Sites with 50-amp service
Premium Tent Sites
Well lit after hours check-in service
Directions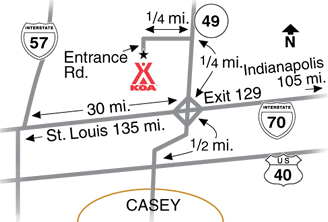 From I-70: Exit 129 1/4 mile north to crossroads, then left 1/4 mile.
Get Google Directions
Apr 05, 2021
Wonderful place to stay. Family enjoyed it
Apr 05, 2021
Nice people, clean and helpful. This was a actually our first time staying at a KOA. We will be back!
Apr 03, 2021
we stopped here for an overnight on our way home. Looked like a nice campground, the host was helpful and informed me about managing the water supply considering it was getting cold (below freezing ) that night. We felt safe there, and we were able to walk our dogs.
Apr 02, 2021
The staff were very welcoming and answered all of our RV newbie questions. The fenced in dog park was a great surprise!
Apr 02, 2021
Close to the hwy but no hwy noise. Friendly staff, clean level sites and clean facilities.
Mar 31, 2021
It's very early in the season so not much going on. Everything was very clean and our site was level. Great place to stay if you want to check out all the Big Things that Casey has to offer!
Mar 31, 2021
We had a great time in Casey and our stay at the KOA journey. The owners were great. Thanks
Mar 28, 2021
Great location convenient to highway and very friendly and helpful staff. Great stay!
Mar 20, 2021
Came in late, very tired. Found our site easy, despite all the rain, site was dry.
Mar 18, 2021
We were just there for a quick overnight, but the staff was very helpful. I did have a problem with the internet. I would log on with site # and a few minutes later, it would tell me to log in again. Same thing happened with my husband. Very frustrating not to get reliable internet. When you have been on the road for awhile it is important to get caught up.
Mar 18, 2021
The male attendant was very rude to me, after I asked to move to a site that didn't have standing water. He refused to speak to me after that. He must be a very miserable person. Because of the way he treated me, I will never stay there again.
Nov 04, 2020
Older campground, but very staff very friendly. Bathrooms and showers very clean.
Nov 02, 2020
Hosts (owners) were rude, arrogant and un-friendly. The park itself seemed in good repair and everything worked. I wouldn't refer anyone here as I wouldn't want them treated like I was.
Nov 01, 2020
Most of this campground is fine, but the WiFi is so slow that it is not usable. There were very few campers there but still poor WiFi. I asked about this problem and the owner said that all they have is a DSL line, it's all they can get. Well, there are other solutions. We won't be back.
Oct 30, 2020
beautiful facility right off of interstate; wooded with a beautiful lake; friendliest owners who make you feel very welcome!
Oct 29, 2020
Arrived a little before closing time and were pleased to be informed that we had been upgraded to a pull-through site. Lovely little lake for no-license fishing. Lots of trees. Spacious sites. The only downer was very scratchy cable TV reception and super-slow Wi-Fi service. I had to use my hotspot to access the web for our next reservation.
Oct 29, 2020
Wifi was terrible
Oct 28, 2020
Great campground, easy in and out. Friendly welcome!
Oct 27, 2020
The staff was great
Oct 27, 2020
Nice campground, level, easy access sites with full hookups and cable TV. I was in the trees which I love.
Oct 27, 2020
Glad we caught them on the last week of their season. Very nice campground and friendly owners. Convenient to I-70 but not right on top of it like some.
Oct 27, 2020
One night only, great service.
Oct 26, 2020
Very helpful folks!!
Oct 26, 2020
Just stopped overnight returning home from a trip. Owners are great; check-in super fast. Whole place clean and neat.
Oct 25, 2020
We had a great time. Only stayed one night but our toddler had a blast playing at the playground and with the giant chess set. Very creative touches in a beautiful setting. It was also in a great location off the interstate with easy access, nearby amenities, and still felt secluded.
Oct 24, 2020
Fabulous! This was our first night camping with our rv. Glenn, the owner, was so wonderful. He helped us with two issues. He was so gracious with his time and knowledge. I highly recommend this KOA. Fabulous.
Oct 23, 2020
Spent six days at this KOA to celebrate a friend's birthday as I had recommended this campground. My friends were very impressed with it. Kathy and Glenn are wonderful hosts who do everything possible to make your stay enjoyable! As always, the washrooms were very clean! The fishing at the pond was alot fun! Thank you very Kathy and Glenn for all efforts to make our stay fantastic!
Oct 23, 2020
People there were very helpful
Oct 22, 2020
We were there at the end of the season, at the end of a rainy day. The woman in the office was very pleasant and helpful, the gentlemen parking us was not. He was crabby and short with us as we tried to position ourselves to avoid a large wet spot directly outside our door. It's raining, he said, everything's wet.....do what you want! not necessary.
Oct 22, 2020
Easy access off of Interstate 70. We were told 1 full hookup site left upon calling. Park was EMPTY! Our fire ring had burnt wood & someone else's dirty sewer gloves in it - nasty! Gentleman that escorted us was not friendly, no smiling, no spoken words, perhaps he was having a bad day.... first impressions matter!!!!
Oct 21, 2020
Friendly staff, all hookups worked well. Could connect to the WiFi but no internet. All sites were dirt... so muddy in the rain. Easy access, parking and exit.
Oct 21, 2020
Very nice and little town of Casey very cute!
Oct 21, 2020
Easy on and off and several gas stations at the exit. We got propane. Quick! Level sites. No muss or fuss so it was an easy stop on the road.
Oct 20, 2020
Very nice great location
Oct 18, 2020
Just staying the night. Host was nice and helpful. I thought the rate was high but usually KOA are higher. It would be great if they had a lower fee for travelers like us who just need a safe and convenient place to spend the night
Oct 18, 2020
Just a quick stop along the route. But this is such a convenient and consistent location that we have made it a frequent stop when traveling along I 70. Level, easy to navigate sites. Hook ups easy to access. Good cable tv. Wi-Fi apppeared strong but it was basically nonfunctional. Could barely load a website to read a newspaper article.
Oct 15, 2020
Absolutely loved this KOA. Escorted to a nice pull thru spot. Quaint and quiet. Some low highway noise but no issue for us. Great area as we unhooked to explore. Want to come back and spend a few days here. Very relaxing. Out of 7 KOAs on this trip, Casey KOA the best!!
Oct 15, 2020
We had a nice stay at the Casey KOA. The only negative was the water and electric was at the front of our 5th wheel and our hookups are in the rear. Had to use every inch of cable and hose that we had. This wouldn't keep us from coming back in the future.
Oct 15, 2020
Very roomy spaces and clean. Such a delight to step out in the morning and see the horses running!
Oct 15, 2020
I was doing a cross country trip to visit a family member and stayed here for a stopover one night along my route. I could not have been happier with my experience! The owner was very nice when I checked in and gave me a map of the town and told me all of the neat things to see in the town of Casey. Then he escorted me to my site and noticed that my power cord was too short. He actually went and got one of his own to borrow so I didn't have to frantically find a store that sold one. He trusted me to just return it to him in the morning. When I woke up the next morning, ready to leave, I found I had picked up a nail in my truck tire and it was flat. I needed a garage and there was an RV garage conveniently located behind the campground! The gentleman there tried to help me, but he didn't have the equipment for my particular setup. So what did he do? He called another garage, got me an appt. right away and personally escorted me with his van to make sure I found the place ok! Talk about going above and beyond!!! I was SO THANKFUL. Some of these reviews make the owner or staff out to be rude, but I have to tell you my personal experience this week shows quite the opposite. I found this staff/owners go the mile for their clients. Thank you Casey KOA and to the garage behind you from a very very grateful mother and daughter traveling to see family across the country. We will always remember your kindness and your help. Side note...this KOA is very well maintained, sites are spaced more than other KOAs, sites and lanes are clearly labeled, gravel is well maintained and level and the huge trees are beautiful and well trimmed so no branches falling on your campers :-)
- Serenity30rb on Trip Advisor