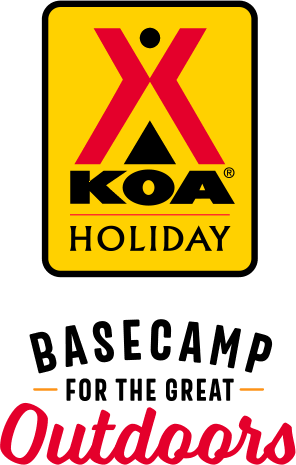 KOA Holiday Campgrounds
Whether you're exploring the local area or hanging out at the campground, KOA Holidays are an ideal place to relax and play. There's plenty to do, with amenities and services to make your stay memorable. Plus, you'll enjoy the outdoor experience with upgraded RV Sites with KOA Patio® and Deluxe Cabins with full baths for camping in comfort. Bring your family, bring your friends, or bring the whole group – there's plenty of ways to stay and explore.
KOA Holidays Feature:
RV Sites with a KOA Patio®
Deluxe Cabins with full baths
Premium Tent Sites
Group meeting facilities
Directions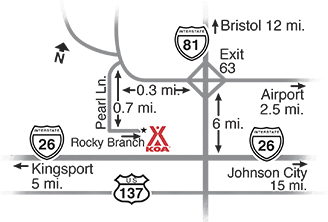 I-81 Exit 63, turn in the opposite direction of the Tri-Cities airport. West .3 mile past Citgo gas station, Left on Pearl Lane, Left on Rocky Branch, follow signs. This KOA is the second campground.
Get Google Directions
Sep 25, 2021
One night stay uneventful. The camp ground had very heterosexual/hard pull to get out of the camping area. Would be fine for smaller campers but we felt ours was just a bit big to comfortably navigate the hills again.
Sep 24, 2021
Friendly staff. Easy in and out , level sites Ice firewood and food delivery to your site
Sep 24, 2021
The campground is well maintained, the staff very friendly and helpful. We would definitely stay again and recommend to others.
Sep 23, 2021
The park was well maintained. The staff was nice and helpful.
Sep 23, 2021
Staff was very friendly and helpful
Sep 22, 2021
Nice campground although be prepared for steep hills (you are in the mountains) Also, be prepared for gas operated golf carts being drove by underage children continuously through the afternoon and evenings.
Sep 22, 2021
From the moment we checked in we knew this was going to be a wonderful stay. Cabin was very clean. Everyone was so nice and helpful. Thank you so much!!!
Sep 22, 2021
Very friendly and attentive staff. Lots of activities for families. Office staff efficient and helpful.
Sep 21, 2021
Very friendly staff. Very clean bathroom s
Sep 21, 2021
Great campground, staff was really nice and professional, everything was clean!
Sep 20, 2021
Very nice and will stay again all workers was very helpful and respectful
Sep 20, 2021
Awesome here for Bristol Race.
Sep 17, 2021
Staff was very friendly and helpful locating places locally
Sep 16, 2021
Very nice staff and food was excellent �
Sep 14, 2021
The Bristol/Kingston KOA is a nice campground. The people working there are very friendly and very helpful. We were escorted to our site by Hank who was a joy to talk to. We had a pull-thru site that was level and gravel. The campground is small but very clean. The bathrooms and showers are clean. The store has everything you need. It's a good location near Bristol.
Sep 14, 2021
Great stay, everything was clean and staff were friendly and helpful. We stayed Labor Day weekend, 3 nights. Our granddaughter enjoyed the pool and great playground as well as the activities led by the staff. Would have given 5 stars but we stayed in site 4 and couldn't build a fire as the ring was extremely close to our neighbors pull out. We had planned a dinner of roasted hotdogs and smore's.
Sep 14, 2021
The staff was just as fantastic as the scenic campground. We felt like we were very well taken care of throughout our stay . We will stay there again if we get a chance to .
Sep 14, 2021
Gentleman who lead us to our site after hours was polite and friendly. Unfortunately site was very slanted and not level. Small site for only a 22' rv van so with a little effort it should not be hard to level. Otherwise a nice KOA.
Sep 13, 2021
The site was very nice. Didn't like the locked bathrooms or having to climb steps to get to the office.
Sep 13, 2021
Very nice campground. We stayed there on Sunday before Labor Day. The park had a BBQ for all the guest. Very nice. Nice people. Some of the sites are not level . Otherwise it was a great park.
Sep 11, 2021
Great place. Great people. Very clean. Henry is the best!!!
Sep 10, 2021
We were put in a site that was extremely unlevel. We had to stay the night on a slope significantly tilted towards the front. When I called in the morning to explain the manager stated "that's because you booked on online and sometimes we miss things". So because they didn't pay attention the profile that we are 40' and put us in wrong site that was our fault. Pool closed 9/2 it was 90 degrees.
Sep 07, 2021
Amazing campground! The hosts were very friendly, there were many activities for kids, and the campground is very family friendly. The bathhouses with super clean and the activities over the weekend were great. My boys had a great time this weekend! We will definitely be back.
Sep 07, 2021
The Staff at this site are amazing! they go above and beyond to help you and they work hard keeping everything in order and clean. This is a hyper family oriented stie with much to do for the kids. The only complaint is that its more setup for RV and cabins and not so much for tents. We did stay on one of the new tent sites and it was good. My parents stayed on one of the older tent sites and it w
Sep 07, 2021
The campsites are not level for the most part, had to dig with our hands while backing in so it wouldn't rip off our septic outlet. Kids loved it because the playground and jump pad was close. Very small campground so a lot more close knot. Not great for bikes because gravel. Campsites are very close together.
Sep 07, 2021
We got to park right next to the Donkeys! They were awesome.
Sep 04, 2021
Very satisfied with campgrounds but especially with staff, mainly Joe who was always friendly and accommodating, will definitely come back
Sep 03, 2021
The staff was very friendly and worked with us. We had an issue with our truck and had to prolong our stay. They worked with us and was very understanding.
Sep 03, 2021
Very nice quiet campground good food and very accommodating.
Aug 30, 2021
Pool hours was very inconvenient from 12-7. Campground was beautiful and all other amenities was amazing along with the staff.
Aug 27, 2021
Nice clean park the bathrooms were great, but my only complaints are there is very little shade, the pool didn't open till noon and closed at 7, and the office/ camp store had limited hours as well.
Aug 25, 2021
This was our first trip in our new travel trailer and it was an absolutely amazing experience. The staff were incredibly friendly and helpful from the time we checked in until we departed. Cleanliness is obviously a high priority to this campground, showers and bathrooms were immaculate. The only downside is the size of the pool, it's pretty small, but still refreshing on those hot days. A+++
Aug 25, 2021
Very Very compassionate employees
Aug 23, 2021
We absolutely loved staying here! We will definitely be back to stay soon! The playground was amazing, our kids LOVED it!
Aug 22, 2021
Very pleasant and helpful staff. Nice facilities.
Aug 21, 2021
Small sites, noisy from highway but ok for one night stop
Aug 21, 2021
Everyone was so friendly and helpful. We all LOVE the lentils, so much that we bought more as soon as we got home.
Aug 20, 2021
The only negative is trying to get into the campground. It's very steep and hard to get out with a 45 ft 5th wheel. Staff was wonderful, food was good and nice campground.
Aug 19, 2021
This is a beautiful campground- very clean, very friendly. We have stayed multiple times and love it every single time. Would highly recommend. We won't stay anywhere else .
Aug 19, 2021
Sad , tired, old campground full mostly of full timers. Very steep, gravel hills packed in. Not typical of the MANY KOA's we have used.
Aug 17, 2021
It was short and sweet. Our request to have firewood delivered after hours was accommodated...and they even followed up with us to be sure we received it.
Sep 10, 2021
We overnighted at this pretty little campground. The host was great! We were one of the last people to arrive for the night and she upgraded us to a site with a patio at no charge. We made good use of said patio and sat outside while we ate supper and planned our route for the next day. Highly recommend!
- Linda Ward on Google
Sep 05, 2021
Wonderful campground with amazing hosts. Very family friendly. The playground was wonderful and the bathhouses with immaculate. We loved it here!
- Teresa Dove on Google
Sep 05, 2021
We had an amazing time at this campground. The staff is amazing and the campground is very family friendly. The bathhouses are spotless and the playground is wonderful. Our boys had a wonderful time. We will definitely be back.
- williamdR1963GO on Trip Advisor