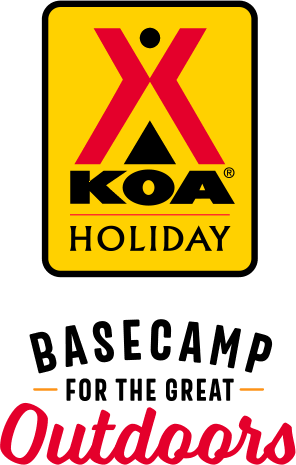 KOA Holiday Campgrounds
Whether you're exploring the local area or hanging out at the campground, KOA Holidays are an ideal place to relax and play. There's plenty to do, with amenities and services to make your stay memorable. Plus, you'll enjoy the outdoor experience with upgraded RV Sites with KOA Patio® and Deluxe Cabins with full baths for camping in comfort. Bring your family, bring your friends, or bring the whole group – there's plenty of ways to stay and explore.
KOA Holidays Feature:
RV Sites with a KOA Patio®
Deluxe Cabins with full baths
Premium Tent Sites
Group meeting facilities
Directions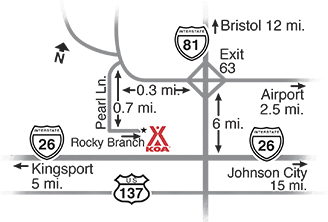 I-81 Exit 63, turn in the opposite direction of the Tri-Cities airport. West .3 mile past Citgo gas station, Left on Pearl Lane, Left on Rocky Branch, follow signs. This KOA is the second campground.
Get Google Directions
May 03, 2021
Roads have potholes, steep drop off hills unsafe for motorhomes, narrow driveways, trashy koa unkept. Very run down camp.
May 02, 2021
Great friendly service and the absolute quietest KOA . Bathrooms nice and clean. Great stay thank you.
May 01, 2021
great place to stay. the facilities have been upgraded and very nice. We stayevery tripup north from Texas
May 01, 2021
Very difficult getting a big rig towing in and out. Other than that all good. Staff very helpful, park just too tight for big rigs with a tow attached.
Apr 29, 2021
A little run down. Others we stayed at during the week were much cleaner.
Apr 29, 2021
Very nice place,and very nice staff.
Apr 29, 2021
It was short but enjoyable
Apr 29, 2021
Staff where very nice. Bathrooms where old but clean and very good water pressure. The back in space was ample for my 23 ft Motorhome. The trip in is a road has lots of ups and downs and sharp curves. The whole campground is on a hill. When leaving the exit from the campsite is a test on if you once where a mountain goat. The entrance use caution. QUIET NIGHT. Lots of seasonal and full timers
Apr 28, 2021
The staff, service and amenities were great. The problem for me is the terrain of the park. I had to be very careful to not tear up my hitch area by keeping my bed from hitting the area around my hitch.
Apr 28, 2021
Very disappointed that there was no cable and the WiFi was weak �
Apr 28, 2021
always friendly office staff and maintenance
Apr 27, 2021
IT ISNT A PLACE THAT I WOULD GO BACK TO.
Apr 27, 2021
Everything was very good, clean and Mike was very nice and friendly. We enjoyed our stay and are going to be coming back again. Thank you.
Apr 26, 2021
Cozy and clean cabin. Staff was friendly. Stayed here to be near Bristol Speedway.
Apr 26, 2021
The staff there is great and very friendly. Very nice and quiet and relaxing, we be there again
Apr 26, 2021
Its a nice clean place that accommodated a late arrival with no problem. My only negative is its smaller than other KOA's that i have been to and there are several steep hills at the entrance and the access roads plus several tight turns that would make it a big challenge for any length over 40 foot.
Apr 25, 2021
We stayed for one night on way home. Employees very friendly and helpful. Campsites too close together. Loved the donkeys!
Apr 19, 2021
We had a great time facility was very nice
Apr 17, 2021
The staff was great. They even helped with my towed vehicle dead battery.
Apr 14, 2021
Very nice sites and people
Apr 12, 2021
OUTSTANDING! Can't say enough good about this place. the people who own/operate are amazing; the place always looked wonderful and we were there for 6 weeks. Well situated for things to do all over TN and VA. It's very hilly that part of TN so this KOA is also hilly, and that made for a great walking workout every day, too. Would wholeheartedly recommend this KOA to anyone!
Apr 11, 2021
Rv gravel sites were VERY uneven. Large piles of gravel, we had to stack almost a foot of blocks to drive on to finally get it right. We asked if there was something they had to level out the gravel and they told us to turn RV around.. Dated playground, but still functional and kids didn't care. Jumping pad closed. There was a donkey making loud obnoxious sounds all day and night, scared kids.
Apr 10, 2021
Very friendly staff and best WiFi around.
Apr 06, 2021
We always enjoy staying here was disappointed that was not informed of office closure and it being torn up for cable etc. Would suggest when office is being closed any campers coming in would be notified.
Apr 06, 2021
Gravel roads are poorly maintain, ruts, dips. Parking site are extremely unlevel. Dog park area a swampy mess, lots of long term RVs with accumulated junk, wooden deck poorly maintained, low water pressure, cable TV out being re-done no indication on website, grills rusty, park staff spent riding golf carts sitting around taking to other staff, good wifi, well stocked store.
Apr 05, 2021
Park under renovations, red mud everywhere. Equipment noise was terrible early morning and the donkey next door "Hee hawing" continuously. Permanent campers with a lot of out door baggage ( bottles, flower pot gardens, table clutter, Styrofoam underpinning etc.) was just not a pleasant sight. Could be a nice little park when complete. Lacks cleanliness for the price.
Apr 03, 2021
Please have your construction crew block roads while digging trenches. We tried to leave and came upon the crew with a trench. We could not back up with our tow dolly. Not a long delay but could have been avoided. The men worked quickly to close up the trench. They tamped and restored the gravel well. Muchas gracias.
Apr 03, 2021
Stopped for just the night. Friendly staff. Roads are gravel, sites are also gravel but nice and level. Picnic table at each site. Nice atmosphere. Surrounded by trees, playground for kids Nice and quiet for a good nights sleep, yet only a little more than a mile off highway Would def stay again
Apr 02, 2021
This is a beautiful campground! For our overnight stay!
Mar 31, 2021
It was ok but expected better as a KOA site. Playground needed work, sites were narrow, bath house was small for shower stall and height of shower head. If you were tall it was difficult to rinse. Friendly staff. Just seemed old and needed work. Didn't see the pool.
Mar 31, 2021
I think it is a crying shame your rates are inflated because we chose to go to a NASCAR race during over a week of camping.
Mar 26, 2021
Very nice staff and a great spot
Mar 23, 2021
We really enjoyed the park. Our site was pretty good our only complaint was it was a little difficult to maneuver a big rig and we scraped up our back bumper due to the steep incline on our way out.
Mar 12, 2021
All I heard were the sounds of nature as I sipped my tea and rocked back and forth on the porch swing bundled up in the extra plush blanket they provided with the cabin. All the pots, pans, dishes and utensils provided by KOA made cooking up delicious meals easy in the spacious kitchen. A full size fridge and freezer gladly held our precious ingredients we had picked out for our 4 day, 3 night excursion. We explored caves by day, cooked and cuddled by night... Can't forget the bon fire we had in the fire ring, and bar~b~q. We had so much fun! Can't wait to do it again!
- Banes Bane on Google
Apr 30, 2021
Very nice people. Sites easily navigated. Our site was super muddy, so that was no fun. But other sites seemed more grassy and better graveled. We has to cut our stay short due to other circumstances and they kindly refunded. Don't see that very often!
- Jo Larson on Google
Apr 17, 2021
Sites were a bit close together but it's a convenient location to stop while passing through. The grounds and bathrooms are very clean. My children really enjoyed the play equipment.
- O H on Google