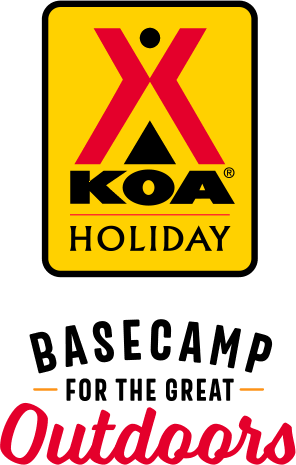 KOA Holiday Campgrounds
Whether you're exploring the local area or hanging out at the campground, KOA Holidays are an ideal place to relax and play. There's plenty to do, with amenities and services to make your stay memorable. Plus, you'll enjoy the outdoor experience with upgraded RV Sites with KOA Patio® and Deluxe Cabins with full baths for camping in comfort. Bring your family, bring your friends, or bring the whole group – there's plenty of ways to stay and explore.
KOA Holidays Feature:
RV Sites with a KOA Patio®
Deluxe Cabins with full baths
Premium Tent Sites
Group meeting facilities
Directions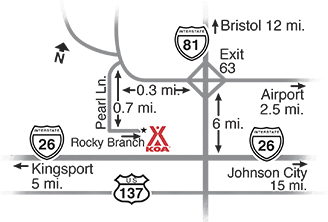 I-81 Exit 63, turn in the opposite direction of the Tri-Cities airport. West .3 mile past Citgo gas station, Left on Pearl Lane, Left on Rocky Branch, follow signs. This KOA is the second campground.
Get Google Directions
Feb 02, 2021
Front desk and our guide to our site were both exceptionally nice and welcoming. Store clean and organized. Site was easy to pull through and hook up. Didn't order food from the on site kitchen/restaurant, but definitely will on our way home. BBQ delivered to my site? Heck yeah. Was hoping to see the goats and donkey, but middle of winter I think they were taking shelter. :) Will stay here again
Feb 02, 2021
Always accommodating and always pleased when we stay.
Feb 01, 2021
Nice facility. Weather was wet and rainy, so didn't get to do much at campground. The configuration for the utility poles was awkward. A bit difficult to hook up to water and the cable tv. I tried all 4 outlets and never could get cable to work. Not a huge deal, but would have been nice.
Feb 01, 2021
It was very clean, comfortable and well stocked. Thank you for the late check out. See you again soon.
Feb 01, 2021
I wish I remembered the names of the two staff members working the office the night we arrived. We are traveling for work and needed to stop last minute due to weather. They got us in and out and into a great site quickly. Overall the campground is really nice. Would love to come back under better circumstances!
Jan 21, 2021
Very helpful and understanding staff, especially when I had to make some last minute emergency changes!
Jan 20, 2021
everything was great and staff very nice and helpful. highly recommend if in the area.
Jan 16, 2021
Stayed one night. Campground appeared to be well maintained and checkin was easy. Close to highway which is a big plus. We will use this KOA again if we travel through the area.
Jan 16, 2021
Everyone was so friendly and helpful with us getting setup. Unfortunately the site was very muddy. There was part of the site graveled but the rest was not so it was hard not tracking mud in and out of the camper. The dog run area was a big mud hole so our dog couldn't use it but there was a nice walk through the wooded tent area and the donkeys were an unexpected treat to be able to visit with.
Jan 05, 2021
1st time here, our camper total height 13'2" took out cable wire tore off our antenna, Owner says it's totally our fault, swears the wire is at State legal height, really! wire runs from up a hill, down the hill, across the entry road and down the field to another pole. no supports in between. didn't see the wire, entering you go down a slight hill, watching for the road. truck pulled up & told us
Dec 24, 2020
The campground was beautiful, but was unattended. I get that it was the holidays, but we paid over $60 and did not even have access to showers, bathrooms or trash! There was no staff at all when we were there either. It was the most expensive place we stayed at on our whole holiday trip!! And it was not nearly the nicest. I don't even care about "Bristol". Not race season anyway!!
Dec 16, 2020
The staff is awesome. They offer food service delivered to your site. The pork bbg, beef brisket sandwiches and hush puppies were outstanding. However, the bathroom/shower facilities are not up to KOA standards. This campground is located only a mile or so off Rt 81 so it is very convenient for a quick one night stay.
Dec 16, 2020
While the staff was so nice and helpful I found the camping area not very level. There was a lot of rain and it was very muddy (not their fault), but the space I was put in was messy and the gravel was thin and my motor home was not anywhere near level. I love KOA, but next time I'll stay at another one.
Dec 15, 2020
We really didn't have a chance to explore and utilize the grounds however, staff was very helpful and friendly. We arrived late and it was dark and having the gentlemen in the golf-cart show us the hook up site was very gracious. Thanks!
Dec 13, 2020
Not the prettiest KOA we've been to but was easy in and out for an overnight. When we needed a place to pull over and get some rest it did the job!
Dec 11, 2020
We only stayed one night arriving late with early departure the next day.
Dec 08, 2020
Site was muddy Could use sum stone and entrance needed a bigger arrow on the sign enter now so you don't have to go turn around and dedicate cars big rig can not turn easy.thanks
Dec 06, 2020
Crowded, sites very close together with zero privacy, crappy gravel roads, very hilly and was muddy when raining. Way too expensive. Should've just boondocked at the Cracker Barrel nearby.
Dec 05, 2020
Very nice grounds and a fine location away from freeway noise. Multiple amenities on site including a small eatery that delivered to the little cabin we overnighted in. Staff was very conscientious and complied with CDC recommendations during our stay as the corona virus was surging.
Dec 04, 2020
Pleasant, quite, everyone was friendly & helpful, had some GOOD BBQ from the onsite Cafe. No problem with recommending this location, and I would stay again if/when we come this way again.
Dec 03, 2020
We enjoy staying here on our way back from travel for an overnight. In and out easy. Great pet area!! Nice staff.
Nov 30, 2020
I can't blame it on the KOA but the trimming of trees for my entire stay made it less than relaxing
Nov 30, 2020
The location was great about 20 mins from Bristol, Kingsport and Johnson city. The staff was so nice, the campground was quite, they had a little restaurant on the property that had good pizza. The only down side was the sites were very uneven so our campground was tilted the whole time.
Nov 30, 2020
The campsites are not big enough. WE could not even put our awning out. Really needs more room. And the spot was not anywhere near level.
Nov 30, 2020
Beautiful grounds, level sites, easy setup. The only negative is the steep stairs to the office.
Nov 25, 2020
At first we didn't have hot running water. Maintenance was super fast and very friendly! He got it working in no time! We were very thankful for him. And we always saw him around the grounds making sure everything looked great. Campgrounds were very clean and tidy and my kids loved playing on the playground everyday! If in the area again, we would definitely stay here again!
Nov 25, 2020
The campground was nicely layedout and registration was safe and easy.
Nov 24, 2020
Manager very nice. However, 4 constantly barking dogs next door was irritating. Owners were away most of the time, so dogs were left alone and barked non-stop. Unfortunately, we were there when they were cutting down trees and running a chipping machine, which made for a very noisy time. Know this had to be done, but hate that we had to contend with it.
Nov 21, 2020
Staff very friendly and helpful. Location was perfect. Close to grocery stores and hiking trails. Plenty of washers and dryers.
Nov 21, 2020
Friendly staff: helpful,
Nov 19, 2020
Ground was not near level and dump station locked till office opens. Way to late for a fast over nighter.
Nov 18, 2020
Everyone was helpful and pleasant
Nov 15, 2020
It was impossible to get level on the site. This koa was another example of a poorly maintained campground. Seriously, does anyone from koa check their franchisees? Dogs next door were barking all evening and again in the morning when their owners decided to go get coffee. Bathroom was clean and separate: had toilet, shower, sink, in one separate unit so you could be safe. Plus.
Nov 10, 2020
We stayed 2 nights and it was very good This is our third stop at this camp ground on our way Tavel plan
Nov 09, 2020
Quick overnight. Back in was a bit tight but not a problem. Quiet, nice site!
Nov 08, 2020
Quiet and clean campground. Really enjoyed the dog park fence area. The resident donkeys were so fun to visit with and they were quiet too, even when the dogs barked at them.
Nov 06, 2020
Really clean and spacious sites. The staff were extremely pleasant and helpful. The wifi was awesome. We had multiple computers streaming video for school and work and did not miss a beat.
Nov 03, 2020
Owners and staff are very nice and make sure that you are happy with your accommodations. Very helpful. Cabins were very clean and well stocked.
Nov 03, 2020
Location was a bit off the beaten path from what was expected. Site was super out of level and in need of upgrade with more gravel to minimize the dirt and mud. Staff was very friendly and helpful!
Nov 02, 2020
Average KOA. Nothing spectacular. Wanted an extra $30 just to have a visitor come for the day (not spending the night).
Nov 02, 2020
Many permanent units & few spots to rent. People living there leave for work early so early noise. Pleasant staff. Access not particularly easy (steep hills) but doable if taking it easy. Cracker Barrel 2 miles away for breakfast!!
Nov 01, 2020
Hosts were very nice but the road to the camp is narrow and steep. Inside the park the roads are steep and not good in good condition. The sites are not level, we've never seen our RV legs so high trying to level. We literally had to jump down from our stairs. Only 2 sites have 50 amp service. Leaving we met a Class A trying to enter, not fun, will not be back. We are full timers 41' fifth whe
Oct 28, 2020
Arrived early. Check-in of 3pm is too late, had to pay an early arrival fee. Otherwise, nice place.
Feb 21, 2021
Campsite review Bristol / Kingsport KOA, Blountville, TN 4-5 stars I would stay again and recommend. Let's start with the positives. • Quiet campground • Full hookups (cable was out) • Nicely designed bathhouse • Well Stocked store/propane refill station • Great WIFI!!! • Verizon also has strong signal • As with most KOA's friendly and accommodating staff. • Truck stop w/ DEF on way out before you hit interstate (makes me smile) • Playground • Jump pad • Outdoor area for bean bags etc.… • Pool Negatives? Nothing really. • In typical KOA fashion the sites are rather tight. • The cable is included in the rate but it was out. (See my pet peeves rant) This area is part of the tri-cities area which includes Bristol, Kingsport and Johnson City. We spent about an hour walking the DT Bristol and a couple in DT Johnson City. We never made it to Kingsport. The area seems very blue collar (I like it) and I assume was originally a large manufacturing area. We had Lunch at White Duck Taco Shop (average at best) and we went to Quantum Leap (not the TV Show) for axe throwing. Of course Michelle hit up a beer bar and we visited some local flavor stores. The Bristol Cavern was pretty cool as well.
- We Travel on Google
Feb 06, 2021
Mike & his wife were very helpful. Stopped in in our way to Ohio to fill up propane they helped us with most of our RV questions.
- Tatiana Cortes on Google
Jan 23, 2021
Helped a friend
- Dana Tracy on Google