Alert
Our season is over. Our Campground will be closed from June 5th until Sept. 4th. You will not be able to book online for those dates.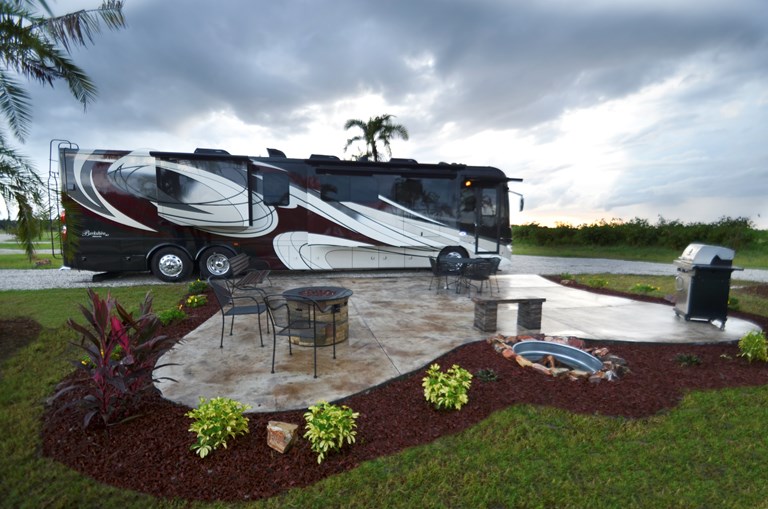 Bradenton / Hunsader Farms KOA Reviews
Directions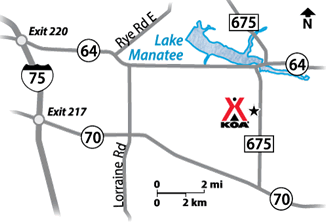 Heading north on I-75: take exit 217. Go East for 10 miles. Turn left on CR 675. We are about 3 miles down on the left. Heading South on I-75: take exit 220. Go East for 10 miles. Turn right on CR 675. We are about 2 miles down on the right.
Get Google Directions
Jun 29, 2020
I was in trouble, found myself in a situation whereby I was told to leave by the FL. State Parks due to Covid-19 but told by the State of FL to shelter at home. As a full time RVer this left me with a huge problem, I had no home. I immediately thought of these guys. They gave me a corner lot and I stayed 2 months! Austin and his Sis are the best, they made us feel like family! Thank you to all!
Jun 03, 2020
Very hot and buggy! There was no internet or concession for not having it. It looks like it would be a great place in cooler weather!
Jun 03, 2020
It was nice but it would be helpful for the market to be open on Sunday and if not to notify the people staying there that they need to get all their supplies before the market closes at the end of the day on Saturday.
Jun 03, 2020
Our stay was fine. We would come again when your open season is in our date time. Also I would like to see more signs to find your facility.
Jun 02, 2020
The employees are very friendly and helpful. Nice dog park area and they even have a petting zoo for the kids.
May 29, 2020
A pool and WiFi would be nice
May 29, 2020
The venue is nice and the sites are very spacious for the pull through sites. The fresh market is a nice addition to the campground. The roads on the grounds are very pitted however to make a bumpy ride to the sites. We know that the campground is just now opening back up in light of the pandemic so I look forward to returning once they are fully operational. We will return in the future
May 28, 2020
We had an amazing time! The farm is pretty and unique. My only suggestion would be better communication from the employees. The staff did not do good job of explaining things. For example, if you are planning on picking your own vegetables it's best that you use your car. One of the food vendors is cash only but there is no ATM. The front desk person didn't even know it was a cash-only vendor.
May 28, 2020
Sites are nice, but the flies were omnipresent. They were everywhere!
May 27, 2020
We had a nice stay. It would have been nice to have some kind of grill on the camp site.
May 27, 2020
Had a great time! Love that you can walk from the campground to the vegetable and produce stand to get vegetables or even get a hamburger at the snack shack if you would like.! I will come back again!
May 26, 2020
Love the farmers market. The staff is very friendly, we enjoyed our stay and have already booked our next stay!
May 26, 2020
It gets better each time we stay! This is a quiet campground, away from the city lights and hustle. The petting zoo is great for the kids, we love the fresh Veggies at the market and if your timing is right, there will be a "you pick" harvest of some sort. The owners are extremely helpful and the upkeep of the KOA is spot on!
May 26, 2020
The campground is nciely appointed and in a rural area, very tranquil. Unfortunately beacuse of the Corona Virus the bathrooms and showers were unavailable. We enjoyed our stay, the staff were extremely friendly.
May 26, 2020
It was perfect nice shade very clean and a lot to do . They do need water connection at dump station .
May 26, 2020
very clean and very friendly people working in office
May 26, 2020
Clean, lots of amenities, nice sites.
May 26, 2020
No wifi otherwise great
May 26, 2020
Everything and more of what I needed to get away for a few days absolutely loved it!!!!
May 25, 2020
Great stay, we will be back!
May 24, 2020
We camped here 2 nights in our travel trailer with full hookups. It's very nice. Because of the coronavirus, the restrooms/showers were closed as we had been told when we booked. Wish they had a pool though as it was hot. The farm market was great. Our pup loved the dog park. They only had one paddle boat at the water. We would come again when they put a pool in.
May 23, 2020
First of all I will say we enjoyed our stay as we were with 6 other family's that were camping there. So we had 7 campsites in total. It was the tail end of the Covid-19 madness, so the bath houses were closed as well as the playground and the train. There are two big issues, no pool and no shade. Because of that we would probably not stay again unless maybe in January.
May 19, 2020
Peaceful. Loved having the Farmer's Market on the grounds. Wish internet was available. I would consider wintering here if internet was available.
May 19, 2020
Everyone was wonderful, especially with the Covid thing going on. However, if there is any way for some shade to happen, that would be my only complaint.
May 18, 2020
Very clean and well maintained.
May 18, 2020
Very nice clean relaxing park to spend some time with the family!
May 18, 2020
during this covid19 pandemic it has been a great place to get away and staying within our state guidelines....THANK YOU FOR BEING OPEN...
May 18, 2020
Beautiful facility and lots of stuff to do.
May 18, 2020
Great hosts. Clean sites. Lots to do.
May 15, 2020
Due to the Covid---there were scant campers onsite. There were 2 washrooms that were accessible--unfortunately one did not have toilet paper the 4 days we were there. The new campground was amazing and immaculate, though. It was nice being able to walk around and see the flowers, and animals and shop at the little store. We would highly recommend this new and attractive campsite.
May 12, 2020
We had a wonderful time, first camping experience. Awesome.
May 12, 2020
Very enjoyable stay. Hopefully, they will put in a pool. This was the only thing missing from the campground that we would have liked.
May 06, 2020
Very nice campground, a little pricey but I would stay again if no state parks were available.
May 05, 2020
We had a great stay at Hunsader Farms KOA. Check in was smooth and everyone we encountered was nice. A great place to get away from the hustle and bustle city life and see some of the "Old Florida". Great farmers market near the entrance. We will definitely be back.
May 05, 2020
We enjoyed our stay. Only had trouble getting through the area for your farm produce area and other functions. Need to figure a way for campers and other parking not to mix.
May 05, 2020
Very nice park overall! Love large level pullthrus! Grassy areas at sites could use sand to build up so less soggy. The only negative I would say is that the public parking for the attractions made it difficult to maneuver our large RV through to exit the park. Crowded with cars/people. Some trees in that parking area need trimming to eliminate low branches. Maybe create a separate exit for RVs?
May 05, 2020
Nice place. We knew amenities would be closed due to Covid-19, but still had a nice time. The farm had Sunflower picking, a nice vegetable/fruit stand (also had meat, milk, eggs, etc.). FYI, the pull through sites don't have much shade and the entrance is a little bit tight (especially when events are going on). We plan on going back.
May 05, 2020
sites were great people very friendly cant wait to go back site we had was best anywhere our own gas fire pit, grill patio table,two benches didn't have to unload anything
May 04, 2020
Very entertaining... very clean... huge... interesting non-RV lodgings.... a destination resort... nice market... local ribeye steak in freezer very good. Booked for Thanksgiving, we in RV, family in cabins.
May 01, 2020
This is a great KOA. Family run, everyone very friendly. Spaces have plenty of room. There is a petting zoo, other large animals, a farmer's market, store, a cafe, and other ways to occupy yourself. It's obvious there is a lot of effort going into this KOA. Not far from Bradenton/Sarasota. We hope to stay again next spring.
May 24, 2020
We went to purchase in season tomatoes and were pleasantly surprised by the barn of antiques. Families were picnicking under shade trees at provided picnic tables. Ambitious souls can "you pick" in season fruits or vegetables. BTW, the tomatoes were delicious and came in a box already picked!
- Linda G on Trip Advisor
Mar 29, 2020
(Translated by Google) A very beautiful, clean place etc (Original) Un lugar muy bello, limpio etc
- Maria Noya on Google

Bradenton / Hunsader Farms KOA
Open October 1 - June 5
5500 C.R. 675
Bradenton, FL 34211
Check-In/Check-Out Times
RV Sites, Tent Sites
Check-in: 2:00 pm, Check-out: 11:00 am
Accommodations
Check-in: 2:00 pm, Check-out: 11:00 am
Bradenton / Hunsader Farms KOA
Get Google Directions

© 2020 Kampgrounds of America, Inc.