Directions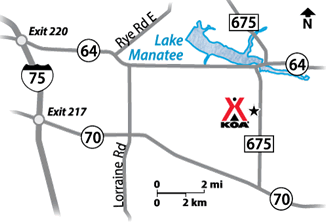 Heading north on I-75: take exit 217. Go East for 10 miles. Turn left on CR 675. We are about 3 miles down on the left. Heading South on I-75: take exit 220. Go East for 10 miles. Turn right on CR 675. We are about 2 miles down on the right.
Get Google Directions
Jan 18, 2021
Enjoyed our stay at this KOA. There is a lot to enjoy here. Campsites are clean and restrooms where very clean as well. The staff was very helpful and friendly. We stayed here for 2 weeks.
Jan 18, 2021
Incredibly clean and great KOA. We've already booked our next stay in March. All the amenities are amazing.
Jan 18, 2021
As always this Koa and its family were fantastic. Thank you. RF
Jan 18, 2021
This is one of the nicest campgrounds that we have stayed in. The sites are big, the bathrooms and showers are clean and large, the dog park is huge, and there are lots to do just at the campground. The staff is very helpful and polite. We will be staying again.
Jan 17, 2021
We enjoyed our stay very much. The antique store and farmer's market were fun to shop at. We don't have children at home anymore, but there were a lot of fun things kids would love. Our dogs enjoyed running in the dog park.
Jan 17, 2021
Friendly staff, spacious r.v. sites, overall above average campground. We will definitely return.
Jan 17, 2021
Beautiful area and clean campground close to many area attractions.
Jan 17, 2021
We we just there for one night - but really liked it - the showers were amazing!! This is very important to us since my husband is disabled- There seemed to be a lot to do there
Jan 16, 2021
Just there overnight. Staff was friendly and helpful. Everything was well maintained.
Jan 16, 2021
Sites are ample size and well maintained. The wifi was a complete disaster and definitely needs work. We were directly across from the dog park which was a busy spot and fairly noisy. If we visit again I will request a site far from the dog park. The wifi and the dog park were factors in a less than perfect stay at a KOA that has a lot to offer.
CAMPGROUND RESPONSE / COMMENTS:
Hi Donald, sorry to hear about the wifi! This is the first complaint I've seen about our wifi and will look into why you may have had a problem with it
Jan 15, 2021
It was really great. Never seem a KOA set up like that. Way Cool.
Jan 15, 2021
We had a wonderful stay and will be back! The facilities were extremely clean and grounds kept up nicely! Loved the animals and fresh market!
Jan 15, 2021
very interesting place. Kids loved the petting zoo and playground. definitely stay here again
Jan 15, 2021
very nice camp ground.wifi is not reliable.no cable,propane or pool. it is very quite being so far out.
Jan 15, 2021
Extremely spacious campground, facilities were very clean, definitely would stay here aga.
Jan 14, 2021
Great farm stand, clean bath houses, and fun things to do on site.
Jan 14, 2021
Excellent stay,
Jan 14, 2021
Beautiful KOA! We were very impressed with the farm and berry picking available. We bought their local beef, veggies and potatoes and all was delicious. Kid's loved the rope course, playground and fishing! So many great ways to interact.
Jan 14, 2021
This place should be enjoyed by everyone. It is perfect for families with children. Playground, petting zoo, photo ops, working farm. Being in our 70's, we loved the peace and quiet. The campsite was clean. The grounds were well kept with limited vegetation for critters to hide and then maybe pop out. If the weather had cooperated, we would have enjoyed some stars at night. We will come back.
Jan 13, 2021
A very memorable and quiet place to stay. We loved the farm atmosphere. Would suggest walkways from middle sections of the campgrounds to the bathrooms and shower houses. When it was full we had to walk the whole way to the end to get around to the bathrooms so as not to walk across anyones section of the campground.
Jan 13, 2021
A very relaxing campground. I loved every minute of our weekend.
Jan 12, 2021
Amazing place!!!! Loved all the things to go. The bathrooms were very clean!!!! Staff was so nice. Loved the little store and snack shack! Will most certainly be back!!
Jan 11, 2021
Was very nice
Jan 11, 2021
Staff was GREAT!! There was another surprise at every turn! Kids loved the obstacle course!! And, very important, the restrooms/showers were very clean, updated and private!! Would highly recommend!!
Jan 11, 2021
Excellent campsite. Very clean. The staff was very friendly. I would definitely recommend and will be returning in the near future
Jan 11, 2021
This was our 3rd visit. I love how clean and well maintained it is.
Jan 11, 2021
Beautiful campsites. Always something to do especially for kids. Great farmers market. Our granddaughter loved the petting zoo and the train ride. Snack shack...nasa wouldn't recommend it.
Jan 11, 2021
Very family oriented
Jan 11, 2021
Best of the Best , clean showers and beautiful everywhere , Family love it !!!
Jan 11, 2021
Quiet, peaceful, lots of great animals to visit with. Need better signage to direct campers to the campground, we got lost. An employee should have led us to our spot, like other KOA campgrounds do. We called and someone came to lead us to our campsite promptly. Definitely would recommend this KOA.
Jan 11, 2021
Beautiful spot.
Jan 10, 2021
Everything about this KOA is a plus!
Jan 09, 2021
This was our first ever camping trip. This camp ground was clean and very easy to maneuver! The employees were always courteous and helpful. We didn't know if we would even like camping, but after the wonderful experience at this KOA, we will continue our camping at KOA campgrounds in the future! Thank you Bradenton-Hunsader Farms! We will be back!
Jan 09, 2021
Looks like a ton of fun activities when things are open. For January and nothing open, $71/night is too much. A heated pool should be bare minimum. FYI - when we called your office to inquire about staying another week, Austin quotes $770 for a week - not sure that's right!?!
CAMPGROUND RESPONSE / COMMENTS:
Hi Linda, at that time the only thing that wasn't open was the Eat Shack. The petting zoo, produce market, u-pick, game room, playground, antique barn, and camp store were all open.
Jan 07, 2021
A pool would have made it a perfect place!
Jan 06, 2021
Great place to RV. Very friendly staff. Great fruit and vegetable market. Only complaint we stayed New Years and the guy across the way blared country music from 9;00 a.m.till late at night. Spaces are wide and easy in and out.
Jan 05, 2021
Beautiful campground but wished petting zoo was available to campers for free. Definitely will come back though.
Jan 05, 2021
If you are not a young family there is not much to do here. A pool would be a GREAT addition. The restrooms are wonderful! The campgrounds were clean, however, the area you have to drive thru (a Western Style little town) and the farm area was not. Old trash all over the place. Made worse by it not getting picked up before being mowed. No trimming of the grass gets done either.
Jan 04, 2021
We enjoy this KOA. Good: Wifi, farmers market, clean/private bathrooms, ice cream, zoo, huge dog park, fishing, volleyball, playground, gaga ball, soccer, disc golf, walking path, u-pick fruits/veggies. Bad: No food to eat on site (eat shack closed), hot water in shower has mind of its own (same issue in March & still unresolved), farm buggy & train rides only on Sat. they need to run more days.