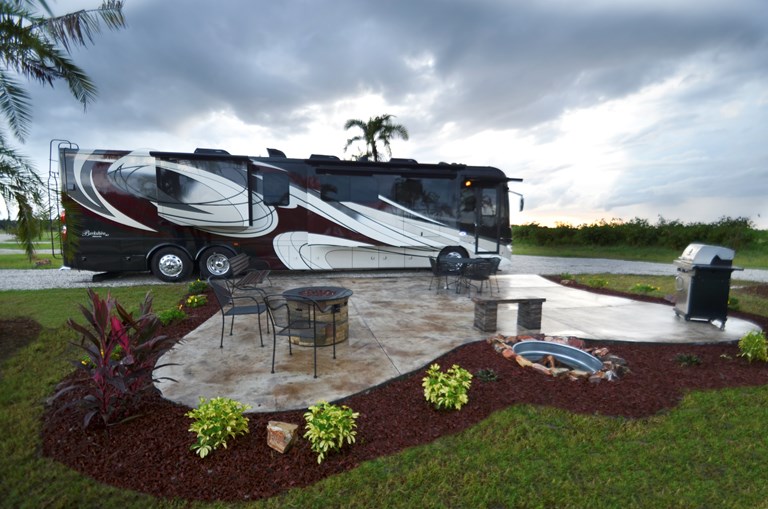 Bradenton / Hunsader Farms KOA Reviews
Directions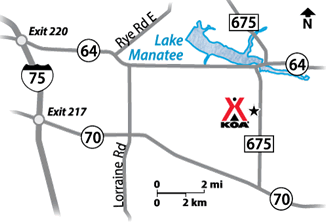 Heading north on I-75: take exit 217. Go East for 10 miles. Turn left on CR 675. We are about 3 miles down on the left. Heading South on I-75: take exit 220. Go East for 10 miles. Turn right on CR 675. We are about 2 miles down on the right.
Get Google Directions
Oct 17, 2020
Was great. Going back next week for the 3rd time!
CAMPGROUND RESPONSE / COMMENTS:
Oh my goodness thank you! We are looking forward to your return!
Oct 15, 2020
What a wonderful campground. This was our 2nd trip to the campground. Staff was very attentive and the place is immaculate! Love everything about camping there. This trip we stayed in the premium sites and they are top notch! We will be back very soon!!! Our group had 2 premium sites and 1 cabin.
Oct 15, 2020
Best campground we've been to yet. So much to do and see. We'll be back. Clean bath/shower area. The maintenance man was so friendly and helpful, was always willing to accommodate us.
Oct 13, 2020
It was during the pumpkin festival and we had a great time! The Campground was clean, the sites were roomy, the bathrooms new& clean and the staff was super friendly! We'll definitely come back again!
Oct 13, 2020
We loved everything about this campground. The amenities were cleaned, the cabin we stayed in perfect condition, the staff was very friendly and helpful. The pumkin festival was awesome! We cant wait to return soon.
Oct 13, 2020
We had a wonderful time and truly enjoyed the festival! The KOA was clean, and the staff was very helpful and kind. The farm experience was the icing on the cake.
Oct 13, 2020
What a great campground! We loves the pumpkin festival and this was a perfect place to stay. The campground is super clean and the sites are spaced nicely and well appointed. The staff was very friendly as well. Our dog loved the huge dog park and he gives it 5 barks! We hope to be able to camp here again soon!!
Oct 13, 2020
Campground is set up very well. Lots of activities for all age groups. Very friendly staff. We have been 4 times since they opened earlier this year.
Oct 13, 2020
Wish we could have rented a golf cart.
Oct 08, 2020
Very quiet campground, really nice clean restrooms and really cool facility to explore. A little far out from "normal" restaurants, beaches etc, but very worth it !!!!!!!!
Oct 06, 2020
Love how peaceful the farm is!!! Can't wait to return again!
Oct 05, 2020
Love staying on the farm. U pick pumpkins was an added bonus! We will be back !
Oct 05, 2020
Really need to fix the air conditioner on Cabin 30. But this site is fabulous! Loved it.
Oct 05, 2020
We had an amazing time. We will definitely be back. The kids had an absolute blast waking up and seeing what animals were right outside the door. Everyone was extremely helpful with any questions we had. We will be back with friends and family soon!
Oct 03, 2020
Very friendly staff. Best dog park ever!!!!
Oct 02, 2020
The staff was kind, considerate, and very helpful. The bathrooms were clean and the park was clean.
Oct 01, 2020
The cabins were very clean and the bathrooms were IMPECCABLE!!
Sep 28, 2020
10 Stars!!! Thank you for your outstanding hospitality! Austin, Rachel and the rest of the team were so nice and helpful. They made us feel like family from the moment we walked in the door!! Campground and rest of property is extremely clean, well maintained, excellent produce. Loved the antique store and all the wildlife, the duck family's kept us entertained daily. Definitely worth the upgr
Sep 25, 2020
Great stay. People very friendly and helpful! I had an issue with my truck and the bent over backwards to help me get it started so I could get to town. The campground is new and in a nice quiet area, yet 20 min to town if you need to. The country store on property had tons of veggies, milk, and meat locally sourced or gron on property. We will be back!
Sep 21, 2020
It was magical! The kids were so happy and the staff were super friendly. The cabins are adorable and super clean. We had a lot to do so we never left the farm. Job well done.
Sep 21, 2020
It is an interesting place to stay, in that there are a great many things to see there. I liked seeing all the animals: buffalo, kangaroo, Llamas, chickens, goats, etc. Not many campers were there? Why? Maybe it was the price? We stayed 2 nights with the KOA member appreciation weekend, so one night was free. Thank you! But it had rained a lot. We set up in standing water for elec. & H2O
CAMPGROUND RESPONSE / COMMENTS:
Hi Sandra! Thank you for your review! In the KOA directory, our season opening date is October 1st. We decided to open a little earlier than advertised, which is why we are a little slow right now ;)
Sep 19, 2020
Awesome. People are great and super friendly.
Sep 17, 2020
This was our first trip with our first RV. The campground was awesome. The site was easy to get into and the bath/shower houses was very clean. Staff was friendly and sign in and out was super easy. The campground does have WiFi even though others have said they don't. It might be a new addition. We will be back. Great trip and place to visit.
Sep 11, 2020
This place is so cute, it had a a produce stand, farm animals, and great laundry facilities. RV hook up was easy and accessible. The lay out of this KOA is perfect for camping and lodging. Very quiet at night. The staff were extremely helpful and nice. Would recommend for camping!
Sep 09, 2020
Definitely a great place to stay. The farm stuff is a little outdated but it was also reopening weekend and I'm sure they have some cleaning to do. The camp portion of the park and the bathhouses are immaculate. There's not a lot of shade, but there was a good amount of space per site. I'd recommend going during the fall. I feel like it would give you the most bang for your buck.
Sep 08, 2020
great campground, great staff. you never need to leave.
Sep 08, 2020
Loved our stay! Booked again for February! �
Jun 29, 2020
I was in trouble, found myself in a situation whereby I was told to leave by the FL. State Parks due to Covid-19 but told by the State of FL to shelter at home. As a full time RVer this left me with a huge problem, I had no home. I immediately thought of these guys. They gave me a corner lot and I stayed 2 months! Austin and his Sis are the best, they made us feel like family! Thank you to all!
Jun 03, 2020
Very hot and buggy! There was no internet or concession for not having it. It looks like it would be a great place in cooler weather!
Jun 03, 2020
It was nice but it would be helpful for the market to be open on Sunday and if not to notify the people staying there that they need to get all their supplies before the market closes at the end of the day on Saturday.
Jun 03, 2020
Our stay was fine. We would come again when your open season is in our date time. Also I would like to see more signs to find your facility.
Jun 02, 2020
The employees are very friendly and helpful. Nice dog park area and they even have a petting zoo for the kids.
May 29, 2020
A pool and WiFi would be nice
May 29, 2020
The venue is nice and the sites are very spacious for the pull through sites. The fresh market is a nice addition to the campground. The roads on the grounds are very pitted however to make a bumpy ride to the sites. We know that the campground is just now opening back up in light of the pandemic so I look forward to returning once they are fully operational. We will return in the future
May 28, 2020
We had an amazing time! The farm is pretty and unique. My only suggestion would be better communication from the employees. The staff did not do good job of explaining things. For example, if you are planning on picking your own vegetables it's best that you use your car. One of the food vendors is cash only but there is no ATM. The front desk person didn't even know it was a cash-only vendor.
May 28, 2020
Sites are nice, but the flies were omnipresent. They were everywhere!
May 27, 2020
We had a nice stay. It would have been nice to have some kind of grill on the camp site.
May 27, 2020
Had a great time! Love that you can walk from the campground to the vegetable and produce stand to get vegetables or even get a hamburger at the snack shack if you would like.! I will come back again!
May 26, 2020
Love the farmers market. The staff is very friendly, we enjoyed our stay and have already booked our next stay!
May 26, 2020
It gets better each time we stay! This is a quiet campground, away from the city lights and hustle. The petting zoo is great for the kids, we love the fresh Veggies at the market and if your timing is right, there will be a "you pick" harvest of some sort. The owners are extremely helpful and the upkeep of the KOA is spot on!
May 26, 2020
The campground is nciely appointed and in a rural area, very tranquil. Unfortunately beacuse of the Corona Virus the bathrooms and showers were unavailable. We enjoyed our stay, the staff were extremely friendly.
Sep 24, 2020
We stayed here a few days. Everyone was really nice and helpful. The restrooms are really clean. The campsites are further apart than most KOAs giving us some green space. They even lending us a hand to get our truck jumped when our battery died, and they went the extra mile with helping. Looks like tons to do on the weekends with train rode, buggy rides. They have a nice produce stand and store too. We went mid week just to chill around the farm! Thanks y'all can't wait to go agsin!
- Bill McElveen on Google
Sep 11, 2020
Love the petting zoo! Great mix of farm animals and exotic creatures. Fresh locally grown vegetables and dairy products in the farmers market. Staff is very helpful and knowledgeable, with enthusiasm and charisma. I will be returning weekly for all my produce. Love this place!
- peter schrum IV on Google

Bradenton / Hunsader Farms KOA
Open October 1 - June 5
5500 C.R. 675
Bradenton, FL 34211
Check-In/Check-Out Times
RV Sites, Tent Sites
Check-in: 2:00 pm, Check-out: 11:00 am
Accommodations
Check-in: 2:00 pm, Check-out: 11:00 am
Bradenton / Hunsader Farms KOA
Get Google Directions

© 2020 Kampgrounds of America, Inc.