Directions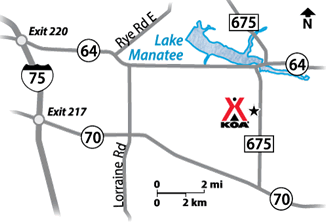 Heading north on I-75: take exit 217. Go East for 10 miles. Turn left on CR 675. We are about 3 miles down on the left. Heading South on I-75: take exit 220. Go East for 10 miles. Turn right on CR 675. We are about 2 miles down on the right.
Get Google Directions
Apr 06, 2021
I love staying here and in the trees. Quiet, love seeing the animals and enjoy being in the country.
Apr 06, 2021
I LOVED IT! I only have one complaint. First time camping, would have been nice to have instructions on how some of the things worked in the RV I rented. Like, the Heat stayed on for about2 mins... well... the propane gas was out. Nice to know, where the fusebox is, since we blew it, by running the Kureg and Tea Kettle. But, when I called, you had the problem fixed within 30 mins. iwillbeback
Apr 06, 2021
What a wonderful place to camp!! The log cabins and restrooms were so clean and smelled good. People were so friendly and all the activities were amazing. We will definitely be back!
Apr 06, 2021
Awesome place! Clean and friendly definitely recommend anyone staying.
Apr 06, 2021
Great site and large dog park. Friendly staff. We always enjoy staying here.
Apr 06, 2021
What a wonderful place with lot's to do
Apr 06, 2021
Beautiful, relaxing, clean, roomy pull through RV spots. Plenty to do... very kid friendly. We will be back!
Apr 05, 2021
First KOA I ever stayed at that did not have a pool or cable and the internet was intermittent, making it difficult to work from "home". But the campground is lovely and we enjoyed the market and ice cream shop and cafe. The people are friendly. It would have been nice to know about the activity building and zip line instead of my grand kids finding it several days later. The dog park is g
Apr 05, 2021
It was a beautiful place to stay very peaceful thank you.
Apr 05, 2021
Fantastic koa. We will be back
Apr 04, 2021
Our second time staying at Hunsader, and our first in the large Silo. Our family had a great time at this KOA and look forward to returning later this year. The Silo had everything we needed with an unexpectedly, but much appreciated large bathroom. The only feedback would be updating the towels provided (most of them had holes in them). Also, some of the game room activities need updating.
Apr 04, 2021
Not sure why my survey is in French, but I have a rudimentary skill. KOA is great, best I have been to. Need a pool, but you know that. Laundry room needs a chair or two, maybe a bench outside. Restrooms were phenomenal, tho I felt I wasted water cuz it took long to get warm. How about recycling? Thanks! I'll be back.
Apr 04, 2021
Gorgeous property with a lot of awesome sights to see and animals to look at. Clean facilities and plenty of room between sites.
Apr 03, 2021
We only stayed 1 night but we definitely will be back!!!
Apr 03, 2021
It was amazing! So much to do and so much to offer!
Apr 03, 2021
It was beautiful, well maintained, clean, nice big individual bathrooms with shower, clean laundry facilities, our site had a large patio with working gas grill, patio table with 4 chairs, a sitting bench, and a fire pit. The doggies had plenty of space to walk around, staff was friendly, we loved it and highly recommend it. You need to check in before 5pm; no one answers after 5pm.
Apr 02, 2021
Wish there was a pool was very hot to stay in tent camper with no A/C when was hopping to get a spot with trees for shade. Loved that I got upgraded to a better spot could use the grille as it wouldn't work right finally got it switched out on my last day.
Apr 01, 2021
Spacious, well kept RV spaces. Easy to maneuver our RV in and out. We had no issues while at the campground. Sites are out in the sun.
Apr 01, 2021
Very nice workers, only problem we had was the camp site flooded after a rain.
Apr 01, 2021
Sites are nice and open. Roads are very dusty and dirty. A large load of gravel would go a long way. A pool addition would make this campground complete. Without the pool it is a one stop show. Nice campground but once you have seen the farm and activities not much else to go back for.
Apr 01, 2021
We love staying at Bradenton/Hunsader Farms KOA! This KOA is clean, everyone is nice,and we feel very safe here! This is a wonder place to stay for families!
Mar 31, 2021
Great place to stay lots of activities to do and very quit will be go back again
Mar 31, 2021
Overall this is a fun campground to visit. Please be warned that when it rains the campsites turn into mini pools. I wish they would be more proactive in offering to pump out the water for you. I had to visit the front office to request it. We could not get out of our camper without stepping directly into the water. er.
Mar 31, 2021
Enjoyed our stay, roads alittle dusty. Loved it there. Needs a pool. We are coming back in October.
Mar 31, 2021
We tent camped during very, very heavy rain. The only thing not calf deep in water was our tent. Younger Kids loved it and had a blast, so that made it worth it. Great bathrooms!
Mar 31, 2021
Love it, very peaceful except for a very LOUD four wheeler constantly driving around. We stayed under the oak trees.
Mar 31, 2021
Such a fun and unique place. So quiet.
Mar 31, 2021
It was a nice site.
Mar 31, 2021
Was beautiful and had a wonderful time
Mar 31, 2021
First time for us, really really like this campground. A little out of the way but nice and quiet. Sites well spaced. Lots to do and see for a family. Facilities well maintained and cleaned.
Mar 31, 2021
The facility allowed numerous noisy gas powered ATV to be operated by children and or adults transporting children on continuous loops throughout the KOA to include roads not associated with their camp sites. This significantly degraded what was otherwise a very nice stay.
Mar 31, 2021
We had an amazing time. All the adventures we where able to do and not even leave the gates. Only recommendation we have. Is a premade path going from the tree sites to the bath house. So it's not cutting the lot of someone else. Because kids will be kids but having something that is set in place will limit any issues
Mar 31, 2021
very nice layout and friendly staff
Mar 28, 2021
We stayed in the beautiful and unique silo lodging. I was completely impressed by the decor and the use of space! We had kids with us so they really loved the bunk beds! The location was great too! A short walk to the working farm/upick! The silo is situated next to a little park and a pond fully stocked with bluegill/catfish for catch and release fishing! We had such a memorable trip!
Mar 28, 2021
This is a great KOA! The location is very convenient. There is so much to do at this place...petting zoo, pony, train and hillbilly hayrides, a seasonal corn maze, fresh farm stand, cafe, store, walking path, adventure course, I could go on and on. This is ideal for families. The spaces were spacious and access was easy.
Mar 28, 2021
Went to work in sarasota everyday from camp. Loved coming back to a mini vacation daily. Professional and very relaxing. Only live an hour away but well worth the stay.
Mar 28, 2021
Entering the property could use improvement. Signage is confusing due to all the things they do there.
Apr 06, 2021
We stayed here for several days. One of the nicest KOA's we have stayed at. This is our second time to stay here. Love the crushed shell, level sites. They are good sized spaces. Not stacked in like sardines. The fresh produce, open air stand was a breath of fresh air. Great selection of fresh produce. Helpful staff too. Florida doesn't have a mask mandate. And that's why we went there. Beautiful place to stay. We will be back ❤
- eunice wilks on Google
Apr 01, 2021
Nice. My pull through site was very large. On a hot day, I would've wished for some shade. Some back ins are very shaded. Call them.
- Rich Pascucci on Google