Local Area Recreation Near Bradenton / Hunsader Farms KOA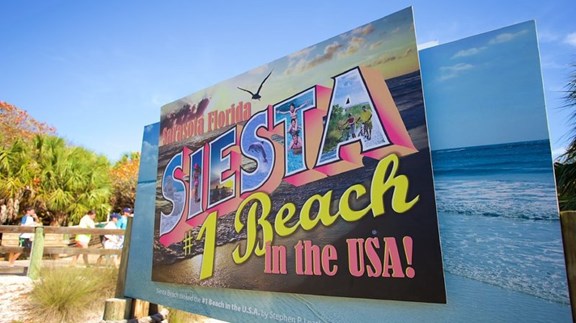 Siesta Public Beach
Siesta Beach sits adjacent to the glittering Gulf of Mexico and has been named the nation's best -- twice.  Known for its brilliant quartz sand, turquoise waters and many beachside amenities, Siesta Key is a must-visit island paradise. Siesta Key offers something for everyone. Siesta Key is a romantic getaway for lovers, a family vacation destination and a playground for active sports enthusiasts
948 Beach Rd
Sarasota, FL 34242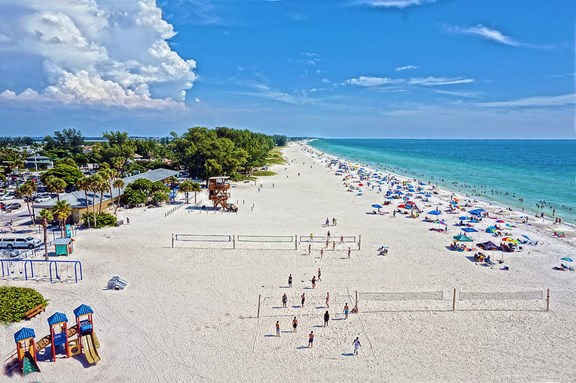 Anna Maria Island
Anna Maria Island is a barrier island on Florida's Gulf Coast. It's known for its broad beaches, like Manatee Public Beach. In the small resort city of Anna Maria, Pine Avenue is lined with shops, galleries and eateries. Anna Maria Island Historical Society Museum features a restored 1920 cottage.
4000 State Road 64 and Gulf Drive
Bradenton, FL 34217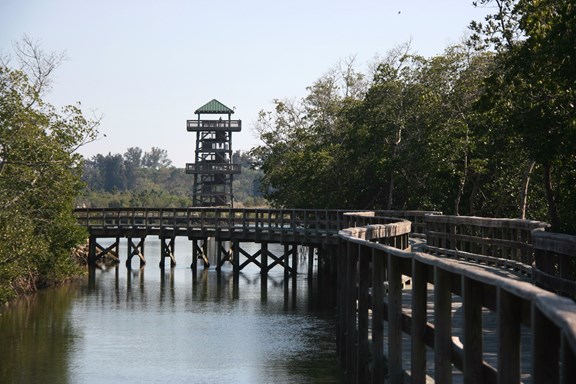 Robinson's Preserve
Robinson Preserve in Bradenton Fl, is a salt marsh now home to jumping mullet and hundreds of other species of fish and other marine life. This preserve is a 600+-acre coastal preserve located in northwestern Bradenton.The interior of the preserve features hiking paths, kayak and canoe waterways, bridges, picnic spots, mangrove forests and a 53-foot-tall tower with a wide-open view of the Tampa Bay area. The 120-year-old Valentine House, moved to the preserve by boat, is near the entrance to the property.
1704 99th Street NW
Bradenton, FL 34209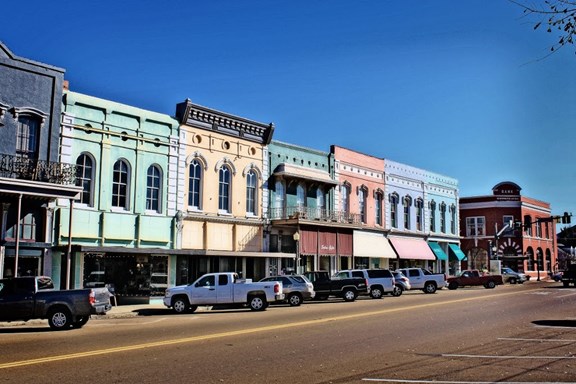 Historic Arcadia Antique Shopping
A secret to most, Arcadia has a rich history of cattle-raising, which means it also had – and continues to have – a large contingent of cowboys, known locally as Florida Crackers (for the sound made by their whips). Located just 35 minutes east of our campground, Arcadia sits in the middle of Florida cowboy country and it is a place where the Old West meets the Old South. Rodeos and other competitions in Arcadia are common. Arcadia is also known for its peaceful orange groves, streams built for canoeing, and it's historic main street filled with antique stores and restaurants. Downtown Arcadia is quaint and compact, comprised mostly of one main avenue –  Oak Steet – surrounded by a cluster of early 1900s buildings, most of which were built after a 1905 fire and damaged 100 years later by Hurricane Charley. Few hints of destruction remain, though some resilient shopkeepers and bar and restaurant owners are glad to share their stories of survival.The area comes alive on Saturdays, particularly on the fourth Saturday of each month, when more than 100 antique dealers roll up and set up tables around a four-block district. During winter and spring months, thousands of curious collectors might arrive, sifting through military weapons, comic books, Depression glass, silverware sets, artwork, stamps, dolls… you name it, you'll probably find it here.
Oak Street
Arcadia, FL 34265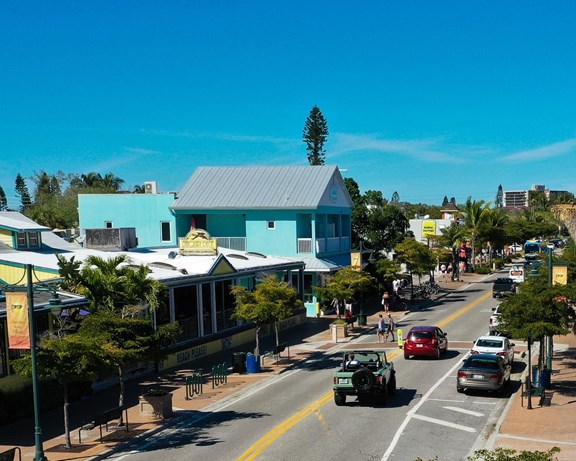 Siesta Key Village
Not far from downtown Sarasota, the small island of Siesta Key sits on the gleaming Gulf of Mexico and boasts one of the best beaches in the country. In the heart of this quirky, fun island is Siesta Key Village, a colorful, lively village near the beach that is full of restaurants, shops, bars, spas, ice cream parlors, and much more.The village is all about shops, parties, and fun, and its festive atmosphere is just perfect for barhopping. The village really gets busy during the many festivals it hosts, so if you can, time your visit with one of them. The Siesta Fiesta is one of the more popular events. Check the nightlife as well; there is something for everyone.
5151 Ocean Blvd
Sarasota, FL 34242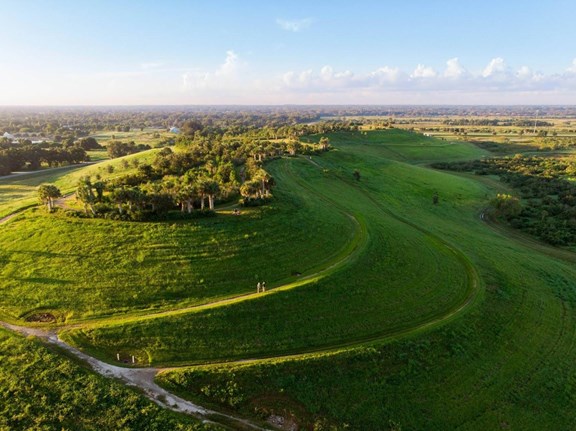 The Celery Fields
20 miles from our campground, The Celery Fields is an area of wetlands owned by Sarasota County. The wetlands site is found on the Great Florida Birding Trail and features an observation mound, trails and ponds. Covering more than 360 acres, the site is also Sarasota County's main storm water collection zone. Restoration of 100 acres of the wetlands included planting over 200,000 aquatic trees and plants, as well as the construction of two boardwalks, so that the public can see the wetlands and the wildlife. The site is a popular place for bird-watching and 217 species of birds have been seen here.
6893 Palmer Blvd
Sarasota, FL 34240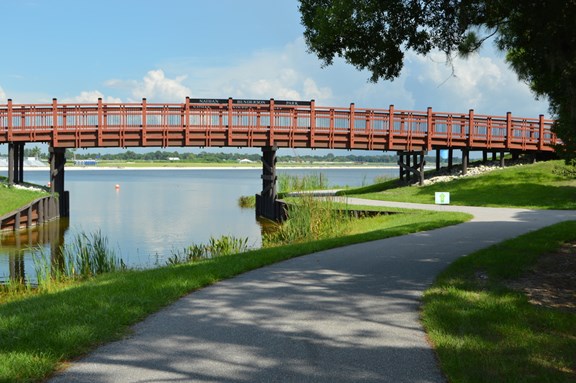 Nathan Benderson Park
Nathan Benderson Park started as a pretty but ordinary park with a large man-made lake in its center. It was great for a run, hike, a dog walk, or paddling a kayak or a paddleboard. Then rowers discovered it. Apparently, this unique 600-acre park with its 400-acre lake has been declared as one of the few facilities in North America with all necessary natural attributes for a first class rowing facility. As a result, the park started having regular regatta competitions, and it acquired a range of facilities necessary for this sport: racing lanes, coaching lanes, straight shorelines, wave attenuation, a boathouse, a training center, start and finish huts and towers, grand stands for spectators, and a modern boat maintenance facility. Don't worry, you can still take a spin around the lake on your bike or bring a picnic basket for a Sunday lunch on the grass. Located just 17 miles from our campground.
5851 Nathan Benderson Cir
Sarasota, FL 34235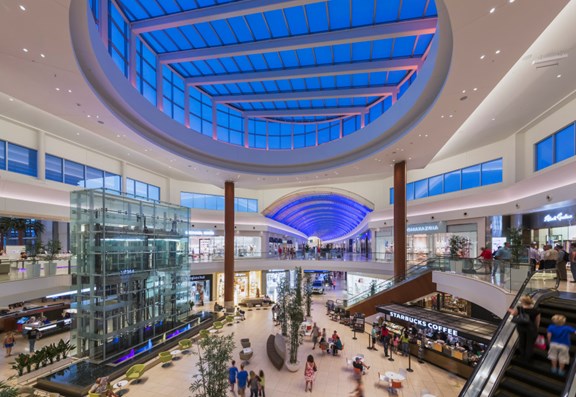 The Mall at University Town Center (UTC)
The Mall at University Town Center is the preferred shopping and dining destination of Sarasota, FL, featuring over 100 retailers and restaurants including Brio Tuscan Grille, Cheesecake Factory, Seasons 52, Capital Grille, and more. Visitors can enjoy special events, seasonal celebrations, and fabulous sales and offers from their favorite brands. The UTC mall also has the closest Apple store in the area.
140 University Town Center Dr
Sarasota, FL 34243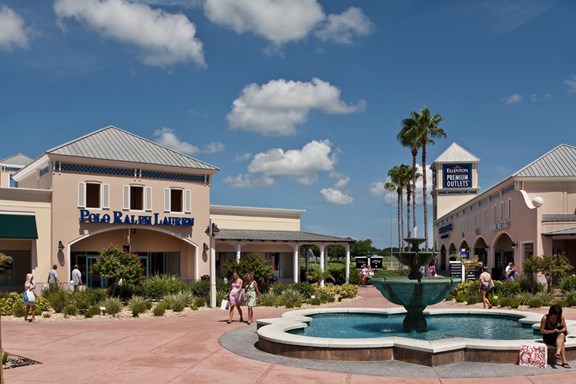 Ellenton Premium Outlets
Home to 130 designer and brand outlet stores for the whole family, Ellenton Premium Outlets is less than 25 minutes from our campground. This outdoor mall features covered walkways, lush, tropical landscaping and flowing water fountains. Ellenton Premium Outlets stores range from apparel and accessories to home furnishings to specialty items. Stores include Coach, Michael Kors, Nike Factory Store, Polo Ralph Lauren Factory Store and Saks Fifth Avenue Off 5th.
5461 Factory Shops Blvd
Ellenton, FL 34222