Directions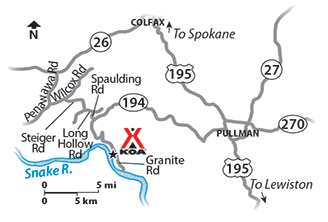 DIRECTIONS FROM:                                                                                                            
Spokane                                                                                                                                        
• From I-90, go South on US-195.                                                                                                                                      
• Enter Colfax, WA from US-195.US                                                                                             
• Go South on Main St.                                                                                                                
• Take right on Fairview St.                                                                                                             
• Fairview St. will turn into W Almota Rd.                                                                                      
• Follow Almota Rd, take right on WA-194 W/ Almota Rd after passing Onecho Church.            
• Continue down to Lower Granite Rd.                                                                                        
• Take slight left on Lower Granite Rd.
• Your destination is on the right.
Seattle                                                                                                                                                                                  
• Follow I-90 East towards Othello/ Pullman                                                                              
• Take exit 137 to merge onto WA-26 East towards Othello/ Pullman.                                        
• Turn right on Sommers Rd.                                                                                                      
• Turn right onto Almota Rd.                                                                                                       
• Turn right onto WA-194                                                                                                             
• Take slight turn onto Lower Granite Rd.                                                                                    
  Your destination is on the right                                                                                                                                                                                        
Tri-Cities
• Head East on WA-240 E                                                                                                                                                      
• Continue on US-395 N
• Take the US-12/ US- 395 exit toward Spokane/ Walla Walla/ 1-182                                      
• Keep left and merge onto I-182 E/ US-12 E/ US-395 N                                                              
• Take exit 14 for US-395 N toward Spokane                                                                            
• Continue onto US- 395 N                                                                                                      
• Take the State Route 26 exit toward Colfax/ Othello                                                                  
• Turn right onto WA-26 E                                                                                                
• Turn right onto Sommers Rd.
• Turn right onto Almota Rd.
• Turn right onto WA - 194 W
• Turn slight left onto Lower Granite Rd.
• Your destination is the right.
DO NOT TAKE PENAWAWA ROAD AT ALL! It is a dirt road.
Get Google Directions
Apr 05, 2021
Great place to rest and relax as a family! Be aware that there are thorns on the trail that can pop a bike tire or hurt your dogs paw. The playground is one of my kids favorite and the beach/swimming area is wonderful. It was a 65° Spring day and in true Washingtonian fashion we played in the water!
Apr 04, 2021
The park is beautiful and well maintained. The park owner assisted us with an RV repair. We are very thankful for his kindness. We enjoyed the beautiful views of the river and the park. My husband and I are essential workers and we were looking for a place for rest and relaxation. Your tranquil park provided that for us. Thank you again.
Mar 31, 2021
Check in was a breeze even though I needed an extended stay during the off season. As always the grounds and restrooms were in great condition. I wish I could stay here more often!
Mar 26, 2021
It was a very nice park Not everything was open . T he help there was very nice & helpful we will be back & we will tell others about it' It was a very nice place to camp ,We really liked how large the camp site were they were some of the largest one we have ever had very nice not to be on top of one & other.
Mar 26, 2021
Boyer Park KOA was our first camping trip ever with our new trailer. Mike, the caretaker (Squirrel), was super friendly and helpful. That made us feel better knowing that we had help close by since we were new at the whole camping thing! We will be back for sure. My husband works from home and needs cell service or we would come more often!
Mar 26, 2021
Beautiful setting. Awesome sites. My wife's new favorite KOA!
Mar 21, 2021
Hooray. All breeding geese left campsites because of the intermittent tree grinding noises. It was wonderful having the geese further up and down river and not depositing throughout camp. Great visit!!
Mar 20, 2021
Our stay was just great. It is such a beautiful location. The park is well maintained and since it is still early in the year not a lot of activity going on. We hope to return soon.
Mar 17, 2021
Sad to see all the beautiful trees cut down. I have been going to this campground my whole life. They've ruined the shade and beauty.
CAMPGROUND RESPONSE / COMMENTS:
There are still a lot of trees and will provide shade when they are in the summer season. For the safety of our campers the old trees have to go. Coming all your life, you know how windy it can get. There will be new trees planted in the fall.
Mar 09, 2021
The bathrooms definitely need to be updated, but the campground was clean and the river was beautiful. We visited the first weekend of March (off season), so it was peaceful and quiet! There's a 4-mile walking trail that runs along the river, and we really enjoyed that.
Mar 08, 2021
Beautiful location. Sites are well maintained.However Verizon cell service is almost nil and Wi-Fi was spotty at best even with the campground mostly empty. Website and welcome email indicated store and restaurant hours so the assumption was they would be open, but they were both closed for the winter. Unless you have a boat there is not much to do nearby but the walking trail is nice.
Jan 04, 2021
Camping in the winter at Boyer Park KOA! Thank you for staying open. Why spend a weekend at home when you can enjoy your RV year round.
CAMPGROUND RESPONSE / COMMENTS:
We sure love having you and your family come stay with us!
Dec 12, 2020
Camp in the winter! Boyer KOA is open and is terrific. Electric, water and sewer all up and running. Awesome winter camping.
Nov 24, 2020
Mike and Monica, the owners, have transformed this place to a First Class park. Clean, maintained, and always a joy to stay. Open all year! We enjoyed a late November stay!
Nov 10, 2020
One of the best maintained campgrounds I have stayed in. Also, Management was outstanding and customer service is clearly their priority.
Nov 10, 2020
No one was at the park. Had a difficult time finding staff. Cabin was clean but heat wasn't working. Found staff to assist again- thought winter time they'd still be staffed
Nov 10, 2020
The lady that took my information and set us up did a great job. It was the best site.
Nov 03, 2020
friendly folks, well maintained. we will be back next season
Nov 01, 2020
Our all-time favorite campground. Peaceful, beautiful, spacious, safe.
Oct 27, 2020
Nice park even nicer people running it.
Oct 27, 2020
Excellent, clean facilities, Stellar location, And incredible hospitality by the owners and "Squirrel", the grounds keeper.
Oct 26, 2020
It was cold and rainy and we didn't stay the whole weekend. I was really happy they refunded our second night. Was not expecting that. Staff was very friendly and the park looks much better than it did before it was a KOA. Staff even helped me round up my wayward dog!
Oct 22, 2020
Love this park and managers are very nice
Oct 21, 2020
Beautiful place and nice people
Oct 20, 2020
The light in the room was very dim and got dimmer the next day. It was so dim we had to use the lights on our our phone to be able to see the second night. That was very disappointing. Otherwise we enjoyed our stay and loved the location along the Snake River and will come back for another getaway.
Oct 20, 2020
Very nice place. Staff was great and friendly.
Oct 20, 2020
The staff on-site was very nice! The bathroom has always been clean. Love coming here!
Oct 19, 2020
Quick weekend trip and it was wonderful! This RV Resort is clean and the staff is extreamly friendly. We had a great time~ only down side was no internet and for some it's not an issue but if you want cable or internet there is none.
Oct 19, 2020
Love the sites and the amenities.
Oct 19, 2020
Very friendly camp hosts and clean facilities and grounds
Oct 19, 2020
Boyer never disappoints. It is a beautiful park that is always well taken care of. The staff is the best you could ask for. Always leaving you with a smile.
Oct 18, 2020
I have always enjoyed staying at Boyer Park but even more since KOA took over. Very friendly staff and clean bathrooms.
Oct 15, 2020
We brought our 4-year old granddaughter to Boyer for her first camp trip. She loved it and we were thrilled to see such improvement in the park since the new owners took over! It's clean, the grounds are well kept and you couldn't ask for more caring owners! We will return; there is no doubt!
Oct 13, 2020
Wonderful stay. Campground was clean, staff was very welcoming and there was a great atmosphere.
Oct 13, 2020
Very clean! Very nice employees! We stayed on a weekend there was a big wind storm and they were out cleaning up all the storm mess early. Could barely tell anything had happened by 10am!
Oct 13, 2020
The camp host were great and very accommodating. Sad the weather did not cooperate but excited to go back! The barges and trains were pretty cool and our kiddos loved getting to meet Donovan. Definitely a hidden gem :)
Oct 13, 2020
Beautiful grounds and marina. Bathrooms and showers were immaculate!! Great gift shop and snack bar. Owners and employee were very friendly and helpful. We hated to leave and will be back soon. Favorite KOA Campground to date!!
Oct 13, 2020
Beautiful location and wonderfully run campground. I can't wait for our next trip back here!
Oct 12, 2020
Always friendly, clean n helpful.
Oct 12, 2020
Campsites and grounds were in good condition and well maintained. Restrooms were clean and in good condition. Management and maintenance staffs were courteous and helpful. Boat launch and launch docks were in good condition. Marina docks were in fair condition but some were in need of repair.
Oct 12, 2020
It was short but very good. The only thing is that the watering system comes on each morning which means you need to move chairs, table items, etc every night. Just a slight hassle but for the most part we enjoy it. We stayed 2017, 2018, missed 2019 due to husbands surgery, and recently. Clean, friendly staff. We will be back.
Oct 12, 2020
Wonderful as always!
Oct 11, 2020
Nice and clean restrooms are close and clean very quite there