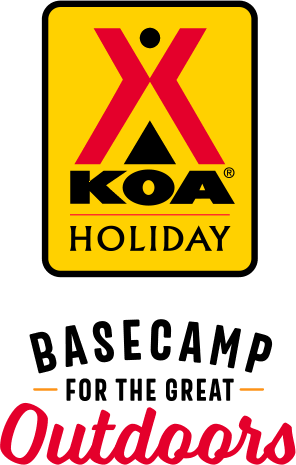 KOA Holiday Campgrounds
Whether you're exploring the local area or hanging out at the campground, KOA Holidays are an ideal place to relax and play. There's plenty to do, with amenities and services to make your stay memorable. Plus, you'll enjoy the outdoor experience with upgraded RV Sites with KOA Patio® and Deluxe Cabins with full baths for camping in comfort. Bring your family, bring your friends, or bring the whole group – there's plenty of ways to stay and explore.
KOA Holidays Feature:
RV Sites with a KOA Patio®
Deluxe Cabins with full baths
Premium Tent Sites
Group meeting facilities
Directions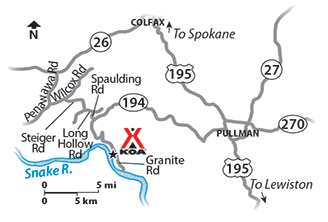 DIRECTIONS FROM:                                                                                                            
Spokane                                                                                                                                        
• From I-90, go South on US-195.                                                                                                                                      
• Enter Colfax, WA from US-195.US                                                                                             
• Go South on Main St.                                                                                                                
• Take right on Fairview St.                                                                                                             
• Fairview St. will turn into W Almota Rd.                                                                                      
• Follow Almota Rd, take right on WA-194 W/ Almota Rd after passing Onecho Church.            
• Continue down to Lower Granite Rd.                                                                                        
• Take slight left on Lower Granite Rd.
• Your destination is on the right.
Seattle                                                                                                                                                                                  
• Follow I-90 East towards Othello/ Pullman                                                                              
• Take exit 137 to merge onto WA-26 East towards Othello/ Pullman.                                        
• Turn right on Sommers Rd.                                                                                                      
• Turn right onto Almota Rd.                                                                                                       
• Turn right onto WA-194                                                                                                             
• Take slight turn onto Lower Granite Rd.                                                                                    
  Your destination is on the right                                                                                                                                                                                        
Tri-Cities
• Head East on WA-240 E                                                                                                                                                      
• Continue on US-395 N
• Take the US-12/ US- 395 exit toward Spokane/ Walla Walla/ 1-182                                      
• Keep left and merge onto I-182 E/ US-12 E/ US-395 N                                                              
• Take exit 14 for US-395 N toward Spokane                                                                            
• Continue onto US- 395 N                                                                                                      
• Take the State Route 26 exit toward Colfax/ Othello                                                                  
• Turn right onto WA-26 E                                                                                                
• Turn right onto Sommers Rd.
• Turn right onto Almota Rd.
• Turn right onto WA - 194 W
• Turn slight left onto Lower Granite Rd.
• Your destination is the right.
DO NOT TAKE PENAWAWA ROAD AT ALL! It is a dirt road.
Get Google Directions
Dec 14, 2022
Nice enough campground, pretty basic and there were only a couple other campers there due to the winter season. We arrived late and the winter caretaker saw and greeted us as we were looking for the campsite in the dark. LOTS of goose poop all over so, watch your shoes. Not sure if this is a problem in the summer or not.
Dec 06, 2022
It was a nice stay and every clean bathrooms
Dec 01, 2022
Good as always. Squirrel helped us with the one question we had
Nov 18, 2022
It is always a pleasure to stay at this beautiful quiet park.
Nov 16, 2022
The web site stated nothing about the construction going on for the marina. Workers started hammering at 7am and lasting all day except for Sunday.
Nov 16, 2022
I stayed in a dry cabin facing the river. Beautiful spot. I look forward to visiting again.
Nov 15, 2022
Very nice campground. It was a bit frustrating to pay for the campsite. The office door indicated they were open. But, no one showed. Only after a few calls I found out it was closed for the season. The website needs to be updated and payment options need to be available.
Nov 02, 2022
We had a great time. I wish the numbers for the campsites were marked better. We came in in the dark and we're not able to see our site number. We have stayed before. Always clean and pleasant . The people are very nice that run the camp ground.
Oct 31, 2022
This review has been removed by KOA due to profanity.
Oct 29, 2022
Very nice campground.
Oct 24, 2022
Great park, very clean and well kept. Owners are wonderful and helpful.
Oct 21, 2022
We will be back very nice liked it very much
Oct 20, 2022
My only comment would be to make it more clear when your office is closed to check in with the fellow riding the golf cart.
Oct 19, 2022
Property is clean and well cared for. A lovely area for a fall camping trip.
Oct 18, 2022
Perfect as usual. We always come spri ng and fall every year. One of our favorite places.
Oct 18, 2022
I was there 2 nights over a weekend and enjoyed the quiet surroundings. Peaceful. I was irritated by a couple of trailers that left their dogs outside w/o leashes. One had a German Shepherd and another medium dog outside while owners were inside. I was walking my English Lab and had to make a detour around that trailer that took me off the path back to my motorhome. That really ticked me off.
Oct 16, 2022
GROUNDS WERE EXTREMELY CLEAN AND WELL MAINTAINED. STAFF WAS VERY ACCOMADATING AND FRIENDLY. WOULD DEFINITELY STAY THERE AGAIN.
Oct 16, 2022
Raccoons raided our campsite and kept us up all night. They were pulling food out of the trash can next to the site.
Oct 15, 2022
Park staff were very friendly and very helpful. The park store is well stocked and registration was easy. The grounds are well maintained and the restrooms are very clean. There is a lovely view of the Snake River gorge from campsites.
Oct 15, 2022
Always a great stay.
Oct 14, 2022
Campground is very clean, the staff is exceptionally nice, and we will definitely be returning.
Oct 12, 2022
My RV site was clean and ready to access. We enjoyed a meal in the restaurant, which is so nice to have. I am booked to come back next September.
Oct 12, 2022
It is a great park. My only issue was the internet. Cell service was almost non-existent being in the canyon. I didn't want to pay for the streaming service as we don't stream. But just wanted service for our phones. We will be back.
Oct 12, 2022
Mike,Monica and Squirrel are the best. Everything is clean and ready to go!
Oct 12, 2022
great Family experience
Oct 10, 2022
Campsites were spaced nicely. Well maintained. Enjoyed the path along the river to ride bikes. Can't wait to go back when all the facilities are open.
Oct 04, 2022
There was a situation with people next to our campsite, immediately upon arrival. We didn't converse with them but went to the office and shared the situation. The owners put us in a different spot. Very please with the quick resolve of the situation. We highly recommend this place and it's simply beautiful here!!
Oct 04, 2022
Beds are very noisy when someone moves in the night making for a poor nights sleep. Would be nice to have a mirror in the cabin. Electrical outlets need to be replaced, several in Bass cabin would not hold a plug
Oct 03, 2022
We really love this place, we plan on making it one of our go to's.
Oct 03, 2022
Absolutely amazing! Super clean, park staff were very friendly and Squirrel was hilarious and a great cook. Cannot wait to go back.
Oct 03, 2022
Check in was quick and easy. The grounds weee beautiful and clean!
Oct 02, 2022
Great place, beautifully maintained. She bathrooms are a bit old and the showers could use some upgrading, otherwise it was all excellent.
Oct 02, 2022
Had a nice relaxing stay, love the site we had, as we had a good view of river and etc.
Oct 01, 2022
Always a pleasure to stay. Quiet, peaceful, plenty of activities for everyone.
Sep 30, 2022
The park is absolutely beautiful! It's very quiet, not over packed. The sites are spacious. My kids loved playing in the river. I would 100% stay there again!
Sep 29, 2022
Quiet & relaxing
Sep 22, 2021
We're a retired professional couple who travel extensively in our trailer, and Boyer Park is one of the most peaceful and best kept campgrounds we've ever visited. Situated on a bench along the Snake River, this site has been a refuge for travelers for several generations. The northern section is our favorite, with widely-spaced sites shaded by huge cottonwood and black locust trees. The surrounding Palouse is nationally known as a photographic destination, with its spring canola fields, rolling hills, and quaint barns. There is a small and very safe beach, as well as a paved river trail. The river has a slow current of about 2mph in summer and is safe for kayaks; suggest hugging the bank where the current is slower going upstream. It's possible to hook a 500 lb sturgeon here, fish quietly for catfish from the dock, or just read a book. There are miles of farm roads to explore, with new vistas over every hill. Be careful on the smaller, ungravelled roads in wet weather, as the lovely, rich windblown soil can quickly turn slick and unpassable. Mike and Monica work tirelessly to keep things spotless, and are polite but firm on noise, bad behavior, unruly pets, mess, and drunkenness - which I suspect accounts for the few bad reviews. ALSO - wonderful pizza and burgers at the restaurant!
- RandCollinsMD on Trip Advisor
Aug 28, 2020
Just spent eight nights in this campground right along the banks of the Snake River in the Washington Palouse region. Good rates and some really nice camping sites, some of which are surrounded by large, mature trees that help deflect the bright sun and heat. Full hookups with power ranging from 20A to 50A. There's a 9% grade coming down hill into the campground and then uphill leaving but it's not that bad.
- Bernie B on Trip Advisor
Aug 26, 2018
First off new owners, the park was closed for a while. What a great place to camp and play on the river. The park is lush and green with lots of old growth trees. Spotless bathrooms. Water pressure is awesome. The people who work there are so helpful and nice. We didn't get to eat at the restaurant, so no reviews on that. Over all it was a great week and would recommend it to everyone.
- phyllis k on Trip Advisor