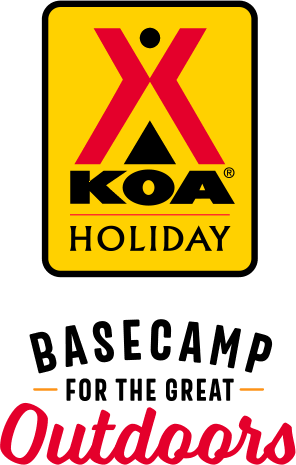 KOA Holiday Campgrounds
Whether you're exploring the local area or hanging out at the campground, KOA Holidays are an ideal place to relax and play. There's plenty to do, with amenities and services to make your stay memorable. Plus, you'll enjoy the outdoor experience with upgraded RV Sites with KOA Patio® and Deluxe Cabins with full baths for camping in comfort. Bring your family, bring your friends, or bring the whole group – there's plenty of ways to stay and explore.
KOA Holidays Feature:
RV Sites with a KOA Patio®
Deluxe Cabins with full baths
Premium Tent Sites
Group meeting facilities
Directions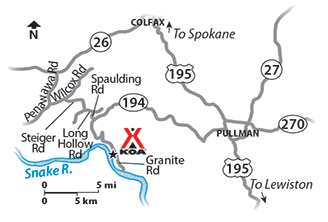 DIRECTIONS FROM:                                                                                                            
Spokane                                                                                                                                        
• From I-90, go South on US-195.                                                                                                                                      
• Enter Colfax, WA from US-195.US                                                                                             
• Go South on Main St.                                                                                                                
• Take right on Fairview St.                                                                                                             
• Fairview St. will turn into W Almota Rd.                                                                                      
• Follow Almota Rd, take right on WA-194 W/ Almota Rd after passing Onecho Church.            
• Continue down to Lower Granite Rd.                                                                                        
• Take slight left on Lower Granite Rd.
• Your destination is on the right.
Seattle                                                                                                                                                                                  
• Follow I-90 East towards Othello/ Pullman                                                                              
• Take exit 137 to merge onto WA-26 East towards Othello/ Pullman.                                        
• Turn right on Sommers Rd.                                                                                                      
• Turn right onto Almota Rd.                                                                                                       
• Turn right onto WA-194                                                                                                             
• Take slight turn onto Lower Granite Rd.                                                                                    
  Your destination is on the right                                                                                                                                                                                        
Tri-Cities
• Head East on WA-240 E                                                                                                                                                      
• Continue on US-395 N
• Take the US-12/ US- 395 exit toward Spokane/ Walla Walla/ 1-182                                      
• Keep left and merge onto I-182 E/ US-12 E/ US-395 N                                                              
• Take exit 14 for US-395 N toward Spokane                                                                            
• Continue onto US- 395 N                                                                                                      
• Take the State Route 26 exit toward Colfax/ Othello                                                                  
• Turn right onto WA-26 E                                                                                                
• Turn right onto Sommers Rd.
• Turn right onto Almota Rd.
• Turn right onto WA - 194 W
• Turn slight left onto Lower Granite Rd.
• Your destination is the right.
DO NOT TAKE PENAWAWA ROAD AT ALL! It is a dirt road.
Get Google Directions
Oct 18, 2021
First time at a KOA property and we were impressed with the attention to detail with respect to making guests comfortable and enjoying a simple process. The site and our room were immaculate and the hosts and staff were very kind and welcoming when we spoke on the phone. Wish we could have spent more time here and met the hosts in person,, enjoyed the scenery and tried the food....next time!
Oct 18, 2021
Great park with friendly staff!
Oct 18, 2021
Beautiful location! Bathrooms were super clean & hot showers. Would highly recommend this site.
Oct 18, 2021
Not practicing covid 19 state mandated protocols. WiFi is completely useless. Otherwise, this is a pretty spot. Clean grounds and bathroom was decent although never got warm water out of the faucet.
Oct 18, 2021
Just FYI. We stayed in the Steelhead yurt. Several of the stairs going up to the top bunk are dangerously loose.
Oct 17, 2021
We found your facilities well maintained over the entire park, with a friendly welcome and explanation of the amenities available. The stay was our first one at this KOA and were so pleased to find water, sewer and electricity still in use so late in the season, just before the opening of hunting. My husband worked at the Nav Lock while it was built and had good memories of the area. I was a COUG
Oct 13, 2021
One of our NEW favorite campgrounds. Great views and roomy RV spots.
Oct 13, 2021
My husband and I stayed one night in Bass cabin. The Park and Marina were quiet and well cared for. The office was closed, but our reservations were conveniently available. Our cabin was clean and the walk along the Snake River Trail very pleasant. A very pretty spot along the Snake River.
Oct 13, 2021
We stayed Monday thru Saturday. Had a great time.
Oct 12, 2021
Clean and spacious sites. Friendly and helpful staff. Snack bar has excellent food.
Oct 12, 2021
Very accommodating to a first time visitor. Choice of sites. Very friendly. Beautiful location!
Oct 11, 2021
Clean, quiet, long sites big enough for your truck and rig
Oct 11, 2021
By far the quietest KOA we've stayed at. Very relaxing
Oct 11, 2021
Clean quiet gorgeous. Great facilities, They do a great job.
Oct 10, 2021
Great place to stay. Nice paved sites, trees, lots of grass. We will be back.
Oct 10, 2021
Boyer Park and Marina is a beautiful place to stay. Well maintained generous sites and unbelievable view of the Snake River. Friendly and very helpful staff makes your stay even more enjoyable.
Oct 09, 2021
Beautiful grounds, plentiful boat slips, level trailer pads, excellent water views, extremely well maintained buildings, great management
Oct 09, 2021
Beautiful park. Great hosts. We will return often.
Oct 07, 2021
Very clean & help was great.
Oct 07, 2021
Mens showers could use a soap bar. Also could use some hooks or a shelf to hang towel. Could use a walkway to the bathroom in front of the building instead of having to go through a camp spot to get to the building. Could have had the doors unlocked so we could get to the bathroom in the main building. The hosts were wonderful couldn't have ask for more from them or the workers in the park.
Oct 06, 2021
It's a wonderful campground
Oct 06, 2021
Beautiful place and so clean and well kept. Great friendly people running it and so helpful. Definitely will go back!!
Oct 05, 2021
Beautiful, quiet park.
Oct 04, 2021
Great as always. Love this place!!!!
Oct 04, 2021
We really like this campground. Very well maintained. Scenic views of the river, etc. The managers and owners are also super friendly and nice. We've been going there for weekend trips since July...
Oct 01, 2021
Bathroom could use some work but was clean
Sep 30, 2021
During our first night we had a rather rainy and blustery time, and the next morning the wind continued until one of our roof vent covers came flying off. I walked down to the store/office and met Mike, during my conversation I mentioned that we lost our vent cover and we were going to have to leave. Well Mike piped right up and said that he would come over and cover it for me. Thanks Mike.
Sep 28, 2021
Perfect as always
Sep 27, 2021
Beautifully groomed and perfectly cleaned! Throw in some amazing hospitality and I don't know why we ever left… oh yeah our jobs! Thank you for this wonderful spot!
Sep 27, 2021
Very clean. Excellent service. Nice park.
Sep 26, 2021
Great view of the marina and river, saw cruise ship and the sternwheeler boat go thru. Level path to walk two miles to see the Dam. Saw deer. Beautiful sunset. Friendly staff. Great food too.
Sep 26, 2021
Park, restrooms were clean and well maintained. Weather was perfect for September. Great stay for the time of year.
Sep 26, 2021
We enjoyed the park very much. The staff is very nice and helpful. We brought our bikes and used the walking/bike path every day. Highly recommend the burgers at the cafe!
Sep 24, 2021
Absolutely the best we've ever stayed at.
Sep 22, 2021
just love the kick back atmosphere, scenery , and amazing staff. our go to getaway