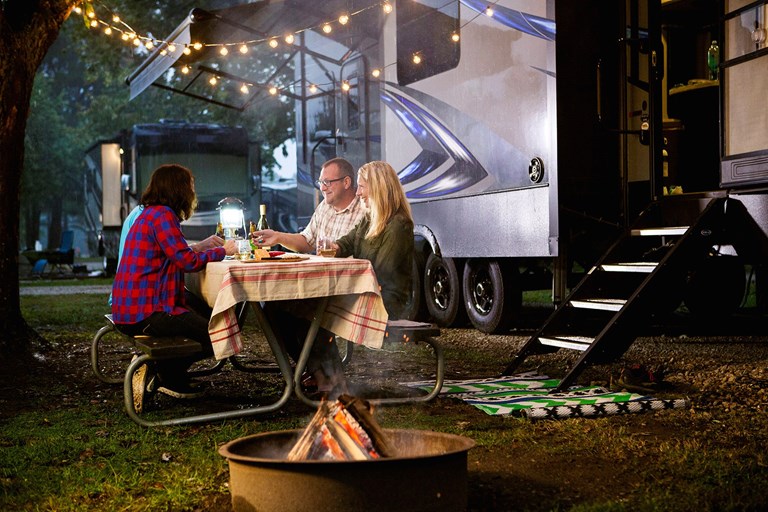 Borden / Summerside KOA Reviews
ANNOUNCING OUR 2020 FORTY PLAN! ALL SITES ARE NOW A MINIMUM OF 40 FT WIDE!
Directions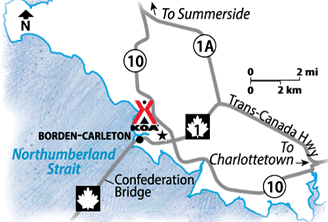 From Confederation Bridge - Travel 2 kms on TCH. Campground entrance is on the left.
From Charlottetown - Follow the TCH (#1) to Confederation Bridge. Entrance to Campground will be on the right 2 kms prior to the Bridge. 
From Summerside - Follow 1A towards Confederation Bridge. This will put you on the TCH. Follow TCH to Bridge. Campground will be on the right 2 kms prior to the Bridge
Get Google Directions
Sep 08, 2020
The staff was very friendly and helpful. The campground was nice and clean.
Aug 17, 2020
We really enjoy this campground. It is the perfect size and enough activities to keep children ages 6 to 10 busy. The staff went above and beyond to ensure we were able to enjoy our camping trip after everything in our tent got soaked by a downpour. We were so extremely grateful for their random act of kindness that allowed our family to stay and enjoy our camping trip. We will definitely be back.
Aug 11, 2020
Great amenities, no nickel and diming for play areas for the kids although they do have some pretty reasonal rental items as well. Great staff. Overall fun and relaxed atmosphere with a lot of accommodation options (tent & RV sites and cabins). Clean washrooms and showers available. A wonderful stay!
Aug 10, 2020
Had the best time, perfect size for families with kids and so much to do!
Aug 04, 2020
Well when we first got there we rented the bikes for hour well kids got tired and brought them back after 30mins wel the lady infront was rude to them telling them they screwed up there checks or something dumb like
CAMPGROUND RESPONSE / COMMENTS:
We are sorry to hear that. I know our staff are getting used to a new system and there was confusion over how to do a refund. You were a great group. We hope you come back!
Jul 23, 2020
Everything was great! Only thing I would fix is the ant problem.. tiny red ants on all our stuff .. ���� Other than that .. awesome �
Jan 13, 2016
We very much enjoyed our stay, the staff was very nice and everything was nice and clean.
Sep 14, 2015
We only planned an overnight stop, but woke up the next morning with a flat tire on our motorhome. As it was Sunday of a long week end I asked the camp owner for assistance. He went above and beyond expectations, fixing our tire in his maintenance shop and getting us on our way. Much appreciated.
Sep 01, 2015
Site was great, facilities were great and management were very friendly.
Aug 25, 2015
Awesome place to stay
Aug 24, 2015
We stay there whenever we go to PEI now, always a good stay, and great staff. Highly recommend this KOA especially if you have kids.
Aug 17, 2015
Awesome spot. Great staff. Really enjoyed stay kids did not want to leave
Aug 17, 2015
Men's bathroom door was locked after 11pm...
CAMPGROUND RESPONSE / COMMENTS:
Another camper locked the door and not staff as we leave them open all the time. The locks have since been removed.
Aug 16, 2015
Very nice pool, and great location. Highly recommended
Jul 06, 2015
We had a great time!!
Sep 01, 2014
The bathrooms were very dirty, there was toilet paper everywhere, the cabin beside our camp site left the outside light on all night, which resulted in the light shining in our tent all night. Which I didn't appreciate, because it kept everyone awake. There is a lot more I could write about my stay but there is only a 400 word limit.
CAMPGROUND RESPONSE / COMMENTS:
Camper checked out a day early, with refund, & was asked how their stay was. Camper replied "It was perfect". Bathrooms are cleaned daily & feedback is very positive. We were doing checks until 3am & would have addressed any issues. Called to inquire about "more issues" & found there were none.
Jul 14, 2014
Had a great stay, the manager was very friendly and found us a nice quiet site away from children and also gave us complimentary hookups! location was in great shape with a brand new pool.
Jul 13, 2014
Other than water running on the floor Of the bathroom everything was perfect. The staff was very helpful. The park was not crowded at the time which was nice.
Jun 14, 2014
Very nice, very helpful, very professional staff.
CAMPGROUND RESPONSE / COMMENTS:
Thank you!
Aug 22, 2013
Clean. Well-maintained, nice balance between wooded and open sites; nice trimmed lawns; very friendly and helpful staff; location right by the Confederate Parkway cycle trail is a very nice plus.
Aug 11, 2013
Suite à , mon séjour sur l 'Ile, C'est le meilleur camping. Avec une piscine ce serais le paradis.
Aug 05, 2013
No pool. More expensive than we were expecting. Clean. Tent sites close together although not busy the night we were there!
Jul 08, 2013
It's a tiny campground, and with the lack of dividers between campsites management should be making sure that campers aren't taking up other peoples space. We didn't make a fuss because it was only being used as a place to stay, and the employees seemed to have enough problems as is, but borders need to be marked out. Other campers took most of our site, and failed to adhere to the 11 pm curfew.
CAMPGROUND RESPONSE / COMMENTS:
Thank you for your feedback. It is unfortunate that you did not bring your issue to the attention of management. Even though we are busy at times on our 25 acre property, we would be eager and willing to make your stay as enjoyable as possible!

Borden / Summerside KOA
Open May 15 - September 30
23714 Trans Canada Highway
Borden-Carleton, PE C0B 1X0 Canada
Check-In/Check-Out Times
All Sites
Check-in: 2:00 pm, Check-out: 11:00 am
Get Google Directions

© 2020 Kampgrounds of America, Inc.