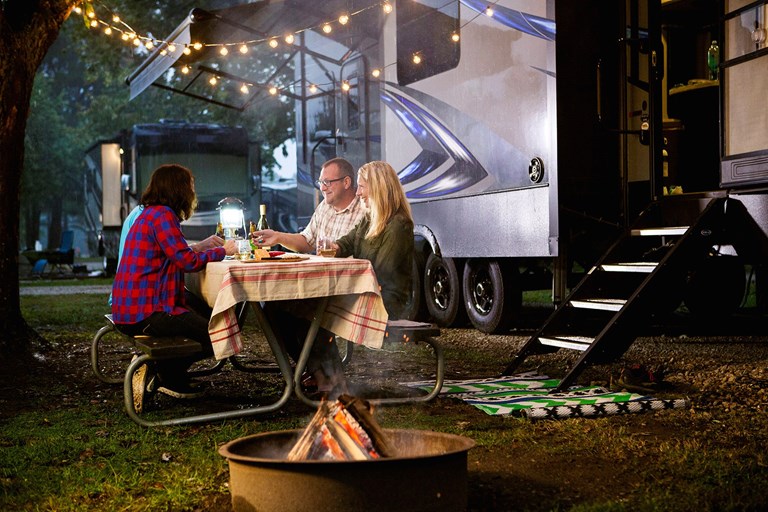 Borden / Summerside KOA Reviews
ANNOUNCING OUR 2020 FORTY PLAN! ALL SITES ARE NOW A MINIMUM OF 40 FT WIDE!
Directions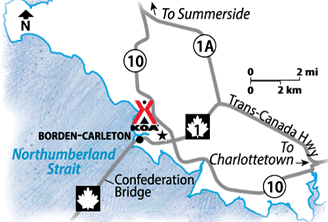 From Confederation Bridge - Travel 2 kms on TCH. Campground entrance is on the left.
From Charlottetown - Follow the TCH (#1) to Confederation Bridge. Entrance to Campground will be on the right 2 kms prior to the Bridge. 
From Summerside - Follow 1A towards Confederation Bridge. This will put you on the TCH. Follow TCH to Bridge. Campground will be on the right 2 kms prior to the Bridge
Get Google Directions
Oct 01, 2020
Très tranquil en cette fin de septembre. Très propre et excellent accueil!
Oct 01, 2020
Great place to stay very clean quiet
Sep 30, 2020
owners and staff go out of their way to make you feel like one of the family. We spent three months in Borden/Carleton and can't wait for next summer.
Sep 29, 2020
This was our first year owning a camper, and we loved this campground! It was clean, the staff and owners were great! We will be back, and have recommended this campground to all our friends.
Sep 28, 2020
Great weekend for our final weekend of camping.
Sep 28, 2020
It's all good
Sep 17, 2020
every thing was clean grass cut lot was good we will be back
Sep 09, 2020
Great staff and accommodations were excellent
Sep 08, 2020
Great place to go camping with your rv
Sep 08, 2020
The campground has nice facilities as always and we are very happy that the management will revert the old harmony hall to what it was before, a beautiful place for music. We understand that some of the facilities are restricted due to COVID-19 and that next year this campground will regain its status of the nicest campground on the Island.
Sep 08, 2020
We had a nice site, although a little close to the highway, but we had a great time. Our grandchildren were over to visit/swim/play and share a meal. In the evening, we went to the game room where some of our "spud runner" group were entertaining us with guitar playing and singing. It was great.
Sep 08, 2020
It was amazing. This is a wonderful place to stay. The owners and staff are super friendly and accommodating.
Sep 08, 2020
Great park to stay in. The owners Barry and Donna are very accommodating. They do everything they can to make your stay enjoyable .
Sep 08, 2020
We had an excellent time!!!!
Sep 08, 2020
Great campground. Prices varied alot this time. 3 way #55 was $51.00. 2 way friends got theirs for $29.00 I guess it was the social distancing thing. Won't stop me from camping there. Seems like I am never happy which is not the case.
Sep 08, 2020
Great place to relax, kick back and spend some quiet alone time with family or spouse. Very friendly staff and well kept sites make for a comfortable stay. Will def. stay again.
Sep 07, 2020
Great stay! Clean well kept property. Friendly owners and staff! Lots of activities
Sep 07, 2020
We are members of The Spudrunners, and we were treated very well. It was our first time at your park. Hopefully we can make it back next year. Thanks.
Sep 04, 2020
We enjoyed our stay with you........we were made to feel welcome.......Nice and quiet after hours which makes for good resting. we especially enjoyed the music show Friday evening.......top rate music..........Thanks to Barry and Donna for the great hospitality...... and a special thanks to Dillan for showing us around and for his great music.
Sep 02, 2020
Our stay at this campground was perfect. We were there to relax and that is what we did. We have a dog and we walked him everyday on the Confederation Trail right behind the campground. There was a sing song in the evening. We went to Summerside and Charlottetown.The bathrooms and showers were very clean. Everything about our stay was awesome.
Sep 01, 2020
The owners are wonderful couple as well as the staff and volunteers. Wonderful place to camp. They sure know how to make people feel welcome.They sure set a great example for KOA camp grounds.
Aug 31, 2020
Wonderful owners. Couldn't do enough for everyone. I rate this KOA tops.Will be back.
Aug 26, 2020
First time there, very well run, RV space was very narrow but very long, due to Covid the spaces on either side were left vacant, therefore we didn't feel cramped.
Aug 25, 2020
We had a great stay. Enjoyed the music in the evening and chocolate bar bingo. Owners very nice folks and their employees. Look forward to another time at your park
Aug 25, 2020
Everything was great, thank you.
Aug 24, 2020
It was great. HospitalityCouldn't be better .The owners makes your stay so relaxing. Their fun to be. With. A great example set for KOA.
Aug 24, 2020
Very quiet relaxing campground. My only complaint is the site you book online is not necessarily the site you end up getting.
Aug 24, 2020
Stay was great! Owners very social. Entertainment was good. Costly for grandchildren to come for a visit.
Aug 23, 2020
We very much enjoyed our stay . We were well looked after and everyone was so friendly amd approachable if we had any questions . . We are looking forward to our next camping experience at KOA Borden PEi.
Aug 23, 2020
Very friendly staff, made us feel at home! Everything was clean Great entertainment also on the weekends
Aug 19, 2020
Management and staff were excellent. Felt very welcome. Will be back again.
Aug 18, 2020
Had a lovely weekend.
Aug 18, 2020
Everything was wonderful felt very welcome . Thank you Barry, Donna and all staff. Will definitely return . Wish we could do September weekend but We have a previous commitment. Thank you again . Dianne & Warren Harper
Aug 17, 2020
My stay was great and I plan to go back
Aug 17, 2020
The owners and staff were very helpful and friendly. The grounds were very clean and everything that we needed was available. Thanks
Aug 17, 2020
We really enjoy our weekend at KOA Borden PEI. Very helpful and friendly owners
Aug 15, 2020
Wish you could spray for mosquitoes there really bad at dusk for about a hour to hour half.Had a great time didn't know the king family had so much talent. Looking forward to seeing you guys soon hope you have a great summer
Aug 11, 2020
very clean park, good access to bike trails, lots are very narrow but park was only allow someone on every second lot. House band on Friday night, with open mic after there opening and its was very enjoyable. Allow camp fires at each site. Met lots of new people including the very friendly owners. Would stay again.
Aug 10, 2020
It was perfect. We had 6 families together for 2days. Children as well as parents enjoyed themselves very much. Staff was very helpful and friendly. Washrooms were every clean. We will be back again next summer
Aug 10, 2020
Always a wonderful time. Friendly staff and excellent activities for the children.
Aug 10, 2020
It was a great experience for our grand children.their first time
Aug 10, 2020
Friendly welcoming people there. Great entertainment on Friday night with Harold, Marnie and the gang.
Aug 10, 2020
It was my first time at the campground and my overall stay was great. I was disappointed as I was put in a lot that was a 3 way when I called and requested a 2 way. I didn't realize until I was already set up I was in the wrong spot. My parents came for a visit and they didn't charge them to compensate for the mix up, and someone came by to apologize. Still paid 3 way rate when I requested a 2
Aug 10, 2020
Had a very good stay. Nice to finally see a lot of the projects started years ago finally finished such as the mini put and shuffle board. The only thing I disliked was that we had to walk out to the highway to get rid of garbage. We were way back in the corner and when you are watching small kids it is really inconvenient to have to walk so far to get rid of trash.

Borden / Summerside KOA
Open May 15 - September 30
23714 Trans Canada Highway
Borden-Carleton, PE C0B 1X0 Canada
Check-In/Check-Out Times
All Sites
Check-in: 2:00 pm, Check-out: 11:00 am
Get Google Directions

© 2020 Kampgrounds of America, Inc.