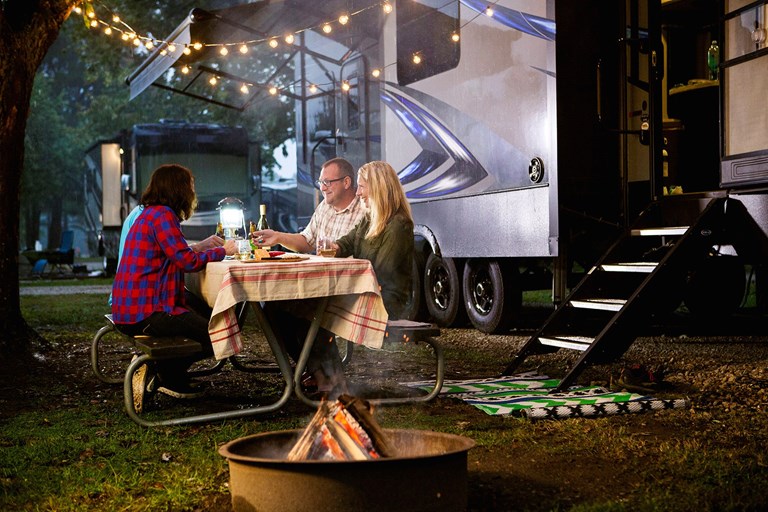 Borden / Summerside KOA Reviews
ANNOUNCING OUR 2020 FORTY PLAN! ALL SITES ARE NOW A MINIMUM OF 40 FT WIDE!
Directions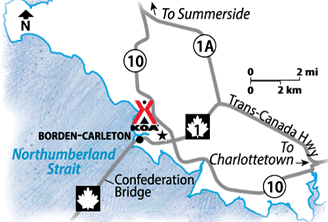 From Confederation Bridge - Travel 2 kms on TCH. Campground entrance is on the left.
From Charlottetown - Follow the TCH (#1) to Confederation Bridge. Entrance to Campground will be on the right 2 kms prior to the Bridge. 
From Summerside - Follow 1A towards Confederation Bridge. This will put you on the TCH. Follow TCH to Bridge. Campground will be on the right 2 kms prior to the Bridge
Get Google Directions
Sep 21, 2020
other than a noisy neighbour (which was solved somewhat) we had a terrific time and will return. The owners and staff go out of their way to make one feel welcome. Friendly, courteous and most helpful.
Sep 01, 2020
Well it was great he first nigh!! But the second nigh we stayed I was very disappointed...
Aug 24, 2020
It was great, we had a cabin, with a 1/2 washroom deal breaker for me. The cabin had lots of room and was great for breakfast with all the gang in the other cabins. The campground was very well maintained and washrooms , pool, activity area spotless, you can tell the owners and staff take pride in their campground. The staff were very friendly and helpful. The kids loved the pool and bouncy mat.
Aug 04, 2020
Had a great time with the kids. We are coming back on Aug 23
Jul 28, 2020
It was a great weekend. We stayed in one of the cabins which was nice. The only thing that I was thinking is that there is not much activity for kids except for the pool and the bouncy pillow.
Jul 27, 2020
people were great, camp site was very clean, well maintained and well organized. workers were professional and very friendly. we had a great experience overall and will be returning next year.
Jul 23, 2020
Nice and quiet. Clean, well kept. And a few updates which made it very nice. Would like to see a bit more family programming..or at least activities for kids, but this may have been due to COVID. Overall, another fun time.
Jul 20, 2020
Very friendly and helpful staff!
Sep 21, 2015
The campground was clean and quiet with friendly staff
Aug 31, 2015
Had a great time! Very nice. Will be back for sure.
Aug 30, 2015
The only thing that prevents me for giving a 5 star rating, was the attitude the manager of this park gave us regarding the speed limit on the park. We weren't going that fast and I got told that we were going too fast as they were children around. 1st we weren't going fast and there was no children anywhere near. Should have posts right at the entrance of the park, not just by the office.
CAMPGROUND RESPONSE / COMMENTS:
We have a speed limit of 10km posted throughout the campground that we enforce for camper safety. When you were approached about the speeding, you apologized and said you were trying to get to the washroom quickly. Anyone speeding will be politely reminded of the speed limit.
Aug 23, 2015
becoming bigger and better every year. keep up the good work. staff is great. love the heated pool and new playground. coopers
Aug 22, 2015
Was our first time at a koa, we will definitely be back!! Don't think we could ever do a provincial park again!! So much to do for the kids! Extremely clean!! Thank u!!
Aug 18, 2015
Le camping en général est bien. Nous etions dans une cabine de luxe et aucun ustensile, n'y vaisselle??Pas d'installation ou de parc a chien. Pourtant le dernier koa visité avait un enclos et des jeux pour les chiens. De plus personne ne parle francais. Je vous rappelle que nous sommes au Canada et qu'il y a deux langue officielle...
CAMPGROUND RESPONSE / COMMENTS:
We've done many upgrades in the 2 short seasons since we've taken ownership of this park. More upgrades are to come, such as a dog park, but they do take time. Although we don't have any bi-lingual employees, it's never stopped us from being able to serve our French campers.
Aug 17, 2015
We had a great stay. Enjoyed the entire place. I did definitely stay here again.
Aug 14, 2015
Enjoyed our stay in thus well kept, clean KOA. Staff was very helpful with our questions about where to go, what to see and how to get there. Would stay again!
Jul 30, 2015
I have to say that our stay at this camp ground was a positive one. The staff was very friendly, knowledgeable and accommodating.
Jul 30, 2015
Excellent staff & nice facilities
Jul 20, 2015
We had a fantastic stay in one of the deluxe kabins at this KOA. The owners are so friendly and welcoming, the kids loved the pool and the jumping pillow. The new playground started to go up when we were there and it looks like it'll be great!! I highly recommend this KOA!
Jul 13, 2015
Thanks for tremendous welcome, clean cabin and bathrooms. A great place to stay. Recommend it highly.
Jul 13, 2015
We stayed in the cabin that had a washroom and a sink. Great location in the trees very woods like but was also near office and showers which was convenient. I would recommend that Koa upgrade the bed. At $107 per night I expected a bed with the quality of a motel or B&B.
Jul 07, 2015
Loved our stay. Close to many attractions. Loved the cabin we rented. It made our stay very comfortable!
Jun 15, 2015
very helpful and cabin was very clean and cute
Jun 09, 2015
Owners extremely helpful, friendly and gracious. We are seniors and the delux cabin is too basic. No hot water. Good for young campers only.
CAMPGROUND RESPONSE / COMMENTS:
Our recently renovated deluxe cabins include a microwave, bar fridge, toaster, Keurig, BBQ, & 1/2 bath. As a campground that caters to all ages, we have had many seniors use our cabins w/ positive feedback. We encourage campers to bring any questions or concerns to our attention during their stay.
Sep 15, 2014
We didn't realize that we had to bring our own bedding and towels. Thankfully we have relatives who loaned us what we needed. Maybe that should be mentioned when customers are making reservations.
CAMPGROUND RESPONSE / COMMENTS:
We try to inform all campers that they need to bring their own linens when renting cabins. We apologize if this information was not relayed to you! Our website does state you have to "Bring Your Own Linens". We have bedding available upon request, at the office, & would have been happy to offer it.
Aug 28, 2014
Great place quite and clean only forty mins from Charlotte town !
Aug 25, 2014
Staff and owners very helpful and friendly. Campground very clean
Aug 19, 2014
I truly enjoyed the idea of KOA raising money through the George Cotton night for the IWK hospital. I enjoyed the show tremendously and love the idea of a campground providing that type of entertainment. Also, my hats off to the beautiful bathrooms, especially the shower area. I would highly recommend this kampground. Very clean and friendly.
Aug 17, 2014
We loved the convenient location, and the cabin had great amenities. The campground was well kept and staff were great. The only problem was the sofa bed. The description said the cabin would sleep four, but the sofa was very small. My kids are 12 and 16, and both about 5'9" 130lbs. Big kids but still small adults. We had to take turns sleeping on the floor. A futon upgrade would help.
CAMPGROUND RESPONSE / COMMENTS:
Glad you enjoyed your stay! The additional sleeping surface is a futon. It's a sofa for daytime use and then lays down into a full size bed, as described. We always encourage campers to come to us with questions or concerns so that they may be fixed during your stay! Thank you for your feedback!
Aug 11, 2014
Clean grounds and out camp cabin was very nice.
Aug 08, 2014
The staff was so accommodating to our large party. We were able to use two cabin and our trailer and a tent.
Aug 07, 2014
the host and hostess went out of their way to make us comfortable. It was quiet and pretty.
Aug 06, 2014
Friendly staff. Nice, new pool However, The screens to 2 of the cabins' doors and windows had holes in them so it made it impossible to keep them open at night and it got very muggy in the rooms-even with the fan going. The campsites were really close together. The outside, communal sink to do dishes drained the gray (dirty sink)water a meter away onto the ground-very close to a campsite
CAMPGROUND RESPONSE / COMMENTS:
We sincerely thank you for your feedback! The campground is under new ownership and we have plans for repairs and upgrades, especially in the tenting area. We'll be sure to make the screens a top priority. Also, there are plans to redo the outdoor kitchen in the near future. Thank you!
Jul 29, 2014
We were expecting more. There was no bouncey pillow or the Grinch. And we were expecting more from our cabin. But over all it was alright.
CAMPGROUND RESPONSE / COMMENTS:
This was our 1st annual Christmas in July to raise money for the Children's Hosp - we hope it grows each year! The cabins were renovated this Spring & contain more features then typical camping cabins. All information states the Jumping Pillow is coming soon. We hope to have it installed shortly!
Jun 27, 2014
Amazing service! Set everything up for my late arrival, provided me with a map and verbal directions when my gps didn't work, had a dog sitter so I could go explore the island. Very friendly and helpful!
CAMPGROUND RESPONSE / COMMENTS:
We enjoyed having you stay with us! Thank you for your kind words!
Jun 04, 2014
This was the perfect little spot for my fiance and I to unwind and enjoy some alone time away from the hussle and bussle! Very accommodating! We will definitely be back
Sep 03, 2013
we enjoyed our very much. only thing was i was told it was ok to bring our dog but we were questioned about bringing him after we arrived. our

Borden / Summerside KOA
Open May 15 - September 30
23714 Trans Canada Highway
Borden-Carleton, PE C0B 1X0 Canada
Check-In/Check-Out Times
All Sites
Check-in: 2:00 pm, Check-out: 11:00 am
Get Google Directions

© 2020 Kampgrounds of America, Inc.