Local Area Attractions Near Benbow KOA
Benbow KOA is located in the scenic Benbow Valley, 200 miles north of San Francisco on highway 101 off exit 636. The park is situated near the giant redwoods on the East Branch of the Eel River, and only 10 minutes south of the entrance to the Avenue of the Giants. Nearby are the towns of Garberville and Redway where campers have easy access to shopping, dining, gas, banking and medical services.
A short walking path from Benbow KOA leads campers to Benbow Historic Inn, a beautiful 55-room luxury hotel, fine dining restaurant and lounge. The Inn is affiliated with Historic Hotels of America and is listed in the Register of Historic Places. Opened in 1926, Benbow Historic Inn is open 365 days a year and features outdoor dining in the summer that is enhanced by an outdoor summer music series under the stars that runs from mid June through the end of September. Benbow KOA and Benbow Historic Inn are owned by the same Partnership.
The Lost Coast at Shelter Cove
Forty-five minutes west of Benbow KOA lies Shelter Cove with its black sand beaches, surfing, abalone diving, ocean fishing, seals, sea lions, and great fish & chips. Shelter Cove features a 9-hole golf course and private airport.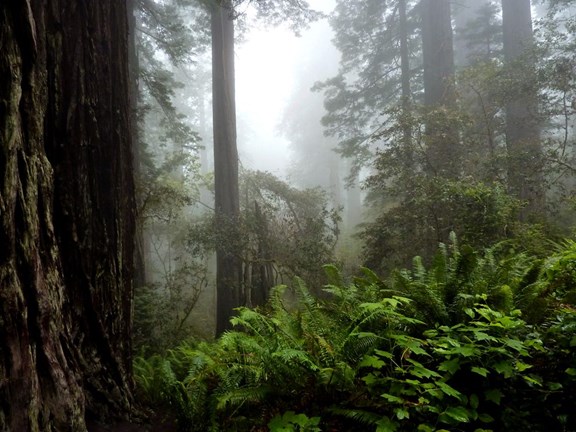 Redwoods National and State Parks
Close to Benbow KOA, there are numerous places to hike throughout the Kings Range, the Lost Coast and several state and national forest parks. The Lost Coast is one of California's most natural and scenic shorelines, and worthy of at least a day's worth of exploring.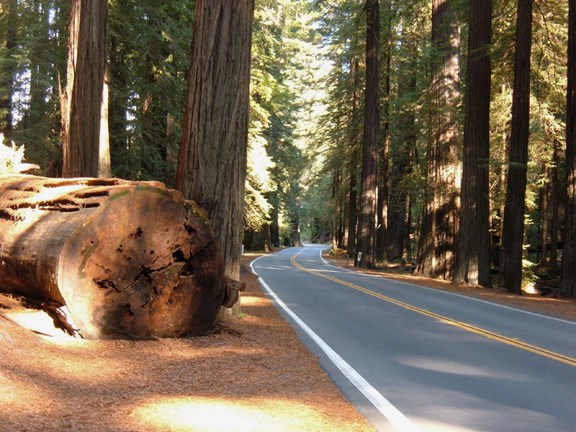 Benbow KOA - Gateway to Avenue of the Giants
The living museum of the world's largest trees begins 6 miles north of Benbow KOA. This 31-mile scenic drive parallels Highway 101. Stop at Rockefeller Forest along the south fork of the Eel River to see Big Tree, Tall Tree and Flat Iron Tree. In Myers Flat you'll find the famous Drive Thru Tree. Just up the road is the Humboldt Redwood State Park Visitor Center.
The Victorian Village of Ferndale
The best-preserved Victorian Village in California is located about fifty minutes north of Benbow KOA. This colorful town is filled with antique stores, art galleries and shops. This town is also a favorite film location; most recently "Outbreak" and "The Majestic" was filmed there. Ferndale is also home to the Humboldt County Fair, featuring horse racing August 21st - 30th.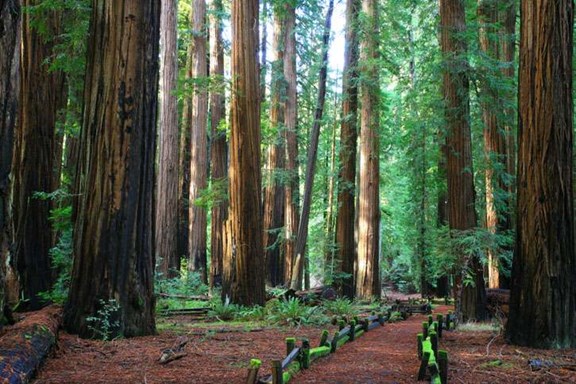 Richardson Grove
Just 6 short miles south of Benbow KOA, past some colorful redwood curio shops, you'll find Richardson Grove State Park, with trails along the Eel River winding gently through beautiful, magestic redwood stands. This scenic California State Park has hiking trails and a visitors center. The Park Entrance fee is $8.00.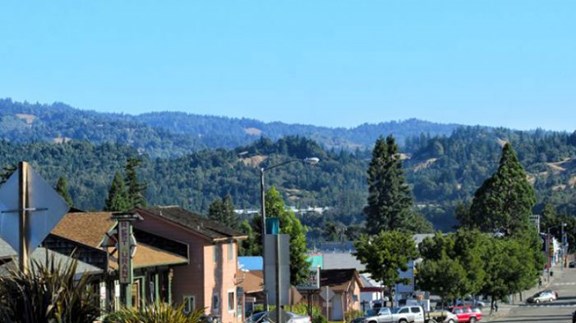 The Quaint Towns of Garberville and Redway
Benbow KOA is located in picturesque Benbow Valley. Garberville, 3 miles north of Benbow KOA, has unique shops, restaurants, banks, art galleries, a hospital, the Garberville Theater, library, Ray's Market, gas stations, churches and the Farmer's Market in the summer. Redway is 2 miles west of Garberville on the road to the Lost Coast, Shelter Cove and the King Range. Redway has a few stores, gas stations, restaurants and is home to the Mateel Community Center, a multi-use venue featuring numerous live music performances and theatre productions throughout the year.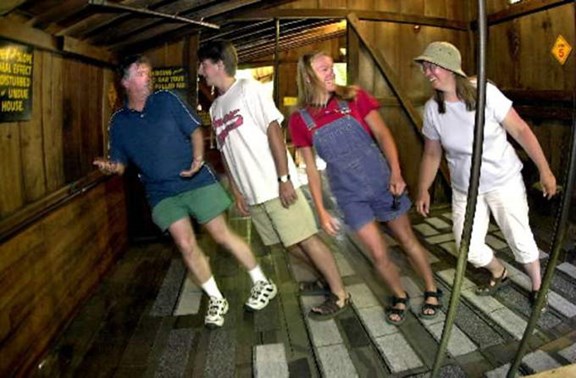 Confusion Hill Attraction
Located just 14 miles south along the scenic Route 101 Highway is the world-famous Confusion Hill attraction. Campbell Bros. Confusion Hill in the beautiful Northern California Redwoods is a Northern California tourist attraction that has been the Home of Mystery, Fun, and Family Entertainment since 1949. As of January, 2010, Confusion Hill is now listed as a California State Point of Historical Interest. There is the World Famous Gravity House, the Redwood Shoe house, the Ripley's Believe It or Not "Worlds Tallest Free Standing Redwood Chainsaw Carving" and the unique miniature Mountain Train Ride to enjoy.
75001 N Hwy 101
Piercy, CA 95587
The Julia Morgan Redwood Grove
Located just steps from the Benbow Historic Inn and Benbow KOA is the Julia Morgan's Redwood Grove, a spectacular estate that offers a "once-in-a-lifetime" setting for a distinctive occasion. A place of wonder, beauty, and adventure. Picturesque beauty captures the natural vibrancy of the water, serenity of the lush landscaping, and the grandeur of the redwoods.
In 1926, San Francisco Hotel heiress, Margaret Stewart, commissioned renowned architect Julia Morgan to build this country estate, today known as Redwood Grove. The estate was part of a planned 1,290 acre resort community by the Benbow family.
You can book your tour of this majestic and historical estate directly through our Front Desk Staff at the Benbow Inn.
255 Benbow Dam Road
Garberville, CA 95542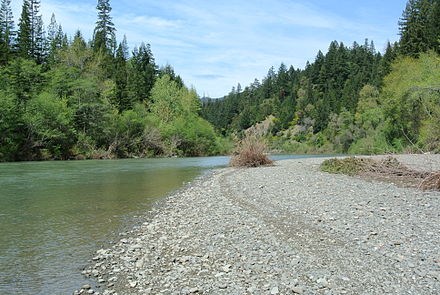 Benbow State Recreation Area
The area where two branches of the Eel River come together. Used to be damned and a popular destination - Benbow Lake. The state tore out the damn but this is a pretty lake bed to enjoy the river, the conifer covered hills and find some good hiking.
455 Lake Benbow Drive
Garberville, CA 95542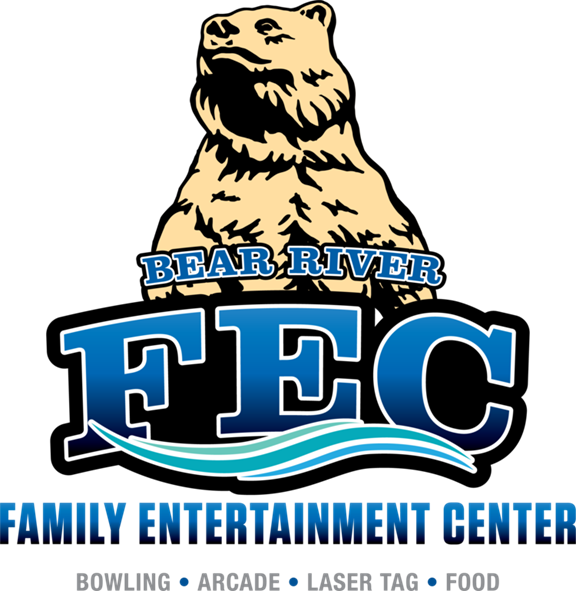 Bear River Family Entertainment Center
Lots of fun, especially on rainy or really hot days. Bowling, arcade, laser tag, pool, food and fun for everyone. About 45 minutes north of us on Highway 101.
263 Keisner Road
Loleta, CA 95554

Bear River Casino
Local gaming facility with food, gas and discount store.
11 Bear Paws Way
Loleta, CA 95551