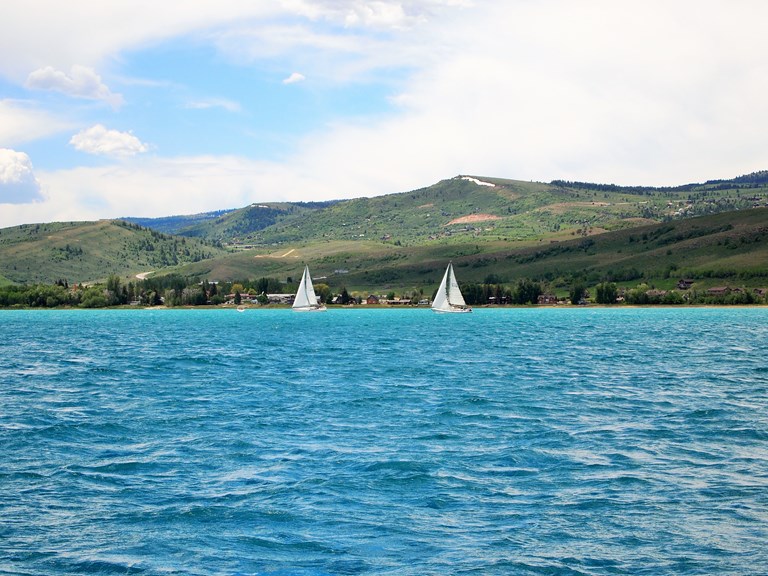 General Campground Information
Check in/out times
Check in for RV's and tent's: Anytime after 1 pm
Check in for Glamping tent's: Anytime after 3 pm
Check out: 11 am
Pool
We do offer our guests a pass to the city pool next door.  Please be aware that the city pool has limited hours.
Firewood Policy
We do sell wood for fires at koa trailside.  Each site has its own pit.  Please be kind to your neighbors and start letting the fire die out after 11 pm.
Visitor Policy
Bear Lake is a very busy town in the summer.  We do allow visitors during daylight hours.  The visitors need to check in with the koa office.  Visitors will not be allowed to use the koa amenities.  We appreciate you help and consideration with this matter.
Quiet hours
We do our best to have a respectful park toward everyone.  In order to help with this we do have quiet hours.  Quiet time runs from 10pm-7am.  Thank you
KOA activities
We do offer activities most every day for our guests during peak summer times.  Please check the board on main building or ask the staff "whats going on today"?
Extra parking
We do allow one vehicle per site.  All other will need to park in the overflow parking area.  We appreciate your help in the matter.  We want emergency services to have no problems navigating the rv park.
Meet Your Hosts
Our Goal is to make your experience so special that the next time you stay with us, you will bring a friend.
The Moldenhauer family bought the Bear Lake KOA in March 2017. Our goal each year is to make your camping experience more enjoyable. We are dedicated to providing a fun and entertaining experience for you and your family. We love creating a fun-filled family destination. It is a pleasure serving you and we love helping you create fun family memories.Happy Camping
The Moldenhauer Family