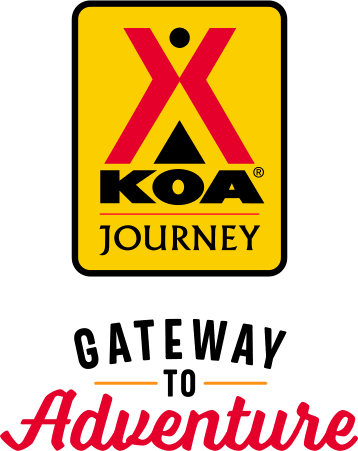 KOA Journey Campgrounds
KOA Journey campgrounds are the perfect oases after a day on the road. Whether it's along the way or a quick getaway, they've got you covered. Located near the highways and byways of North America with long Pull-thru RV Sites, they deliver convenience to the traveling camper. Pull in, ease back and take a load off.
KOA Journeys Feature:
Pull-through RV Sites with 50-amp service
Premium Tent Sites
Well lit after hours check-in service
Directions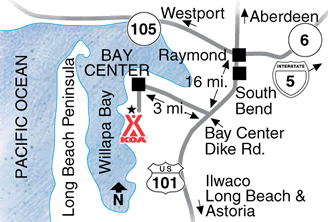 16 miles south of Raymond on Hwy 101: Exit between MM 42 and 43 on Bay Center Dike Rd, drive 2 1/2 miles, turn left on Bay Center Rd, drive 1/2 mile.
GPS: Use 457 Bay Center Rd, South Bend, WA 98586.
Get Google Directions
Jul 21, 2021
We had a wonderful time at this campsite! Staff were kind and very accommodating. The site was clean!
Jul 21, 2021
We only spent one night en route to our next destination, we were pleasantly surprised by this lovely little campground. All facilities were clean and the staff were welcoming and helpful.
Jul 21, 2021
Wonderful place to camp. Great employees, clean campground, friendly environment. Next time I know to stay more than one night! Thank you for giving me a place to relax by the ocean.
Jul 19, 2021
Tent site for tent placement the smallest of any koa I have been at.
Jul 18, 2021
Staff was super friendly. Spoke to owner Ken and he was a blast to chat with. Loved our stay
Jul 15, 2021
very nice and enjoyable.
Jul 14, 2021
Its was very chill and the place is nicely kept. Staff is friendly and helpful.
Jul 12, 2021
Friendly and responsive staff. Clean bathrooms. Hot shower. Dish-washing facilities. Close to bay. Cute decorations. Our first KOA makes us want to try more!
Jul 12, 2021
We had a fun time camping for 2 nights at Willapa bay. The beach is very close by. K9 Kampground was also super clean . Facilities/shower were clean.
Jul 07, 2021
Our stay was fantastic. Staff was super friendly and accommodating. All facilities were super clean. I would highly recommend this campground to anyone.
Jul 06, 2021
We had a great time! Ken, Skyler, and the woman who wore a long transparent american flag vest on July 4th were phenomenal hosts! We enjoyed ice cream, beach walks, rented bikes, and the gnomes all over the property. thank you!
Jul 02, 2021
Friend staff, clean, quiet and relaxing
Jun 29, 2021
Awesome owners!!!! Great place to stay. Highly recommend!!
Jun 28, 2021
If it had a pool it would be perfect.
Jun 28, 2021
Very friendly and great fun activities for kids. Very clean, well organised and peaceful. The bay is minutes from the camp through a wonderful mysterious forest walkway and the water is like a hot bath. Just perfect
Jun 24, 2021
Had great ice cream and staff and they gave you your money's worth. Beach was nice for sunset and just looking campsites were roomy and dry and nice
Jun 22, 2021
Best camping experience with family. Super kind staffs, playground with various facilities and many free rent, super nice access to beach for clam taking, some spots to oyster purchase nearby.
Jun 21, 2021
Ken & Iris are awesome. I look forward to my stay here each year.
Jun 20, 2021
This was a wonderful experience! Both hosts were so friendly. We arrived after the office closed, but someone was right there to welcome us and guide us to our space. Thank you.
Jun 20, 2021
great place to stay for families!
Jun 13, 2021
The owners were SUPER helpful! And this place felt almost magical. Like a fairytale, complete with gnomes and trolls and walk through the woods to the beach. One of my favorite KOA's I've ever stayed at
Jun 11, 2021
Nice small quite and very friendly. Beach is right there. Not really good for swimming bit to walk the beach looking for sea glass and rock.
Jun 01, 2021
This was our first KOA stay and it won't be the last. Lots of great amenities that you can't get at state parks.
Jun 01, 2021
We had a wonderful stay at Willapa Bay. Iris was so helpful and friendly. We felt safe and have let the kids play in the playground while we enjoy our time by the campfire. The bathrooms and showers are clean and it is cleaned and sanitized daily. We have enjoyed clamming and the camp has so many activities for the family. We will stay here again for sure. Thank you for a very well run camp!
May 17, 2021
A little noisy at night with dogs and kids
May 03, 2021
My first time staying here. My Cousin and I had so much fun. Such a clean and inviting place. I really enjoyed how close the Amazing Ocean was. So relaxing. To cook over the fire in the tent sites you need a grill rack, there is not one. Phil S.
CAMPGROUND RESPONSE / COMMENTS:
Glad you enjoyed your stay. Be sure to check in the office for a loaner grill rack if you need one
Oct 19, 2020
Nice owners, well stocked snack shop, clean place!
Oct 08, 2020
Our site was very nice, a little closer to neighbors than I wanted to be, and also tent sites were next to the beach trail so we had people walking right next to our campsite constantly, it was a little hard to relax. Bathrooms were clean and they had plenty of shower stalls. The owners seemed a little tense and standoffish so we didn't bother going into the shop. Overall satisfied with our stay.
Oct 05, 2020
Great place, great people, great time. Will be back for sure!
Oct 04, 2020
Nice place to stay. Great staff !! Friendly and personalable!
Oct 02, 2020
Thank you for a pleasant stay and having great customer service. :)
Sep 28, 2020
We had a great spot in a section all to ourselves and our tent was mostly sheltered with the trees above.
Sep 23, 2020
Staff was incredibly helpful and organized, and facilities were so convenient and in a beautiful spot.
Sep 23, 2020
Very clean campground. Super friendly staff. Quiet. Only downside was not being able to have a campfire (not the staffs fault as they checked everyday if the burn ban was being lifted). Easy access to the beach. Kids playground and area to play was a nice feature along with the fenced off leash area for dogs.
Sep 22, 2020
Last minute decision...beautiful setting with helpful staff. Clean and efficiently run campground, would recommend.
Sep 18, 2020
Great folks running the place! Nice and clean restroom/shower facilities.
Sep 14, 2020
We had a very nice tent site with electricity which was a new feature for us. All the staff was very friendly and helpful. The trail down to the bay had some fun surprises along the way.
Sep 09, 2020
Very friendly staff and clean campground. A great little campground for a relaxing and restful vacation. Phoenix was particularly friendly and welcoming out of the campground staff.
Sep 08, 2020
Was an awesome time. The girls had fun at the playground area and making friends with other families made it that much more enjoyable
Aug 30, 2020
My family stays here every summer because we enjoy the campsite and the location. The facilities are always well kept, the staff is friendly and hard working, and the short walk to the bay is just perfect. The drink koozies and great smelling sanitizer was also a great added bonus. Thanks for having us and we look forward to many more trips to come. :)
Jul 15, 2021
Nice and quiet, trail to the ocean.... Wine tasting 1 evening they hosted.... Perfect! Your last name on the welcome board... All the small things.
- Debbie Deshazo on Google
Jul 12, 2021
We had a great time here! We have had mixed results with KOA in the past but this is definitely one of the good ones! The owners were friendly and personable, yet they let us do our thing and didn't even attempt to bother us. I was there with my wife, son and brother and my parents came up with my grandma, we hung out at one camp and had a good ol' time. The campground was well maintained and clean we finally used the bathrooms on our way out and they were nice and clean too! All in all it was a great weekend! The beach was amazing while the wide l riyde was out for kite flying, if you enjoy seafood, it looked like there were plenty on clams and they even provide a cleaning station. We will definitely be going back! They you for the great stay!
- Seth Haskins on Google
Jul 12, 2021
Exit route is a little weird as dump location is only one side causing you to have to circle around through the camp.
- James Stevens on Google