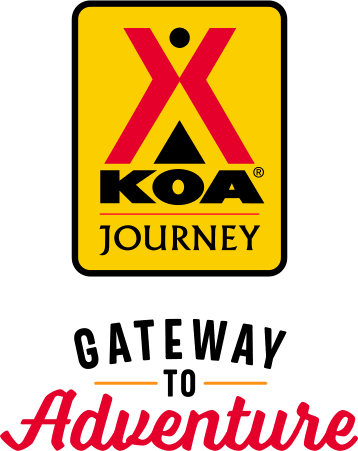 KOA Journey Campgrounds
KOA Journey campgrounds are the perfect oases after a day on the road. Whether it's along the way or a quick getaway, they've got you covered. Located near the highways and byways of North America with long Pull-thru RV Sites, they deliver convenience to the traveling camper. Pull in, ease back and take a load off.
KOA Journeys Feature:
Pull-through RV Sites with 50-amp service
Premium Tent Sites
Well lit after hours check-in service
Directions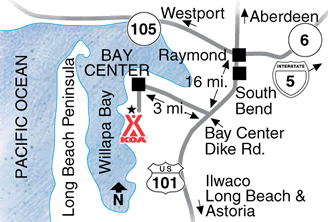 16 miles south of Raymond on Hwy 101: Exit between MM 42 and 43 on Bay Center Dike Rd, drive 2 1/2 miles, turn left on Bay Center Rd, drive 1/2 mile.
GPS: Use 457 Bay Center Rd, South Bend, WA 98586.
Get Google Directions
Jan 29, 2023
The campground is beautiful and clean, and we would definitely stay there again. It does advertise access to the beach, which it currently does NOT have due to storm damage. Communication with the managers was kind and helpful, but NOT consistently available.
Jan 11, 2023
Great campground! Attentive hosts & great little cabins. The kitchen shelters were very handy, especially considering the rainy weather. The trail to the beach & cabin grounds were well maintained and a plus.
Jan 02, 2023
Everything was fantastic the only issue was the ants. We battled them as best as we could. The people that run this KOA are fantastic and as nice as they can be.
Jan 01, 2023
Great time, staff and management are great.
Dec 12, 2022
This was our first time RV camping. The local KOA manager, Steve, was extremely friendly and helpful. He went above and beyond to supply us with items that we forgot to pack. He came out to help me with my first time emptying the black and gray tanks. He also shared several tips that will be helpful in our future travels. If all KOA staff is as nice as Steve, then KOA will be our #1 choice!
Nov 23, 2022
Friendly, courteous staff. Clean well kept facilities. Beautiful quiet location. We will be back
Nov 16, 2022
We stayed in a yurt. The mattresses were very comfortable, more so than previous cabins and yurts. Easy to get in after check in times. Our BBQ was dirty and full of mold. It was also out of propane. We could not cook our first night or the following morning and there was not anywhere open in the area. We did not get it cleaned until the afternoon after our first night.
CAMPGROUND RESPONSE / COMMENTS:
We are so sorry for your experience. We are on limited hours at this time of the year. We did our best to correct these issues as soon as we could with the limited staff we have. We will work harder to prevent this in the future.
Nov 15, 2022
Clean, well kept and the staff was helpful and friendly! We will be back for sure!
Nov 14, 2022
Very nice accommodations plan to return
Nov 13, 2022
Very rustic and the walk to the beach is AWESOME!! Nice bathrooms and showers were good, hot water was available. Lots of stuff to do there and surrounding areas, oysterville is a must for history buffs and the vintage campers at Seaview is a must.
Nov 11, 2022
Nice place, Safe area. Close enough to town if you need it, but far enough away if you want nothing to do with it. Staff are very helpful.
Nov 11, 2022
Close walk to the ocean. The kids had a great time running on the beach and collecting beautiful shells. Staff was very friendly and accommodating.
Nov 04, 2022
Great location. Beautiful walk to the water and fun amenities for the kids. Super friendly staff; assisted us parking in the dark. We definitely recommend this koa
Nov 01, 2022
Great management, awesome store, super wifi, gorgeous waterfront, love the whimsical outdoor decor. Would definitely stay again!
Oct 31, 2022
We loved the site. it is very pet friendly and the clamming was great!
Oct 31, 2022
It was wonderful. The cabin was as advertised, no luxuries. Which was perfect for my Dad and I to rake some steamer clams. Caught the night tide, then the following morning tide. Campground was clean and tidy. Hosts are friendly and helpful. The general store has a little bit of everything you might want while staying at KOA.
Oct 30, 2022
There was a lot to do for everyone, the staff were all very nice and inviting and social. The kids loved the movie nights, the adults loved the surprise oysters and wine tasting, the grounds are very clean and kept up.
Oct 30, 2022
Cabin was fine although a fridge would have been nice since we stayed for a few days. Beach access was good. Only a short walk from the property. Staff was friendly and helpful as we didn't know the area. Would stay here again.
Oct 28, 2022
The cabin was very clean and had more amenities than we thought there would be. Lots of hook, pillows, soap and shampoo. Loved the box of towels and other things ever though we brought our own. Private picnic area was amazing as well. Would definitely recommend and book another stay in the future. Thanks for everything
Oct 28, 2022
Short 3 days inaugural trip with our new travel trailer. Nice KOA. Beautiful area. Would stay there again.
Oct 27, 2022
Loved the grounds, beach access and location. we cant wait to return.
Oct 26, 2022
Very friendly folks, as always nice and quiet. We have stayed here a couple of times for multiple days and the owners will go out their way to make sure your happy and have what you need
Oct 25, 2022
Beautiful Campground. Welcoming Staff.
Oct 24, 2022
Very friendly staff, loved the beach and quietness, did not like the pot smokers
Oct 24, 2022
Staff were extremely helpful!
Oct 22, 2022
we stayed just one night but it is a very nice, cozy, friendly and quiet campground
Oct 22, 2022
We had a great time. The campgrounds are quite and clean.
Oct 22, 2022
Liked the campground, and the gentleman, Steve, who works there was very helpful. However on Thursday he must not have been working. We needed help, and apparently the office doesn't open until 11 AM that day?! At least that's what we were told by an unfriendly woman who was working that day. Of course 11 AM is checkout time, so that was useless to us.
CAMPGROUND RESPONSE / COMMENTS:
We are working on limited hours at this time of the year to reduce overhead. We are sorry you had an unpleasant experience with one of our staff. That type of behavior is not what we want here. We will discus this with her and work on this. Thank you for bring this to our attention.
Oct 20, 2022
Great Stay. Clamming in the bay was amazing!
Oct 20, 2022
We spent three nights at this beautiful campground. The manager was very friendly.
Oct 18, 2022
The camp grounds were really great. Really a nice place to stay. The staff were great and always very helpful.
Oct 18, 2022
Staff was very welcoming and helpful, and ready to answer our questions and offer suggestions. Very accommodating!
Oct 17, 2022
We love coming here every October!
Oct 17, 2022
Great host with planned activities!! The store was well stocked as we needed supplies sometimes. Campground very clean and organized. The manager was just great! Coming back for sure and always!!
Oct 17, 2022
Came here last year and at the last minute decided to stay here again. High Crime in Washington State, but this KOA is a very safe place to leave your campsite unattended while hunting or recreation. Great neighbors and staff. They have fun cool stuff on the weekends like breakfast waffles and ice cream socials. Nice place. Just far enough off the path, but not too far. I will be back.
Oct 11, 2022
Staff was great, park is clean and well kept. Some issues with the wifi, but staff made the attempt to fix!
Oct 10, 2022
We had lots of fun visiting with family. The staff was helpful and friendly. Great customer service. Thank you!
Oct 10, 2022
Arrived late and they accommodated us with friendly service
Oct 09, 2022
People were great. Bed and pillows were not very good.
Oct 08, 2022
Let people know that towels are not provided we were told you could pay for a linen basket and it was expensive we had our sleeping bags but just needed towels for the shower - for the price of the cabin asking for a towel to shower seemed like a reasonable request-
Oct 08, 2022
We tent camped. But drove around when we left and it is very beautiful would love to stay in a little cabin.
Oct 08, 2022
Excellent campsite and manager! Very clean and nice park. We will definitely stay here again!
Oct 06, 2022
Should have stayed longer to take advantage of activities and beautiful beach. Could have done some clam digging.
Oct 05, 2022
Great place very nice people.
Nov 01, 2022
Incredibly friendly manager who was right on top of every detail. He went above and beyond to welcome us and let us know of all the spots to see as a tourist. Trail to the beach is steps away. Campsite is very cute and well kept. The camp store had tons of interesting things.
- Julie K on Trip Advisor
Oct 25, 2022
This is a great place to stay , quiet and the staff is awsome looking out for any needs. Stayed here twice and will be back. If you are on the coast don't hesitate to spend time here. You won't be disappointed.
- Explorer32327274391 on Trip Advisor
Oct 10, 2022
Super fun! Good amenities. Friendly staff. But come PREPARED!! You're absolutely in the middle of nowhere. No grocery or restaurant or ANYTHING ELSE nearby.
- Brittney McCoy on Google