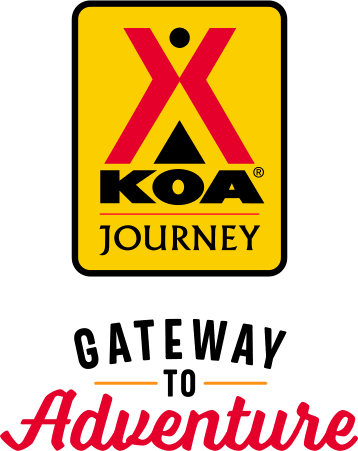 KOA Journey Campgrounds
KOA Journey campgrounds are the perfect oases after a day on the road. Whether it's along the way or a quick getaway, they've got you covered. Located near the highways and byways of North America with long Pull-thru RV Sites, they deliver convenience to the traveling camper. Pull in, ease back and take a load off.
KOA Journeys Feature:
Pull-through RV Sites with 50-amp service
Premium Tent Sites
Well lit after hours check-in service
Directions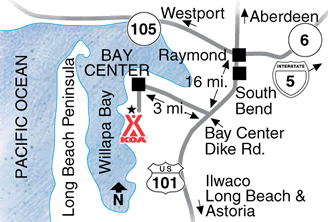 16 miles south of Raymond on Hwy 101: Exit between MM 42 and 43 on Bay Center Dike Rd, drive 2 1/2 miles, turn left on Bay Center Rd, drive 1/2 mile.
GPS: Use 457 Bay Center Rd, South Bend, WA 98586.
Get Google Directions
Oct 20, 2021
Our stay was very disappointing. For $75/night, one expects a lot more. This was our first stay here, but I don't see going back. It is obvious there is a lot of deferred maintenance. The grass around our site was at least 6 inches long, growing in mounds. The roads haven't seen new gravel in some time and are now muddy trails. Too many off-leash dogs that poop everywhere. Sad.
Oct 18, 2021
Wonderful! Thank you!!
Oct 18, 2021
Enjoyed the park even though it was raining. Only complaint is that the dump station is difficult to access. Recommend having it in another location.
Oct 16, 2021
We arrived about 30 minutes before check in time and the office was closed. But, I got a text with our site number and map was available for pick up so we were able to get settled. The grounds are fun with gnomes and other fun mythical creatures. The beach is incredible. Staff was very friendly and kind. We had a family emergency and had to leave early. I would happily return.
Oct 15, 2021
Beautiful. Well kept camp sites! Friendly staff! We will be back!
Oct 15, 2021
When I arrived, the office was closed and few campers were on the grounds (it was, granted, a rather wet mid-week day). The spot I had booked online was non-discript. I found another site with some trees around and a greater sense of privacy and the outdoors. I texted the park hosts to see if I could switch sites for my two night stay, and they consented. It is a nice, low key spot.
Oct 14, 2021
Very quiet campground, friendly staff. The only drawback was that there was not access to the beach unless you were physically able to climb the stairs,
Oct 12, 2021
It was great! The campground was beautiful, and the gnomes were cute. The staff is very courteous and professional. And, thanks for the great weather! Sometimes not the norm for this time of year!
Oct 12, 2021
Always a fun trip even in the rain! Sad to hear long time owners are gone, but hopefully new owners keep up the fun! Please improve Wi-Fi
Oct 12, 2021
The Deluxe Cabin was clean and comfortable. The patio, barbecue, picnic area was impressive and secluded from other guests. The campground was well maintained, including restrooms and laundry, The host was friendly and responsive to our needs. Wonderful visit!
Oct 11, 2021
Great location, wonderful store, well maintained park. Best staff we've ever encountered at a KOA from the bike riding escort to our spot to being greeted every day by staff, everyone here was delightful. We'll definitely be back and recommend to our friends. Thanks!
Oct 11, 2021
The staff was all amazing and helpful. We loved our stay.
Oct 09, 2021
The campground was very quiet and relaxing, more so than I would have expected so I was pleasantly urprised. The staff was very friendly and helpful. We throughly enjoyed our stay.
Oct 09, 2021
Quiet, very nice owners. Love the clamming. Third time staying here, never disappointed.
Oct 09, 2021
Upon arrival we were welcomed by the hosts and shown to our site. They were always very friendly and helpful. The area where our site was located had the sites staggered which provided more privacy. Throughout our stay we commented on how quiet it was.
Oct 09, 2021
You guys were very friendly. This looks like a very popular spot. The only thing is the firewood I bought was very hard to split, I have never had to work so hard at firewood like this.
Oct 09, 2021
Loved staying in the yurt! It was clean and spacious. We usually stay in cabins or tent sites but decided to give the yurt a try. We had a lovely time and enjoyed walking down to the beach.
Oct 09, 2021
Over priced, other then that great.
Oct 08, 2021
I loved this quiet beautiful place. If we are ever back up to Washington, this will be our go to place.
Oct 08, 2021
We stayed in a basic cabin, and appreciated the extras like the cable TV and the Keurig coffee maker, plus the space heater! We found the restrooms and whole campground very clean and well maintained. The trail to the bay was cleared, and we enjoyed the fun decorations of gnomes, Sasquatch (Big Foot?), and troll crossing. Staff were friendly and accommodating- awesome. Pets were welcomed.
Oct 08, 2021
As first time travel trailer campers to KOA, we appreciated the texts prior to our visit, explaining and asking if we had questions. The stay was relaxing and loved the fantastical creatures who can be found throughout the grounds. Grateful that the access path to the beach was easy to find and walk. Thank you!
Oct 08, 2021
Quant little KOA.. but one of the more expensive KOA's we stayed at on our 3 week trip.. facilities were clean but older.. overpriced in our opinion
Oct 06, 2021
Just the best ever!! Campground hosts extremely nice, very helpful and fun to be around and visit with!! Our site was clean as was the whole campground. Central area for trash and recycling. We had an enjoyable experience here as always!! The store was stocked very nicely and also with camper supplies and parts. Thank you Bay Center!!
Oct 05, 2021
It is an ADORABLE KOA. We have already told a couple of camping friends about it!
Oct 05, 2021
Very nice, clean campground. Hosts were very customer orientated. Would definitely come again.
Oct 04, 2021
The campground was clean, guilt and the staff was friendly and welcoming. I was a woman alone camping and felt safe and secure. Absolutely loved this campground. The walk to the beach is well kept. I'll be coming back for sure.
Oct 03, 2021
Our stay was Very enjoyable staff were very friendly and helpful we will be back to stay another time
Sep 29, 2021
KOA team was fantastic. Clean site and areas. Fun and friendly for our dogs too.
Sep 28, 2021
Will always stay here when traveling through this area.
Sep 27, 2021
Once again, a totally delightful experience. Rarely do we ever go to or stay at the same place, but there is something about this resort that keeps bringing us back. This was our fifth time staying here. Ken and Iris, along with their staff, keep this place immaculate and are always willing to go the extra mile to make sure everything is perfect during our stay. We'll be back! Thanks guys!
Sep 27, 2021
This is a remote and wonderful KOA. It is very quiet and peaceful. We go out of our way to stay at this site.
Sep 27, 2021
Great family location cause there is a lot to do for the kids and the beach is nice. The only down side is not much privacy between sites.
Sep 27, 2021
Great campground, very clean and everyone super helpful. Very quite at night which was a plus! The section of metal steps to the beach had our dogs a little upset but they managed ok. I'd stay here again for sure! Thanks!!!
Sep 27, 2021
Very peaceful and relaxing
Sep 27, 2021
Second time staying here. Very quiet and a relaxing setting. Staff was super friendly and very helpful. Grounds were well maintained and bathrooms were very clean. Top notch spot for a quick get a way. Thank you!
Sep 26, 2021
It was ideal, though we had one cloudy day it did not diminish our experience. The facilities as usual were clean and ready for guests, the campsite we chose was excellent, the beach experience and clamming were wonderful as usual.
Sep 26, 2021
Love the extra small touches, the gnomes, beach wash off station on the way back to campground, lots of real trees and grass. Excellent access to shoreline for shells and driftwood and evening walks.
Sep 25, 2021
Very lovely spot right next to the water! It was quiet and peaceful!
Sep 25, 2021
Beautiful KOA. Well kept. Friendly people
Sep 25, 2021
It was very nice. Amazing hosts.
Sep 25, 2021
Excellent outdoor kitchen. Bathrooms desperately need upgrading.
Sep 25, 2021
Absolutely loved our lodge cabin stay! Very clean and relaxing! Staff was super sweet!!!!
Sep 24, 2021
STAFF WERE FRIENDLY AND HELPFUL. OUR SITE WAS EXCEPTIONAL(WE HAD A SITE WITH A PATIO, OUTSIDE FURNITURE, GRILL, FIRE RING, AND A SWING) . IT WAS VERY RELAXING AND AMAZINGLY QUIET. THANK YOU SO MUCH FOR THE WONDERFUL GETAWAY WE HAD!
Oct 18, 2021
Super nice and super clean. Very quiet. Our site was secluded and close to the beach trail. The beach was wonderful! We had a nice long walk.
- Leah M on Google
Sep 27, 2021
Super friendly and pleasant people. Looking forward to doing more business with them
- Eugene Lowe on Google
Sep 27, 2021
Perfect getaway we love it.
- Brent Martin on Google