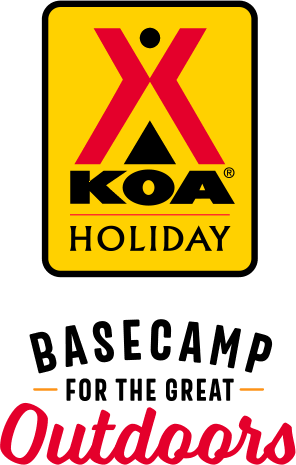 KOA Holiday Campgrounds
Whether you're exploring the local area or hanging out at the campground, KOA Holidays are an ideal place to relax and play. There's plenty to do, with amenities and services to make your stay memorable. Plus, you'll enjoy the outdoor experience with upgraded RV Sites with KOA Patio® and Deluxe Cabins with full baths for camping in comfort. Bring your family, bring your friends, or bring the whole group – there's plenty of ways to stay and explore.
KOA Holidays Feature:
RV Sites with a KOA Patio®
Deluxe Cabins with full baths
Premium Tent Sites
Group meeting facilities
Directions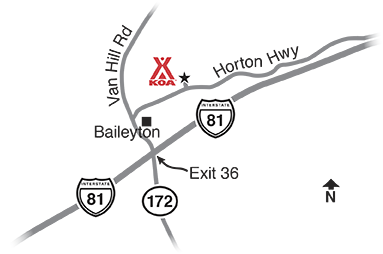 At Exit 36 off Interstate 81, follow the signs (9 of them) – take Local Route 172 north 7/10 of a mile (past 2 truck stops, 2 dollar stores and another RV park) to flashing light / 4-way stop (Horton Highway). Turn right at Horton Highway, go 1 mile. Park entrance is on the left.
GPS Coordinates: 36.338795, -82.824126
Get Google Directions
Sep 13, 2021
Another great weekend at Baileyton KOA. The updates to the park and the addition of Water Wars made for a good time.
Sep 13, 2021
Always a good time !! Very helpful and friendly staff! And it get's better with every visit !
Sep 13, 2021
Pleasant experience. Lots of activities for young ones.
Sep 13, 2021
Very nice quiet campground.
Sep 13, 2021
Staff was so helpful and friendly. Campground is well cared for with lots of activities/options for the kids. We plan to return soon!
Sep 12, 2021
Just stayed one night! Would have stayed longer if our schedule permitted. Very nice area.
Sep 12, 2021
I called for a reservation only an hour or two before we arrived and am so glad you had room for us. Site B2 isn't a great site for a large rig because of the tree at the entrance and the posts, but A6 was great! What a beautiful campground! Everything was looking very pretty and we really enjoyed our stay. Cable and good wifi as well as a full pullthrough hookup...just what we look for! Thanks
Sep 10, 2021
Very nice campground with large pull thru sites. The pool was very clean and well ket
Sep 09, 2021
Our grandchildren came with us on this trip. There was plenty of activities for all ages. We played all activities with them. Bingo, water wars, the pool, the jumping pad, crafts and movies. We definitely will be back.
Sep 08, 2021
We arrived last minute at the end of the day and they took excellent care of us. It is also very clean.
Sep 07, 2021
We love the Baileyton KOA. So quiet and family oriented.
Sep 07, 2021
We love the staff and all the activities for the kids. We always feel welcomed and Safe at Baileyton KOA.
Sep 07, 2021
Nice clean park with level gravel sites and plenty of amenities. A drive to Jonesborough for the historic downtown and Greeneville for Andrew Johnson's house and burial site will not disappoint.
Sep 07, 2021
Great campground! The staff was friendly and there was lots of things to do. We will definitely be back!
Sep 07, 2021
Awesome campground. The kids and adults loved the events. Can't wait to return.
Sep 07, 2021
Out of all the places we stayed in our RV this is the second best place we have stayed at. The activities you all had for the kids and the family to enjoy was awesome.
Sep 07, 2021
Very relaxing weekend. Very well kept KOA. Friendly
Sep 07, 2021
Had a wonderful time
Sep 07, 2021
Great Labor day weekend, staff is wonderful, so many activities. LOVE the water balloon launch!
Sep 07, 2021
This hands down was the best KOA we ever stayed at. We stayed over Labor Day Weekend 2021 and had a blast! They had so many planned activities for the kids to do. Water Wars, Foam Party, Crafts, Bingo, and a Luca movie. My kids begged me to stay for 1 more extra day and the staff made it happen even though they were fully booked. They have several acres of open land that is cut and maintained.
Sep 07, 2021
The new sites are very large and we had a wonderful visit!
Sep 05, 2021
Needed an overnight stay. We had been to thee location once before in a smaller unit. The site was able to accommodate our larger 5th wheel. Only negative is the route to the campgrounds through Chambersburg is bad. An alternative around the town would be great.
Sep 04, 2021
Nice campground quiet beautiful location off the interstate
Sep 04, 2021
Only did an overnight stay, but the staff is friendly and takes care of any needs you have. Enjoy staying here while we travel through.
Sep 03, 2021
Love the staff. We aren't here for vacation. We have been here for a few months now, as we build on our property. Surprisingly very quiet and private. More than once when we had a problem with our RV the staff were right there to help.
Sep 03, 2021
We love staying here! The owners and staff are great! Special thanks to Tammy who took care of us when our original site didn't work for us! She is a keeper!!! Campground is immaculate and all utilities worked well. Bathrooms spotless. Garbage pick up is appreciated as well as offer to escort to site. Always improving amenities. Already made additional reservation. Thank you for a wonderful stay
Sep 03, 2021
Stayed for a month. Park was quiet and peaceful. Staff was friendly and very helpful. Facilities were beautiful and well kept. Will stay there again.
Sep 03, 2021
Good service and nice people.
Sep 03, 2021
Just passing thru.
Sep 02, 2021
Stayed in new section of campground in a patio site. Appears that these sites could be more level. There is a lot of loose stone in an attempt to level the sites, but we needed to use our portable step in order to get into the camper cause door side had a huge step to get to first step. Maybe it's a work in progress?
Aug 31, 2021
This campground is a regular stop for us in eastern Tennessee. We have always found it clean and well kept. The best asset though is the staff and people who run this campground. We have found them ready and willing to go out of their way to help their guests. They just added on a new section with beautiful sites. We will be back again!
Aug 31, 2021
Only a stopover but would definitely plan a base stay to visit the Smokey's. Very clean and peaceful
Aug 30, 2021
Amazing staff and facilities! Probably the best campsite experience we have had, we will return!
Aug 29, 2021
Only stayed one night, but we would for sure stay there again. Already told people about the camp ground. Very clean, well maintained, people very nice. We were on the road 4 1/2 weeks this camp ground was one of two we would return too.
Aug 28, 2021
staff was friendly, the camp ground was very nice & clean, well maintained, laundry room was clean.. we will definitely be back soon.. highly recommended !! thank you.. Wendy & Steve
Aug 27, 2021
Great few days. Always the best hosts at Baileyton KOA. Thank you!
Aug 27, 2021
1 night stay, facilities were great. Staff were friendly and helpful.