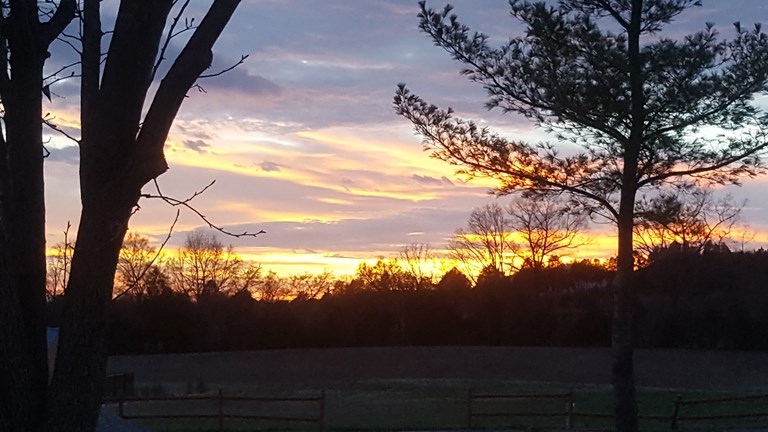 Baileyton KOA Reviews
Directions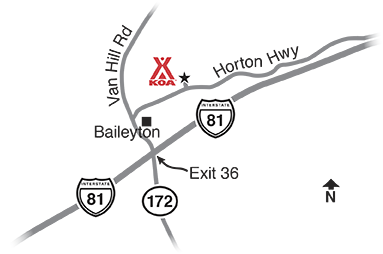 At Exit 36 off Interstate 81, follow the signs (9 of them) – take Local Route 172 north 7/10 of a mile (past 2 truck stops, 2 dollar stores and another RV park) to flashing light / 4-way stop (Horton Highway). Turn right at Horton Highway, go 1 mile. Park entrance is on the left.
GPS Coordinates: 36.338795, -82.824126
Get Google Directions
Jul 05, 2020
Amazing staff and great grounds. The pool and driving range are a great destination activity. Sites are spacious with minimal highway noise.
Jul 05, 2020
The sites were long enough to accommodate our rig with toad and platform holding our scooter.
Jul 04, 2020
Great hosts and camping
Jul 02, 2020
We love staying at this KOA! This dog-friendly campground has plenty of green space for walking our dogs as well as a small dog park to let them run off-leash.
Jul 02, 2020
What a wonderful, serene, clean place with activities to do (if you want) like swim, hit golf balls, playground, and a large open rolling hill area for a challenging walk! Site was clean and had a concrete pad and table, all in good repair and easy in/out. We would definitely stay there again.
Jul 01, 2020
The staff was very friendly and accommodating. They delivered the wood we bought for our fire and the fire ring to go with it!
Jul 01, 2020
Campground is great but the sites on B row are not level. It took us several tries to level. Three weeks ago we were in A row and no issues. Needless to say. B 2 is awful. The rig next to us had to have his front tires off the ground. On a side note: the staff is amazing and a huge help for us big rigs to be escorted to site. Thank you
Jun 30, 2020
Very Nice campground. Wonderful staff will go again!
Jun 30, 2020
Nice looking campground. Grass had a manicured look. Everyone friendly. Access to the pull-through was a bit tight for a 43' fifth wheel because of the site marking stake, but we made it.
Jun 30, 2020
Came for the weekend with two of our grandchildren. We had a great time with lots of activities for the kids. Park was clean and well run. Nice place!
Jun 30, 2020
Had a very nice weekend. Enjoyed our stay very much and the staff was great. Our first time staying at a KOA. They made us feel right at home and we enjoyed walking around the campground. Really enjoyed fishing one of the private ponds on the property. Looking forward to our next trip.
Jun 29, 2020
Stop there often on the way from Middle Tennessee to Virginia Beach. Clean. Well-kept. Never do much outside the place, but for a short stay it is ideal.
Jun 29, 2020
Friendly host but sites where very tight, had branches hanging from awning from turning into a pull thru, elect post were extremely low to the ground
Jun 29, 2020
Campground was nice and clean. We stayed in tiny house and it was exactly what we needed. Staff friendly. Would highly recommend!
Jun 29, 2020
Park was nice. Nice amenities. We were in the 3rd or 4th spot from the back. Kinda tight getting in with overflow parking being right in front of our spot. 2nd night, people were on the side where we'd be outside, staying in their car. No camper. Just them and a car. Nothing to block them from us. It was super awkward and we felt like we had to go in once they went to bed in the back of their ca
Jun 29, 2020
It was a nice well kept campground. Plenty of stuff for our children and it is a campground we will return to.
Jun 28, 2020
Our stay was great the staff was absolutely outstanding the campground was clean swimming pool was great driving range was Mel well manicured I'd recommend this key away to anybody
Jun 28, 2020
Very nice, bathroom was very clean and staff was very friendly
Jun 26, 2020
Always a great place to stay
Jun 26, 2020
A-MAZ-ING! Not gonna lie. We picked it for it's quick access & convenience. When we arrived, we were pleasantly surprised. We arrived after hours. Area was very neatly organized, info was left on the door with clear instructions to our site. Hook ups were easy to access & site very well maintained. The entire site was clean & family oriented. Plenty to do for the kids/dogs.The view is BEAUTIFUL
Jun 26, 2020
Late night, last minute call for a stay and Bob took great care of us. Quiet, clean and safe place to stay. Sites are roomy and pretty level...easy set-up!
Jun 25, 2020
We enjoyed our stay. The kids had a blast. Very clean campground. Everyone was friendly.
Jun 25, 2020
The campground is very well groomed and easy access from the highway. I would definitely stay there again if we are in the area.
Jun 25, 2020
2 night cabin stay. Place was very clean. Owners on site were very attentive, gave us space to store a utilitytrailer and even delivered fire wood to our site. Great stay.
Jun 24, 2020
It was a very nice and clean cabin! Lots of room to walk out dog Sadie! We love it at Bailyton KoA!
Jun 23, 2020
Very accommodating and polite, enjoyed the driving range. Was born in area and got to have family over no problems
Jun 22, 2020
It was all good except for the pool guidelines were not being followed without request for it to be dealt with after being signed up with reservation time.
Jun 22, 2020
We LOVED it here!!!!! Staff very nice, clean quite camp ground! I only wish they would have had the bathhouse and jumping pillow open. We will def be back again soon!
Jun 22, 2020
It was a beautiful campground but we should have been told when we made reservations that the shower house was locked
Jun 20, 2020
Great place. Nice and quiet. Friendly staff. Close to the highway and gas stations so it is good for travelers staying one night as well.
Jun 20, 2020
We were very disappointed that the bath house and toilets were closed and the wi-fi was slow but everything else was great!!! There were visitors from 10 different states Which was impressive. Last year our grandkids liked the fishing the best. This year it was the golf driving range. there were plenty of other kids there to interact with. Great get away from home and the COVID hype.
Jun 20, 2020
nice and quite - exactly what we were looking for. Nice folks and gorgeous property
Jun 19, 2020
Nicest staff. So helpful. I think that they go above and beyond to make our stay wonderful.
Jun 17, 2020
Great facility
Jun 13, 2020
Just didn't like the traffic cutting through the site next to us.
Jun 12, 2020
Small, noise from a outside TV after 10 pm was disruptive. Was amazed the pool was open. Not impressed.
Jun 11, 2020
Park was fine except the sites are too close together.
Jun 11, 2020
Beautiful and the office staff was great on arrival. Will stay again in a few weeks as we will be visiting family
Jun 10, 2020
Very nice. Will definitely come back.
Jun 10, 2020
Loved the stay very relaxing. The staff is great.
Jun 08, 2020
Our first time there and we had a great time. Campground is very well kept and easy to get to in and out. Activities for kids on Sat. evening and the movie was a good ideal. Enjoyed meeting the owners Bob and Karen. We have cabin reserved for Sept. and are already planning on going back in couple weeks. We highly recommend this campground. Thanks again for a fun time. See you soon. The Dunn's

Baileyton KOA
Open All Year
7485 Horton Highway
Greeneville, TN 37745
Check-In/Check-Out Times
RV Sites, Tent Sites
Check-in: 1:00 pm, Check-out: 11:00 am
Accommodations
Check-in: 2:00 pm, Check-out: 11:00 am
Operating Hours
Sunday: Open 9:00 AM to 7:00 PM
Monday: Open 9:00 AM to 7:00 PM
Tuesday: Open 9:00 AM to 7:00 PM
Wednesday: Open 9:00 AM to 7:00 PM
Thursday: Open 9:00 AM to 7:00 PM
Friday: Open 9:00 AM to 7:00 PM
Saturday: Open 9:00 AM to 7:00 PM
Get Google Directions

© 2020 Kampgrounds of America, Inc.