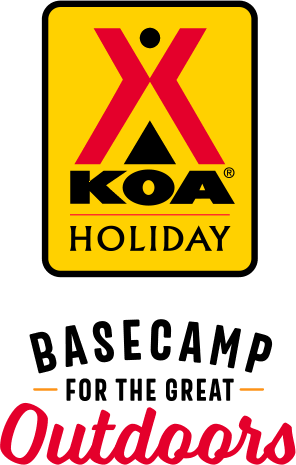 KOA Holiday Campgrounds
Whether you're exploring the local area or hanging out at the campground, KOA Holidays are an ideal place to relax and play. There's plenty to do, with amenities and services to make your stay memorable. Plus, you'll enjoy the outdoor experience with upgraded RV Sites with KOA Patio® and Deluxe Cabins with full baths for camping in comfort. Bring your family, bring your friends, or bring the whole group – there's plenty of ways to stay and explore.
KOA Holidays Feature:
RV Sites with a KOA Patio®
Deluxe Cabins with full baths
Premium Tent Sites
Group meeting facilities
Directions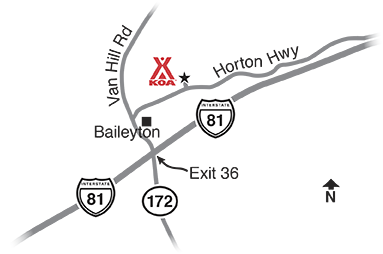 At Exit 36 off Interstate 81, follow the signs (9 of them) – take Local Route 172 north 7/10 of a mile (past 2 truck stops, 2 dollar stores and another RV park) to flashing light / 4-way stop (Horton Highway). Turn right at Horton Highway, go 1 mile. Park entrance is on the left.
GPS Coordinates: 36.338795, -82.824126
Get Google Directions
Oct 18, 2021
Our family loves Baileyton KOA. The staff are fantastic and the grounds are always perfect.
Oct 18, 2021
We had a fantastic weekend! Loved all the activities you all had planned for the kids. Our daughter had a blast and really enjoyed the haunted hay ride. She's already asking when we get to come back. Staff is so quick to respond to help and so friendly. We can't wait to come back
Oct 18, 2021
Nice little park that was a one night layover for us. Clean, well organized, no frills style. Front desk lady not very outgoing. Showed us a map and how to get to our spot and send us on our way. Site was squishy and my fiver left some ruts in the gravel.
Oct 18, 2021
It was very clean and lots of fun activities for the kids.
Oct 18, 2021
Very nice campground in a beautiful setting! Run by very nice people. Clean. Convenient to I81. We will stay there when we are in that area again.
Oct 18, 2021
The campsite was good, however, the public bathroom and shower was horrible; it smelled terrible even before you went in. We paid $100.00 per night and were unable to take a shower because of the stench. We were very disappointed. However, it was located minutes from the Gettysburg attractions.
Oct 17, 2021
Very friendly and helpful staff, and the sites are big and well maintained
Oct 17, 2021
Clean and friendly.
Oct 17, 2021
Place was very clean and plenty of room for the activities they have available.
Oct 17, 2021
We had a very nice stay Very nice KOA We will Be Back
Oct 17, 2021
Nice park and staff was very nice
Oct 17, 2021
Beautiful campground, has everything you could think of to keep the kids and adults busy. The staff is super friendly and accommodating and the location is perfect if ur wanting to get away but can still drive to the dolly store if u forget something.
Oct 17, 2021
Tammy was super helpful. There was also another woman whose name I did not get that happily printed out a shipping label ( twice ) saving me tons of time searching for somewhere to do that.
Oct 17, 2021
Very nice stay!! 10/10. Loved having the upgraded table and chairs with the gas grill.
Oct 16, 2021
Great service, great people and great area. Very helpful & accomodating.
Oct 16, 2021
Just stopped I night on way south. Don't usually stay at Koa. Don't have time to use facilities to make it worth the big bucks. Last resort are KOA. Would love to stay more days.
Oct 15, 2021
Very nice and well-maintained.... it felt very homey.
Oct 15, 2021
We came in late and left early. It was great to have a place to stay where we could plug in and watch a video before turning in for the night. I counted license plates from 10 different states in the row where we were camping. I thought that was neat.
Oct 14, 2021
We were there for one night. The site was large and flat and we didn't have to disconnect. We did so we could use the truck. Our only complaint with KOA is the pricing. Without using our points, the price would have been $79, way too high compared to the other campgrounds, equally as nice, that we stayed in during our trip.
Oct 13, 2021
It was a clean and neat area. The staff was friendly and helpful and the whole camp ground was dog friendly. Wonderful get away.
Oct 12, 2021
The activities were amazing and well coordinated. The staff was friendly throughout our stay.
Oct 12, 2021
Amenities were nice. The kid enjoyed all of them. The bathrooms were DISGUSTING! The women's was not cleaned the entire time we were there. There was one toilet stall in particular that was nasty and the smell from that stall was horrible. There were no paper towels from Friday (check in) to Sunday (check out).
Oct 12, 2021
First time for us and it was really a nice place to stop overnight and. Easy to get arround
Oct 12, 2021
We very much enjoyed our stay. All staff members were super nice.
Oct 12, 2021
Beautiful grounds and level. Super easy from 81. Sites are a little small.
Oct 12, 2021
Friendly staff, clean and well kept
Oct 12, 2021
Great Service, Easy Access, Easy Hook up, Clean Men's Bathroom but wife said Lady's Bathroom not so clean.
Oct 11, 2021
Long, pull through spot. Close to the bathroom, shower, and laundry. Clean showers. I would definitely stay here again.
Oct 11, 2021
I loved the green areas for walking. I wish sits were not so close.
Oct 11, 2021
Had a great time. Will be posting a walk through video on camping groups. Was there for Hazzard Fest
Oct 11, 2021
Nice quiet and great programs for the kids! Very clean
Oct 11, 2021
Everyone was so nice and helpful!! The kids loved all the activities and that the pool was still open! Tent site 2 was beautiful with plenty of space!
Oct 11, 2021
Friendly people. Clean well lit bathrooms. Activities for kids.
Oct 11, 2021
Beutiful property and the owner is great she makes you feel at home and welcomed great place �� Christopher Shotmiller
Oct 10, 2021
Excellent service,great place to camp with friends
Oct 10, 2021
Nice place, clean and great staff! We stay here almost every time we're passing through the area. Easy to get in and out.
Oct 10, 2021
Very friendly workers. Cleanest, neatest, best kept KOA we've stayed at! Beautiful view/location!
Oct 16, 2021
Super friendly, clean and peaceful campground. 10/10. Would definitely come back when in the area.
- amy crumley on Google
Oct 16, 2021
Excellent. She said they were full at 2 in the afternoon but did a double search and found a way to get us in. Clean and friendly . My thanks to Tammy and the woman who printed out my shipping label ( twice ) . All around helpful and friendly.
- Jesse St Croix on Google
Oct 06, 2021
This KOA is very well marked far in advance. The staff are friendly, the park is immaculate, and the sites are great! It's got a clean dog park which is a big plus in our book. We definitely will be frequent visitors between our North and South trips. My 9 year old was disappointed by the swings and playground but I won't fault this one because everything else hit the mark.
- Mary Lou North on Google