Directions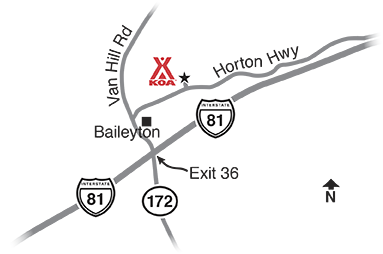 At Exit 36 off Interstate 81, follow the signs (9 of them) – take Local Route 172 north 7/10 of a mile (past 2 truck stops, 2 dollar stores and another RV park) to flashing light / 4-way stop (Horton Highway). Turn right at Horton Highway, go 1 mile. Park entrance is on the left.
GPS Coordinates: 36.338795, -82.824126
Get Google Directions
Apr 06, 2021
Nice campground with a golf driving range, pool and things for the kids to play on. Very clean and great staff. We've stayed here several times and will continue to do so.
Apr 05, 2021
Excellent as always. Couldn't be better
Apr 05, 2021
Great campground, definitely worthy off 5 stars. Lots of extras not normally found at private locations. This one even has a driving range.
Apr 04, 2021
Great stay great bathroom and showers. We come back every year!!!! Love this place.
Apr 04, 2021
Cabin worked great for family with 3 kids and 2 dogs needing a place to overnight during a long road trip. Clean, private, well equipped and accommodating. Much better than a hotel. Would only ask that housekeeping provide soap for bath; otherwise perfect!
Apr 03, 2021
Quick 1-night stay on long haul north from FL. Friendly folks in the office when we arrived at six. Surprised and pleased to find the office still open, always a plus. Fairly easy on/off I-81. Our gravel pull-through site was long enough we didn't unhitch, much appreciated.
Apr 02, 2021
The sites need work. They have had a lot of rain but the site we were in was muddy. We asked for some gravel to put at our entrance but never got it. Even there new area the campsites are narrow and not level.
Apr 01, 2021
Unfriendly and rude staff. WiFi was an issue. Signal was weak and wouldn't connect. When we asked staff why it wasn't working. They said we had to pay to upgrade connection, they would give us a internet service phone # to provide to pay. Great WiFi should be part of the package lodging price. As a VIP KOA member, KOAs are expected to have a higher standard.
Apr 01, 2021
Staff seemed irritated we asked about WiFi and short tempered with other questions. Very dissatisfied with customer service. Property/campsite is beautiful.
Mar 31, 2021
All great but bath Mat could have used some attention! Worn & tattered .
Mar 31, 2021
Nice, clean restrooms and a nice gravel site with a concrete pad for the picnic table. Pretty trees on our site with well groomed limbs so the branches were not in the way of our slideouts or awning. Friendly staff and several fun activities for our kids: jumping pad, driving range, corn hole and basketball hoop.
Mar 31, 2021
Thank you so much for a great weekend.
Mar 31, 2021
Outstanding service and facility. Beautiful scenery all around, good place to get away to.
Mar 31, 2021
Great place to stay. Clean, quiet, and very friendly place.
Mar 31, 2021
Very clean and nice people
Mar 31, 2021
Beautiful campground! Loved the peace and beauty of nature. My boys had a wonderful time fishing and just being outside.
Mar 31, 2021
The campground is clean and well maintained. The staff is friendly. The wifi is one of the best I have had at a KOA ever
Mar 31, 2021
Staff was excellent the kids stayed entertained. We stayed in the newer side. It's pretty but the gravel pad needs to be wider. Steps ended on the grass and on a rainy weekend it made for a super muddy mess. Also there's no bathhouse on that side so it's a bit of a walk. The sewer connection was up higher then the campsite so it was difficult to use. Wouldn't mind returning though.
Mar 28, 2021
Enjoyed our stay. However I was a bit concerned that residents did not wear masks. There did not seem any management emphasis especially in areas where we in close quarters to others. Fair price for the service.
Mar 28, 2021
Looks like there are too many permanent residents
Mar 27, 2021
Great stay. Well maintained. Easy access. Gas stations with pumps parallel to road were convenient.
Mar 22, 2021
Get stay. The campground was well kept and quiet. We stayed one night. The laundry room was clean too.
Mar 22, 2021
Wonderful one night stay in the tiny house! I have found my place to stay when I am in the area hiking. Clean, friendly, quiet, perfect.
Mar 21, 2021
We were impressed from the moment we arrived. Staff at checkin were friendly and helpful. Site was excellent. We stayed on B9. Full hook ups. We would stay here again when we return to this area.
Mar 20, 2021
Had a nice stay. Clean and quiet area. Had a nice dog run even though it was a bit of a hike. 2nd time we stayed there this year. Only stayed one night each time. Friendly staff. Would stay there again.
Mar 19, 2021
Sites are close together but easily accessed. The site we were on was not very level for overnighting while staying connected. Park is quiet.
Mar 17, 2021
Not bad. No fire pits. Spots very tightly spaced. Good for a one night transient
Mar 09, 2021
Arrived after hours, easy enough check-in. I had a roof top tent but the site didn't really cater for that. Instead I parked up next to the tent area and set up there.
Mar 07, 2021
Nice campground. We stayed here before and will stay again. Easy on/off I-81. Great place!
Mar 05, 2021
Very nice manicured KOA. They left the light on for us! Beautiful comfy cabin with full bath, BBQ, picnic table, porch w/deck chairs, full kitchen with Keurig machine, including coffee pods, paper towels, toaster, frig, microwave, stove, oven, comfy bed with linens and futon couch, 2 TVs, wood dining table and all you need for a wonderful stay. Wish we could have stayed more than one night.
Mar 01, 2021
Great cabin! Everything we needed was there. Very clean. Easy check-in. Good internet and tv. No complaints at all.
Feb 27, 2021
Spots are tight. Muddy.
Feb 27, 2021
Very clean bathhouse! Very nice lady took my reservation for late checking. Clean sites!
Feb 24, 2021
We spent 4 months at Baileyton KOA. We never had any problems. The facilities and grounds were always clean. The owners and staff take great pride in their work. They were wonderful. A great place to stay!!
Feb 23, 2021
Just a quick overnight on our way from New York to New Mexico. Lovely KOA. Easy quick check in. Since it was the off season the campsite was practically empty. Loved this KOA!
Feb 17, 2021
I was only there for one night and the weather was bad but it look like a nice park and it was quiet
Feb 08, 2021
It was so nice, clean, and welcoming. Loved staying here.
Feb 08, 2021
Very clean. Helpful staff. Bathrooms and showers well maintained with security codes to enter which was great for safety.
Feb 07, 2021
Small and quiet campground- very nice, spot was perfect. Staff was friendly and helpful.
Feb 04, 2021
Quiet and clean campground. Easy access from the interstate, but not close enough for traffic and noise to be an issue. Owners are helpful and non intrusive if you are staying long term.
Feb 04, 2021
Very clean and well kept campground. The bath house and laundry facilities were very nice and clean. The staff was very friendly and helpful.