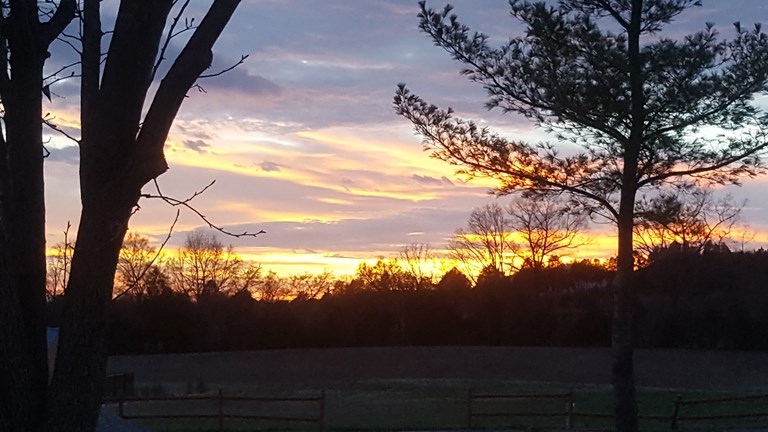 Baileyton KOA Reviews
Directions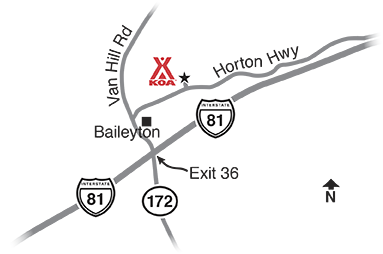 At Exit 36 off Interstate 81, follow the signs (9 of them) – take Local Route 172 north 7/10 of a mile (past 2 truck stops, 2 dollar stores and another RV park) to flashing light / 4-way stop (Horton Highway). Turn right at Horton Highway, go 1 mile. Park entrance is on the left.
GPS Coordinates: 36.338795, -82.824126
Get Google Directions
Oct 17, 2020
this was a last secound stop and it was a great idea thank you KOA
Oct 16, 2020
Large. level sites and the staff is very friendly and helpful
Oct 16, 2020
Wonderful, nice, quiet and clean place with friendly people
Oct 16, 2020
Love staying here whenever in the area. Easy reservations and check in with staff pleasant and professional. Site clean and tidy as well as level. Bathhouse very clean and well stocked. Used laundry and everything worked well as well as being reasonably priced. Very enjoyable overnight stay. Easy in and out. Can't wait to see expansion in progress but was not bothered at all by it. Thanks !!
Oct 16, 2020
Had a great week here. We had planned our trip to visit the Great Smoky Mountains NP last minute and with it being peak fall season, we were unable to find any campgrounds with the number of nights we needed in a row for our stay. We really like staying at KOAs and this was the next closest KOA with openings. We were not disappointed. Only a little over an hour drive to Gatlinburg. Nice Campground
Oct 15, 2020
Great showers, lovely grounds... unfortunately your neighbors dog barked most of the evening and most of the morning.
Oct 13, 2020
Very nice park. The hosts were awesome making our stay very enjoyable. Even hit a few golf balls at the driving range.
Oct 13, 2020
Great place to camp very friendly staff
Oct 12, 2020
Great campground! Friendly/helpful staff, level sites, clean and lots of things for the kids to do. We will be back!
Oct 12, 2020
Trees and posts at the entrance and exit to most sites. Sites were close together. The staff was very helpful helping us get into the site and got a few vehicles moved from the cabin in front so that we could get out. Camp was clean. Not equiped for the larger rigs. 41 ft 5th wheel pulled be f250 long bed
Oct 12, 2020
Wished it had been more than a drop in visit. Everyone happy and having a great time.
Oct 11, 2020
One of the few 5 stars I have given. The camp ground and excellent staff. All the facilities are first rate and their new expansion will just make it even bettter. A KOA you should not miss. Thank you for a great stay.
Oct 10, 2020
Everything was good at the Baileyton KOA. Very nice and clean place. The only downsides are the spaces aren't level and they're tight for big rigs but still a nice park.
Oct 09, 2020
I chose the Baileyton KOA to "isolate in place" after trusted friends recommended this KOA location. Staff very friendly and helpful. Location is well maintained. Improvements currently underway which will accommodate BIG RVs. I expect to return to the Baileyton KOA in the near future.
Oct 09, 2020
Great campground. easy access off I81. Owners are very nice & accommodating. Campground layout very easy to manage large rigs. Very pretty location.
Oct 08, 2020
Easy in and out! Only thing I would recommend is placing your reservation policies at your entrance. We found a gentleman who helped us figure out how to boon when we came in. But it took a minute
Oct 07, 2020
Wonderful overnight stay. Lovely bathrooms. Easy in and out for towing vehicle.
Oct 06, 2020
Enjoyed the amenities and location.
Oct 06, 2020
Nice area to camp at. Fire wood was green and didn't want to burn.
Oct 06, 2020
What a pleasant surprise this place was absolutely fantastic A Very Clean Park, The Bathrooms were clean and well taken care of. I think for me besides being an awesome KOA is the Owners and Staff they go out of their way to make you feel welcome and meet all your needs. I personally think A lot more Owners and Staff of KOA's need to come there and learn how a park needs to run. Thanks Gary B
Oct 06, 2020
I was happy with our stay! We felt safe and secluded and everyone respected quiet hours. It was a very nice campground too! Cable wasn't so great and internet was terrible, but we didn't stay for those things.
Oct 05, 2020
We love to stay at this KOA! So full of fun activities. Also, bat houses are clean and tidy.
Oct 05, 2020
Friendly Staff. Nice, clean laundry! Just stayed overnight so I can't say much more.
Oct 04, 2020
Just stayed overnight but would definitely stay again. Nice campground and clean restrooms. You can tell they take a lot of pride keeping the campground top notch.
Oct 04, 2020
unfortunately it was too short. People there were very friendly and helpful. Its not too far from home.
Oct 04, 2020
Pleasant and helpful staff!
Oct 03, 2020
Nice park but sites are too close together. Tight getting your rig in and out of spots...trees scratching the roof of fifth wheel and short pull thrus for longer rigs and dual trucks.
Oct 02, 2020
Clean and friendly. Great place to stay.
Sep 30, 2020
Awesome stay Friendly staff Clean
Sep 29, 2020
clean, spaces adequate between - beautiful landscape - we like it here and will be back!
Sep 28, 2020
Very relaxed atmosphere, clean campground. Staff was very friendly.
Sep 28, 2020
Wonderful, friendly and helpful with every aspect during our stay. Thank You!!
Sep 28, 2020
Stayed here for a weekend soccer tournament being held in Kingsport. Was not really sure what to expect, but we were pleasantly surprised. Clean facility, the nicest and most helpful staff, and so much stuff for the kids to do (and adults).
Sep 28, 2020
We had a very nice experience there. Everyone was nice and friendly. The cabin was clean and comfortable. We plan to stay there again. I highly recommend this as a place to stay.
Sep 28, 2020
Clean, quiet, and great place to stay.
Sep 28, 2020
A very nice campground. Everything was very clean and the host was friendly and helpful. We were only there for a night, but there were plenty of things to do if you stayed longer— pool, driving range, corn joke, etc.
Sep 27, 2020
Very nice friendly and clean. Would stay again.
Sep 27, 2020
Stayed 3 days and it rained the whole time. Did not put a damper on our trip. Cleanest, best maintained campground we have ever been to. The staff and owners were great. We would recommend this campground to anyone, whether staying for a night or a week!
Sep 26, 2020
We have stayed here before and will likely stay again. Our only complaint is people driving to fast in the campground, stirring up dust from the gravel drive and this includes employees on golf carts. Please slow down! The weather was great and we really enjoyed being able to open the windows on the RV or sitting outside. Would've been better without the dust.
Sep 25, 2020
Awesome, great people
Sep 24, 2020
The entire staff at the Baileyton KOA were excellent and always available. They maintained a pristine facility as well. Loved our time there and would definitely recommend it.

Baileyton KOA
Open All Year
7485 Horton Highway
Greeneville, TN 37745
Check-In/Check-Out Times
RV Sites, Tent Sites
Check-in: 1:00 pm, Check-out: 11:00 am
Accommodations
Check-in: 2:00 pm, Check-out: 11:00 am
Operating Hours
Sunday: Open 9:00 AM to 7:00 PM
Monday: Open 9:00 AM to 7:00 PM
Tuesday: Open 9:00 AM to 7:00 PM
Wednesday: Open 9:00 AM to 7:00 PM
Thursday: Open 9:00 AM to 7:00 PM
Friday: Open 9:00 AM to 7:00 PM
Saturday: Open 9:00 AM to 7:00 PM
Get Google Directions

© 2020 Kampgrounds of America, Inc.