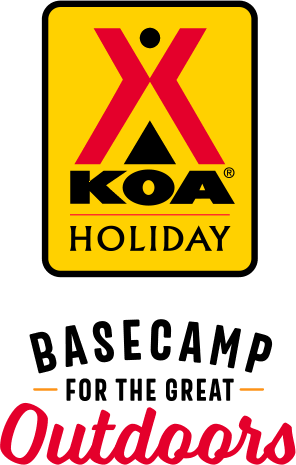 KOA Holiday Campgrounds
Whether you're exploring the local area or hanging out at the campground, KOA Holidays are an ideal place to relax and play. There's plenty to do, with amenities and services to make your stay memorable. Plus, you'll enjoy the outdoor experience with upgraded RV Sites with KOA Patio® and Deluxe Cabins with full baths for camping in comfort. Bring your family, bring your friends, or bring the whole group – there's plenty of ways to stay and explore.
KOA Holidays Feature:
RV Sites with a KOA Patio®
Deluxe Cabins with full baths
Premium Tent Sites
Group meeting facilities
Directions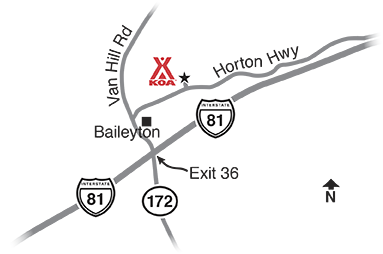 At Exit 36 off Interstate 81, follow the signs (9 of them) – take Local Route 172 north 7/10 of a mile (past 2 truck stops, 2 dollar stores and another RV park) to flashing light / 4-way stop (Horton Highway). Turn right at Horton Highway, go 1 mile. Park entrance is on the left.
GPS Coordinates: 36.338795, -82.824126
Get Google Directions
Sep 09, 2021
Grounds, cabin, office & staff and amenities were amazing! Will return!!
Aug 31, 2021
We enjoyed our stay in the tiny house very much. It's really a nice campground. The staff are very friendly n very nice.
Aug 28, 2021
Awesome place lots to see and do. Wonderful staff
Aug 24, 2021
The cabin was very clean, check in was a breeze. Campground has expanded since we camped here in an RV and it reall looks great. We will definately stay here again...much better than any hotel room.
Aug 24, 2021
We had a great time ,my family was in their camper, we rented the tiny house ,it was very nice and comfortable, the camp ground was very friendly and nice
Aug 16, 2021
We loved our stay in our tents as well as our cabin.and we will be coming to stay again had so much to do for the kid's thank you so much.
Aug 10, 2021
The amenities for kids were amazing. Everything was in amazing working order, clean and fun. Great stay!
Aug 07, 2021
Beautiful clean cabin. Super nice staff. Amazing "camp culture" of quiet guests who are respectful of each other. Graceful willow trees.
Aug 05, 2021
gorgeous cabin !
Aug 03, 2021
We can't wait to go back! From the spacious and tastefully decorated cabin to the nice clean bath houses to the neatly kept grounds to the pool, ponds, driving range and such, it was more than we even hoped for. The staff was friendly and accommodating at every turn, and the kids loved all the "Christmas in July" activities. We have definitely found a new place to make new family memories!
Aug 03, 2021
Really nice KOA. Cabins had everything needed, very nice.
Jul 20, 2021
The cabin was very nice and very clean.
Jul 19, 2021
Very family friendly
Jul 17, 2021
Best KOA we have ever stayed at! Beautiful setting, very quiet, lots to do for the kids, yet, 1 mile off the interstate!
Jul 15, 2021
We only stayed for a night. Got the tiny house. This thing was way cool. Next time we're staying more than a night and I'm bringing my golf clubs.
Jul 08, 2021
Excellent cabins. Super friendly staff. They brought a bundle of wood for us to our cabin while we were out at dinner. Nice quiet fire time even in July.
Jun 22, 2021
Clean, very nice staff and vacationers, had a great stay!! See you soon!
Jun 17, 2021
We stayed in the deluxe cabin, 2 adults and 4 children. It fit our needs well and was fully furnished. The staff is helpful and the grounds and facilities are well maintained. The store is convenient and priced fairly. Thanks for fun family memories.
Jun 16, 2021
Me and my family love this campground!
Jun 06, 2021
We stayed in a cabin as there were no RV sites available. It was very clean & had all the amenities we needed.
May 28, 2021
I stayed in the tiny cabin...it was super cute and comfy. Everyone was super friendly and campground is clean and we'll taken care of! Would definitely stay there again!
May 22, 2021
The campground is absolutely beautiful! We only stayed one night as we were traveling. The deluxe cabin was perfect for our family of four (including two teens), and lots of extra, including a Keurig coffee maker, which we enjoyed in the morning. Check in after hours was easy, and was left with a nice welcome note. I would highly recommend staying at this campground and we hope to be back again.
May 17, 2021
The staff was friendly and helpful and the cabin was clean and we'll stocked. Several fun activities too. Thanks, we will be back soon!
May 13, 2021
Beautiful deluxe tiny cabin! Terrific attention when help was needed. Karen is very accommodating.
May 12, 2021
Had a wonderful stay, however the water in our cabin didn't stay hot long enough to get a good shower. Campground hosts/employees go out of their way to help and the Mother's Day weekend activities was great. The campground is clean and well maintained.
May 10, 2021
We have stayed there often in the past 4 years. It is always a pleasure. The grounds are beautiful. We always stay in a cabin. The cabins are always very clean and meticulously maintained. The personnel are friendly and helpful.
May 06, 2021
Had a great time love your staff.. Very nice campground...
Apr 23, 2021
Fantastic as usual !!
Apr 07, 2021
Very clean, spacious, and comfortable cabin.
Apr 04, 2021
Cabin worked great for family with 3 kids and 2 dogs needing a place to overnight during a long road trip. Clean, private, well equipped and accommodating. Much better than a hotel. Would only ask that housekeeping provide soap for bath; otherwise perfect!
Apr 01, 2021
Staff seemed irritated we asked about WiFi and short tempered with other questions. Very dissatisfied with customer service. Property/campsite is beautiful.
Mar 31, 2021
All great but bath Mat could have used some attention! Worn & tattered .
Mar 31, 2021
Thank you so much for a great weekend.
Mar 22, 2021
Wonderful one night stay in the tiny house! I have found my place to stay when I am in the area hiking. Clean, friendly, quiet, perfect.
Mar 05, 2021
Very nice manicured KOA. They left the light on for us! Beautiful comfy cabin with full bath, BBQ, picnic table, porch w/deck chairs, full kitchen with Keurig machine, including coffee pods, paper towels, toaster, frig, microwave, stove, oven, comfy bed with linens and futon couch, 2 TVs, wood dining table and all you need for a wonderful stay. Wish we could have stayed more than one night.
Mar 01, 2021
Great cabin! Everything we needed was there. Very clean. Easy check-in. Good internet and tv. No complaints at all.
Feb 08, 2021
It was so nice, clean, and welcoming. Loved staying here.
Jan 11, 2021
Very nice and clean campground. The cabin was terrific. We drive through the area multiple times per year, and will definitely be staying here again in the future.
Jan 04, 2021
Great cabin. Beautiful facilities. Staff very friendly and eager to help
Jan 03, 2021
Great cabins, accessible & helpful staff on site. Thanks for the great stay!