Important COVID-19 Announcement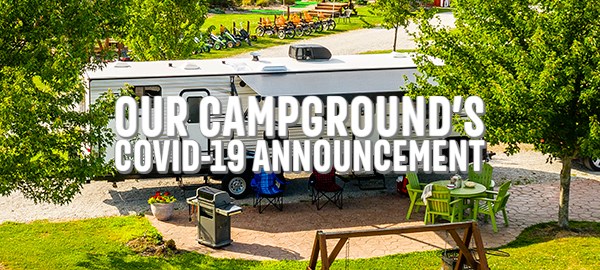 Every month we will provide an update to keep you informed of the amenities open vs. closed for the month. This update applies to the month of JUNE 2021.
While you are our guest the following safeguards will be in place and are mandatory if you choose to stay at the campground:
-Face Coverings are required for anyone 5 years old and older: Masks, face shields and face coverings are currently required in our indoor public spaces.
-Adherence to social distancing throughout the campground.
-Gatherings at camp sites are limited to 8 people or less and should follow social distancing guidelines issued by the CDC and the State of Oregon.
The following amenities are OPEN with social distancing and face coverings required and increased sanitizing procedures in place:
-KOA store
-Shower houses/bathrooms
-Laundry facilities
-Dog park
-Community camp kitchens
-Fish cleaning station
-Forrester's Café (open daily for takeout/delivery with a limited menu)
-Funzone
-Outdoor basketball and volleyball courts
-Outdoor pool-opening Friday, May 28th (limited capacity restrictions)
-In addition, you can enjoy the Pacific Ocean just a mile west.
The following amenities will be CLOSED:
-Indoor pool
-Rec room
-Smore's Activity Building (unless a scheduled event is taking place)
Our resort fee will continue to be waived indefinitely.
Our employees will be wearing masks and we will be cleaning and disinfecting meticulously. It is of paramount importance that we keep you and our other guests and employees as safe as possible. With your effort and ours, you should experience a safe, healthy, and enjoyable time at the Astoria/Warrenton/Seaside KOA Resort. We look forward to your upcoming stay and we thank you for your understanding. Now more than ever, camping in the great outdoors will be a memorable experience. Stay safe and happy camping!