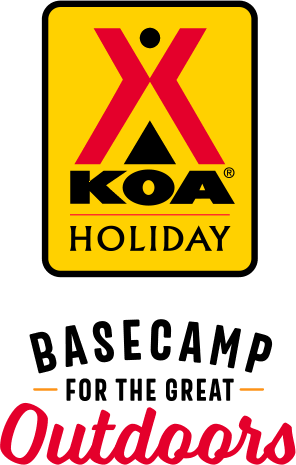 KOA Holiday Campgrounds
Whether you're exploring the local area or hanging out at the campground, KOA Holidays are an ideal place to relax and play. There's plenty to do, with amenities and services to make your stay memorable. Plus, you'll enjoy the outdoor experience with upgraded RV Sites with KOA Patio® and Deluxe Cabins with full baths for camping in comfort. Bring your family, bring your friends, or bring the whole group – there's plenty of ways to stay and explore.
KOA Holidays Feature:
RV Sites with a KOA Patio®
Deluxe Cabins with full baths
Premium Tent Sites
Group meeting facilities
Directions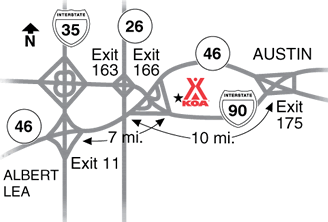 I-90 Exit 166: (CR 46), then right 1/2 mile. From I-35: Take Exit 11 east 7 miles. Entrance is on the right.  GPS: N43.663, W93.1903
Get Google Directions
Sep 28, 2020
Really great location and service! Would definitely stay again!
Sep 28, 2020
easy reservation process. friendly staff. office stocked with any supplies you might have forgotten. clean and beautiful grounds.
Sep 23, 2020
Came in late. Office was super nice. Helpful and friendly. Stayed in deluxe cabin. Absolutely beautiful. Clean and accommodating! Clean campground! Easy on easy off.love the area
Sep 21, 2020
Great playground for my 1.5 year old. Crafts were fun too. We appreciated the firewood being delivered to our site for us.
Sep 18, 2020
Cabins were great. Plan to stay again on our next fishing trip.
Sep 08, 2020
Great campground!! Wish the pool were open but ok...understood
Sep 04, 2020
great service
Aug 29, 2020
It was a good stay. Would go back. Hopefully less humid weather.
Aug 26, 2020
Was very comfortable in our little cabin/lodge. Really liked that they had a gas grill for use. Was clean.
Aug 25, 2020
Friendly staff and great price! My cabin was clean and I have no complaints.
Aug 22, 2020
We loved staying in the deluxe cabin for a week. Very friendly staff. We especially enjoyed our daily walks in their wildflower maze path. We will definitely stay again.
Aug 17, 2020
Very nice and friendly staff, a nice quiet campground.
Aug 16, 2020
Friendliest most accommodating people ever!!
Aug 10, 2020
Our stay was amazing. We stayed in the lodge. The staff was very friendly, the campground was beautiful. Very well maintained. We are booked again for next year in the lodge. The lodge was sparkling clean.
Aug 10, 2020
The staff was so friendly! Our cabin was fantastic, very clean and perfect fit for 6 of us. The store was well stocked and laundry worked great! We already rebooked for our family trip next year!
Aug 07, 2020
Nice people even called to let us know about off ramp construction.
Aug 03, 2020
the CAMPGROUND SMELLED OF FERTILIZER AND MANURE. OUR KABIN WAS SCENTED AND WE BOTH HAVE ALLERGIES TO PERFUMES. THERE WERE TWO BIRDS' NESTS ON THE PORCH OF OUR KABIN AND NO ONE HAD CLEANED UP THE NUMEROUS BIRD DROPPINGS THAT FELL ON THE OUTDOOR BENCH. WE WERE GIVEN A CODE TO THE BATHROOM BUT THE DOOR WAS NOT EVER CLOSED.
Aug 03, 2020
Awesome! Relaxing.
Aug 03, 2020
Our cabin was very clean and in good condition.
Aug 01, 2020
The cabin we rented was not cleaned very well. Toilet was not cleaned and we broomed the floor and got a softball size ball of animal hair. Otherwise the cabin was great and we had a good time with two other couples we know. We would stay again in a cabin.
Jul 27, 2020
Very friendly staff! Nice cabin and great stay.
Jul 19, 2020
I stayed in the deluxe cabin #2. I had no hot water, the shower tub wasn't cleaned(I found hair though out), there's no one to call about issues once the front desk closes, there was mouse droppings on both bunks. I was very disappointed with this because I stayed here a week prior and it was clean and everything was working. Sorry but the friendly staff can not make up for this.
Jul 17, 2020
The park itself was neat and tidy. It would've been perfect had the pool been opened
Jul 11, 2020
Great people running the place.
Jul 10, 2020
The two women at the front desk were very accommodating. The campground was very clean and well laid out. This campground was simply one of the best I have been to in a long time.
Jun 02, 2020
No hot water in the shower. I fell on the stairs due to no treads on the wet stairs and the build up of algae or another green substance.
Oct 07, 2019
All very good. Really nice managers. One issue we did have was power going off during the night. We stayed in a small cabin and the office did not open until 8. They quickly got it going as soon as they knew about it.
Sep 29, 2019
Very clean, very cheerful staff....cabin smelled wonderful...
Sep 15, 2019
We had a GREAT stay in a deluxe cabin for almost 3 weeks, having our Winnebago repaired at there factory in Forest City, located near by. Ann the owner and staff were all very helpful and friendly. Would rate the entire stay 5 star.
Sep 01, 2019
We stayed in cabin while Winnebago worked on our Coach. This is a great park with a very friendly, helpful staff. The cabins are well maintained and clean. I highly recommend this KOA.
Aug 11, 2019
Check In was fast and easy. My cabin was very clean and quiet. Fan kept it cool during the night making it for good sleeping. Restrooms and shower area very clean.
Jul 29, 2019
Family reunion
Jul 29, 2019
Water pressure was very poor
Jul 27, 2019
No issues! It was great! Only wish there was more to do for the kids. However, it wasn't a destination, it was just a stop, so it was just fine!
Jul 20, 2019
Very clean, quiet, nice pool, very accommodating
Jul 15, 2019
it is a nice friendly camp ground, like the landscaping that has been done. it was hot so it was nice to be able to open the windows and not have holes in the screens to allow bugs to get in. my kids loved the fenced in dog area, it was large enough for them to run around. will be back again next summer.
Jul 15, 2019
Friendly staff, clean campground. I definitely will be back again. We enjoyed our stay.
Jul 08, 2019
Campground roads muddy and rutted after a morning rainstorm; they need to be graded above lawn and camp sites. Pool is very nice. Kabins have no air conditioners, which is a problem in summertime Minnesota. KOA staff gave us a price break on a Lodge upgrade, which was nice of them, but we are frequent KOA Kabin users and never been to a KOA where Kabins had no A/C.
Jun 24, 2019
We were there for a family reunion and the area we stayed allowed us to use a large open area for our yard games and play area for the kids. Although the weather didn't allow us to use the swimming pool, it was nice to have it available.
Jun 22, 2019
Was well maintained, and great service! Appreciate the firewood delivery to the cabin. Thanks!
Jun 13, 2019
Really great little camping cabin that was very comfortable. The only complaint I'd say I had with it is the Febreeze smell was extremely strong. But otherwise it was a fantastic stop over for the night with a very nice little dog run for my pup.
May 28, 2019
The afternoon staff were very friendly and helpful. The cabin was clean, but had multiple issues. The pocket door to the bedroom was broken (could not close), curtain bar on the front door not screwed in (kept getting caught while shutting the door) and the smoke detector was open with no battery. Maintenance did fix the curtain, but would needed to order a track for the door.