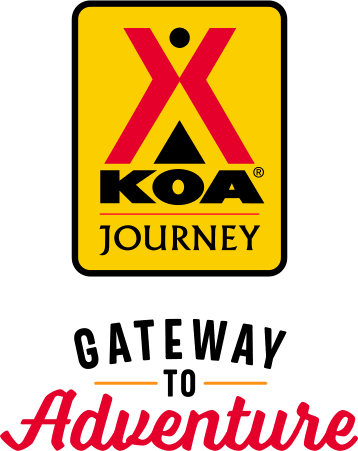 KOA Journey Campgrounds
KOA Journey campgrounds are the perfect oases after a day on the road. Whether it's along the way or a quick getaway, they've got you covered. Located near the highways and byways of North America with long Pull-thru RV Sites, they deliver convenience to the traveling camper. Pull in, ease back and take a load off.
KOA Journeys Feature:
Pull-through RV Sites with 50-amp service
Premium Tent Sites
Well lit after hours check-in service
Directions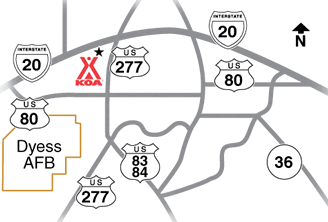 Located on the west side of Abilene on I-20.
Eastbound or Westbound, take I-20 Exit 282. Abilene KOA is on the south frontage road, next to Motel 6. 
GPS: N32.4781, W99.7835
Get Google Directions
Sep 14, 2021
Nice park and convenient for our purpose.
Sep 14, 2021
We usually stop here for the night on our way to Colorado. The park is clean and well managed and the staff is great!
Sep 14, 2021
Nice small park. Easy access east or west.
Sep 13, 2021
We had no issues and the staff was helpful and friendly. The grounds were well kept, except there were several areas where dog potty clean up needed to be taken care of but otherwise no other issues. This was our first KOA experience and we are pleased!
Sep 13, 2021
A very nice hostess! The bathrooms and site were very clean.
Sep 10, 2021
Wonderful staff..
Sep 10, 2021
Very friendly people and clean air conditioned bathroom shower house
Sep 10, 2021
Service at check-in was friendly, sites were a little dusty due to gravel roads, location is good for getting around town.
Sep 10, 2021
Everything was nearly perfect. The staff very quickly helped restore WiFi in our corner of the park, and it ended up being the best WiFi service we have had in any park. Water pressure was an excellent 70 psi. We didn't get to swim this time, but we noticed that the pool has a true deep end, which you just don't see anymore. We'll be certain to catch it next time. I20 is very close, though
Sep 10, 2021
We had a relaxing pleasant stay here.
Sep 08, 2021
very nice park with some great shade trees, Staff is very friendly, really enjoyed our stay
Sep 08, 2021
Very nice site and staff.
Sep 08, 2021
As always we enjoyed our stay nice clean camp site a great pool to cool off in what a bonus!
Sep 08, 2021
Lots of big trees, accommodating staff. This was our third stay over several years. We'll continue to stay here whenever we're in the area.
Sep 07, 2021
Always dependable clean friendly place to stay
Sep 07, 2021
Spaces are to close.
Sep 07, 2021
KOA was really nice! Very clean and the the staff was very friendly! I loved that there was a dog park where my fur babies could be off the leash and play!
Sep 07, 2021
Enjoyed our stay at the Abilene KOA. We were in Site 47. We had shade. Campsite was clean. My daughter loved the pool area.
Sep 07, 2021
Everything was just right. Power and electric were good. There was even shade. Easy in, easy out.
Sep 07, 2021
We enjoyed our stay at the Abilene KOA. The assistants here were always helpful. My daughter really enjoyed the pool. Using this KOA as a home base, we went to the Thurber museum (1 hr away) and Ft Chadbourne (45 minutes away). I have seen this KOA traveling on I-20, but this was our first time staying here. We will definitely keep this in mind when visiting Abilene, and mentioning it to friends.
Sep 06, 2021
I reserved a cabin that was pet friendly & called to confirm & I was told yes but was never told there was an extra fee. So I was charged $15.We checked in at 4 pm but didn't return until 8 pm.We tried to turn the TV on but it didn't work.when we checked out I told the koa lady & she said yes they already knew.I couldn't believe they didn't tell us or offer compensation for the inconvenience.
Sep 05, 2021
Where do I start? Friendly staff. WONDERFUL Bathhouse. Pool. Dog park (a must for us!) Very clean. We've stayed here twice and will continue to do so as we travel across Texas.
Sep 05, 2021
great place. Clean and quite. Easy to get in and out of. Will stay there again.
Sep 04, 2021
Excellent nice people
Sep 04, 2021
This is the third time we have stayed here. It's our rest stop on the way to Big Bend.
Sep 04, 2021
For the price, I would have expected a better park. Roads and sites are all gravel, which would have been OK if they had been graded. The restrooms where clean, but only had one by the office. Trees could use some trimming.
Sep 02, 2021
Very well maintained rv park! Only complaint is that the sewer connection for one site might be very close to the picnic table of an adjacent site. There are some sites where this can be avoided. Otherwise, great rv park!
Sep 02, 2021
Great shower !!
Sep 01, 2021
Campground was quiet and clean. Restrooms and showers were VERY clean!
Sep 01, 2021
Making reservation, check in, and site were great. Office clerk was friendly, knowledgeable, and treated me like was the only person she had to deal with all day.
Sep 01, 2021
Awesome, we were going to arrive after hours. The Abilene KOA called us personally to let us know where the night box was with our paperwork. Fastest WIFI I ever have used at any KOA!!
Aug 30, 2021
Best and fastest WIFI I have ever had at any campground bar none! Clean!
Aug 30, 2021
Love the campsite and would recommend and stay again.
Aug 27, 2021
We haven't stayed there for several years, but we were very impressed at the condition of the park. They have really cleaned it up, very nice, would stay there again. Clean, nice, and quiet.
Aug 27, 2021
Charged me $10.00 for checking in at 12:30 noon with lots of spaces not occupied. Seating outside had a number of mosquito bites because of no spraying. Hard to get television channels. They did offer a box that I needed to install on my television to get cable. That's a new one for me and I have stayed at a lot of RV parks over the years. The park did offer a lot of shade trees.
Aug 26, 2021
Good sites & helpful staff with trimming overhanging trees. Frontier Texas exhibits were great.
Sep 11, 2021
Great place
- Michael Brasher on Google
Aug 10, 2021
Big roomy shaded camp sites with nice large pool. It has easy on/off access. It is like a State Park with FHU, Pullthrus, and pool. Nice camping .
- Steve (Burnindaylight) on Google
Aug 07, 2021
Friendly staff, good amenities including coin laundry and swimming pool.
- Gary S on Google