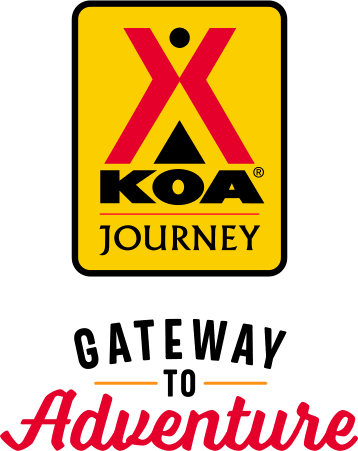 KOA Journey Campgrounds
KOA Journey campgrounds are the perfect oases after a day on the road. Whether it's along the way or a quick getaway, they've got you covered. Located near the highways and byways of North America with long Pull-thru RV Sites, they deliver convenience to the traveling camper. Pull in, ease back and take a load off.
KOA Journeys Feature:
Pull-through RV Sites with 50-amp service
Premium Tent Sites
Well lit after hours check-in service
Directions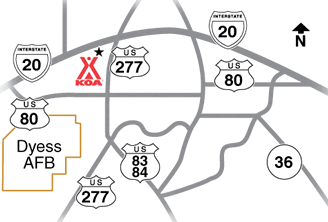 Located on the west side of Abilene on I-20. Eastbound or Westbound, take I-20 Exit 282. Abilene KOA is on the south frontage road, next to Motel 6.  GPS: N32.4781, W99.7835
Get Google Directions
Feb 17, 2021
Very nice park. Would benefit from some upgrades to their sites and the utilities, especially the water faucts and electrical panel. Just aging and showing the age. Staff was very helpful and polite. We would certainly come back.
Feb 14, 2021
Very friendly and helpful staff. It was so cold that we could not have water in our rv tanks. Staff filled our jugs from their kitchen. Very clean shower and laundry rooms. We would definitely stay here again!
Feb 13, 2021
Short stay but it was great
Feb 12, 2021
Loved it, staying at this location for one day. It was very quiet during the night and everybody respected their own space. The location was great and the employees that we asked questions to were very helpful and understanding that we arrived late that night. Will stay here again.
Feb 11, 2021
Enjoy the cleanliness of the park and the friendliness of the staff. We will be back!
Feb 08, 2021
We were only there for one night, but the site was big enough for our 40 foot motorhome without having to unhook our tow vehicle. The site was clean, the office and store area was very nice, a lot more than I expected in this small of a campground. Everyone was very friendly.
Feb 07, 2021
Spent 3 nights here checking out Abilene. Very Clean and Very friendly staff. Bathrooms were very nice. Dog park was wonderful. Big enough so I could throw the ball for our dog. Wifi was very good. Will stay here again if we are in the area!
Jan 28, 2021
visited two times and it was great....sites clean and level.....folks working there were just great..... very helpful
Jan 27, 2021
It was great
Jan 25, 2021
wifi didn't work properly park was dark and sites not leveled and lots of noice at night due to the hotel next to it
Jan 25, 2021
For the last three years my husband and I have spent an overnight stop on the way to and from Arizona it's very easy on and off access to the property is quiet and well kept, staff is very friendly
Jan 23, 2021
Always know what you get with KOA, great location, fast service! 20 plus years of traveling in our rv. Koa's never let me down.
Jan 20, 2021
Have nothing but good to say about this KOA, great staff, clean facilities, campground well maintained. Sites large and level. Ours had 2 waste inlets which was a plus for our two outlets. We plan on returning here to spend time in the future. We enjoyed what we could in the area. Would highly rec. this KOA
Jan 18, 2021
We always enjoy staying here, friendly people, clean, level sites, easy in/out.
Jan 17, 2021
arrived late left early the next morning.
Jan 13, 2021
We were there for only one night. Would have liked to stay longer. Beautiful view site! Campgrounds very neat and clean! Love the dog park and walkway! Great stop. Thank you!
Jan 11, 2021
Great site, friendly staff.
Jan 11, 2021
Enjoyed a day of relaxation in Abilene during our cross-country trip.
Jan 08, 2021
I love this place because it's right off the highway be quiet safe and clean and the staff is wonderful
Jan 07, 2021
Friendly people Very clean
Jan 07, 2021
Need better water pressure, just trickled out of the faucets, had to use our pump to do anything. Other than that, it was wonderful & convenient. Thanks!
Jan 07, 2021
I just needed a quick overnight stay with a little power. I didn't even hook everything up and my truck was never disconnected from the camper. The night time check in process was easy. I feel safe leaving my CC information in the drop box. The place was well lit and very quiet. I was up and gone bright and early to keep heading toward tucson. I'm very grateful I found this KOA.
Jan 05, 2021
Clean park great WiFi, friendly staff
Jan 05, 2021
Great folks, especially the maintenance man.! �
Jan 04, 2021
Many of the people who worked here also lived at the KOA well. Due to this, it felt as though they took and extra level of pride and ownership of it! We loved our stay and would absolutely recommend the Abilene KOA to our friends and family!
Jan 03, 2021
Great place, great staff during extended stay during a snowstorm. Staff could not have been more helpful for pleasant. The maintenance man/propane installer give great service.
Dec 30, 2020
This review has been removed by KOA due to profanity.
Dec 29, 2020
People were friendly and took good care of us.
Dec 26, 2020
Great staff very helpful
Dec 25, 2020
Great place to spend a night or two. I'd give it a solid ten if not for the spots with no septic. They are huge spots though which was nice.
Dec 25, 2020
Great facilities. Clean, well maintained. Friendly helpful staff. The one down side is the road noise from I-20.
Dec 23, 2020
The park was very clean. It could use a couple more trash cans when it is full as the one near our motor home was always full but everything else was top shape
Dec 23, 2020
Nice, clean, quiet,
Dec 22, 2020
Park is clean and well-run.
Dec 22, 2020
Had a great one night stay
Jan 21, 2021
First nice KOA, like all I've stayed at the staff is the reason I use them. Super friendly nice and, during this crazy covid times, they are super conscious of others and their concerns.. one side of the park seem to be more of the long term stay campers and the other side seem to be short stays. The spot i was in was a pull thru. But the exit was a little tight, spots were black gravel. Pretty flat but had to adjust a little side to side . Has full amenities clean bathrooms, clean laundry, the store from had a good selectionof thing that one might need. Even if you don't own a rv they have cabins that you can stay in. Decent over the air tv channels and strong wifi. Only downside is the proximity to the I20. You do get traffic noise but thats not a deal breaker for me. Great stay.
- Marlon Miller on Google
Dec 24, 2020
Service was fine and friendly, good place to spend a night while traveling.
- Harold Honeyman on Google
Jul 28, 2019
We have been camping for over fifty years and this was an exceptional stay. Had planned to stay two nights but because of the service and facilities stayed four nights. Highly recommend this KOA. Will visit again.
- Ella Wenman on Google