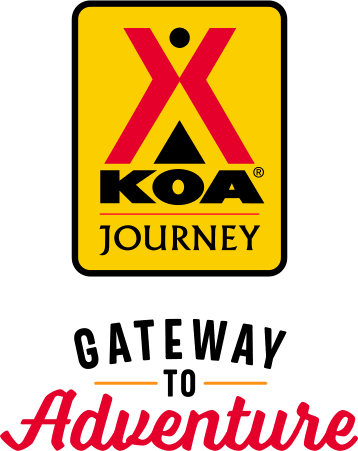 KOA Journey Campgrounds
KOA Journey campgrounds are the perfect oases after a day on the road. Whether it's along the way or a quick getaway, they've got you covered. Located near the highways and byways of North America with long Pull-thru RV Sites, they deliver convenience to the traveling camper. Pull in, ease back and take a load off.
KOA Journeys Feature:
Pull-through RV Sites with 50-amp service
Premium Tent Sites
Well lit after hours check-in service
Directions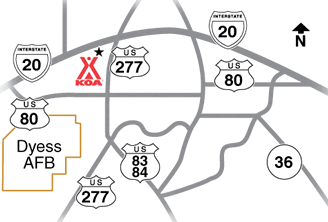 Located on the west side of Abilene on I-20. Eastbound or Westbound, take I-20 Exit 282. Abilene KOA is on the south frontage road, next to Motel 6.  GPS: N32.4781, W99.7835
Get Google Directions
May 06, 2021
The facility was very clean, well-kept, and very nice. All of the trees surrounding and in the park give it a woodsy and shaded feel. Staff was courteous and helpful.
May 05, 2021
Great Clean park, easy in, easy out, hookups convenient and nice laundry room!!
May 05, 2021
Nice clean campground, quiet time honored, well stocked store, friendly staff.
May 03, 2021
We always stay at the KOA friendly staff Angelica is great always has that smile on her face. The yard is kept very clean. We have stayed in the cabins as well always clean and fresh Enjoy our stay every time!!!
May 03, 2021
I enjoyed my stay - it was a nice facility! I would stay again.
May 02, 2021
Front office was very helpful in upgrading our site
May 02, 2021
Courtious, friendly, efficient check in. Sites are level, fairly well maintained and easy maneuvering to park and leave. Not much you can do when it decides to rain in Texas. Perfect location and easy access when passing through the area.
May 02, 2021
Check in was easy, and the staff was very pleasant. The site was clean, utilities worked great. It felt a little run down, but the weather was also dreary so hard to get a good vibe of the place overall.
Apr 30, 2021
This KOA is nicely positioned right off the interstate. The staff were very helpful and efficient. We only stayed the night after driving in the rain for days. The campground was soggy and a lot of standing water, which is expected with the rains. The campground host a lot of apparent local workers, no issues and I am glad the working people had a place to park their rigs.
Apr 29, 2021
Easy access, site was clean, restrooms were clean and functional. Overall, very nice park.
Apr 28, 2021
Angel checked us in rapidly, with a smile, and gave us our favorite spot as well. Campground looked neat and clean. I really liked the brick patio area outside the office.
Apr 27, 2021
Stayed 4/25; site 58. We were only here about 16 hours but the site served its purpose. My only complaint was with the grill; it was filthy inside. I would have told someone at the desk but you were closed by the time we found out and we left early the next day before the office opened. Needless to say, we didn't use the grill.
Apr 27, 2021
Big spots, nice big trees staff was extremely friendly very clean. Would definitely recommend it to anyone.
Apr 26, 2021
Park was clean and sites were spacious. Staff was friendly and helpful. Definitely would stay here again.
Apr 26, 2021
Nice place. Was only there one night and didn't use many amenities.
Apr 26, 2021
Water and electric hookups were to close to neighbor, sites were butted up to one another, confusing hookups were not obviously marked to assign to the sites, I ended up have a water connection with a missing hand wheel and the electric hookup was not numbered . Other than the closeness and hookups it was a nice park but a 3 star rating is all I can give.
Apr 25, 2021
We had bought a 40 ft Motorhome in Texas and we bringing it home and the Abilene KOA was our first stop to spend the night. We arrived after the office closed but found our assigned spot which was easy access pull through and had access to full hook ups. Loved the trees and location from freeway. Unfortunately we only stayed the one night and up early the next morning to continue our journey home.
Apr 21, 2021
The staff and facilities are wonderful....the noise from I20 was very loud.
Apr 20, 2021
Not a good experience! Checked in, came back to office 5 minutes later and found they were closed, over an hour earlier than the posted time. Did laundry the next morning, went back right about the time dryer was set to finish only to find our laundry was gone. Manager was no help, said cameras not working, electronic locks on bathroom but not on laundry. Very unsafe feeling!
Apr 20, 2021
The KOA was very well maintained. Super clean bathrooms and a great playground for kiddos!
Apr 20, 2021
Easy check-in, clean grounds, easy to maneuver my rig in the campground.
Apr 20, 2021
It was great after a long drive, very relaxing.
Apr 20, 2021
Angelica was very helpful. From taking my reservation over the phone and during my stay there.
Apr 19, 2021
Was pretty good except we never did get the black hose connection fixed. The person before us ran over the connector and the campground was unable to get it fixed for the 2 days we were there.
Apr 16, 2021
Very clean and well kept. We enjoyed our stay.
Apr 15, 2021
Easy access to highway
Apr 15, 2021
Two night stopover. Clean and quiet
Apr 14, 2021
Advertised cable but it did not work!
Apr 12, 2021
We stayed here coming and going on our last vaca. The park was clean, well maintained, and easy to navigate. The sites are good size and the utilities set up for easy access. The folks at the front desk were friendly and helpful. This KOA was about halfway to our final destination so staying twice was convenience.
Apr 12, 2021
Everyone was very friendly and we liked the campground. Stay was ruined for walking our little dogs because a very friendly lady kept coming around on a golf cart with 3 bigger dogs not on leash's so we were not comfortable out walking with our small dogs. After traveling campground walking is #1 to get exercise. We always have our dogs on leashes and would just Expect that courtesy from others
Apr 11, 2021
This is a comfortable little park, convenient to I-20 and the businesses of Abilene. Customer service is top notch, the facilties are clean and the spaces very spacious. If we traverse through Abilene in the future, this is where we will stay!
Apr 10, 2021
It's always so clean in cabins and restrooms love the atmosphere there t you feel safe. Thank you
Apr 09, 2021
When we checked in, no one escorted us to our site. The young lady at the front desk drew us a map of how to pull in. The directions she gave me was backwards. I'm not saying I won't stay there again, the park was well maintained, but I think the staff needs better training.
Apr 09, 2021
Great service thanks
Apr 08, 2021
Stayed before and will stay again. Good location, easy in and out. Pleasant staff
Apr 07, 2021
Because of the Texas freeze this year, our hot water heater froze and no replacement available until the next few month. We decided to head out without it on a planned 2k mile trip. Well, most campsites had terrible bathrooms and showers. We couldn't wait to get to Abilene KOA because we have stayed there before. The first thing we did; hit the showers! Clean, clean, and clean! Thank you, Abilene!
May 03, 2021
A nice, clean, pretty peaceful place to stay when traveling through with your RV
- Seana Repair on Google
Apr 30, 2021
Very nice park, close to freeway. And our TV worked!
- Marcia Cates on Google
Apr 26, 2021
Park was clean and the pull thru site we had was spacious. Didn't feel cramped. Staff was friendly and helpful. I would also recommend you eat at Belle's Chicken Dinner House. The food was fantastic and Robin our server was top notch. Will definitely stay here again.
- Ralph Cowan III on Google