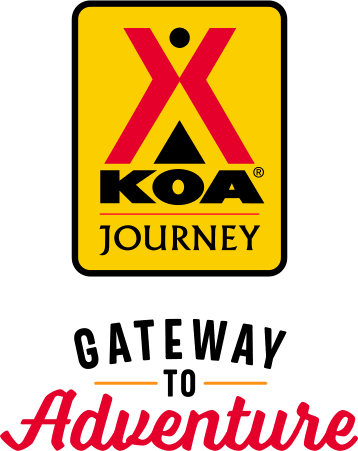 KOA Journey Campgrounds
KOA Journey campgrounds are the perfect oases after a day on the road. Whether it's along the way or a quick getaway, they've got you covered. Located near the highways and byways of North America with long Pull-thru RV Sites, they deliver convenience to the traveling camper. Pull in, ease back and take a load off.
KOA Journeys Feature:
Pull-through RV Sites with 50-amp service
Premium Tent Sites
Well lit after hours check-in service
Directions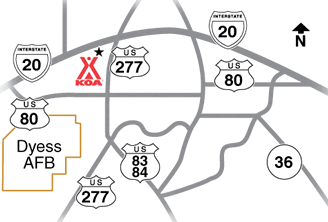 Located on the west side of Abilene on I-20. Eastbound or Westbound, take I-20 Exit 282. Abilene KOA is on the south frontage road, next to Motel 6.  GPS: N32.4781, W99.7835
Get Google Directions
Dec 01, 2020
We have stayed here multiple times and usually as we are passing through on our way home. The park is clean, staff is helpful. Store has a few things that you might need for your RV at the last minute. Always a pleasure to stop and spend a night here.
Nov 30, 2020
Not one mask by staff in the office when we were checking in. Maybe someone should tell them we're in the middle of a pandemic and I believe there are some rules set forth by the government mandating them.
Nov 30, 2020
Overall it is a nice place to stay and we would stay there again. Unfortunately, we are rating our stay a 3 because we were unable to utilize the sewer hookups due to a elbow glued or stuck into the sewer connection.
Nov 29, 2020
Have stayed several times. Staff is helpful. Wish they didn't have cable boxes you have to hook up but other than that, always enjoy our stay.
Nov 29, 2020
Great place to stay
Nov 28, 2020
Enjoyed our stay.
Nov 28, 2020
Excellent camping facility in every way!
Nov 26, 2020
Nice KOA. Facilities were clean and well kept. Bathrooms top notch. May be back next month. The only reason I don't give it 5 stars, is the road noise from I-20 nearby. Doug on Thanksgiving eve.
Nov 25, 2020
the people were friendly and everything was clean. i was there for an overnight stay and did not have to unhitch.
Nov 24, 2020
Did this survey yesterday
Nov 23, 2020
The employees and facilities are first rate. The WiFi works great. The campsites near the highway are noisy, so try to stay further away.
Nov 23, 2020
Great place to stop over in our way thru Texas. 45' with a toad, we had a comfortable spacious spot and didn't unhook either. Right off the highway so road noise is heard but not an issue. Fenced dog park with grass and pebbles was nice for a change from sand and dirt! Level site! Would stop again! Stayed 11/2020 $50
Nov 22, 2020
The lady who checked me in was wonderful.
Nov 22, 2020
Great facility...great staff
Nov 22, 2020
Taking a star off as none of the check in staff wore masks during the height of a deadly pandemic while checking people in at the front desk.
Nov 22, 2020
very nice but the $10 early check in was not appropriate in our opinion. the rate was a little high even with the KOA discount.
Nov 20, 2020
Great location and very clean park
Nov 20, 2020
One quick night, nice, clean, quiet
Nov 19, 2020
Spotlessly clean. New updated bathroom. Beautiful pool.
Nov 18, 2020
We stayed 2 nights, we were very pleased about the condition of the campground in comparison to our previous stays. It was much neater! Thanks!
Nov 18, 2020
Just a one night stay.
Nov 17, 2020
We had a great stay. 3 night, peaceful. The workers were very helpful. Angelica was especially great. Always smiling, answered our 20 questions without a problem. We will be back.
Nov 17, 2020
Very nice staff, nice area close to the highway, for easy on and easy off access.
Nov 16, 2020
Great facilities. Awesome staff.
Nov 15, 2020
Tight spaces, poor upkeep on water hookups, parked cars everywhere. Not a great overnight experience.
Nov 13, 2020
Came for the camping, stayed for Belles and the stray animals (;
Nov 12, 2020
Horrible mattresses. No heat, shivered all night. Too expensive for lack of amenities.
Nov 09, 2020
Late arrival and early departure meant we didn't do much other than sleep. Grounds were clean and pull through space was ample. Decent amount of road noise, but overall a nice spot. Pretty pricey, but if you are there for more than a few hrs it would be justified.
Nov 08, 2020
i found it peaceful. decent showers and easy to get around.
Nov 08, 2020
No one was wearing mask
Nov 08, 2020
The best KOA we've stayed at to date. Very well kept and clean. There are plenty of shade trees, which for a KOA is unusual. We will be back.
Nov 08, 2020
Perfect for a one night stay. Staff was very friendly
Nov 07, 2020
We stayed in a cabin and it was nicely located next to the bathrooms. Perfect location when you have to walk in the middle of the night to pee! Thanks.
Nov 07, 2020
Quiet and check in was quick and the lady was friendly!
Dec 01, 2020
We have stayed here multiple times while on our way home. Home is about 3 hours away. This is our final stop for our final tank dumping and flushing. Staff is always helpful and friendly. Guests have always been friendly and highly recommend this park.
- Todd Ockert on Google
Nov 28, 2020
Smaller KOA Campground in Abilene right off the interstate. Clean and safe though.
- Bill Henriques on Google
Nov 11, 2020
I love this Koa, highly recommended.
- darwin Adams on Google