The New KOA App | New Features for Trip Planning, Accounts & More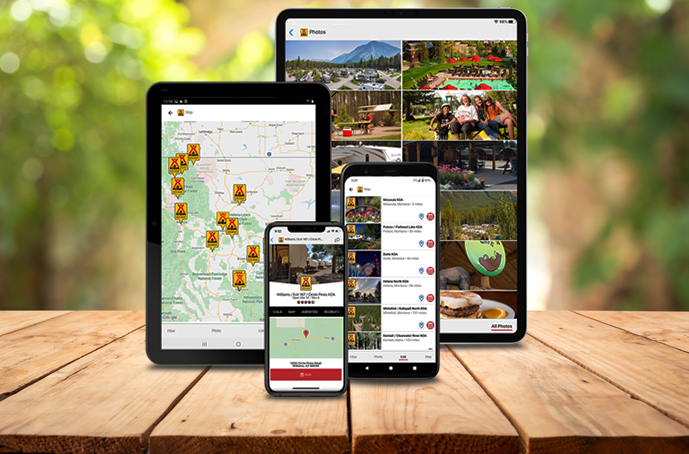 New KOA App
The Kampgrounds of America Camping App is now better than ever — the App's updated expanded features brings the worlds largest network of campgrounds, KOA campgrounds to your fingertips. The interactive dashboard allows you to personalize the App to your camping needs, pull up your favorite campgrounds and check out your Value Kard Reward information so that you can fully prepare for your next great camping adventure.
KOA App With New and Improved Features
Whether you are hitting up one KOA destination or trekking your way across the country, the new and improved KOA App will help you plan your perfect camping trip. This App is your window into over 500 KOA destinations across North America. Here are some of the exciting, updated camping features you are sure to love.
Initial Walk-Through Wizard
The moment you download the KOA App, the walk-through wizard helps you set up your preferences and customize your KOA App experience to your liking. Once you are off and rolling, you will be invited to log in to your KOA account, create a new account or continue as a guest.
Register Your Account
Log in to your current KOA account for full access to your favorite KOA Campgrounds and any information you have saved in the past. However, if you are new to the KOA camping experience, you can also use the updated App to register as a new user for easy entry to everything KOA has to offer.
Interactive Dashboard
Once you are logged in, our friendly, interactive dashboard greets you. Enjoy the App's user-friendly experience as you navigate through each of the features in one manageable place. The dashboard highlights your upcoming reservations, which you can review to see the dates of your stay and how many people in your party. As a Value Kard Rewards holder, your dashboard will also include your VKR number and available points.
KOA Account Editing Options
The KOA App is a completely personalized experience. Account editing options allow you to go in at any time to view your account information and change your settings or password. If something is not quite right, no problem. Click on the three bars at the top left corner, choose Account and click on Edit Account Details. From there, you will be taken to an interactive screen where you can easily change up your information:
Add VKR Account: Already part of the VKR program? Register your account on the App and keep racking up your rewards.
Personal information: Share as much or as little information about yourself as you want. Everything you share tells us more about your individual camping needs.
Reservation preferences: These specifics will ensure we already have all the information we need about your travel party once you are ready to book your reservation. Makes booking a reservation at KOA easy and fast!
Camp preferences: Tell us more about your special camping tastes, including favorite activities, how you like to cook and recipes. You will love having this info in one handy place.
KOA accounts and all the camping features that go with it can also be accessed from a desktop device through KOA.com. Start you trip planning on a desktop device then take it on the road with you through KOA's mobile app!
Find a KOA With Map Features
When it is time to find your next KOA adventure, tap on the search bar at the top of the App or click on Find a Location. You can search for KOA Campgrounds by city, zip code or use your current location to find something nearby. The App allows you to filter campgrounds based on your preferences, such as site types and must-have amenities. You can even name your filters to further personalize your search. Click on the map feature to see where each campground is located.
My Stuff
My Stuff gives you a single place where you can see your recently viewed locations, explore your favorite campgrounds and showcase upcoming, past or canceled reservations. Click on the three bars at the top left corner to access this useful information.
Value Kard Rewards Dashboard
Value Kard campers will love how the KOA App makes being part of our Value Kard Rewards program better than ever. From the KOA App dashboard, log in with your Value Kard information for quick access to your upcoming reservations, your points and your rewards. You can also edit your information at any time.
Campground Landing Page
Each campground landing page gives you a detailed look at what specific campgrounds have to offer. This includes their location amenities, activities, local attractions, hot deals, photos and driving directions. Book your reservation right here, save it as a favorite, contact the campground or subscribe to that campground to receive important updates and events.
Booking a Reservation
Enjoy a hassle-free reservation experience through the KOA App. Once you have found where you would like to stay, you can browse the campground's Tent Sites, Camping Cabins, RV Sites or unique lodgings and pick your ideal site. Book your dates and pay directly on the App. Then, get ready for worry-free traveling.
Join Value Kard Rewards
Not a part of Value Kard Rewards yet? Don't miss out on all the discounts, rewards and free camping this amazing program offers to frequent campers. You can sign up directly through the KOA App.
Download the Updated KOA Camping App Today
Whether you are planning a camping trip or dreaming up some possibilities, the newly updated KOA App puts the fun of camping in the palm of your hand. You do not want to miss out on all these incredible features that are perfect for avid campers and newbies alike. Download the KOA App today, available on the App Store and Google Play.
---