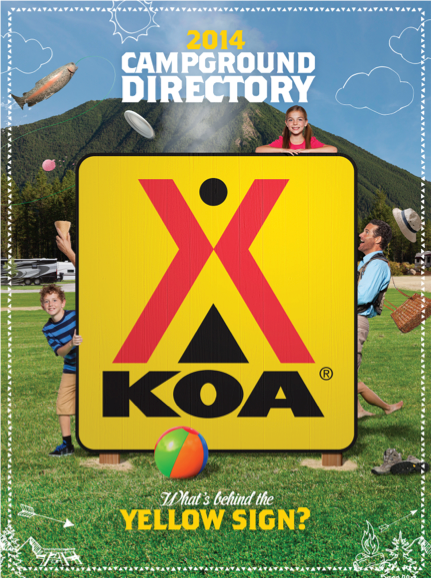 The new, improved 2014 KOA Directory is now available free to campers across North America.
The new version of the iconic KOA campground guide began arriving in early March at open KOA campgrounds, as well as arriving in the mail at the homes of our KOA Value Kard Rewards members.
Each KOA campground entry has been expanded to make it easier to read, and to give campers like you more of the information so you'll quickly see exactly what's behind the famous Yellow sign at every KOA.
For the very first time, you'll see easy-to-use, campground-specific color icons that detail the activities and facilities at each of the 486 KOAs, as well as color photographs from some of your favorite locations.
Introducing KOA Journeys, KOA Holidays and KOA Resorts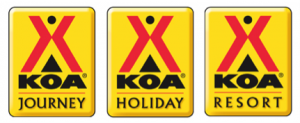 You'll also notice new KOA logos on more than 100 KOA Directory campground listings. Those logos identifying KOA Journey, KOA Holiday and KOA Resort campgrounds – a new brand concept for KOA intended to make it easier for you to find just the right KOAs to fit your camping needs. A full description of these three great new ways to camp with KOA can be found on the inside front cover of the Directory, or check out the story about our new brand positions in on the blog by clicking HERE.
"The KOA Directory has been helping campers select just the right KOAs for their family vacations for more than 40 years," said KOA Vice President of Marketing Toby Hedges. "Every year, we work hard to improve this important guide, and make it work even harder for our guests."
"We hope the annual arrival of the new KOA Directory is taken as a sure sign of spring for our campers," Hedges said. "I'd encourage campers to spend some time with our guide, check out the new KOA locations, and check in on some of your favorite KOAs that just might have new things waiting for you to enjoy this summer."
KOA campers have a lot of options when planning their KOA trips this year. Besides the printed 2014 KOA Directory, campers can also plan their trips on the world's most popular camping website – KOA.com. There's also the new KOA Mobile App, which allows campers to both plan trips and make reservations at their favorite KOAs. You can find out more about the new KOA here, or download the App at both the Apple App Store or GooglePlay.
The entire KOA Directory is also available in a digital format. Just click HERE to view the KOA Digital Directory, or download some or all of the Directory pages.
Printed copies of the KOA Directory are available free at any open KOA campground, or can be ordered online at KOA.com.