Discovering North America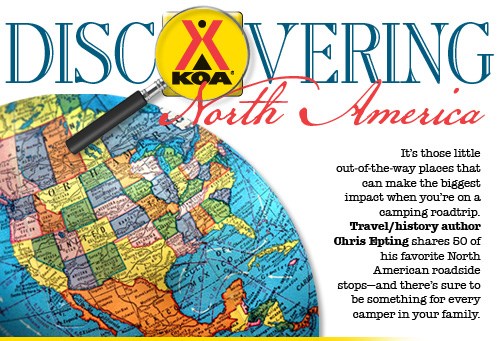 Men (and we fathers in particular), seem to have a genetic predisposition toward signs such as these. But many women are also known to be under the spell. Sometimes our vehicles actually seem to veer toward exits on their own. "Must stop!" demands our DNA.You're in the midst of a perfectly planned road trip vacation when it happens. Unexpectedly, out of nowhere, it finds you – that sign. Usually it reads something like, "Historic Marker, 500 feet." Or "Point of Interest, Next Right."
So we do, thus building in all of those beautiful little detours that, while perhaps costing a bit of time, also add such mystery, discovery and surprise adventure to road trips. And isn't that what we're all really after?
I love seeing signs like those mentioned, but I also enjoy discovering and writing about tucked away places that managed to avoid maps, guidebooks and signposts for years; places where a bit of pop culture history might just have brushed up against. creating detours, if you will.
Oh, we get to all those national parks soon enough, and the battlefields and the museums. Absolutely. But hey, when the Brady Bunch House, or the place where the cheeseburger was invented, or the actual Field of Dreams is nearby, there's always that tug on the steering wheel – that invitational lure of wonder and intrigue. So we'll drive a little longer that night to make up for it, right? No problem. All part of the journey – "listening" to the road as it prods us to be flexible and wander more.
I've met many people at KOAs over the years who, like my family, also look at road trips as constant works in progress; always open for revision. So to start the new year, I thought it'd be fun to share a few of our favorite lesser-known "detours" around the country; specks on the map that all hold some sense of history, whimsy, charm, weirdness, silliness or gravity – something for everyone!
"Embrace the detours," I once heard someone say. And why not? That's where you often find not just the heart of a road trip, but its soul, as well…hey, what does that sign up ahead say?