A week-long camp is a rite of summer for many kids. Each year, they pack up for a week of canoeing, crafts and singing around a campfire.
But for thousands of youngsters battling cancer, a week in the woods seems more than out of reach.
That's where KOA Care Camps – and you – come into the picture.
In 2015, KOA Care Camps for children with cancer helps send more than 40,000 children and some of their siblings to one of 112 specialized summer camps located throughout North America.
These camps are indeed special. They are staffed with the usual assortment of recreation directors and counselors, but they also include specially trained medical staffs so that these special children can continue their treatments while they enjoy camp.
Last year, the KOA Care Camps Trust raised more than $1.4 million, which will all be directly distributed to the 112 Care Camps to provide a completely cost free summer camping experience for the children and their families.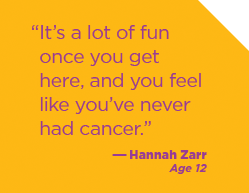 The funds come from a variety of sources, including donations collected at KOA campgrounds from campers just like you. Kampgrounds of America also sends the KOA Care Camps Trust $1 for each KOA Value Kard Rewards Card sold (nearly $300,000 so far this year) along with generous donations from our industry partners like Cabela's and many others.
"The kids and teens that come here don't have to explain why the look different, or why they sound different," said Beth Jones, camp director at Camp Make-A-Dream in Missoula, Montana. "They don't have to explain why they don't have hair or an air. The can come here and be themselves."
Care Camper Paxton Green, age 13, echoed Jones' comments.  "I just love being around kids that have gone through what I have," Paxton said. "It's just a great experience."  A week at a KOA Care Camp doesn't come cheap. The specialized medical staff and equipment runs the cost of a typical week at camp to about $2,000 per camper. KOA campers like you can help in many ways.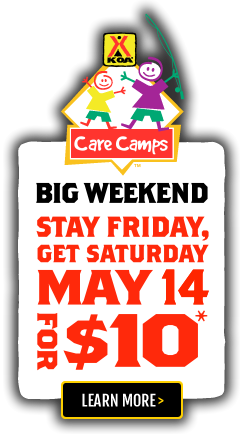 The KOA Care Camps Trust accepts mailed donations in both the U.S. and Canada. You can also make a donation in memory of a family member, friend or colleague.
When you shop on Amazon.com, you can take part in Amazon's "Amazon Smile" campaign. You simply select KOA Care Camps as your designated charity and for every qualifying Amazon purchase, .5 percent will be donated back to Care Camps. Visit www.smile.amazon.com to find out more. You can even donate your used RV, boat or car to KOA Camps by visiting carsforkoacarecamps.org
C'mon,KOA campers. Let's send some deserving kids to camp!  And, don't forget to make plans now for the upcoming Care Camps Big Weekend on May 13 & 14th.