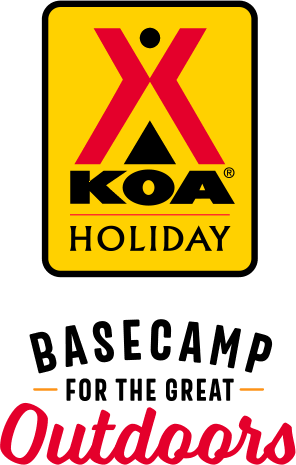 KOA Holiday Campgrounds
Whether you're exploring the local area or hanging out at the campground, KOA Holidays are an ideal place to relax and play. There's plenty to do, with amenities and services to make your stay memorable. Plus, you'll enjoy the outdoor experience with upgraded RV Sites with KOA Patio® and Deluxe Cabins with full baths for camping in comfort. Bring your family, bring your friends, or bring the whole group – there's plenty of ways to stay and explore.
KOA Holidays Feature:
RV Sites with a KOA Patio®
Deluxe Cabins with full baths
Premium Tent Sites
Group meeting facilities
Directions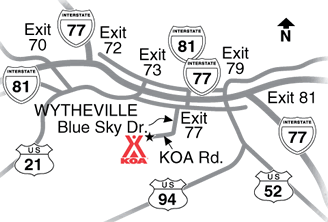 Take exit 77 off I-81/I-77, right on service road, Chapman Rd, then turn left on Blue Sky Dr. Take the second right onto KOA Rd. Watch for posted signs! One mile from the highway! Easy on easy off! Do Not Take Hummingbird Lane, it is a narrow dirt road.
Get Google Directions
Apr 06, 2021
This is the second time we have stopped here for a night on our way home. We love this resort. Easy in, easy out, nice level sites, very nice staff. We love this KOA.
Apr 06, 2021
Clean, quiet, warm and friendly staff. Absolutely would go back to this campground
Apr 06, 2021
Words can't even begin to explain this KOA. we really enjoyed it!! Even though it's still chilly here there was still plenty to do. Beautiful scenery and a short ride home we hit the blue ridge pkwy. I can only imagine how great it is in the summer!!!
Apr 06, 2021
Was nice / clean We were in spot #9 so We liked being on the end - not so cramped
Apr 06, 2021
Great KOA. Well maintained. Very clean accommodations. Nice, friendly, helpful staff — front desk and housekeeping. Isaac is a gem! So personable and willing to answer questions and provide info — from the first call I made to make reservations until the last night we went in the store to order pizza for dinner. He undeniably loves his job and provides outstanding customer service!
Apr 06, 2021
Site 61 is not level and took a lot of extra effort to settle in. Lady's bathroom had an "out of order" handicapped stall. Other two were so small that you had to cram yourself in to shut the door. Air dryer for after you wash your hand was inoperable. Have loved this campground in the past. This time was not especially good. Staff was especially kind and accommodating.
Apr 06, 2021
It was beautiful love staying here !!!!!
Apr 05, 2021
Always a great stay
Apr 05, 2021
It was great! Love being back in the wooded area. Our only regret was that it was a little too cold for us to enjoy the outside activities, something we realize you have no control over.
Apr 04, 2021
Great place, friendly people, laid out very nicely. Campsites nice and level.
Apr 04, 2021
Bathrooms and showers inadequate for number of sites. Very long totally inappropriate distance to showers and restrooms.
Apr 03, 2021
Stop over for a few days R&R. Too cold to do much from rain to snow to low 20s at night. Good time to do nothing and stay warm and dry in the Fox. Will come back in warmer temps
Apr 03, 2021
Quiet and clean.
Apr 03, 2021
Extremely easy access
Apr 03, 2021
Stopped for an overnight stay. It was so nice we decided to stay again on the way home. Very clean and staff was very friendly.
Apr 03, 2021
Very uneven sites. Put on site that was bad when there were other more suitable sites unused. Cable was bad. All cable channels were snowy.. tried to rectify but couldn't. Regular channels wouldn't work either. The facility is located near I81.
Apr 02, 2021
This KOA is very nice and is in the process of adding more sites. Everything looked new. However due to COVID the Family Center is closed. It's probably in the works but the map had a bath house location beside the Family Center that is not there. This made for a very long journey to the closest bath house which is at the store. We were on site L-7. Definitely need to add a bathhouse.
Apr 02, 2021
Our cabin had been renovated much to our liking...remodeled kitchen, bathroom, living room and bedroom with a brand-new bed, mattress and new flooring. It was a wonderful surprise!
Apr 02, 2021
The staff is knowledgeable, caring, and speedy. The sites are great!
Apr 02, 2021
Prices went up with no visible improvements. The handicapped toilet was not functional. The concrete walkway to the bathrooms is in need to total replacement due to the many cracjs and poor prior repairs.. This walkway is also a hazard to individuals because it has is not level side to side.
Apr 01, 2021
We stayed in a cabin - it was clean, cozy and exactly what we needed! Can't wait to stay again.
Apr 01, 2021
It's a clean campground and the spaces are level side to side. The management was flexible when we had to come two days earlier than first scheduled and left one day earlier. They have propane and the store is well stocked with RV supplies. Located well away from I81 so the noise was not bad at all. Wi-fi/TV was good. We stay here often and highly recommend it for an overnight or longer stay
Apr 01, 2021
Absolutely beautiful views and surrounding area was very peaceful. The drive to the campground is very narrow and through a residential neighborhood. We were second guessing that we were actually going the right direction, the KOA sign at the turn needs to be about 3x larger than it currently is. The roads and sites could stand to be leveled and graded. Campground staff were great!!!
Mar 31, 2021
Always GREETED with a smile and Hello. Amazing all of the upgrades we see each time we arrive. Staff is so pleasant and helpful. We will be back.
Mar 31, 2021
Great stay, friendly staff was very helpful!
Mar 31, 2021
Courteous staff upon our arrival; clean facilities and sites. Excellent location close to 77/81. Definitely would stay here again if it was on our route.
Mar 31, 2021
Appreciated the full hook up, cement pad option. However, I found the price of the site to be high in price for what we needed. We opted for the cement pad but had a muddy site otherwise. Also we did not/could not use any of the park features which make it a "Holiday" park.
Mar 31, 2021
Clean and pizza
Mar 31, 2021
Nice clean quiet campground
Mar 31, 2021
Love the pull through sites. They are level neat. Will stay there again.
Mar 31, 2021
Very helpful & pleasant. Made our stay great.
Mar 31, 2021
Had there not been a mix up with our reservation everything would've been awesome. Can't quite blame anyone for the mix up either. How often does a Moseman and a Mossman reserve on the same night?
Mar 31, 2021
They even made and delivered pizza and wings. Priceless,!
Mar 29, 2021
Only stayed 1 night, traveling thru, arrived around 11pm.. Very quiet. We were in site L8. It served the purpose, was easy to get into but super soft dirt was just placed at the front of the site. Appears they have a lot of fill and are attempting to raise some sites.
Apr 11, 2021
One of the best KOAs. Entry roads are narrow. Has bowling alley, large arcade , softball hitting cage, pizza and chicken wings. Internet is the fastest we have had at any camp. Folks were nice. Sites fairly level. Gravel sites. Quiet.
- cccfr on Trip Advisor
Apr 05, 2021
Well run, great sites, lots of activities
- Bill Wert on Google
Apr 05, 2021
Great place enjoyed it has lots of hiking trails Coming back again
- the boys on Google