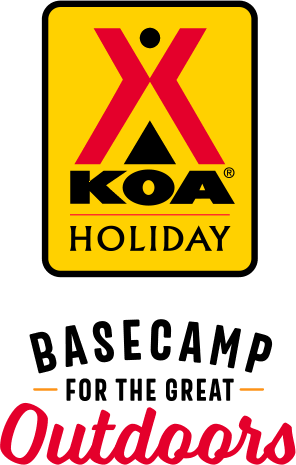 KOA Holiday Campgrounds
Whether you're exploring the local area or hanging out at the campground, KOA Holidays are an ideal place to relax and play. There's plenty to do, with amenities and services to make your stay memorable. Plus, you'll enjoy the outdoor experience with upgraded RV Sites with KOA Patio® and Deluxe Cabins with full baths for camping in comfort. Bring your family, bring your friends, or bring the whole group – there's plenty of ways to stay and explore.
KOA Holidays Feature:
RV Sites with a KOA Patio®
Deluxe Cabins with full baths
Premium Tent Sites
Group meeting facilities
Directions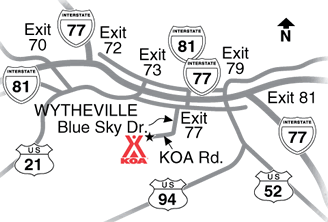 Take exit 77 off I-81/I-77, right on service road, Chapman Rd, then turn left on Blue Sky Dr. Take the second right onto KOA Rd. Watch for posted signs! One mile from the highway! Easy on easy off! Do Not Take Hummingbird Lane, it is a narrow dirt road.
Get Google Directions
Jul 27, 2021
Great stay and excellent amenities! Where can you find a campground with a bowling alley.
Jul 27, 2021
We loved it here. Best campground we have been to. The water slides were awesome and everyone was nice. My only complaint is it is so far away from us and we can't visit as much as we would like.
Jul 27, 2021
Nice long pull through sites so we didn't have to unhook for our overnight stay.
Jul 27, 2021
Our site was exactly what we needed for an overnight stay. The staff is courteous and friendly. The park is clean and provides numerous activities.
Jul 27, 2021
Had a new puppy with us and when we would go to pool with the kids it would bark some and one Person complained about the barking but the management there were very understanding. Very nice place to stay. Close to lots of things
Jul 27, 2021
Very nice and well maintained campground! Only thing I noticed was that the playground and basketball area could use some updating. We had a great stay and would stay again if in the area.
Jul 27, 2021
We stayed one night. Just passing through. But it was very close to I-81 and very clean. Sites were a little close, but I expected that. Nice pool. Even had a bowling alley! If we pass through again we will consider staying again.
Jul 27, 2021
great people! great facilities!
Jul 27, 2021
We stay here for one night stays for over several years. Location works for us traveling west and south. Staff always nice and helpful. Easy in and out to the interstate.
Jul 27, 2021
Terrible site very rocky and uneven not near level.
Jul 27, 2021
Great quite campground filled with everything for your kids. Easy on/off I-81.
Jul 27, 2021
Fantastic campground with plenty of things for the kids (and older kids like me). Great facilities and restrooms. Best KOA we've stayed in.
Jul 27, 2021
Really nice. Very clean.thank you
Jul 27, 2021
Very nice Campground.The staff was very friendly.
Jul 27, 2021
Clean, Friendly staff,Quiet
Jul 27, 2021
They keep this KOA clean and fresh. They put a lot of time into keeping the place looking nice .
Jul 26, 2021
Always a well maintained and comfortable stay!
Jul 26, 2021
Nice campground, clean facilities. Loved the ducks at the pond. Unfortunately the Premium Hookup sites do not have any shade.
Jul 26, 2021
We made reservations as a group in March and we were scattered all over. The lower section. The site next to me changed each night so I knew something got messed up
Jul 26, 2021
We had a wonderful stay in Wytheville. Our site was great and the amenities were perfect for our family. The staff was friendly and went out of their way to make my boys smile!
Jul 26, 2021
Enjoyed it very much. Grandchildren want to come back next year.
Jul 26, 2021
Clean and there was plenty to do.
Jul 26, 2021
Loved the campground. It is a bigger sized campground but very quiet and has great amenities. The pool is nice with the slides for the kids. The activity center and bowling alley are great— just wished they opened before 1 so we could've played once more before checking out a noon. Grass needed to be cut badly, but other than that, no complaints.
Jul 26, 2021
Beautiful setting, plenty of space, great location for restaurants, hiking, etc. The office staff were very friendly and helpful. I also LOVED the fact that they had recycling! �
Jul 26, 2021
Such a great place to stay. Our 4 year old had the best time!
Jul 26, 2021
We had a nice spot that was centered in the middle of the park. We enjoyed the fire pit and picnic table. Its nice to have them in all of the slots.
Jul 26, 2021
Very accommodating. Lovely place. Owner really goes above and beyond.
Jul 26, 2021
The cabin was very nice
Jul 26, 2021
Awesome as always.
Jul 26, 2021
Ok KOA - getting out somewhat confusing, needs markings near the dumpsters. Mens shower stalls needs some TLC, flooring with gravel concrete outside stall. Otherwise quite ok
Jul 26, 2021
The amenities were top notch for our family. There was plenty to do for our family. My kids loved the water slides, bowling, the cafe, crafts, and tie dye. We had quality time together as a family. Considering the campground was full, the facilities were clean.
Jul 26, 2021
We really enjoyed the Saturday program for kids, the personal touch, nice staff, great pool and reasonable prices in the store and for activities.
Jul 25, 2021
Employees extremely cordial, friendly and knowledgeable.
Jul 25, 2021
Clean, comfortable, easy access and very friendly staff!
Jul 25, 2021
Excellent sites in upper area, level with cable and the best wifi ever. Great activities with bowling, pool with two large slides, pizza. Will definitely stay again
Jul 25, 2021
Love it here! It's our go to for camping when we travel to Mississippi!
Jul 25, 2021
Overnight stay only. Beautiful park with mountain views. Nice level pull through with full service. Staff is first class. Great pool and activities under roof.Will stay again.
Jul 25, 2021
Excellent accomodations. Friendly staff.
Jul 25, 2021
Wonderful stay, would definitely stay again.
Jul 25, 2021
It was a very nice park. We had a nice shady spot. It was a nice change from being out in the open it Tenn.
Jul 24, 2021
Enjoyed the activities available. Our site was cool and peaceful. We loved our adventure in Wytheville!!
Jul 24, 2021
I have stayed at this location several times on my way to snd from Myrtle beach. It's a huge favorite of ours and our kids love it! They recently updated the pool and it's awesome!!!!
Jul 24, 2021
Stayed one night and loved the campground.
Jul 24, 2021
Staff friendly, grounds taken care of very well. Good lay out of sites. Easy pull thru. Spacing between sites is very nice. Good planning to allow space to relax. Lots of things to do. Pool was very nice, wonderful slides. This was our second time staying here. We were in wooded area of park last time which was also very nice. Hope to stay again. Thank you for a good overnight location.
Aug 02, 2021
Very nice Campground. Plenty of kids activities, nice community center, improved camper spaces, nice tent spots with shade very quiet setting and great hosts. We will be back. Did I fail to mention a large pool!! Saw lots of happy, happy kids of all sizes.
- Rodney Hindley on Google
Aug 01, 2021
What a fantastic KOA Holiday!! My boyfriend/fam & I road trip alot & all over America, and this is hands down top 3 best KOA I've been to so far. Beautiful campgrounds, really nice amenities & holy smokes what an awesome pool!! This is for sure a special place and we plan of making this one of go to places while visiting the wonderfully scenic & spectacular outdoors of Virgina. The wonderful folks working/running this KOA are so hospitable, helpful, accommodating, friendly & do an amazing job at keep it spotless, really nice showers here as well. Oh man & don't even get me started on their reasonable prices, I wish I could give more stars 👏 *Thank you Savanah! You saved us w the firewood 😅🔥👍
- Kara Connolly on Google
Jul 27, 2021
Family owned and so nice! Great family activities! We can't wait to go again!
- Crystal C on Google