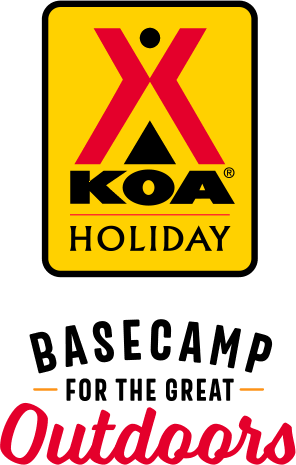 KOA Holiday Campgrounds
Whether you're exploring the local area or hanging out at the campground, KOA Holidays are an ideal place to relax and play. There's plenty to do, with amenities and services to make your stay memorable. Plus, you'll enjoy the outdoor experience with upgraded RV Sites with KOA Patio® and Deluxe Cabins with full baths for camping in comfort. Bring your family, bring your friends, or bring the whole group – there's plenty of ways to stay and explore.
KOA Holidays Feature:
RV Sites with a KOA Patio®
Deluxe Cabins with full baths
Premium Tent Sites
Group meeting facilities
Directions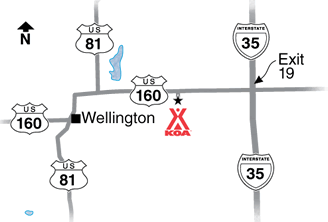 We are 1.5 miles West of Exit 19 off of I-35 also known as the Kansas Turnpike.
If you are traveling on Hwy 81 from the North or South or Hwy 160 from the West, there is a round about that you will travel through before reaching our campground. You can make it through as long as you go slowly.
From the round about we are about 2.5 miles East. If you reach the turnpike gates, turn around you've gone too far.
If traveling from the East on Hwy 160, we are 1.5 miles once you cross over the Kansas Turnpike.
Get Google Directions
Apr 06, 2021
Nice quiet campground. Great for an overnight stay.
Apr 05, 2021
We were only there one night but the park was easy to find and the office staff were very helpful when we arrived. It was convenient in and out.
Apr 04, 2021
Has all the features & amenities, just being run down. Disappointing from prior stays there
Apr 04, 2021
We pulled in late and left early the next morning. The sites were flat and the showers were clean and very well set up. Not too many tress which didn't effect us but might be a problems in the warmer weather. We would stay there again is passing through.
Apr 03, 2021
Nice and quiet
Apr 03, 2021
Quentin was super helpful. The bathrooms were spotless. Loved everything.
Apr 02, 2021
Nice campground with level sites. Close to I35, but not so close that you hear the traffic. Walked around the campground that has two sections with a small pond in between, pretty.
Apr 01, 2021
Great place to stay!
Mar 30, 2021
Stayed one night on our way across country. Park was nice and had everything we needed. Since it was late March it was not full so we enjoyed the quiet. Spots are close but not crowded together. We had trouble hooking up to the free cable tv. Could only get 4 of the 20+ channels and those had audio but very bad video. Train to the south/east was noticeable but didn't disturb sleep.
Mar 29, 2021
First trip with new travel trailer as newbies. Site was great, staff very pleasant and helpful.
Mar 28, 2021
Have stayed here many times. We do not use the services just spend the night and go. Friendly, efficient staff. Quick in and out.
Mar 28, 2021
Clean.Quiet.
Mar 27, 2021
Quick overnight but t it was easy in easy out.
Mar 24, 2021
We stay here often and never have any issues; always clean facilities & polite staff. Highly recommend this KOA!
Mar 22, 2021
KOA did not disappoint! We had a wonderful stay. The location was not too far from Wichita and was perfect for our kiddos!
Mar 22, 2021
we got in late, our problem, would stop again!
Mar 20, 2021
We came in late and after dark and left first thing in the morning so we didn't get a chance to look around much. We moved our reservation up by one day which they were happy to accommodate. The thing that stood out the most to me in our very short stay was the impeccably clean restrooms. I felt guilty using the toilets and sinks because they were sparkling clean. There wasn't even a water spot!
Mar 20, 2021
It was easy to find, clean and convenient. Late check in was easy
Mar 18, 2021
Stayed in one of the new concrete premium sites. It was plenty long but not really level. We had opted for the premium site because the area had received quite a bit of rain in recent days and the other other regular sites often are muddy in this situation. The park is clean but needs some TLC. Small dog park. Cable had some channels missing. Park is very dark at night.
Mar 17, 2021
Friendly Host. Clean restrooms,good size sites. Quiet.
Mar 16, 2021
I stayed in a cabin that was clean and comfortable. The grounds need a little maintenance but overall the stay was good. The staff is very friendly and helpful.
Mar 14, 2021
nice size pads. level and easy in and out. Convenient to interstate. Friendly staff
Mar 13, 2021
Our site was concrete and level. One of their newer ones with a swing, table & chairs, and fire pit. Easy access, and close to refueling and shopping (if needed). Far enough off the interstate we did not here the noise. Very quite location and nice staff. A rural sitting that was/is relaxing. We were in a 5th wheel.
Mar 11, 2021
Good spot on my way south. Love the "country".
Mar 11, 2021
Peaceful and relaxing
Mar 10, 2021
We stay here quite often. It is half way to see family in Texas. Only stayed during off season. ( Nov-March.) Has worked well for us. Walmart next door. Easy to restock. No fuel at the Walmart but diesel really close by with semi pumps. Staff really polite and friendly. We will always stay here on our route. We feel welcome when we stay.
Mar 10, 2021
Staff was friendly and helpful, restrooms and showers were very nice and clean
Mar 09, 2021
I came after hours and they were very willing to help .,thank you. Jay
Mar 05, 2021
Very helpful onsite staff. Appears to be older park. Handy to interstate and close to busy railroad. Compact sites. Appreciated the small well fenced dog park. Did not use onsite store. 3 upgraded drivethru sites looked nice but were not mentioned on online registration system.. Performance issues with online KOA registration site in general.
Mar 04, 2021
Lots of train noise at night.
Feb 27, 2021
First time we stopped there. Passing through/traveling on I-35 from wintering in AZ. Great campground. Friendly staff and very quiet.
Feb 26, 2021
Convenient overnight stop. Very courteous and professional staff. Clean restrooms. Could use some gravel on roads and campsites.
Feb 25, 2021
Looked for an overnight stay en route to Nebraska and found the Wellington KOA off I35. It was a late check in however all the previous reviews stated the late check in was smooth and easy. I have to say it was! Easy directions were left in the registration book outside the office and we found our camp site easily. Great clean campsite with all hook ups available and a great dog park area.
Feb 24, 2021
WE STAYED DURING THE ROUGHEST WINTER IN KANSAS. THE CABIN WAS WARM AND COZY. EVERYTHING INCLUDING THE STAFF WAS GREAT!
Feb 16, 2021
Friendly staff, not sure what the area looks like as we stayed in the middle of a snowstorm. It was quiet and our site was OK.
Feb 12, 2021
Good for an quick overnight stay
Feb 12, 2021
limited overnight spaces, very close together sites. Had to move picnic table to get in, and out to avoid hitting it with truck and trailer. was a quiet spot to stay for a few days.
Apr 01, 2021
I like this campground. Good access to 35 but far enough so no road noise. Our site was perfectly level and walking was nice around 2 sections of campground divided by a small pond. Quite nice.
- Darcy Chastain on Google
Mar 13, 2021
Always love this overnight stop on the way home from Texas. The premium pull through spots are worth every penny for big rigs towing. Nice level concrete extends out to hookups and is long enough for a tow vehicle or trailer. Has a nice patio with table and chairs, fire pit and porch swing.
- Kelli Stevens on Google
Feb 04, 2021
Great park...came in at night and parked in the mud hole behind the welcome center. The next morning noticed all the higher and dryer spots🤣
- Edward Rice on Google