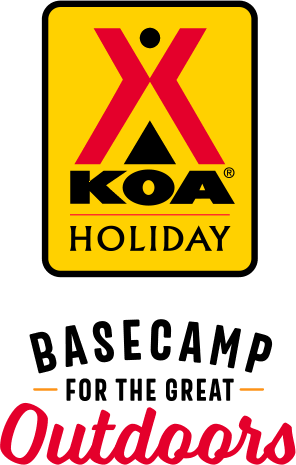 KOA Holiday Campgrounds
Whether you're exploring the local area or hanging out at the campground, KOA Holidays are an ideal place to relax and play. There's plenty to do, with amenities and services to make your stay memorable. Plus, you'll enjoy the outdoor experience with upgraded RV Sites with KOA Patio® and Deluxe Cabins with full baths for camping in comfort. Bring your family, bring your friends, or bring the whole group – there's plenty of ways to stay and explore.
KOA Holidays Feature:
RV Sites with a KOA Patio®
Deluxe Cabins with full baths
Premium Tent Sites
Group meeting facilities
Directions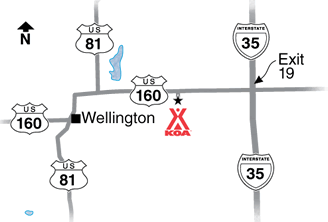 We are 1.5 miles West of Exit 19 off of I-35 also known as the Kansas Turnpike.
If you are traveling on Hwy 81 from the North or South or Hwy 160 from the West, there is a round about that you will travel through before reaching our campground. You can make it through as long as you go slowly.
From the round about we are about 2.5 miles East. If you reach the turnpike gates, turn around you've gone too far.
If traveling from the East on Hwy 160, we are 1.5 miles once you cross over the Kansas Turnpike.
Get Google Directions
Nov 23, 2021
The grounds were very neatly laid out. The bathrooms were amazing. Like a nice hotel. Super clean. I will stay there again with not doubt!
Nov 22, 2021
Cable didn't work in spots 25 or 29 on 2 separate stays otherwise, a very clean and great park!
Nov 22, 2021
It was just for one night but the grounds were very clean a nd quite. I know I will stay there again as I travel a lot to that area.
Nov 21, 2021
Easy check in always clean and comfortable and safe! Only issue is the constant trains and in a tent it disturbs your sleep quite a bit. Walmart just a block down the street so overall a great stay
Nov 20, 2021
Great spot to spend the night while on the road.
Nov 18, 2021
I only stayed one night. I really appreciated the dog park. It was a nice break for my 2 dogs. The laundry room was open so I was able to do my laundry. There was a break in the weather so it was a nice stay after the extreme windy conditions. My only complaint was the railroad not far off. I could hear it through the night but it wasn't intrusive.
Nov 17, 2021
Everything was great. We have stayed in one or two of the cabins in the Wellington,Kansas KOA deer hunting for the past 4 or 5 years and really enjoy the service and staff. We will be back. Thanks, Alex Farmer
Nov 14, 2021
The campground is a slum, from the junkyard appearance of the manager's residence to the dog waste container that was literally stuffed to overflowing to the trash around the property. I arrived mid-day and the office was closed and no one answered the phone. There were no instructions posted for arrivals -i had a really, but there was no "late arrivals" box. Worst Koa I've visited, by far
Nov 14, 2021
The trains near by were a bit disruptive and the cable didnt work right but the campgrounds were clean, the fishing pond was fun for the kids and it's close to shopping.
Nov 13, 2021
Very clean and nice. The only drawback is the freeway noise.
Nov 13, 2021
Very clean showers and laundry site
Nov 11, 2021
Nice, quiet campground. Some of the facilities seemed a bit worn - but restrooms were spotless. A bit pricey...
Nov 11, 2021
nice workers, very friendly
Nov 08, 2021
Very quite ... peaceful .... accommodating & friendly ... we shall return ... spence ...
Nov 06, 2021
Nice little park. Staff did not interact very much.
Nov 05, 2021
Second time staying here while visiting beautiful Kansas. Love your state and your KOA
Nov 05, 2021
This KOA park was pretty clean, staff was nice, sites nice for pull thur. We must of liked it cause we've have stop here twice now. Will stop again if in area.
Nov 04, 2021
Just spent the night. Bathrooms are clean.
Nov 04, 2021
It was excellent. Very clean grounds. friendly and helpful staff.
Nov 01, 2021
Clean, except for 2 bags of dog poo left on our site when we arrived and a fire pit that contained melted beer cans, cigarette butts, and sunflower seeds. Site was not level die to a muddy hole as the result of a severely leaking water spigot. Pull thru sites are too narrow (as in most KOA's).
Oct 29, 2021
This KOA is one of the best that we stay at. Clean and well maintained!
Oct 29, 2021
The campground was very clean and quiet. Our site was level. WiFi was spotty, but we don't have a booster on our trailer and WiFi isn't all that important for us. We would definitely stay there again if in the area.
Oct 27, 2021
A/c not cooling, firepit not cleaned out. Tents allowed in camper areas, I couldnt park my camper in the cabin space, Im sure. Not enough workers there, or short hours.
Oct 27, 2021
Extremely dark for after hour arrival Trees need trimmed as they scraped the top and sides of our RV Web site shows discounts for good Sam and military but you don't get to have that applied when making reservations and person on phone says they don't give good Sam discounts and military only gave 5% was almost useless all others at least give 10%
Oct 25, 2021
It seems that at one time this was a very nice campground with sweet features, but it's now suffering from neglect.
Oct 25, 2021
The location was convenient, it was late and we needed a place to stay. However our site was muddy, when we left we had mud all over our ruck tires, in turn slinging mud up on our truck and RV.
Oct 24, 2021
Good stopping point in Our travels. No reservation. Had a nice pull through site. Would be muddy in rain. Could use more fill. Smooth check in and friendly attendant. Only down side is the loud trains all night. Not fault of park at all. Will be stopping back again. Probably our 10th stay.
Oct 23, 2021
Their cable is very poor
Oct 23, 2021
We like this KOA. We use it for a way stop. They are very friendly. Not what I would expect for a Holiday KOA but does have some amenities. Walmart next to it and gas station close to get ready to hit the road again. We stay every trip south and back. Usually 2 times a year.
Oct 22, 2021
Very nice park with large sites and plenty of space between campers. Nice catch and release pond and plenty of activities for the youngsters. We took a back in site and loved it because it backed up to the woods and was very private. Really enjoyed our stay.
Oct 22, 2021
Has gone downhill since our last stay this spring. Garbage overflowing and girl at check in not very nice. Needs gravel as site are muddy
Oct 21, 2021
Stayed overnight, easy in n out!
Oct 21, 2021
Great place to stop after a long trip across Kansas.
Oct 21, 2021
I love this place for an overnight or a few days, It's time to get some gravel put on the overnight sites. No one wants to spend an hour leveling.
Oct 20, 2021
No professional staff, trash everywhere, fire pits full to the top, dog poop disposal can overflowing, bathrooms filthy, urine on the floor, in the toilets, etc. Worse KOA I ever stayed at.
Oct 23, 2021
So this campground is Right smack dab in the middle of the Midwest but when you pull in the drive something magic happens... And Oasis with beautiful shade trees play areas for the kids, shower and a great night of sleep. Steph keeps this place neat and clean but you never really even notice them. Stop in you'll see what I mean, it's awesome.
- Riff Raff on Google
Oct 19, 2021
Very nice KOA. Has a nice catch and release fishing pond and swimming pool and mining for the kids. Shuffleboard and horseshoes. Nice clean individual shower rooms and small laundry of 3 washers and dryers. Right next door to Wal Mart. We stayed in the back up sites and we loved the privacy and shade.
- Sue R on Google
Nov 18, 2021
Nice little KOA, great for a night or two on the road. Lots of pull thu spaces. We had a gravel pad which was actually very level. Small grass spaces between sites, and maybe a small tree. Bathrooms, and showers were clean. Laundry machines were well maintained.
- Haley Marsh on Google