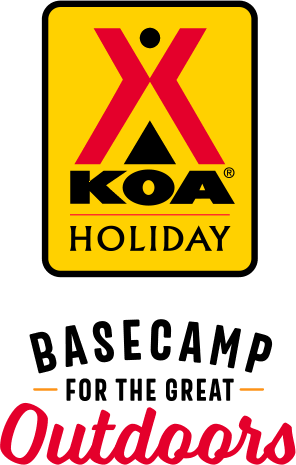 KOA Holiday Campgrounds
Whether you're exploring the local area or hanging out at the campground, KOA Holidays are an ideal place to relax and play. There's plenty to do, with amenities and services to make your stay memorable. Plus, you'll enjoy the outdoor experience with upgraded RV Sites with KOA Patio® and Deluxe Cabins with full baths for camping in comfort. Bring your family, bring your friends, or bring the whole group – there's plenty of ways to stay and explore.
KOA Holidays Feature:
RV Sites with a KOA Patio®
Deluxe Cabins with full baths
Premium Tent Sites
Group meeting facilities
Directions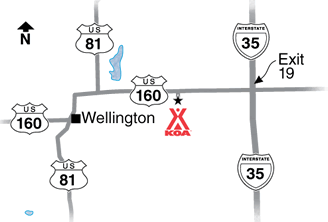 We are 1.5 miles West of Exit 19 off of I-35 also known as the Kansas Turnpike.
If you are traveling on Hwy 81 from the North or South or Hwy 160 from the West, there is a round about that you will travel through before reaching our campground. You can make it through as long as you go slowly.
From the round about we are about 2.5 miles East. If you reach the turnpike gates, turn around you've gone too far.
If traveling from the East on Hwy 160, we are 1.5 miles once you cross over the Kansas Turnpike.
Get Google Directions
Jan 14, 2021
Nice facility.....dirt roads have big holes that should be graded or filled.
Jan 13, 2021
Very clean and friendly staff
Jan 11, 2021
Water in the showers was freezing at best.
Jan 07, 2021
Campground is right off the turnpike, easy access and great stop for overnighters. We stayed 3 nights. Dog waste in the Dog Park was overflowing the first day and was never emptied. Laundry facility was ok, however someone left clothes on table, not sure if clean or dirty. Bathrooms were clean, showers nice. one toilet constantly leaked, they were waiting on plumber.
Jan 04, 2021
Train engines, train loading and train whistles ALL NIGHT LONG. I could literally feel my bed rumble. Industrial area on the other side with loading docks. Water spigots are not winterized and even though it only got to 20º at night the camp manager came around and shut our water off!
Jan 03, 2021

We stayed in the Deluxe Cabin and very Clean. We only stayed for one night but saw a Beautiful Sunset. Also enjoyed takeout in the area at The Dore Bar and Grill.
Dec 30, 2020
Easy entry, good facilities, lady working the office very nice and helpful. Great service
Dec 28, 2020
One night. Arrived late 9ish. Late check in was flawless.
Dec 27, 2020
We spent one night there while we were picking up two new Border Collies from a breeder near them. Everything was great.
Dec 24, 2020

Beautiful cabin. Very clean and had all sorts of comforts. Highly recommend.
Dec 15, 2020
Always a pleasure to stay there.
Dec 14, 2020
We woke up to about 4" of snow. I asked if they had a ladder we could borrow to remove the snow from the slides and of course they did! It was greatly appreciated! We will stay there again!
Dec 12, 2020
They did a good job of enforcing the COVID protocols which we appreciated. It is VERY convenient to I-35 (the Kansas Turnpike) and close to a Walmart if you need to pick anything up.
Dec 10, 2020
Very friendly staff. Quiet and clean. Town close by.
Dec 07, 2020
We stay here every year on our way south for the winter and then again on our return home. It's a nice, quiet park, close to the turnpike and close to town.
Dec 05, 2020
People complain about the roads on the property, but travel slowly and you don't have a problem. I'm not sure that they don't leave the potholes just to slow rv's down. Sort of a reverse speed bump. Great place to stay. Nice dog area. Close to I 35, but far enough that there isn't any highway noise from it. There are some long term rv's on site. But they have them in a separate area.
Dec 02, 2020
There was a strong sewer smell around the outside of my cabin, K01. The inside of the cabin was clean and the heater worked fine during the cold night.
Dec 02, 2020
The site needs work. The same muddy area in the site was changed very little. It was extremely unlevel.
Dec 01, 2020
Really nice KOA. Nice premium pad which comfortably fit our 39' and jeep. The bathrooms/showers were really nice and the pet area was great with plenty of room for our 80lb labradoodles to play. The only thing missing was a place to put recycling :(
Nov 30, 2020
Spent Thanksgiving night, with my 5 and 3 year old grandchildren, in the KO1 cabin, close by that windmill. Was exciting to play on swings, etc. And to try a little fishing, looking for gems. Was so perfect,quiet and safe. 2nd time staying at Wellington KOA, will definately be back. Thank you, for doing such a great job.
Nov 30, 2020
Real enjoyable stay
Nov 27, 2020
I popped for a deluxe site and it was well worth the extra money. We got a nice, flat concrete pad with a fire pit and swing near the woods.
Nov 24, 2020
Wonderful people, however the trains at night were very loud and nonstop.
Nov 22, 2020
Although ours was a brief overnight visit, we found staff very friendly & helpful. This is a very nice, quiet campground.
Nov 22, 2020
Nice place. Competitive price.
Nov 16, 2020
It was nice as always
Nov 16, 2020
We came in late. Paperwork was there for us. Stayed over nite. No problems.
Nov 15, 2020

Everything was just right. We will be back again next November.
Nov 14, 2020
Over night stop it was great and not far off the interstate!!
Nov 14, 2020

Cutest cabin, so clean and perfect for our purposes.
Nov 11, 2020
Very clean bathrooms
Nov 10, 2020
Short stop over but very nice room to walk dog and very nice swing
Nov 09, 2020
Nice stopover.
Jan 12, 2021
We stayed 1 night in a deluxe cabin and very clean. It was very easy to check-in Also enjoyed the Sunset.
- Jessica Allen on Google
Dec 27, 2020
Return guest. Great park!
- Quincy McGuire on Google
Dec 13, 2020
Clean facilities, and overnight registration was made much easier (than other KOA's) with the provided binder. Would definitely come back if passing through the area.
- D. Anderson on Google