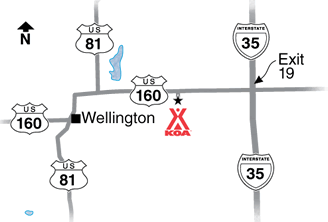 We are 1.5 miles West of Exit 19 off of I-35 also known as the Kansas Turnpike.
If you are traveling on Hwy 81 from the North or South or Hwy 160 from the West, there is a round about that you will travel through before reaching our campground. You can make it through as long as you go slowly.
From the round about we are about 2.5 miles East. If you reach the turnpike gates, turn around you've gone too far.
If traveling from the East on Hwy 160, we are 1.5 miles once you cross over the Kansas Turnpike.
Get Google Directions