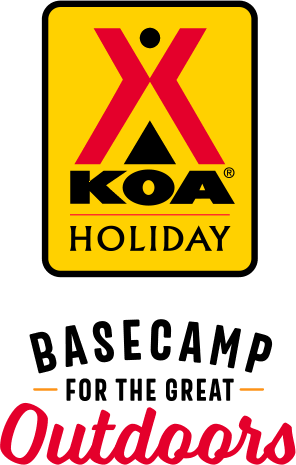 KOA Holiday Campgrounds
Whether you're exploring the local area or hanging out at the campground, KOA Holidays are an ideal place to relax and play. There's plenty to do, with amenities and services to make your stay memorable. Plus, you'll enjoy the outdoor experience with upgraded RV Sites with KOA Patio® and Deluxe Cabins with full baths for camping in comfort. Bring your family, bring your friends, or bring the whole group – there's plenty of ways to stay and explore.
KOA Holidays Feature:
RV Sites with a KOA Patio®
Deluxe Cabins with full baths
Premium Tent Sites
Group meeting facilities
Directions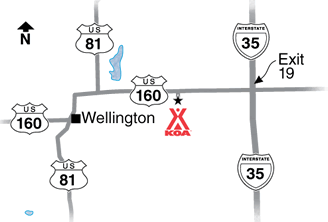 We are 1.5 miles West of Exit 19 off of I-35 also known as the Kansas Turnpike.
If you are traveling on Hwy 81 from the North or South or Hwy 160 from the West, there is a round about that you will travel through before reaching our campground. You can make it through as long as you go slowly.
From the round about we are about 2.5 miles East. If you reach the turnpike gates, turn around you've gone too far.
If traveling from the East on Hwy 160, we are 1.5 miles once you cross over the Kansas Turnpike.
Get Google Directions
Jul 22, 2021
Sister and I brought our grandchildren ages 4-5-6-7. Pool and playground was great. Easy drive to Tanganika and the Dinosaur Park. A good time was had by all.
Jul 22, 2021
Site 21 was a great spot. This KOA is a great overnight stop. It's not a resort, but a great stop between Kansas City and Oklahoma City.
Jul 22, 2021
Quiet and comfy.
Jul 22, 2021
Clean and quiet. Pleasant hosts
Jul 21, 2021
Overnight stay in a motorhome. Great little park. Nice long pullthru spot. Laundry room was clean and convenient. Did not use any of the other amenities. There were lots of outdoor activities set up, but we did not use.
Jul 21, 2021
Very nice park, clean facilities, and fantastic deluxe (concrete pad + pull through) RV parking spot. In addition, I believe that Wellington had the most well-stocked KOA Store of the four KOA parks that we stayed at during this trip.
Jul 20, 2021
Showed up after the office closed. Our paperwork and receipt where in a notebook with directions to our site.
Jul 20, 2021
Never emptied dog park poop container 3 days I was there. Trash piled up outside due to no container. Pool water not clean
Jul 19, 2021
We just stopped for the night while on a road trip, great place to relax and unwind after a long drive.
Jul 19, 2021
The owners were very kind. Definitely will be staying there again
Jul 18, 2021
A pleasure. The campground is close enough to stores and gas stations, yet far enough from the highway that one doesn't hear the auto noise. Will consider staying again. Found a great restaurant called "Penny's Diner" while there.
Jul 17, 2021
Easy location to get too, clean and friendly staff.
Jul 16, 2021
It was great! We pulled in after closing and our site map and other info was waiting for us.
Jul 15, 2021
We had a great stay. Friendly staff. Enjoyed walking the grounds.
Jul 15, 2021
Very clean. Wonderful staff.
Jul 15, 2021
For a fast night stay it was fine. Nice park to stay in the trees
Jul 14, 2021
Clean park, helpful Friendly staff. Enjoyed no mosquitoes! Only stayed 1 night and did not use many amenities but plenty of things to do while there.
Jul 14, 2021
Great site, easy in and out
Jul 14, 2021
Neighbors sewer was next to our picnic table and was very smelly. Did not use table. Pool had small children unattended by adults. Train noise was loud so we ran fan all night. Worked for an overnight stay.
Jul 14, 2021
Great place!
Jul 13, 2021
Met two camping family members there are we all enjoyed our 3 night stay
Jul 13, 2021
The cabin we chose was nice for our small group. Some of the lightbulbs were out or not working, so a little dark, and there was no remote for the tv or a plug for the bathtub. The garbage cans were also completely full.
Jul 13, 2021
Clean bathroom! Level sites and friendly staff.
Jul 12, 2021
Easy check-in. Most sites are shady.
Jul 12, 2021
Well maintained, cute campsite. Very friendly staff!
Jul 12, 2021
We enjoyed ourselves. Bathrooms were clean and there was plenty of room between camping spaces.
Jul 12, 2021
We arrived shortly after closing. Someone was still there and helped us to our site. Park is small, but cared for and is easily accessible.
Jul 12, 2021
It was quiet & convenient for our purpose but the sites are too tight for a class A bus to pull out without asking a neighbor to move a truck or two. The man at the desk was very professional & cheery and had all paperwork ready so in & out was easy.
Jul 11, 2021
Clean; easy to find; friendly staff!!
Jul 10, 2021
Sites uneven, pool is green, store/office is a joke. Don't recommend this HOLIDAY !!!!
Jul 10, 2021
A little attention to detail is needed. Laundry Room was dirty and had not been cleaned in days. Shower floors needed a good scrubbing. Trees needed pruning to provide clearance and to not scratch RV.
Jul 09, 2021
The amount of rain is beyond ones control but the sites we were put in should not have been acceptable. We were traveling through and needed a night stay but couldn't even walk the dogs without being in a swamp/mud filled site, couldn't even get chairs out to enjoy the evening. The sites should have been canceled or moved based on the weather in the local area.
Jul 09, 2021
Great park. Clean, level sites, utilities all work well.
Jul 07, 2021
My family rented 4 cabins over 4th of July and were very pleased with our stay. The grounds were well kept and we felt safe. I did want to point out things only because we will definitely stay again. Not enough towels per cabin, please get sheets for the twin beds, adequate bedding and towels are expected. The loft in my cabin had not been vacuumed. K02. For the price, these things are expected.
Jul 07, 2021
Very nice clean and quiet, very nice setting and location.
Jun 23, 2021
Everything you need for a nice over night stay.
- Shelley Sprague on Google
Jun 16, 2021
We only stayed one night but had a pleasant time. Would return.
- Joe Cantrell on Google