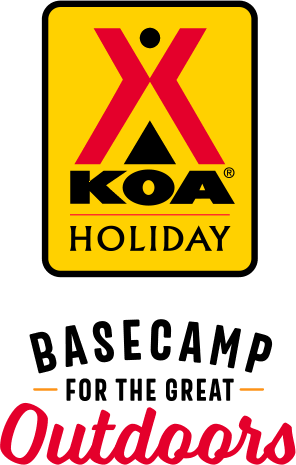 KOA Holiday Campgrounds
Whether you're exploring the local area or hanging out at the campground, KOA Holidays are an ideal place to relax and play. There's plenty to do, with amenities and services to make your stay memorable. Plus, you'll enjoy the outdoor experience with upgraded RV Sites with KOA Patio® and Deluxe Cabins with full baths for camping in comfort. Bring your family, bring your friends, or bring the whole group – there's plenty of ways to stay and explore.
KOA Holidays Feature:
RV Sites with a KOA Patio®
Deluxe Cabins with full baths
Premium Tent Sites
Group meeting facilities
Directions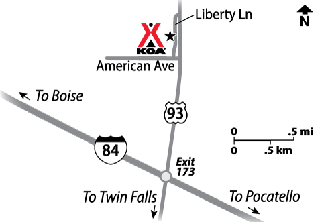 From Interstate 84: Exit 173 and go 1 mile North on US 93.  After Flying J truck stop, turn left at American Avenue and turn right on Liberty Lane to our driveway.  If you miss American Ave., there is another entrance to Liberty Lane further North.
From Nevada: Drive North on US 93 until it becomes Poleline Road in Twin Falls. Turn left at Blue Lakes Blvd. and drive North across Snake River Canyon/Perrine Bridge and continue for about 4 miles. Blue Lakes Blvd becomes US 93 as you cross the bridge.  Go under Intersate 84 and then turn left at American Avenue and turn right on Liberty Lane to our driveway.  If you miss American Ave., there is another entrance to Liberty Lane further North.
Get Google Directions
Oct 18, 2021
very clean restrooms and showers. Overall very happy with our stay. We will stop by again.
Oct 18, 2021
Stayed a few days. It's cold, so no outside activities, but I know in the spring and summer there is more to do.
Oct 18, 2021
We had a late arrival and our paperwork was in the late arrival box. It was easy to find our campsite with their directions. We have stayed here before and every time have been happy with the cleanliness of the restrooms, showers and grounds. Staff is very friendly and helpful.
Oct 18, 2021
Very friendly, professional staff. Clean Parj, restrooms and cabin was very comfortable. TV was a nice addition
Oct 18, 2021
Clean facilities and very friendly staff!
Oct 18, 2021
A very nice stay, again. We've stayed at the Twin Falls campground many times and have always been pleased with the grounds, facilities and staff. Beautiful local attractions, very unique! Thanks for all you do!
Oct 17, 2021
Very friendly and clean. Sites are a little tight.
Oct 17, 2021
This is a nice RV park with friendly and helpful staff. It is located with easy access from the freeway along US-93. There was some road noise, but not too bad. The entire park needs a refresh of gravel, both on the roads and it each site. During several days of rain, our site was flooded and muddy.
Oct 17, 2021
Best handicap bathroom's. There are 4 with roll in showers. Big enough for powerchair and sit to stand. We use the clubhouse to play cards. Recommend this KOA!
Oct 16, 2021
One of our favorite places to stop. Very courteous staff.
Oct 15, 2021
This was not a well maintained park. Spaces are very close together. When we arrived the person in the space next to our pull-through space was hooked up to the sewer and electrical for our space. We were asked to accommodate that RVer and move forward in our space. I feel that they should have asked the other RVer to use the hookups for his space.
Oct 15, 2021
Facilities clean and well maintained - as always. Oscar and staff friendly and helpful. Lighting in large cabins is very well done. Highly recommend this stop to anyone passing through, and as a destination as well. Thanks.
Oct 15, 2021
It was cold for tent camping, but very quiet. It kinda felt like I had the place to myself. �
Oct 14, 2021
Really nice clerk running the store. Very friendly and helpful with offering things to do in Twin Falls and how to get there. Only one complaint. I bought a gift jar of Idaho Huckleberry Jam in the store, gave it to my son and when he opened the jar, it had mold in it�� That was embarrassing. He was so excited to get it, but not fresh. This is our second visit to TF KOA. There will be more.
Oct 14, 2021
Do not want to stay where the showers are unisex. Do not appreciate lack of refund for staying only one night out of 3.
Oct 14, 2021
People working there were very pleasant and everything worked very well and we will definitely be back. Thank you. Tim and Jan
Oct 14, 2021
Quick and efficient check-in after a long day on the road. Friendly and helpful folks.
Oct 13, 2021
Pleasant people, quiet, immaculate grounds
Oct 13, 2021
Passing through on our way to Boise. This was our 2nd stay and will definitely stay here again.
Oct 13, 2021
I only stayed overnight, and came when it was dark, but it was very nice. The staff was very friendly and helpful, the facilities were clean and it looked like a very nice place to stay. I hope I can stay longer next time!
Oct 12, 2021
A nice facility, but put up front near the road (traffic noise) - probably near the season adjustment? A down poor of rain left us hopping puddles around our RV space. Staff were very polite and helpful!...
Oct 12, 2021
I always enjoy my stay at this Twin Falls/Jerome KOA whether it be in our motorhome or in one of the cabins. Their amenities are superior especially the store (huckleberry syrup) and ice cream social are among my favorites. I always enjoy the beautiful sunsets in the grassy meadow or on the deck on the pond. I highly recommend this perfect spot for any stay!
Oct 11, 2021
My site was so small that if I had a slide out i would have been about 12 inches from my neighbor. Site also flooded making it miserable to get in and out with out boots. Staff says it rains and live with it and don't worry about your power cord being 2" under water, while there were other sites available. I stay at KOA for a quality site everything but definitely not hear. Won't stay here aga
Oct 11, 2021
Very accommodating. If in the area, we'll be back.
Oct 11, 2021
Stay was awesome, staff were very friendly and made everything easy and comfortable for us. Site was clean, and very well kept.
Oct 11, 2021
Nice facility - 1 night stay - close to many options
Oct 10, 2021
As always, a short, pleasant stay!!
Oct 10, 2021
Right on the highway...couldnt get away from the noise. The traffic is so noisy, you can't sit outside or sleep well.
Oct 10, 2021
I decided, last minute to not camp at a state park because I wanted a shower, hahaha. KOA Twin Falls/Jerome was quick to accommodate and provided great facilities. Thanks KOA!
Oct 09, 2021
Everything was great. The grounds nicely laid out with room for the RV. The WIFI service was great, this was very important since we had to do payroll for my company. KEEP UP THE GOOD WORK PLEASE
Oct 09, 2021
We were only traveling through the area & stayed one night. Easy pull-thru and a greeter on a 4x4 lead us for the easiest parking. Clean bathrooms, well stocked store, corn hole and several other games available. Nice fire ring and picnic table. If we were to stay for a few days would like a space on the back loop. Friendly staff.
Oct 09, 2021
Nice campground.
Oct 08, 2021
Nice campground, host were very friendly, even had a treat for the dogs upon check in,
Oct 08, 2021
This is a very nice, well maintained KOA. Our back-in, 30 amp + water site was perfect for us and one of the best KOA sites we'd ever had. BUT the stockyard or massive dairy farm and/ or manure smell was so overpowering for us that were unplugged everything and left within an hour. Maybe it was just a bad air day?
Oct 08, 2021
Very nice KOA.
Oct 07, 2021
Very clean nice shower facilities level sires
Oct 06, 2021
Quiet location!
Oct 06, 2021
wonderful as always.
Oct 06, 2021
I stayed in cabins at Twin Falls/Jerome KOA 3 times this year. We love the park! On October 4, 2021 cabin DC01 was not acceptable. The cabin had a "horrible" odor, no hot water & the TV would not hook up to the internet. The odor was my biggest concern. We noticed this after the office closed. We kept a window open, AC & ceiling fan running all night. I would appreciate a one-night refund/credit.
Oct 06, 2021
Nice campground. Cabin was clean and comfortable.
Oct 06, 2021
Nice location, quiet and clean. Was on the way to Craters of the Moon, and stopped by Mammoth Cave and Ice Cave. Both were interesting. Have many nice photos of falls, and the other stops. Would be willing to share them!
Oct 06, 2021
Nice campground and facilities, good customer service.
Oct 06, 2021
The lady who answered my call was so nice and friendly we decided to renew our membership. Will stay here again for sure! The wifi was amazing and we were even encouraged to stream as much as we wanted.
Oct 14, 2021
It was cold for tent camping but very quiet. It kinda felt like I had the place to myself.✌
- Jeffery Perkins on Google
Oct 10, 2021
I had a last minute change of plans and KOA Twin Falls/Jerome was quick to accommodate! I was tent camping and the site had great grass to pitch on, plus was set up so that the headlights of my car were able to flood the site. Perfect, because I wasn't able to get to the campground until after 10pm. The store was closed upon arrival and check in was simple and understandable. Thanks KOA!
- Tara Sartain on Google
Oct 04, 2021
Well kept, good facilities.
- Tim Hief on Google