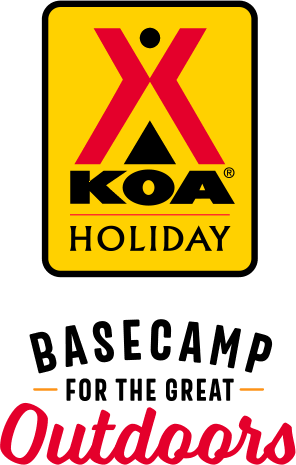 KOA Holiday Campgrounds
Whether you're exploring the local area or hanging out at the campground, KOA Holidays are an ideal place to relax and play. There's plenty to do, with amenities and services to make your stay memorable. Plus, you'll enjoy the outdoor experience with upgraded RV Sites with KOA Patio® and Deluxe Cabins with full baths for camping in comfort. Bring your family, bring your friends, or bring the whole group – there's plenty of ways to stay and explore.
KOA Holidays Feature:
RV Sites with a KOA Patio®
Deluxe Cabins with full baths
Premium Tent Sites
Group meeting facilities
Directions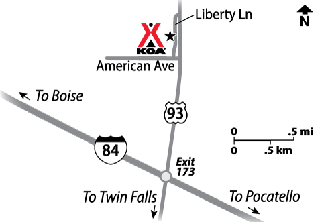 From Interstate 84: Exit 173 and go 1 mile North on US 93.  After Flying J truck stop, turn left at American Avenue and turn right on Liberty Lane to our driveway.  If you miss American Ave., there is another entrance to Liberty Lane further North.
From Nevada: Drive North on US 93 until it becomes Poleline Road in Twin Falls. Turn left at Blue Lakes Blvd. and drive North across Snake River Canyon/Perrine Bridge and continue for about 4 miles. Blue Lakes Blvd becomes US 93 as you cross the bridge.  Go under Intersate 84 and then turn left at American Avenue and turn right on Liberty Lane to our driveway.  If you miss American Ave., there is another entrance to Liberty Lane further North.
Get Google Directions
Apr 06, 2021
We arrived late and the check in instructions in the envelope was concise and easy to understand and our stay was very pleasant. Thank you
Apr 06, 2021
Small, but easy in and out. Close to the main road but very quiet.
Apr 05, 2021
Great place love staying
Apr 05, 2021
Campsites too close together but clean and adequate for short stay. Restroom/ showers very nice and clean.
Apr 05, 2021
Checked in close to midnight had a few electric only spaces left. Someone came immediately to the site to be sure we paid. Ask if there was somewhere we could get water, they said maybe tomorrow if someone leaves early enough. Showers were just drizzle cool water. Had to clean it up before use. $43. Only paid $37 nite before for full hookups and hot shower. This will be on never again list.
Apr 04, 2021
It was extremely difficult to contact this facility to make changes to our booking. Their phone goes straight to after hours during the day, and when we did finally get in touch with them, the representative was grumpy with us. We did not feel welcome, even though he ultimately fixed the financial part of things. He did it in a way that I'm not sure I want to go back. Facilities were fine.
Apr 04, 2021
We were there just overnight. The site was big and very nice. The staff was very helpful. The upgrades/remodel are going good and will make this even more pleasant.
Apr 04, 2021
Great place to stay, we want to thank the staff for working with us for a spot to stay we ended up meeting very great neighbors and believe we will be life time friends, thank you
Apr 04, 2021
Friendly staff, welcoming. A busy weekend so the camp was very full.
Apr 03, 2021
Stayed one night as a stopover on our way home. Very easy access from Highway 84. Check in was quick. Park was clean and everything was as advertised. WiFi worked great. Would definitely recommend this campground.
Apr 03, 2021
We just stayed overnight on our trip home to western Washington, but we appreciated the helpful staff and nice facilities for the short time we were there.
Apr 03, 2021
We love how kid friendly it is. Traveling with two littles it's nice after a long drive to take them to the park and get out some wiggles.
Apr 01, 2021
Very friendly staff. The public restrooms/showers were so nice, updated, and clean. The RV sites were well maintained and spacious.
Mar 31, 2021
The staff and owners are so amazing. We have stayed here several times and it's always clean and so welcoming
Mar 31, 2021
We have stayed in many KOS's. This one alway have a new surprise "or 2". Always improving. Also clean. Never had bad experience. Will continue to use Twin/Jerome KOA. We love it �����. Can't get any better than this.
Mar 31, 2021
I appreciate your willingness to accommodate when we needed to change our date due to inclimate weather while traveling that set us back.
Mar 31, 2021
We didn't see much, arrived after dark and left before sunrise. But we still felt taken care of, especially with clean and heated bathrooms/showers.
Mar 31, 2021
Just a quick stop for the night but it was perfect. Thank you!!!!
Mar 28, 2021
Just overnight but was easy access and love the full hookup!
Mar 27, 2021
Check in was easy and the staff is very accomplished. The site we were in was nice except for the placement of the sewer hookup was a bit out of place for my unit. We did not stay long and it was not a bother. We backed up on departure and dumped our tanks. We will come back
Mar 26, 2021
Always my go to when i need a place to stay in my RV. Thank you as always!!�
Mar 26, 2021
Only stayed overnight but staff was very courteous. Easy access off highway and pull thru site was fine.
Mar 24, 2021
This facility is continuing with improvements. The main building/bathroom area is being upgraded. The number of sites has increased. It looks like amenities and landscaping is next. This was a great spot for our overnight stay as we were passing through.
Mar 24, 2021
The only issue I had was trying to find a trash receptical
Mar 23, 2021
We stayed one night. We are traveling to CA. It was clean, plenty of room for RV. Hook ups were good.
Mar 22, 2021
Very quiet. To cold and windy to do anything but the little golf course would have been fun otherwise. A nice man came out to greet us when we pulled in after hours which was awesome.
Mar 20, 2021
Over all the park facilities were acceptable, inline with our expectations from prior KOA stays. The road noise during our stay was loud, even within our RV we could hear cars and trucks traveling the highway throughout our stay.
Mar 20, 2021
Always acconodating !! Thanks again, its why i return���
Mar 19, 2021
Under construction. Will be awesome when it's finished!
Mar 18, 2021
Excellent stop. Friendly and clean. Would stop again...
Mar 18, 2021
We stayed during a major renovation of the "store" area and it was fine. Very friendly staff, quiet area (except for a little bit of road noise from the nearby highway). We'd stay here again if we were in the area.
Mar 17, 2021
The folks that manage the campground are super sweet! Our.fur babies received treats. It has a lovely dog park. Would definitely stay again.
Mar 17, 2021
Friendly and quiet. Nice place, close to lots of fun places to visit and explore .
Mar 14, 2021
Very organized. We were coming in late for a pass through night and it was easy to find our spot and get situated. Nice wide pull through spot.
Mar 10, 2021
Very very nice folks that run this Park. Very accommodating abs friendly.
Mar 09, 2021
The campground area and restrooms were very clean. The hosts were very friendly and helpful. It was a very good location for me on my way to and from a dog event in Nampa. I will stay there again on my travels.
Mar 09, 2021
Just overnight but the shower was nice and clean and the office people were easy to work with
Mar 31, 2021
Heated bathrooms/showers are lifesavers. We arrived in the dark and left before sunrise so we never interacted with staff, but still felt taken care of
- Matt Hopper on Google
Mar 17, 2021
Nice stop. Friendly and clean.
- Bob Clark on Google
Feb 19, 2021
We stayed here very last minute as a crazy snowstorm made us stop sooner than we wanted. Was easy to get a last minute reservation, place seems well kept and nice that they have individual bathrooms/showers rather than community. We came late and left early so didn't really use much of the facility, however for anyone "car camping" as we were- the fire pits are in the separated area from where your car parks. Just an FYI.
- goforamanda on Google