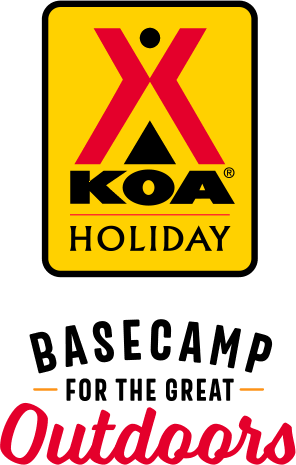 KOA Holiday Campgrounds
Whether you're exploring the local area or hanging out at the campground, KOA Holidays are an ideal place to relax and play. There's plenty to do, with amenities and services to make your stay memorable. Plus, you'll enjoy the outdoor experience with upgraded RV Sites with KOA Patio® and Deluxe Cabins with full baths for camping in comfort. Bring your family, bring your friends, or bring the whole group – there's plenty of ways to stay and explore.
KOA Holidays Feature:
RV Sites with a KOA Patio®
Deluxe Cabins with full baths
Premium Tent Sites
Group meeting facilities
Directions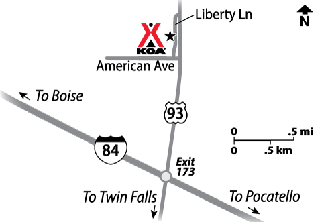 From Interstate 84: Exit 173 and go 1 mile North on US 93.  After Flying J truck stop, turn left at American Avenue and turn right on Liberty Lane to our driveway.  If you miss American Ave., there is another entrance to Liberty Lane further North.
From Nevada: Drive North on US 93 until it becomes Poleline Road in Twin Falls. Turn left at Blue Lakes Blvd. and drive North across Snake River Canyon/Perrine Bridge and continue for about 4 miles. Blue Lakes Blvd becomes US 93 as you cross the bridge.  Go under Intersate 84 and then turn left at American Avenue and turn right on Liberty Lane to our driveway.  If you miss American Ave., there is another entrance to Liberty Lane further North.
Get Google Directions
Jul 27, 2021
The camp host greeted us at the main entrance even though we were a late arrival. He even went and got our reservations papers instead of us having to get out of our vehicle. A great campground, high recommend!! Thank you.
Jul 27, 2021
Just spent 1 night on our way to Yellowstone. It was great. Staff was fantastic. Our son had plenty to do to be happy.
Jul 27, 2021
My trailer ran into a boulder in the driveway because there was another trailer on my left. It was in front of the sign that read "Swing Wide". After I checked in, she said the guide was ready to take me to my site. The other trailer had moved up and the guide was in his cart in front of me. I assumed I was to follow him. He never spoke. It caused my trailer to crash into a large boulder. Angry.
Jul 27, 2021
Very welcoming and friendly hosts. Deluxe Cabin was very clean and well equipped. A quiet and restful stay. Thank you.
Jul 27, 2021
Comfortable stay with great ADA shower!
Jul 27, 2021
Clean and friendly. great hosts and activities. Will stay here again.
Jul 26, 2021
The sites are WAY too close together. You have to share your outside space with the campers next to you. No privacy at all. There are what appear to be homeless people living in campers right next to travelers. No thanks. There are not enough bathrooms/showers for the number of sites and one of them didn't have hot water.
Jul 26, 2021
I just needed the bed coming and going. I liked the camp and personal though.
Jul 26, 2021
Even though a tree limb fell on my trailer and having to move to another spot you are still my favorite KOA. Love it!
Jul 24, 2021
Awesome place....thanks for the stay
Jul 24, 2021
All facilities were clean and the restrooms/showers were very nice. Also, the staff were very friendly and accommodating. Our site was big enough and well kept.
Jul 24, 2021
At times there is a smell of horse manure. Don't know where that's coming from.
Jul 24, 2021
This was our third time to stay at the KOA in Twin Falls Jerome, the staff is extremely friendly and knowledgeable. It is a great location to spend a few days exploring the Twin Falls area. You have to enjoy the ice cream social in the evenings.
Jul 24, 2021
Stayed only one night driving through. Definitely a great place to stay and experience the surrounding attractions. This was my second time staying here and the staff are very friendly and helpful. Facilities are clean and accommodating. If you're going to be in the area I recommend staying here.
Jul 24, 2021
A great place for a night or tee as you visit Twin Falls. It is well located. Spaces are very small but the dust preventative on the road is great.
Jul 23, 2021
The pool was being cleaned during open pool hours and the cleaning man couldn't care less that we planned to swim before checking out. So we couldn't even use the pool and that was one of our reasons for choosing KOA. Also, the bathrooms were filthy with trash everywhere and muddy, toilet paper on the floors!
Jul 23, 2021
The dirt roads deliberately have some sort of solvent applied and besides the appearance of the roads looking very awful, the dirt readily gets tracked inside RV's. Invest into asphalt. The lack of any shade, lack of any grass and the considerably small lot space made the experience much less enjoyable.
Jul 23, 2021
This is a great park to stay in. Quiet, pet friendly and lots to do. We are staying there 2 more times in August 2021. We recommend.
Jul 23, 2021
I upgraded to a cabin w/balcony. I thought it was supposed to have a microwave like our previous cabin. But it did not. I asked the Girl in the office/store, she said it wasn't supposed to have a microwave. The cabin had a mini Fridge, A/C & TV. So why no Microwave?? I had dinner stuff that needed to be microwaved. Plus no microwave in office. Bathrooms were a mess this time!! Dryers broken!
Jul 22, 2021
We loved our 2 week stay!!!! Centrally located for short drives to many activities. Camp was clean, pool pristine, lovely store, staff friendly and helpful with special delivery mail. Used laundry twice, not crowded. Great stay!
Jul 22, 2021
Lovely stay. Especially enjoyed the ice cream gathering each evening. Everything was very clean and cared for. Staff very friendly and helpful.�
Jul 22, 2021
We like to watch dish TV and that was not possible on our site at Twin Falls/Jerome KOA. The sites were tight for us to open all our slides without hitting tree branches.
Jul 22, 2021
everyone was friendly and helpful!
Jul 22, 2021
Real nice facility convenient to the freeway and fuel stations. Mature trees provide a reasonable amount of shade. Twin Falls businesses are about 5 miles away.
Jul 22, 2021
I did not care for the section that we stayed in. The vehicles were face-to-face and back-to-back. So that you shared a common area with the vehicle next to you, and the back of your vehicle so close to the other one that you could reach out and shake hands through the window. Other than that, the staff was incredible, the Park was clean and the amenities were very nice.
Jul 21, 2021
I enjoyed our stay. It was really hot but air conditioner was great. We didn't warm or hot water in our cabin but other than that it was great.
Jul 21, 2021
Only stayed one night. Very nice. But the showers were a little dirty.
Jul 21, 2021
Nice cabin. Very friendly. Only bad thing is treated gravel was very dirty and makes mud in bathrooms and on shoes.
Jul 20, 2021
We stayed in a deluxe cabin, floor felt dirty when we got there and the dirt/gravel road made having clean feet after showering difficult but the proximity to things to do in town was awesome, store and ice cream and staff were AWESOME
Jul 20, 2021
We have stayed here a number of times on our way east and west, and have always had a good stay. The staff are friendly and helpful, and the campsites are shaded and nice. The store is also well stocked for campers.
Jul 19, 2021
The campground was fairly small and next to cow farmer. The manure smell was bad. The camp was right off a major freeway so traffic noise was bad in the morning.
Jul 19, 2021
This location has an excellent! The campground is clean and quiet and the staff is awesome. I screwed up and accidentally booked for the wrong day, when I showed up the campground was fully booked. The staff told me to go to dinner and they would work on it, and they did. They found room for my family and I and took the stress of the screw-up off my shoulders. Thank you Carlos and team!!!
Jul 19, 2021
We had a great time. I would suggest marking the grassy ares between campers better delineating between spots. We had neighbors move in that took over the entire spot so we had no way to move our pick nick table to the shade. Also, the pool could use a daily cleaning. At least the bugs and debri off the surface.
Jul 19, 2021
80+ campsites and only 6 showers/ toilets? Stayed on a busy Friday and Saturday night and had to wait up to an hour to use a toilet every time except In between check in/out. May I reccomend some honey buckets? Other than that the campground was wonderful. Oscar, the co owner, was great. I would definitely recommend this campground to anyone planning on visiting the area.
Jul 17, 2021
Easy access to the highway. It's clean, clean amenities, friendly stuff, kid and pet friendly. Great place!
- Wendy Frank on Google
Jul 16, 2021
Well kept grounds and friendly staff
- Lisa Kosta on Google
Jul 16, 2021
Most spots have good shade. Nice pool with an actual deep end. Good bathrooms. Conveniently located for Twin Falls and Snake River points of interest.
- Jeff W on Google