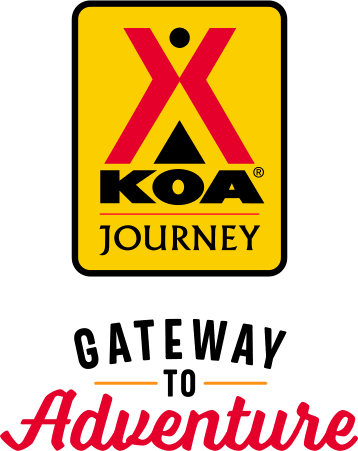 KOA Journey Campgrounds
KOA Journey campgrounds are the perfect oases after a day on the road. Whether it's along the way or a quick getaway, they've got you covered. Located near the highways and byways of North America with long Pull-thru RV Sites, they deliver convenience to the traveling camper. Pull in, ease back and take a load off.
KOA Journeys Feature:
Pull-through RV Sites with 50-amp service
Premium Tent Sites
Well lit after hours check-in service
Directions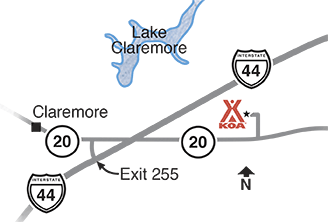 Hwy 20, 3 miles east of Claremore, OK. Will Rogers Turnpike at Exit 255. Follow sign to the casino.
Get Google Directions
May 10, 2021
We always enjoy our stay here! We will see you again soon!
May 09, 2021
Clean and quiet
May 08, 2021
We only stayed one night, but the facilities were immaculate.
May 07, 2021
The road in the park need graded, lots of pot holes. The laundry room was much to small for a park this size, and needs upgraded.
May 07, 2021
Love the park staffs friendly like the race track very clean and well-kept park would definitely stay again
May 06, 2021
What a pleasure it was to wake up to the sound of galloping hooves! We stayed 3 nights and watched a couple of races as well. The smoke free casino next door was a plus!
May 05, 2021
Clean, grounds kept clean and close to casino
May 04, 2021
I only had one issue - part of the issue was that it was a first time for me to pull a camper - don't know the drill. I had no power with the 110 plug in on my pole. Another gal 3 spots down from me had the same issue. B/c I didn't get the desk involved right away in my issue, I wasn't offered any refund on fees or the 60$ I spent on the rv guy to try and track it down. Came home and it worked.
May 04, 2021
Ok place for a quick overnight, but wouldn't spend a lot of time here. Wifi is ok if you are in the office. In these times it should be mandatory the loss have this.
May 04, 2021
It was a real pleasure to watch the horses & jockeys practicing on the track right beside our camper. The Casino is also next door for extra fun! Nice level lots.
May 03, 2021
Stay was great. Only thing lacking was there was no WiFi in the camp ground. Said there was Casino WiFi but none in the camping area.
May 03, 2021
Nice place! Very helpful and friendly staff too!
May 03, 2021
When getting off turnpike we must have missed the KOA signs, also the turnpike from the south did not see any markings. The two ladies were very helpful.
May 03, 2021
There was traffic in and out all night long. There was a road on either side of our campsite. It is next to a casino and we were in a tent. Overall the place was good, the bathrooms clean and staff very helpful. They need to move there's tent campsites back away from the road. Also the campsite itself was very nice. As an RV camper I think it would be great , as a tent camper not so much.
May 01, 2021
No issues with this park.
May 01, 2021
Very much enjoyed the surprise horse racing track & casino. great location and nice campground
Apr 30, 2021
Campground was very wet after 6-8 inches of rain. Gravel site was in good condition. Interesting to be so close to race track. Got to see horses race a couple times. Restroom facilities were very clean.
Apr 30, 2021
Lots of room. Need activities for kids.
Apr 30, 2021
Very nice for a huge KOA. Very well kept clean site. Friendly people. Would stay there again in a heartbeat
Apr 30, 2021
Site was very wet after heavy rains. No run off from pads.
Apr 30, 2021
It was a very nice big campground. The site was good although a little muddy because of the rain it had had. There is a horse race course right there at the campground and a casino. It was quiet though. Would definitely stay here again
Apr 29, 2021
I stayed for a month and the staff were always helpful. I enjoyed being next to the track to watch the horses work out in the morning and race in the afternoon. Looks like there are some improvements underway. I'll be back!
Apr 27, 2021
Short bit perfect
Apr 27, 2021
Very pleasent
Apr 26, 2021
Office staff very friendly. Great dog park. Clean bathhouses.
Apr 26, 2021
was told horses run on Sat. was told wrong
Apr 26, 2021
Nice campground pleasant staff unique in so many ways looking forward to another stay
Apr 25, 2021
Nice campground, clean and friendly staff.
Apr 25, 2021
Our 3 daughters loved getting to watch the horses train each morning. Camp host put us in a site right on the rail!
Apr 24, 2021
nice place to take a break.
Apr 24, 2021
Beautiful grounds, friendly & helpful staff. Casino with bar & grill within walking distance. Would stay again!
Apr 24, 2021
Friendly staff. Couldn't connect to wifi. Sites need a little more gravel. Easy walk to the casino. I would stay here again.
Apr 23, 2021
This is a nice park, it's nothing fancy, but it has nice level sites. The dog park was nice, the only thing wrong with it was the fact that some people refuse to pick up after their dogs (not the parks fault). Our biggest complaint was the fact that the didn't mow most spots, they mowed the rest of the park, but not around our RV and by the time we left 12 days later the grass was pretty tall.
Apr 23, 2021
A little farther out of the way than I expected but watching the horses race across the fence was special, and the staff was very friendly.
Apr 21, 2021
Nice setting, not many trees but well kept. Bathrooms are very clean, covid has made things different but they have handled things well. I'll use them when in the area.
Apr 20, 2021
Wide open campground just your basic layout bathroom we're nice
Apr 20, 2021
Nice place to camp. Very quiet and the staff was super helpful and friendly.
Apr 20, 2021
Large parking lot type camp space. Nice to see the horses practicing for the horse races. Casino is not our thing. Convenient for our RV dealership. Needs to sell propane, and more items in their store.