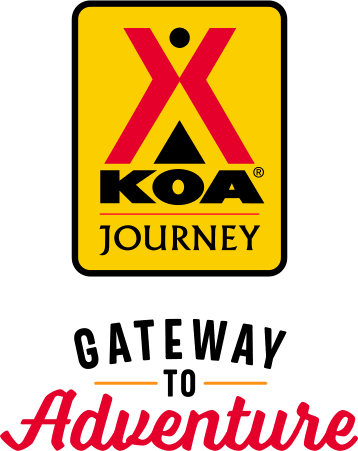 KOA Journey Campgrounds
KOA Journey campgrounds are the perfect oases after a day on the road. Whether it's along the way or a quick getaway, they've got you covered. Located near the highways and byways of North America with long Pull-thru RV Sites, they deliver convenience to the traveling camper. Pull in, ease back and take a load off.
KOA Journeys Feature:
Pull-through RV Sites with 50-amp service
Premium Tent Sites
Well lit after hours check-in service
Directions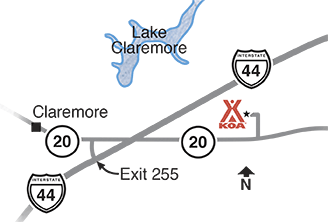 Hwy 20, 3 miles east of Claremore, OK. Will Rogers Turnpike at Exit 255. Follow sign to the casino.
Get Google Directions
Sep 14, 2021
We come down a couple times a year for the horse races. It is very easy in and out and the full hookups are added bonus. The staff has always been extremely helpful and pleasant. Will definently be back. We ususally come with 2 other couples.
Sep 14, 2021
Campground was very well maintained and staff was very friendly and helpful!
Sep 14, 2021
Not sure if the casino is part of the KOA. Just was disappointing about the casino. It was 5:30pm and there was no food served in the casino. NONE!! After driving 6 to 8 hours we were looking forward to having a nice dinner. I thought on the website before I booked they mentioned a restaurant. I may be mistaken,
Sep 13, 2021
Great place to stay one night or a week. Clean and staff very friendly
Sep 13, 2021
This appeared to be one of the older KOA sites that we have found. Sites are extremely close to each other which was new for us and not like the other KOA's we have stayed at. Loved the proximity to the Will Rogers Downs horse track and casino and the grounds were well kept. Good pull-through sites and full hook ups. Internet was fine since we have a booster. Nothing outstanding.
Sep 13, 2021
The check in process was quick and easy. The person working in the office was very nice and helpful. The campground was clean and quiet. The 50 amp worked great. We had a wonderful stay!
Sep 13, 2021
Overall, a nice campground. Relatively clean, but could use a little care. Lots of semi-permanents that makes the campground seem a little dumpy.
Sep 12, 2021
We only stayed one night and the site was perfect for us. We did not take advantage of the horse racing. The bathrooms were very clean and laundry facility was good. The staff were very nice.
Sep 12, 2021
We would have been happier if the woman 2 sites down had not left her camper and her dog barked until 1:30 A.M.
Sep 10, 2021
Stayed 2 nights on our way home to Texas after being on the road 2 mo. Very nice facilities. Men's shower was excellent.
Sep 10, 2021
Overnight stay, was noisy with trains and road noise bust very clean and accommodating.
Sep 09, 2021
Very nice park right next to the race track. Everything is clean and well maintained. Security patrols every few hours. Casino on the property called "Racino"
Sep 08, 2021
Able to see a few horses training at the racetrack right behind our RV spot! Cute little casino w small restaurant. Very long gravel site! Well maintained!
Sep 08, 2021
Very nice park we had fun and the kids also
Sep 08, 2021
Great location. Wish we could have stayed longer
Sep 07, 2021
Stopped twice for one night traveling to and from NM. Easy in & out, RV friendly gas station upon exit, friendly staff, nice bathhouse, well kept grounds. Only downside was no WiFi (why?); WiFi not a deal breaker for one or two nights though, but maybe longer would be an issue.
Sep 07, 2021
I've stayed here several times and it has always been a great experience.
Sep 07, 2021
Clean well maintained park, love it
Sep 07, 2021
Always clean! Staff is friendly and helpful.
Sep 07, 2021
Got in super late, like 7 am. Needed to sleep just a pinch and shower. Blonde haired lady was cleaning the restrooms about the time for the tenants to be waking up as well. There's on thing you gotta do whenever you first wake up in the mornings…you have to urinate! She was extremely rude because I wasn't given a passcode for the restrooms. Then was still made to check out by noon.
Sep 06, 2021
Campground, restrooms, office and laundry were spotless!! Employees were friendly and helpful. Sights were constantly kept mowed and clean. Our only issue was the power outages (4 in 6 days). We returned after long days to a hot coach as the power had been off and circuit breakers were not reset. Great seeing the horses exercise each morningZZ!! Kindest, Mike
Sep 06, 2021
Great overnight stay, the ladies at reception were AWESOME ! Sorry I can't remember their names, but they rhyme!!!
Sep 05, 2021
We were in B40. End of a full hookup row. Next to a power distribution center for the park and a electric transformer. Our 50 Amp voltage was 93v on one leg and 96v on the other.
Sep 04, 2021
Very poor WiFi. Great view of track
Sep 02, 2021
Great view of racetrack. Loved watching the ponies exercise in the morning. Facilities and grounds very clean.
Sep 02, 2021
We were only there for overnight.. But had stayed there before. Very nice Campground, very friendly people easy in easy out
Sep 01, 2021
It was only a 1 night stay very clean & nice accommodations. We'll be back
Sep 01, 2021
Wonderful park , helpful staff What an awesome setting No races yet but did get to see them exercise some horses in the mornings. ���
Aug 31, 2021
Very friendly staff.... Office hour sould be extended. Facilities are well kept.
Aug 31, 2021
Great support team and shaded spots!
Aug 31, 2021
Place was clean and sites were nice but no pool..
Aug 31, 2021
not happy about the coded bathroom doors
Aug 30, 2021
Great rv park
Aug 30, 2021
Beautiful campground. Clean, very friendly. We stayed on our way to Wisconsin, and again on our way home.
Aug 29, 2021
Nice place but way to far out from Tulsa and no cabs or Uber available
Aug 29, 2021
Good quiet location. Very clean restrooms and showers. Some dust from gravel road, but they wet them down every morning, helping a lot.
Aug 29, 2021
It was very clean, nice location and quiet. We will stay here again.
Aug 28, 2021
I made a reservation; got to the KOA in the dark. No one there. I found my map. The map was poorly made. I had to stop and get out to check the site numbers and use my headlights to read the map. The campground was only about 1/3rd full. When I found my site, it was way at the far end of the area with Casino lights brightly shining in. I parked somewhere else. I will never return nor use KOA again
Aug 27, 2021
Nice place, and huge. Friendly and accommodating staff. Spaces are long, and not that close to each other. Well maintained and clean. With a racetrack and a casino, this place would be a fun place to stay, just unfortunate that horses were not running during our short stay. Would gladly stay here again if in the area.
Aug 27, 2021
Very quiet, clean and nice personal.
Sep 01, 2021
Clean, secure (door code) restrooms. Office staff was friendly. Loved seeing the horses practice before we headed out on our journey for the day.
- Tammy Maginn on Google
Aug 23, 2021
Great gaming,excellent food and very friendly employees heads up on the diablo burger its warm
- Bobby White on Google
Aug 05, 2021
Very nice no complaints
- Donna McMurray on Google