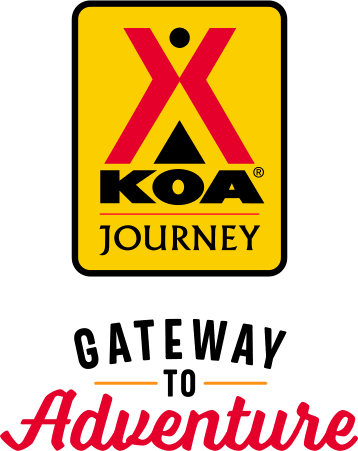 KOA Journey Campgrounds
KOA Journey campgrounds are the perfect oases after a day on the road. Whether it's along the way or a quick getaway, they've got you covered. Located near the highways and byways of North America with long Pull-thru RV Sites, they deliver convenience to the traveling camper. Pull in, ease back and take a load off.
KOA Journeys Feature:
Pull-through RV Sites with 50-amp service
Premium Tent Sites
Well lit after hours check-in service
Directions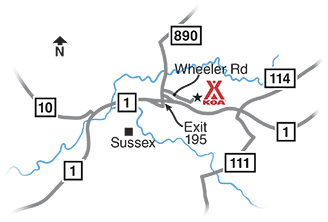 Heading west take Exit 195 right left onto 890 go 200 m turn right onto Wheeler RD go 900 m turn left onto Aiton Road campground is 150 m on your left. Heading west take Exit 195 turn right onto 890 go 200 m turn right onto Wheeler Road go 900 m turn left onto Aiton Rd campground is 150 m on your left.
Heading East take Exit 195 turn left onto 890 go 200 m turn right onto Wheeler Road go 900 m turn left onto Aiton Road campground is 150 m on your left. Heading west take Exit 195 turn right onto 890 go 200 m turn right onto Wheeler Road go 900 m turn left onto Aiton Road campground is 150 m on your left.
GPS: N45.734141, W65.485518
Get Google Directions
Oct 03, 2021
Clean, well maintained grounds and clean washrooms. It would be nice if they had more trees around the lots.
Sep 28, 2021
Very clean and nice and quiet. A wonderful place to unwind. Thanks
Sep 28, 2021
We were denied entry to Canada. I called the campground to cancel and they charged us for one night's stay anyway.
Sep 26, 2021
Overall, it was quiet, clean and well laid out. It has some drawbacks however that should be addressed. 1, 7$ a day for internet? this is the first K O A that has charged me this and I was not amused. 2, despite welcoming dogs, there were no disposal areas and no dog bags. Staff told my wife the owners had removed them because residents were abusing the support. 3, The railroad tracks.
Sep 24, 2021
The kampground is perfect. The location not: Noise from railways and the highways during the nighttime are terrible.
Sep 22, 2021
Clean. Nice views. Lots for the kids to do. Sites for us were not properly marked, when we mentioned this to the young girl working she replied, it happens all the time. Ya think maybe they would have fixed their signs by now. Also have to pay for wifi
Sep 20, 2021
I realize it was later In the season but the bouncy pillow was closed, pools were closed, no activities. Had I paid full price and not used a coupon I would have been very disappointed for the price. Little to do.
Sep 20, 2021
Pools were closed it was 26° all weekend (we were not told until we checked in that they we closed for the season) Bouncy pillow was deflated, we found out when we saw it on our way to our site. Called office to see when it would be in use and were told it had damage weeks ago and wasn't repaired. Their were no youth movies all weekend. Pretty dissapointing last camping weekend for our family
CAMPGROUND RESPONSE / COMMENTS:
Hi Tammy, Thank you for staying with us on Sept 17th. Yes, our pools close after labor day weekend. With the temperature going down to 5/6 at night, it is too cold for the pools. Yes, we might get nice days here and there. Hope to see you again soon!
Sep 18, 2021
Very clean park with lots of things to do for the kids, if you have any.. nice treed lots, well planned out and easy to get in and out of. Friendly staff, park is very well set up and we look forward to returning!
Sep 17, 2021
Really nice RV parking spot.
Sep 15, 2021
Very clean and quiet facilities
Sep 14, 2021
Excellent staff
Sep 13, 2021
Excellent site :)
Sep 13, 2021
Was a great time, everything was well maintained, friendly staff. Will be back next year.
Sep 12, 2021
Only one car allowed per a site is not fair when the seasonals don't have to follow the same rules. Our car would have fit on our site and we would have shared a gate pass. Guest parking should have a light for safety reasons at night. Garbage was too far away from the back sites. Office hours should be earlier for people leaving or keycard box should be locked so no one can take cards from it.
Sep 11, 2021
Amazing customer service, we unknowingly arrived late (our bad for not checking closing times) and then also accidentally booked a dedicated 50amp site when we only had a 30amp hookup. The owner was a customer service gem and patiently waited for our late arrival and then helped us with moving to another site. Super clean bathrooms. Can't say enough good things. I am now a dedicated KOA customer!
Sep 11, 2021
Great campground with a drive in right next to the property. Large pull through sites & clean washrooms. Would stay there again.
Sep 09, 2021
The price is lot more expensive than other koa I stayed , size is smaller, microwave was mounted on the fridge and couldn't use because couldn't reach to connect to the outlet
Sep 08, 2021
It was a nice park and the drive in added charm:) There were fireworks that night that were fabulous!!
Sep 08, 2021
We enjoyed our stay. Thanks for helping me register. Staff (Brett) was so helpful getting us upgraded to cabin during crazy rain. We were worried when there was no security on Sept 1 when there was a huge fight between the people staying at cabins...was worried one lady was going to drive...(alcohol was involved) we were in tent with kids. The screaming was scary for us at that hour.
Sep 08, 2021
It's a nice camp ground but when the drive-in theatre is open it's very loud speakers (volume) until midnight or more.
CAMPGROUND RESPONSE / COMMENTS:
Hi Kim, Thank you for staying at the KOA. The drive In does not have any speakers outside. The movies are played on a radio station 90.5FM and the cars must turn on their radio to hear the movies. Not sure how you could have hear the movie from the cars over in the other Drive In field.
Sep 07, 2021
Great campground and great staff!
Sep 07, 2021
Vwpery pleasant staff. Great facilities
Sep 07, 2021
Sussex KOA ROCKS! We love it so much that we stayed up there for 5 weekends this summer! Place is super clean, camping lots are big! staff are very friendly and helpful! lots of friendly seasonal people! Plenty of stuff to do! This weekend there was a free pig roast, free breakfast! And even fire works! Thank you Sussex KOA! We will definitely be back next summer for sure!
Sep 07, 2021
We had a nice weekend stay @ Sussex KOA. Staff were friendly, the park was neat & tidy & bathrooms were clean. There were lots of activities for the kids & adults to keep everyone busy. After reading these reviews I noticed people need to relax. Not everything will be perfect @ every campground. Go camping.... have fun, relax a bit & don't sweat the small things. Words to live by...
Sep 07, 2021
Excellent stay excellent staff.
Sep 07, 2021
Very nice and clean campground and people very friendly. But your prices for your wood is to hi for what you get. And the bag of ice is to small for the price. But over all very nice & friendly people �
Sep 07, 2021
It was awful, staff were nice but we were yelled at by multiple other campers and when our car battery died during the drive in movie, everyone there watched and did and said nothing to help us. We will not be returning and do not reccomend staying here. Shoutout to the group who eventually helped us, we really appreciated that.
CAMPGROUND RESPONSE / COMMENTS:
Hi Emily. Thank you for staying at the Sussex KOA. Glad to hear you visited the Sussex Drive In, next door! Sorry to hear that the guest at the Drive In did not help you boost your car when the battery died. However, we hope your camping at the KOA was a wonderful experience!!
Sep 06, 2021
Other than the cost the only thing that I would suggest is cleaning up the sites before people stay at a site. Our site was full of rotten apples which attracted lots of hornets.
Sep 02, 2021
Staff not as friendly as we're used to. Owners seemed much friendly off the premises. Alarm at local business went off far too often.
Sep 02, 2021
Enjoyed our short stay, would definitely come back again in the future. Beautiful area.
Sep 02, 2021
First night was horrable as there were people partying past 1 am no one going around to enforce quiet time second night was much better as all other tenters were gone
Sep 01, 2021
Have been coming to the Sussex KOA every summer for the last 24 years. This stay was great the only things was the hours for the store to get camp fire wood were different on the door than on Facebook leaving us to have to go down the road for wood. And the pool didn't open until check out which sucks when staying one night and if it's not good weather the first night.
Sep 01, 2021
The pool is cold, unruly children everywhere. People walking through your campsite. Little privacy. Bouncy pillow was out of service. Playground requires updating. Trailer sites have deep grooves/very unlevel ground, could not place my camp chair without nearly falling over. Campsite was mostly dirt/ the little bit of grass was not mowed. Industrial train runs day and night adjacent to this park.+
Aug 31, 2021
We had so much fun we rented a cabin and got to watch the drive in right from our step the kids loved it
Aug 31, 2021
Très cher, pas d'Internet, pas de pad, très tassé
Aug 31, 2021
Very Clean place and friendly staff. Will definitely be going again
Aug 30, 2021
Very clean and quiet. Sites had lots of space for large campers . Grounds were well kept and with lots of flowers and shrubs.
Aug 10, 2020
Great staff helpful polite made our two day stay a very positive experience for both my wife and I. Thank you to the staff for your hard work and posative outlook We would recommend you to anyone Close to services stores etc we had a great visit
- dougr391 on Trip Advisor
Jul 16, 2020
tranquile, pour adulte et une tente c'était trers bien. Cinéparc juste a coté du camping. employés sympatiques petit hick et je les ai avisé : la poubelle de la salle de bain ne fut pas changer pour deux jour, donc je questionne le nettoyage de la salle de bain meme si elle paraissait propre. bien positionner proche de la high way, ce n'était pas si bruyant
- Ricardiol7 on Trip Advisor
Mar 08, 2020
So on our way home from an epic Newfoundland trip, we failed to gain a campsite at Fundy National Park. Desperate to find a place to sleep, we called the Sussex KOA while booting up the highway to make it before they closed for the night. They accommodated us easily, and were very sweet about us last minute booking into a drive in tenting site. It was spacious, near water, and easy to find. We pitched out tent in the glare of our truck headlights, and shovelled the last of our backpacking meals into our two very tired kids after boiling some water from our camp stove. We were able to get set up and into bed quickly. Our site was under an apple tree, and it being Labour Day weekend, we had to first clear the site ground of apples! A few hit our tent and slid down the fly overnight, which was humorous. Thankfully they had not fermented and the smell was actually quite pleasant!, and none made it under our sleep mats. A cute fence surrounded our wee plot. It was very welcoming. When we woke up in the morning, it was apparent we were smack dab in the middle of RV heaven! Lots of kids roaming around meant my two made fast friends and went and played on the play structure while mom and dad struck camp. This park has a lot of season-long campers, and we didn't notice the drive in on the other side until morning! It looks like a very family friendly, happy place to camp, and we heartily endorse it. Easy access form the highway.
- cardeia on Trip Advisor