Sussex KOA Reviews
We are open! Washrooms, 3-pool and 3 playgrounds are open. Our jumping pillow is not open.
Directions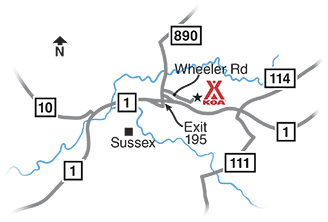 Heading west take Exit 195 right left onto 890 go 200 m turn right onto Wheeler RD go 900 m turn left onto Aiton Road campground is 150 m on your left. Heading west take Exit 195 turn right onto 890 go 200 m turn right onto Wheeler Road go 900 m turn left onto Aiton Rd campground is 150 m on your left.
Heading East take Exit 195 turn left onto 890 go 200 m turn right onto Wheeler Road go 900 m turn left onto Aiton Road campground is 150 m on your left. Heading west take Exit 195 turn right onto 890 go 200 m turn right onto Wheeler Road go 900 m turn left onto Aiton Road campground is 150 m on your left.
GPS: N45.734141, W65.485518
Get Google Directions
Sep 14, 2020
Had a wonderful stay. We will definitely be back.
Sep 11, 2020
Seasonal campers were yelling, playing loud music all 3 nights there AFTER the 12am quiet time! WILL NOT BE BACK
Sep 11, 2020
Nice park well kept, clean, found your rates were little over priced, off season rates should apply as pools were drained, etc. We paid $40, nite in St Martins for a water front lot,
Sep 10, 2020
Understanding that this campsite is near a busy highway and train tracks and their associated noise, campers in 2 cabins were extremely noisy and obnoxious (loud music, yelling and foul language) for the evening of September 4th until 1:50 am of the 5th. They were advised by staff at 12:50 am to quiet down but continued until 1:50 am. Another camper was surprised by the slow response of staff.
Sep 10, 2020
The cabin we stayed in was clean and comfortable. The swing for watching the drive in movie was perfect. Check in was a breeze. The bathrooms were close and clean.We will definitely be back.
Sep 09, 2020
It was good but the lots are to close together and it's very expensive
Sep 08, 2020
The lady greeting me was very snippy and quick on me. Made a reservation that was approved by phone and she said the two sites I reserved was not available anymore. She accommodated us with different locations but trying to blame the online system. Again, I called to make the reservation. Lot of parties after midnight so if you have kids, make sure to considering this. 3 PM checking is not cool
Sep 08, 2020
Great weekend! But very disappointed that the rates went up. Camped there 3 times this summer but prices were higher for the long weekend.
Sep 08, 2020
The park itself is very family oriented and nice, the only concerns were with the season as they were very rude and party late. We were put near the coaches corner and apparently they are known for partying so unsure why families with small children were put in this area.
Sep 08, 2020
The tenting areas really has no privacy and would not recommend tenting.
Sep 08, 2020
We had a great time at the KOA in the past and I've recommended the KOA to friends many times. Firstly, we were assigned the wrong lot #238 and had to move #236 due a front desk mistake. Then the front gate fell on my truck and did significant damage. My wife swiped the card and proceeded to drive through the gate and it fell on my truck smashing it. Entire front of the truck was through!
CAMPGROUND RESPONSE / COMMENTS:
Reviews from customers are sometimes biased and tainted. This customer ran the gate and it was caught on video. He even called the RCMP and they left after seeing the video, customer was liable, not us.
Sep 07, 2020
Emplacement du camping entre l'autoroute et le train, très bruyant. Pratiquement pas d'arbre, peu d'intimité. Règlementation oppressante par rapport aux aires de jeux pour les enfants.
Sep 07, 2020
Staff were more then friendly & helpful. But 1st night quite a few were partying loud & long into the night security went down but nothing happened ,so assuming they were seasonals & nothing was said to them .They were not around on Saturday night but across from us made up for them they were loud till 3:30 am Sunday morning again seen security going there but did'en stop anything. Also fire pits
Sep 07, 2020
Overall the facility is really nice. My only complaint, fallout, is that the placement of the electrical outbuilding made it a tight squeeze to get to my site; I almost hit a picnic table, the building itself and drove into a fire pit. Also the campers in the site behind us didn't respect the quiet time and were speaking loudly and playing music past 1am. That isn't the campground's fault though.
Sep 06, 2020
When I arrived the staff had gave away my reservation. My partner and I went to eat, and I asked them to call me when things were sorted out. After two hours I called the campground back to ask what was the status, and they said "everything is figured out", which then I asked, why they did not call me and inform. I got a $50 refund but it should have been a full refund in my mind. Not pleased!
Sep 01, 2020
With the capacity being very low this weekend I was not very happy with our location in the park. There was no offer to move us to a better site. We left early and the reply was thanks for staying instead of what could we have done to make it better. We will not be returning.
Sep 01, 2020
We took our grandchildren for an overnight stay in one of your cabins, the staff were extremely pleasant, the cabin and washroom were impeccably clean. We had a fantastic stay and will be definitely doing it again. The only suggestion I would make would be to put hand railings going up the steps to the cabins, was extremely difficult as I have a physical disability and required help going in, out
Sep 01, 2020
We loved the camp grounds! The tent area with the crab apple trees was beautiful. Bathrooms and camp grounds were clean. Staff was informative. Can not wait for our next visit!
Aug 31, 2020
I found the cabins quite pricey for not having a bathroom in them. Our over all experience was good and we would stay again just maybe not in the cabins.
Aug 29, 2020
I stayed in other KOA sites and was pleased, but the one in Sussex wad a first and last time i will be staying there. When i went to the front desk i asked for a bag of ice and was told that to do a purchase that i had to buy a minimum of 15$ with my debit/visa. Plus the lots were too open, no privacy between the sites.
CAMPGROUND RESPONSE / COMMENTS:
Sorry, we are charged minimums by the merchants and have to pass it along for smaller transactions.
Aug 28, 2020
Our second time here. Very clean. Everyone friendly. Quiet respectful campers. Walking distance to town for restaurants and shopping.
Aug 24, 2020
This was our second weekend trip to Sussex KOA, and we found it to just as good as our first, the staff are very pleasant, the camping neighbors are very friendly and helpful. The grounds and amenities are very good.
Aug 24, 2020
had a great time, bathrooms were clean, and lots were a good size.. could have had more seating around pool area..had an amazing time and we will most likley return one day ..thanks for a great weekend
Aug 24, 2020
My kids loved camping and swimming at the pool.
Aug 24, 2020
not for seniors
Aug 24, 2020
This was a friendly, clean, amazing campground. The pool was freezing - but I suppose that is what you get for mid to late august ;)
Aug 24, 2020
Found grass to be unkempt, bathrooms were ticked off as being cleaned at appointed times but no paper towels in Men's bathroom for several hours, same spider webs in women's bathrooms for length of stay. sewage donuts mandatory but noticed most did not have them in our area. Halloween event was great fun. Pool water was freezing cold. Recycling and garbage overflowing. Kids had fun!
CAMPGROUND RESPONSE / COMMENTS:
We held back on cutting grass so it wouldn't burn out! It's been an extremely dry summer. Garbage dumpsters are enclosed and out of site, often campers throw the garbage on top without placing it in the dumpster and it creates this untidy sight on late Sundays. We try to educate everyone!
Aug 23, 2020
We really enjoyed our stay. Everyone was so kind and friendly. I loved that there were proper bathrooms, running water and an electrical outlet close to the unserviced tent lots. Some places I have gone to only have a portipotty type toilet close to unsecured lots. The only complaint I have is how close the lots are to each other. There isn't much privacy but the playground and pool were close by!
Aug 21, 2020
Very peaceful, private a place to relax and have a break from the mad world we live in. It is handy to many sight seeing places and activities as well as many places to shop in the beautiful town of Sussex. While driving in Sussex we found drivers very considerate and courteous. Well satisfied, thank you.
Aug 20, 2020
Very clean facilities. Reason my recommendation rate is middle-of-the-road is just our preference for wooded and more private campsites. The campground provided the amenities and sites were as to be expected for the type of campground it is. Firepit locations dug into the ground seem a little dangerous - people can stumble into them without anything higher as barriers.
Aug 20, 2020
Check-in was easy, staff was friendly, our site was located close to the washrooms, the washrooms were nice, having the Drive-in right at the campground was a bonus. It was all good.
Aug 19, 2020
just loved everything there! lovely first meeting at the front desk. There were 3 young ladies and they were fabulous. I have not had a good check-in like that before! love that there is a dog park, it is small but does the trick. It is cool to see the drive in next door, makes you remember the old days. Great public washrooms and lots of dogs and kids. Old school campground
Aug 19, 2020
The neighbours we had used our power outlets as well as their own so we had no power at our site.
Aug 19, 2020
It was great! We stayed in one of the cabins, there was a good size play area for the kids. The pools and playgrounds weren't far away. Couple of small complaints, the washroom nearest us ran out of paper towel and it took a while for it to get refilled even after letting someone know. The people in the cabin next to us were loud and kids were outside playing as late as 3:00am! No security went by
Aug 18, 2020
We had a great time camping there. lots to do, and a very clean facility. The Nature Trail is a real bonus, it's so nice back there by the river. We will be back soon.
Aug 18, 2020
We were only in for one night on our way to Campobello Island! The pull throughs are great although a little expensive. The check in staff were very friendly and inviting. Looking forward to staying longer next time!
Aug 17, 2020
We had a great time! The kids were busy the whole weekend. Definitely will be back
Aug 17, 2020
The campground was amazing the people were very friendly but you sure know that people are tripling there cost on items like the mini propane tanks and the spot that I had to have a pull through because I have a big 5th wheel and the tree right at the end of the pull through made it very difficult to get out I actually had to remove the ring and drive across another campground spot
Aug 16, 2020
First time staying at a KOA campground. Reserved a serviced lot but servicing wasn't clearly marked at my site. Went back to gatehouse for clarification, was told everything was ok and to hook up at the site. Later on another trailer setup on adjacent lot and told me that they had the servicing. Was glad my family stayed for only one night instead of multiple nights like we originally had planned.
Aug 10, 2020
Great staff helpful polite made our two day stay a very positive experience for both my wife and I. Thank you to the staff for your hard work and posative outlook We would recommend you to anyone Close to services stores etc we had a great visit
- dougr391 on Trip Advisor
Oct 09, 2019
What an amazing campground!!! Stayed with my family for one week an we had a blast. Campground and Bathrooms were impeccable!!! The owner, Don, even swung by one night asking if everything was fine!!! How is that for service!
- Pyth0ss on Trip Advisor
Sep 25, 2019
"Stayed here this summer. Campground is super clean, bathrooms are very tidy. It was nice to see the Drive in, they are becoming extinct elsewhere but this one is packed! Met the owners during our stay, there were very friendly and even escorted us to our camping site as this is a huge campground! Wi-fi works great, even upgraded to the faster version so I could watch my Neflix! I would come back for sure, they have this down home appeal to them!"
- CamperLiz on Trip Advisor

Sussex KOA
Open May 14 - September 27
133 Aiton Rd
Sussex, NB E4G 2V5 Canada
Check-In/Check-Out Times
All Sites
Check-in: 3:00 pm, Check-out: 11:00 am
Accommodations, RV Sites, Tent Sites
Check-in: 3:00 pm, Check-out: 11:00 am
Get Google Directions

© 2020 Kampgrounds of America, Inc.