Sussex KOA Reviews
We are open! Washrooms, 1-pool and playgrounds are now open!
Directions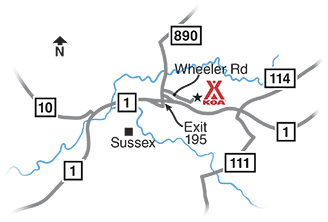 Heading west take Exit 195 right left onto 890 go 200 m turn right onto Wheeler RD go 900 m turn left onto Aiton Road campground is 150 m on your left. Heading west take Exit 195 turn right onto 890 go 200 m turn right onto Wheeler Road go 900 m turn left onto Aiton Rd campground is 150 m on your left.
Heading East take Exit 195 turn left onto 890 go 200 m turn right onto Wheeler Road go 900 m turn left onto Aiton Road campground is 150 m on your left. Heading west take Exit 195 turn right onto 890 go 200 m turn right onto Wheeler Road go 900 m turn left onto Aiton Road campground is 150 m on your left.
GPS: N45.734141, W65.485518
Get Google Directions
Jul 11, 2020
I was surprised that the store closed at 7 pm, seems like the right time to start a campfire, but not available after 7. The local Irving had wood and kindling though.
Jul 11, 2020
We found this Campground way more expensive than the others andq really offered nothing extra
Jul 09, 2020
A nice campground. Friendly staff. However there should be more garbage cans available and the ones strictly for dog feces should be marked as such. The morning we were checking out we discovered that the staff had given us our friends gate card by mistake so we traded with them so that we had the proper one to turn in. We misplaced our card then and were told we had to pay $50. We payed $25
Jul 08, 2020
Loved the sites and felt very safe there. The security driving around was fantastic at this time of covid. The staff was friendly and very polite and helpful. Will be back soon!
Jul 07, 2020
The bathrooms were TERRIBLE!! We arrived at 5pm on a Friday and the ladies washroom was out of toilet paper and soap. The garbage was overflowing. I let the front desk know in hopes it would change. Returned to the washroom 3x that evening and the situation was the same. Went to the washroom at 10am the next day and it was disgusting, the toilet was clogged and again, no soap!!
Jul 07, 2020
We enjoyed our stay overall but on the second day we did not have any water pressure and at one point no water at all. This was not rectified even after notifying the park office.
Jul 07, 2020
First time visiting the campsite, very clean areas.
Jul 07, 2020
We found the staff very welcoming and helpful. The grounds were tidy and well kept up. Nice Campground facilities. We were there to visit our daughter and her young family, who are new seasonal campers. The neighbors across the road from her site played Extremely loud Heavy Metal music-from 4 pm until 10 pm. Annoying!! The public showers had absolutely no water pressure -Frustrating!
Jul 06, 2020
We had a great time. Wish there was more than one bathroom in our section (303) the toilets take forever to fill back up to flush. The kids loved the pool and we will definitely be returning again this summer � Thank you
Jul 06, 2020
We enjoyed our stay very much, very clean and staff were awesome. My only complaint is that I would not pay the extra for drive in movie and cabin.. It's so far away from the actual screen, we missed the first bit because it was still light out and we couldn't see what was on the screen. I thought the extra charge included going into the movie-it does not- I wish that was clearer.
Jul 05, 2020
We had a really great stay. Prices are a bit steeper than others in the area.
Jul 05, 2020
Overall it was a great place, but unfortunately some adults didn't want to follow the rules and they were loud, shouting yelling until 230am. I had to go over myself and tell them to quite down as because I couldn't sleep. They didn't respect what I said and continued being loud and partying. So then had to yell at them at 3am to quite down again which then finally did. I thought it was very
Jul 05, 2020
The camping and the personnel was great, but I didn't appreciate when we arrived earlier than expected and being charged 15$ because arriving at noon. The rate is already higher than any other camping, and because we arrived early there is another added fee, I didn't appreciate that at all. This is why I won't recommend this camping.
Jul 03, 2020
The washrooms and showers were not cleaned regularly. But the campground itself is very nice. Unfortunately with covid not everything was open.
Jul 03, 2020
The owner was very accommodating. I found everything in excellent shape! Thank you
Jul 02, 2020
The campground was good but the price was way to high.
Jul 01, 2020
It was great. Everyone was very nice and helpful. Sites were perfect.
Jun 30, 2020
Great park, clean restrooms and showers.
Jun 30, 2020
I thought the park was great, however just beening able to sign in at 3pm was a real let down. You should be able to have the day you payed for or 3pm till.3pm the next day. It isnt a hotel no cleaning involved.. also way to many dogs. You want people to quite down by 12am to listen to dogs bark.. i thought i was at a dog park honestly...
Jun 30, 2020
Clean and awesome people
Jun 29, 2020
Had a great time!!
Jun 29, 2020
The campsite was terrible. It was difficult to drive into and the campsites were entirely too close together. I love the drive in but I will have to find a different campground in the future.
Jun 29, 2020
had a great stay. very friendly helpful staff clean washrooms. and the pool was great it was awsome to see a show at the drive in will certainly go again
Jun 29, 2020
Bathrooms were disgusting doors are ready to fall off Almost broken leg coming out of the bathroom
Jun 29, 2020
Campground was clean, staff were friendly. Our site was between two playgrounds, which isn't ideal as we didn't have kids with us. The first night was fine. The second night there was a country concert shown on the drive in screen. Before and after the show, some of the other campers were loud and rowdy. Lots of drinking and urinating in the bushes by the renter's across from us.
Jun 29, 2020
- very high price for not much to do - trail is not clean or taking care of properly.. was told there was a place to eat and have a snack by the river but there was just overgrown lawn and no where to sit - thank god for the pools to entertain our kids - alot of seasonal partying with loud music
Jun 25, 2020
We stayed at a rustic cabin and it was too hot. We packed up at midnight and went home. We went to the drive in for some snacks and the canteen was closed and the movie hadn't even started yet. A disappointing stay.
Jun 22, 2020
What an amazing stay we had my wife and kids absolutely loved it, we loved it so much we booked it again in July and we can't wait
Jun 22, 2020
There was a campfire ban and people still had fires. Bathrooms weren't kept as clean as it should have been with covid. There were also extra fee for coming early. The sites was supposed to be clean and it wasn't. There were cigarette butts thrown all over along with food and some garbage. A welcome package wasn't provided like other campgrounds i.e. garbage bag, pamphlets of things to do in
Jun 22, 2020
Our stay was great, really enjoyed the drive in. The pool could have been cleaner, and the washrooms needed to be tended to a little more frequently. Toilet paper, paper towel Shower was nice and clean, staff were very friendly.
Jun 22, 2020
Only reason not 5 stars was due to some attractions unavailable (jumping pillow), no campfires( not your fault but still affects experience). Washrooms and showers really clean and staff amazing. Tent village is amazing. Worth the price.
Jun 22, 2020
I wish the store would have had more food. Very little choice. Also we did not see security pass by once and our "neighbors" were being very loud, very late. Maybe if security was around they would've been quieter. Also I thought there was a fire ban but people were making campfires. I wish they would have given me more information at check in about wifi and that a movie was playing that night.
Jun 16, 2020
I was on site 40 which backed to the tenting sites and there is no fence or barricade between the 2 sites so I had tenters walking through my site non-stop the entire weekend. A fence would solve the problem.
Jun 16, 2020
the stay was great, however we didn't realize all the non-seasonal sites were just in a field. We would have preferred to be in the trees a bit. Overall it's a great spot, very clean, great staff.
Jun 16, 2020
Attendants were very rude upon arrival, other patrons were allowed to have massive gatherings of people with extremely loud music, to the point we could not hear each other speaking on our site ( with 3 small children). The amenities for children are scarce and not well maintained. This was our first camping trip of the summer and it was awful, we will not be returning.
Jun 16, 2020
Everything was great besides the glass my son fell down on at the kids play ground. Cut himself pretty bad. My wife and I went up and walked all around and picked up a couple pieces. Also the bathrooms were covered in puke from 8pm Saturday night until 930 am Sunday morning As we were staying in cabins that was our only bathroom close by
Oct 09, 2019
What an amazing campground!!! Stayed with my family for one week an we had a blast. Campground and Bathrooms were impeccable!!! The owner, Don, even swung by one night asking if everything was fine!!! How is that for service!
- Pyth0ss on Trip Advisor
Sep 24, 2019
Always a great place to visit, whether it is to stay or for the drive in movies! They've got wonderful activities for kids, adults, and pools to cool off on the hot days. They've done a great job changing things up and its working in their favor!
- Keirsten J on Trip Advisor
Sep 24, 2019
We had a great season camping at the Koa. Love the staff and all the fun family activities and the adult dances are amazing. The drive in is so much fun for the whole family!!! Can't wait to go again!!
- Missy M on Trip Advisor

Sussex KOA
Open May 14 - September 27
133 Aiton Rd
Sussex, NB E4G 2V5 Canada
Check-In/Check-Out Times
All Sites
Check-in: 3:00 pm, Check-out: 11:00 am
Accommodations, RV Sites, Tent Sites
Check-in: 3:00 pm, Check-out: 11:00 am
Get Google Directions

© 2020 Kampgrounds of America, Inc.