Outdoor Cooking Systems: The Gravity Grill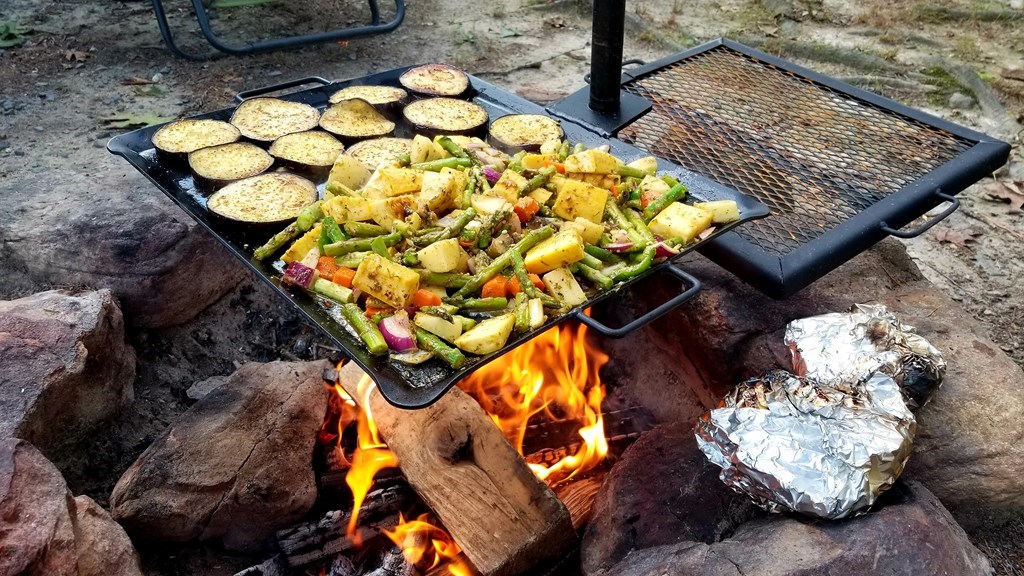 Whilst exploring our beautiful country, it is also important to explore various outdoor cooking options and recipes available. In this blog post, we'll focus on the gravity grill and skillet combo. The pair is an exceptional method in cooking over an open campfire capturing that delicious smokey flavor.
The system is ultra portable, easy to set up without the use of tools but be sure to properly store it when not in use. Proper storage will help reduce wear and tear.
So, you wanna know what's pictured in this article? Marinated sliced eggplant alongside a vegetable stir fry loaded with yellow squash, onions, peppers, carrots, and asparagus. The foil packets are tender melt-in-your-mouth sweet potatoes.
Here are some recipe ideas for the grill and skillet combo:
Breakfast Ideas
Pancakes
French toast, topped with fresh fruit
Eggs, hash browns, sausage bacon or tofu
Lunch Ideas
Grilled cheese, with sliced tomato
Burgers & hot dogs
Dinner Ideas
Kabob skewers
Quick vegetable stir fry
Marinated choice of meat, eggplant, or portobello mushroom caps
Wrap baked potatoes in foil and add to the fire pit
There are SO many options for cooking outdoors and we enjoy experimenting with them all! Do you have one preferred method or do you sample various methods?
We'd love to hear from you!