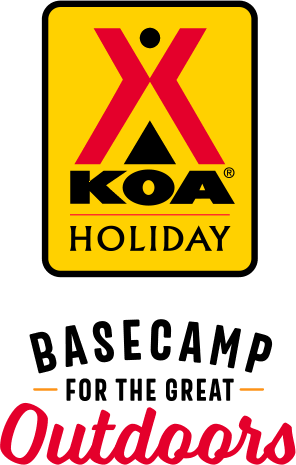 KOA Holiday Campgrounds
Whether you're exploring the local area or hanging out at the campground, KOA Holidays are an ideal place to relax and play. There's plenty to do, with amenities and services to make your stay memorable. Plus, you'll enjoy the outdoor experience with upgraded RV Sites with KOA Patio® and Deluxe Cabins with full baths for camping in comfort. Bring your family, bring your friends, or bring the whole group – there's plenty of ways to stay and explore.
KOA Holidays Feature:
RV Sites with a KOA Patio®
Deluxe Cabins with full baths
Premium Tent Sites
Group meeting facilities
Directions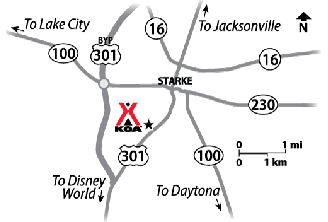 Located between Jacksonville and Gainesville.     Take the Historic Downtown Starke exit off Alt. Truck Route Highway 301 KOA is 1 mile south of State Rd 100 on US Highway 301. 1475 South Walnut St. Starke FL, 32091.
Get Google Directions
Apr 06, 2021
We stay at the Starke, FL quite a bit. Everything is clean and the staff work hard to be helpful and assist you. Nice pool, play ground, place to wash your RV, Propane, Laundry, game room. We like it there. Nice and relaxing.
Apr 06, 2021
Very nice campground friendly staff, just not much to do in the area.
Apr 06, 2021
Great place to stay. Large spaces, friendly staff. Would definitely recommend...
Apr 06, 2021
Beautiful campground with very spacious sites. Owners take pride in keeping the campground clean and all employees are friendly and helpful. We were there on Easter weekend and really enjoyed the Easter Brunch. Will definitely return.
Apr 05, 2021
We loved the campground! The facilities were well maintained and everyone was so nice! We will definitely stay there again.
Apr 05, 2021
Clean and quiet.
Apr 05, 2021
We love the set up, we were greeted at the entrance and then brought to our site. Very well kept, bathrooms/camping area very clean. we will be coming back in June to visit Mom ands Dad and will be staying here again!!! thank you. Keith & Karen
Apr 05, 2021
Older park, needs some TLC. Area around location of entry door was sandy and muddy. Beautiful trees, easy in and out.
Apr 04, 2021
Large sites and people friendly. Just an overnight for us.
Apr 04, 2021
Awesome clean campground. Attentive and nice staff. Big spaces, paved, nice walking trails through the woods, walking distance to groceries, etc. Only negative is wi-fi never worked and we had to hot spot the entire week.
Apr 04, 2021
I love the long, level, and wide sites. Disappointed to see the mask requirement statement on the office door. At least most people, while in the campground, didn't wear them.
Apr 04, 2021
Only negative is sites are very close. Laundry was very clean. Staff very friendly and helpful.
Apr 04, 2021
Easy check in, level sites and spacing. I had a back in site by the pond and watched the turtles come up for sun- there were at at 15! Close enough for day trips to Gainesville and St Augustine.
Apr 04, 2021
OK, doable. Reasonable price.
Apr 04, 2021
Very nice place bathroom are very small for bigger people.
Apr 04, 2021
Very large pull through sites. Attractive landscaping. Shopping center next door Save a Lot grocery store. Some train noise but we heard none during the night. Good park.
Apr 03, 2021
We always enjoy our winters away. Campground is clean with large sites and the people are friendly and ready to help with anything they can. There are many restaurants and shopping close by-very convenient.
Apr 03, 2021
With so many positives this place has, they really need to improve their internet service. Constantly being knocked off or no internet service. It really makes me not want to come back here, but everything else is great.
Apr 03, 2021
Great overnight stop - pleasant & efficient people - terrible WiFi
Apr 03, 2021
Staff and stay were great as usual. However WiFi is worthless and should not even be advertised. Unable to even complete email download. Speed was less than .1Mbs.
Apr 02, 2021
Nice clean campsite. Great host. We would definitely stay again! Thank you.
Apr 02, 2021
Beautiful campground....pizza was very good
Apr 02, 2021
Very clean and friendly place to stay. Recommend staying here for a night or a week. The local people are friendly and kind to visitors which makes it a must stay if your in the area.
Apr 01, 2021
A regular stop as we "snowbird" to or from Florida. As usual, the staff was friendly, knowledgeable, and a courteous. Hopefully, we'll be back in November.
Apr 01, 2021
No toad but everything was really close. Walked to the Sav-a-lot and got what we needed. The IHOP made for a break from the kitchen and was a short walk also. The walking trails were short but nice. Extremely friendly staff. Well patrolled and felt very safe. Full timers welcoming. The freight trains were clearly heard but we love trains. Highway noise quickly faded into the background.
Apr 01, 2021
beautiful place the office worker was extremely helpful, we went in mid march they had a heated pool, pads were awesome, clean showers and restrooms. we stayed an extra day because it was so nice and the male office worker fit us in. this is a must stop in place.
Apr 01, 2021
Wonderful and relaxing.
Apr 01, 2021
Nice layout, great support, thanks
Mar 31, 2021
Very nice, clean, well managed. We will be back.
Mar 31, 2021
Facilities were clean, staff extremely helpful
Mar 31, 2021
Everyone working there were great, campground was clean and we'll kept.
Mar 31, 2021
This is a regular stop for us on our trips to and from Florida. We appreciate the easy pull through sites and the friendly staff. Thanks Rusty for helping us get our turn signals working on our tow car. We'll be back next fall.
Mar 31, 2021
Nice KOA with inviting pool. Trails in woods short but pleasant. Had a continual barking dog in an RV close to us did not complain to management as we were only there a week.
Mar 31, 2021
It's a nice KOA. But the WiFi was non existent. It's in an area where I couldn't get AT&T or T Mobile.
Mar 31, 2021
We have been to this KOA several times for a short retreat from Jacksonville for a weekend getaway. The park is always clean, quiet and well maintained. All the employees are courteous and professional. Pool is well maintained and bath houses are clean. Will continue to stay there.
Mar 31, 2021
Great people and a very nice park.
Mar 31, 2021
Fantastic place
Mar 31, 2021
We were on our maiden voyage with our newest camper checking out clean quiet, kid-friendly campgrounds. I think we'll be back. We enjoyed our relaxing stay with out the kids this time though. Campground was clean. I can have the campfire, swim, it is a lovely place.
Mar 31, 2021
We had the deluxe corner site. This park is well maintained. We would come back again!
Mar 30, 2021
We were not happy that we had to move one day after getting there to another spot.seems they could of fiqured something out.Its also seems like the tent stayers hog the pool with many kids and it Didm't leave a lot of room for campers that also would like to enjoy the pool.4 to 5 hours straight in the pool and taking up the tables is not fair to others.Had dog poop on our site and cigarette butt
Mar 28, 2021
The staff was great! Although we only stayed one night we were greeted like family, and as we were setting up they even filled the propane tanks and delivered them when done. Very clean and quiet. We enjoyed it so much we stopped for the night on the way back through.
Mar 26, 2021
Friendly, helpful staff. Urban setting, thus shopping and food nearby. Street noise and street lights shining at night. Near I-95, so very convenient for travelers.
Nov 29, 2020
My wife and I stay at KOA campgrounds frequently. For the most part they are fairly consistent in their amenities and friendliness of staff. This KOA definitely sets the bar high when it comes to friendliness, cleanness and overall quality. We will drive out of the way to stay here anytime we are passing through this part of FL. We have paid a whole lot more for a whole lot less.
- P5504YIroys on Trip Advisor