Directions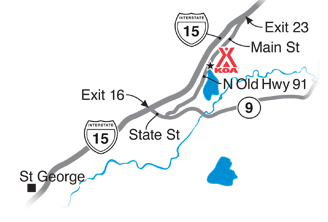 From Cedar City: Heading South on I-15, take the Leeds/Exit 23. End of ramp turn left to Stop Sign. Then turn right, continue through Leeds onto Old Hwy 91 & South approximately 2.5 miles to KOA on left.
From St. George: Heading North on I-15, Exit 22. At stop sign at the end of the exit ramp, turn right & KOA on left side after approximately 2.50 miles. OR Take the Zion Park/Hurricane Exit 16.Continue on RT 9 for approximately 2.5 miles. At second stop light, turn left onto SR 318/Quail Creek State Park. Continue around the Lake to stop sign. Turn right toward Harrisburg/Leeds. The KOA is on the right
Latitude             37.2061 
Longitude       -113.3932 GPS Coordinates 
***PLEASE CALL 435-879-2212 FOR DIRECTIONS***
Get Google Directions
Dec 02, 2020
Campround was great. Well maintained & friendly staff. Would come again.
Dec 01, 2020
Friendly staff. Clean spaces and well kept. Nice area for the dogs. The only negative is that it is too far away from any riding or off road activities.
Dec 01, 2020
Fantastic!! Everyone was really nice and we had a great time!
Dec 01, 2020
Great location, friendly staff and restrooms/showers always clean.
Nov 30, 2020
The cabin itself was very nice. The campground was very small and super-packed - it sort of felt like camping in a stadium. Our outside space by the fire was right next to another family, so it was like camping with new neighbors. If that's your scene, go for it. Not really mine, especially for the price. Very expensive stadium camping.
Nov 30, 2020
Everything was excellent, except reception of the WiFi ���. Excellent place! We will be back!!!
Nov 30, 2020
We stayed for two nights at the KOA in Hurricane. It was great! They have all the hookups you'll need as well as bathrooms and showers. My family and I really enjoyed our stay and would absolutely book with them another time!
Nov 30, 2020
Nothing special. I thought KOA's were nice ! The only other KOA I stayed at was much more impressive. Friendly staff who drove us to our site and helped back us in. Had patio furniture, bbq, fire pit and wood at each site. I get it was a holiday weekend and the office was closed but nothing extra or special was done. I think a Walmart parking lot would be the same minus the hookups.
Nov 30, 2020
We have been KOA members for years. This was one of the worst campgrounds we have stayed at. The coaches were to close together, nothing but rocks, no firepits at your campsite, mobile homes surrounding the area for a very distasteful view. We will not be revisiting this campground again.
Nov 30, 2020
I enjoyed the playground for the kids.
Nov 30, 2020
We were told there was OHV access from the camp. There was not. We were told they had cell reception and WiFi. Neither worked. We abandoned our reservation and went off grid and had a lot more fun.
Nov 29, 2020
Road noise the biggest negative...nothing they can do about that. Narrow lots, but older park before slides on both sides. Good hosts...stayed her before, will stay again
Nov 29, 2020
Loved the girls in the office - Michelle, Lisa, and Mary. Clean restrooms/showers. Historical sites, red rock, hiking trails,etc
Nov 28, 2020
WiFi and cell service both bad. Confusing directions from Google maps. Otherwise fine.
Nov 26, 2020
Workers very helpful. Bathrooms very clean. Good location for both Saint George and Cedar City.
Nov 26, 2020
Very nice customer service clean showers a plus laundry facilities big enough to work in tv a plus
Nov 26, 2020
Very clean, quiet, easy to find and close to many National Parks.
Nov 25, 2020
Awesome spot! Super friendly staff! Clean facilities. We will be back!
Nov 25, 2020
short overnight stay but beautiful view and great facilities being upgraded at this time
Nov 25, 2020
The stay was great. Loved the location and ease of access and egress. The only improvement I would recommend is better internet access. We tried to connect to allow us to make phone calls, but to no avail. Other than that, such a great place to stay. We will be back!
Nov 23, 2020

The park model was nice, needing updates
Nov 22, 2020
Dog waste on our site upon setting up. Friendly welcome staff
Nov 22, 2020
Office staff very accommodating when our arrival was delayed. Sites slope sideways and are a little too close together. Some freeway and construction noise.
Nov 21, 2020
The cabin had everything we needed, pleasantly surprised.
Nov 21, 2020

Very friendly staff. Clean campground and beautiful views. I loved the closeness of the Red Cliffs hiking trails. Unbelievably breathtaking.
Nov 19, 2020
Nice facilities very bad highway noise
Nov 18, 2020
The cabin was smaller than expected, but it was clean and nice. All of the employees were very kind and good to work with! I recommend this Koa!
Nov 18, 2020
They gave us their longest spot as I had asked because of our need to stay hitched to the 5th wheel. Thank you so much for your covid precautions! Taping our reservation and map outside would be even better.
Nov 17, 2020
Very nice staff. Well kept. Excellent
Nov 17, 2020
It was great in many ways, but was a bit noisy and the amenities didn't work well (hot water was scarce and internet never worked).
Nov 17, 2020
The staff and location are awesome but the cell service and wifi are horrible. We booked a week long stay here but after one night moved to another park. As we work remotely poor internet is not an option. The staff was very understanding and issued a full refund for the unused days. Great place to stay if you want to unplug or only need minimal internet and cell service.
Nov 16, 2020
The Hurricane/St. George KOA is our favorite. The clubhouse was closed due to Covid but I think the restrooms should have been open!!
Nov 16, 2020
Clean and well run campground. I only found our particular pull through in a less than desirable location at the junction of several of roads which meant lots of traffic in the mornings.
Nov 15, 2020
Very helpful and friendly
Nov 15, 2020

It was a nice place to stay for the night. The room was nice, the bathtub was very small. But it was a very nice area to stay in for the night.
Nov 14, 2020
Clean grounds and clean warm bathrooms! Cell service and wifi is sketchy!
Nov 14, 2020
Had a problem with the fist site being a little too short making it difficult to get level but the staff moved us to another better site with to problem at all. I thought the campground was very nice with the paved roads between sites. The views were very nice. The rest rooms were very clean. I didn't notice the Highway noise that others mentioned in reviews. I would definitely stay again.
Nov 12, 2020
We had a great stay. Staff was always helpful and accommodating, would stay again.
Nov 12, 2020
Everything was excellent except for the ridiculously sized lot spaces. Leaning out of my window and being able to physically touch the next door RV completely erases all of your many other good points
Nov 15, 2020
Great place for the money. We stayed at one of the larger cabins that were perfectly located for exploring between Zions and St George. The kids played mini golf and on the playground. Cabins were stocked with basic utensils and pans and were clean. There were good spots for trailers as well. Perfect for going to Quail Creek, Zions, Kolob Canyon
- BRAD WILLIAMS on Google
Nov 01, 2020
Swimming pool, pickleball court, horseshoes, small playground. This place was nice to stay at. Very close to Zion National Park.
- Cameron Flewellen on Google
Oct 29, 2020
Great location and staff that go out of their way.
- Mary on Google