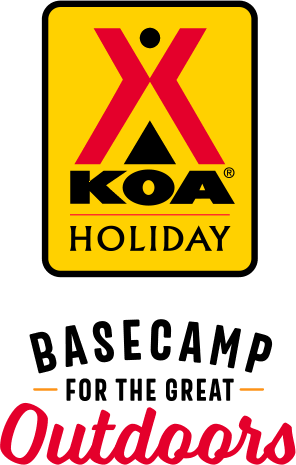 KOA Holiday Campgrounds
Whether you're exploring the local area or hanging out at the campground, KOA Holidays are an ideal place to relax and play. There's plenty to do, with amenities and services to make your stay memorable. Plus, you'll enjoy the outdoor experience with upgraded RV Sites with KOA Patio® and Deluxe Cabins with full baths for camping in comfort. Bring your family, bring your friends, or bring the whole group – there's plenty of ways to stay and explore.
KOA Holidays Feature:
RV Sites with a KOA Patio®
Deluxe Cabins with full baths
Premium Tent Sites
Group meeting facilities
Directions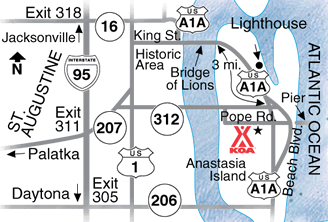 I-95 Exit 311: North on SR 207 (3 miles). Make a right on SR 312 and follow 4 miles to A1A. Make a right on A1A, go 1 block and make a right on Pope Road to campground on immediate left.
Get Google Directions
Jun 16, 2021
great place to stay great people there
Jun 16, 2021
We loved our cabin the bathrooms could be a little cleaner but that had nothing to do with the staff it just has everything to do with the occupants. People should respect the space more and keep it clean. Pool was wonderful and very clean stuff is extremely helpful can't wait to come back!
Jun 16, 2021
We always use KOA. Best value for our money
Jun 15, 2021
Friendly and professional staff. Will be back in January!
Jun 15, 2021
Weekend stay - Very Good
Jun 15, 2021
I loved the campground, beach and city!! It was a great vacation!
Jun 15, 2021
We enjoyed it. It was fun to fish off our porch and the cabin was comfortable.
Jun 15, 2021
Place uncountable to move around but service was ver pleasant and is closer to Downtown Saint Augustine areas and beaches
Jun 15, 2021
It was my first time ever hooking up my RV the staff was awesome helpful friendly informative Mike and two other gentlemen helped will return the best KOA thanks
Jun 15, 2021
Wonderful staff, loved the cabins
Jun 14, 2021
Great spot with clean grounds, nice showers and restrooms, and friendly staff. This is a great location within walking distance to the beach and several restaurants, and minutes from downtown St. Augustine.
Jun 14, 2021
Nice clean campground close to beach and downtown
Jun 14, 2021
The only thing that could be improved are the sizes of the tent camp lots. Very cramped and on top of one another. Everything else was excellent!
Jun 14, 2021
The RV park is run down. We hooked up the water and it stunk like our black water tank! Think goodness we had lots of bottled water. We would never stay here again!
Jun 14, 2021
Very clean. And helpful staff.
Jun 14, 2021
Small pool, very crowded, super small ground area between each campsite, very sandy and uneven... can't even put a mat down, would only camp here if I couldn't find anything else.
Jun 14, 2021
We liked having a concrete pad, table & chairs, and grill at our fairly level site. The bath house and laundry area near our site seemed brand new and well taken care of. Staff very friendly and helpful. We'd stay here again.
Jun 14, 2021
We loved staying here. It's a quick drive to the beach from here. There's even drive on access to the beach. The bath houses are nice and clean. Well definitely be staying again.
Jun 13, 2021
Everything was perfect.
Jun 13, 2021
I am a single mom who rented the family cabin w/3 teenagers. They had a blast on the paddle boats, enjoyed the pool and also walking around the campground at night looking for any St Augustine ghosts. Lol. Cabin was clean w/a beautiful deck to feed the turtles in the lake from but wished it had a stove. Great location-pretty close to downtown and right near the beach. Helpful people at check-in!
Jun 13, 2021
Clean, well-kept, friendly staff, an overall exceptional experience. Wish we would have had a concrete pad with the glass table, chairs, grill, etc. but the dirt and picnic table worked fine. Gonna try to request the upgrade next time but we're a small travel trailer and maybe not happening. Loved our time here.
Jun 12, 2021
Very nice shower house. We loved the water feature and the campground was well maintained.
Jun 11, 2021
It was okay. We were over charged by double for our shuttle into town. We were told by the shuttle company we would get a refund. KOA said they would look into it and send us an email. Never got an email nor a refund. Don't think $300+ was a good value for an hour shuttle into town. Very disappointed in KOA.
Jun 11, 2021
We thoroughly enjoy our stay at your camp grounds. The assistance getting settled in was very helpful. The layout to park/camp was efficient. The amenities and close by food/entertainment options were a plus. Definitely, will visit again!
Jun 11, 2021
It was super clean. The store, the bathrooms, our cabin. The only issue at the cabin was the mattresses torn on both sides. It wasn't too uncomfortable for what it is or the cost, and the tears didn't get in the way. Everyone was so nice!
Jun 11, 2021
Very friendly and helpful staff. Clean and well kept park. One of the best parks we have stayed.
Jun 10, 2021
Live it. Can catch the trolley to HISTORIC sites in St. Augustine for a small fee. Restaurants are accessible some are within walking distance. Fast, professional and friendly service from all staff members. I've used this camp site 3 or four times over the past few years.
Jun 10, 2021
The staff was wonderful, the site was great. The only complaint I have is the teenagers at the pool. They were throwing a football and doing cart wheels: they took up the whole deep end. I know they are kids but from what I was told they are related to the owners of the park. As a business owner it was unprofessional as there was no adult, with them.
Jun 10, 2021
Great staff. Comfort stations very accommodating. Just wished there was a little more shaded lots
Jun 10, 2021
Sites are too close together We could hear our neighbors talking when we were inside and so we're they
Jun 10, 2021
Great KOA. Perfect location. The sites were great and the property was well maintained and clean. Can't wait to visit again.
Jun 10, 2021
Our site was nasty sand and sand spurs. The park was full on the weekend with very little maintenance. They are lucky to be the only park in the area!
Jun 09, 2021
Love being close to the beach!
Jun 09, 2021
Very clean and enjoyed !!
Jun 09, 2021
The staff was helpful and polite. The bathrooms near the pool are outdated and need a good makeover, but the other bathhouse was newer and cleaner with cool air. The spots are small but well kept. Its close to the beach and the restaurants do close early.
Jun 09, 2021
The facility and team exceeded our expectations. Thank you for a relaxing multiple nights stay.
Jun 08, 2021
Our spot backed up to a plaza and wall.plus a car wash , Resident was riding a loud motorcycle thru the park at 2am. Garbage dumpster was picked up at 5:15 in the plaza behind us . The spot was just dirt and not level . The place was low rent
Jun 14, 2021
The staff we encountered were nice. The grounds, bathroom, and cabin were clean. Rentable paddle boats and pedal carts. Tight spacing between sites and cabins but I guess that's pretty standard for koa.
- Rob Duarte on Google
Jun 11, 2021
They really pack ya in close but it's a great RV park! Bathrooms are private and there are plenty. I enjoyed being right on the canal. I would definitely stay here again.
- Beverly Barner on Google
Jun 11, 2021
Great location - close to anything and everything you need, including beach access. Pretty pond and nicely maintained. Pool is great. Did not use facilities but they appeared clean. Road noise varies depending on site so closer to rear is less noisy. Some areas sites are closer than ideal but overall spaced satisfactorily. Staff was very accommodating- including allowing us to choose a site best suited to us. Only con was the wifi didn't work for us but our ATT data plan did, and well at that. Would definitely return.
- KellyW0987 on Trip Advisor