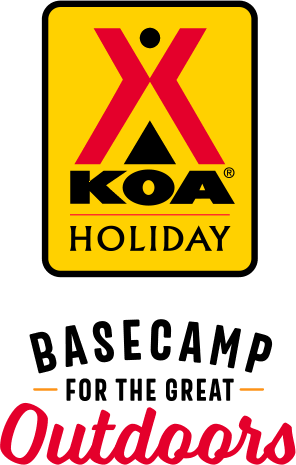 KOA Holiday Campgrounds
Whether you're exploring the local area or hanging out at the campground, KOA Holidays are an ideal place to relax and play. There's plenty to do, with amenities and services to make your stay memorable. Plus, you'll enjoy the outdoor experience with upgraded RV Sites with KOA Patio® and Deluxe Cabins with full baths for camping in comfort. Bring your family, bring your friends, or bring the whole group – there's plenty of ways to stay and explore.
KOA Holidays Feature:
RV Sites with a KOA Patio®
Deluxe Cabins with full baths
Premium Tent Sites
Group meeting facilities
Directions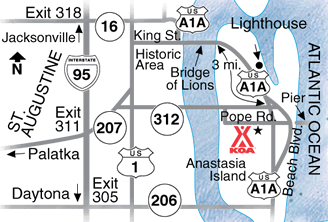 I-95 Exit 311: North on SR 207 (3 miles). Make a right on SR 312 and follow 4 miles to A1A. Make a right on A1A, go 1 block and make a right on Pope Road to campground on immediate left.
Get Google Directions
Jan 17, 2021
We loved the campground, when we finally found it! Small sign for a KOA. I understand they are in the city limits. Just know when you turn on Pope street, it's right there on the left.
Jan 17, 2021
Very well maintained park. Extremely clean bathrooms. Courteous and efficient staff. Easy walk to the beach and short cycle to downtown. We had a lovely time! A bit noisy as you are right off A1A but definitely worth the visit.
Jan 17, 2021
We chose a site with view of the pond. The site is paved thus minimizes the tracking of debris/dirt into the RV. The table and chairs came in handy as we enjoyed a before dinner aperitif while watching the ducks and egrets/herons. The facilities were was very clean. Location is convenient to historic St Augustine and the trolley does make scheduled pick up/drop off at the campground.
Jan 17, 2021
Nice campground. Easy accessibility.
Jan 16, 2021
Always a great place to stay, clean facilities and wonderful staff
Jan 16, 2021
Staff was very helpful and nice they were always picking up and asking if you need anything
Jan 15, 2021
Awesome KOA!!! Enjoyed it so much already booked for next year:)
Jan 14, 2021
We had a very nice stay. Perfectly located to anything we wanted to see. The campground was taken care if
Jan 14, 2021
We arrived after dark and were escorted to our site. Check in was quick and easy. Park was neat and orderly. We have stayed many times recently and will continue to return when ever we have the opportunity.
Jan 13, 2021
staff was very nice & helpful.....very clean facilities......we used the laundromat which looked new.
Jan 13, 2021
Excellent campground.Clean and friendly. Close to all the tourists and history spots. Convenient to grocery. Low traffic area Sites are all very nice and level. I will definitely come back Cable TV was great, has digital and non digital. WiFi poor.
Jan 13, 2021
Beautiful campground, friendly staff, quiet. Would stay there again.
Jan 13, 2021
The campground and staff are excellent, friendly and immediately responsive to any question or request. The only drawback is one over which the staff has no control. It is very near a couple of major roads and can be quite noisy at times. That will not prevent us from returning when we visit St Augustine.
Jan 13, 2021
Very nice. Quiet. Excellent service!
Jan 13, 2021
Very tight, small sites... even the pull throughs. Not as nice as the other KOA's we've visited... pleasant front desk people.
Jan 12, 2021
we will be back when warmer wheather.
Jan 11, 2021
We made stops going and coming to Orlando, the location was excellent. The entrance is a bit tight for a big rig and the grounds are a bit worn, but everything works well and the people are wonderful.
Jan 11, 2021
Nice place for a weekend getaway. Staff very helpful and facilities well maintained . Would recommend
Jan 11, 2021
Staff is friendly. Sites are clean, mostly level. Location is perfect for beach or city access. Staff doesn't stop working from morn to night to keep the park spotless.
Jan 11, 2021
Very clean. Staff were friendly.
Jan 11, 2021
Very helpful and friendly staff. Nice campground and amenities!
Jan 11, 2021
Excellent customer service. Reception staff and grounds keeper very nice. Extremely clean. We really enjoyed our stay in Unit L119 cabin.
Jan 11, 2021
We loved it! Wished there were more trees for more privacy at the tent sites but it was ok we made it work.
Jan 10, 2021
Would not recommend. It seems like it's only a nightly "stop over" for nearly everyone there. If we hadn't prepaid for our (6) nights, we would have definitely moved on. It's very loud, being located on a major highway with sirens blaring a lot! I wanted to ike it, but can't say we did. :(
Jan 10, 2021
During this time of pandemic, the absolutely BEST part of my stay was this campground's beautiful new bathrooms, some with showers, all private so you can avoid breathing other people's air AND they were kept scrupulously clean. Two thumbs up!
Jan 09, 2021
Easy check in, great place to stay. Very easy and close to the beach. A1.....
Jan 09, 2021
We had a wonderful stay and the staff is friendly and accommodating. When we asked if there was availability to extend our stay another 3 days the office staff worked with us so we were able to stay. We biked all over St Augustine, visited the town, lighthouse and the beach. Very enjoyable. We would stay here again. Thank you KOA of St Augustine
Jan 08, 2021
We spent three nights. Having never been in the area, this was more of a reconnaissance mission for future trips. Great campground, clean, awesome amenities, centrally located among the sights. Only a minor complaint about Internet speed. While we had cable, the strength of the WIFI wasn't such that we could do any streaming, but this only impacted us minimally. We will visit again.
Jan 08, 2021
Aja at the front desk was very kind and helpful!
Jan 08, 2021
Good locaton to everything.
Jan 07, 2021
One of the most well-kept KOAs we stayed at. The spot provided chairs, table, grill and firepit. Very nice.
Jan 07, 2021
The place is beautiful, clean and very accessible. And everyone is very friendly and helpful. If you are planning to see Saint Augustine this is the place to stay. Oh! Just one more thing, you might need to have earplugs because the road next to the campground can get very noisy during the night. P.S. The noise didn't bother me that much!����������
Jan 05, 2021
Nice park, I have stayed there before. Only negative was being next to the loud car wash and having no internet in the evenings.
Jan 05, 2021
It's very expensive, but the staff is WONDERFUL!!!!!!!
Jan 04, 2021
Great staff, ultra clean facilities.
Jan 04, 2021
We had a very nice time, the workers around the park work so hard & are constantly keeping the park clean!! This is our second stay here & definitely will be back!!!
Jan 16, 2021
Great spot to park. Very helpful office staff who went above and beyond to accommodate requests. The location was close enough to St. Augustine attractions to be served by the Old Town Trolley. Even their staff was great.
- William Negron, Jr. on Google
Jan 12, 2021
We had a great stay here, very friendly staff. We had a two night stay planned but we had a medical emergency that caused us to need another day. The staff were accommodating and moved things around so we could stay in the spot. Great location and close to many wonderful things to see. We will return.
- Wayne Whiteside on Google
Jan 11, 2021
Easy in and out! Not the least expensive place around, but they have top notch facilities and are doing things safely in this pandemic!
- Michael Boyle on Google