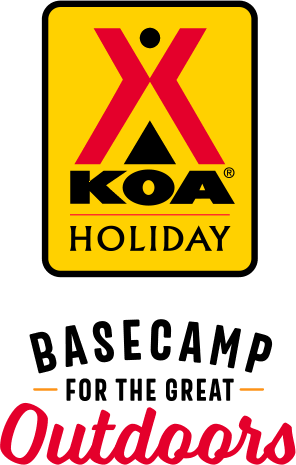 KOA Holiday Campgrounds
Whether you're exploring the local area or hanging out at the campground, KOA Holidays are an ideal place to relax and play. There's plenty to do, with amenities and services to make your stay memorable. Plus, you'll enjoy the outdoor experience with upgraded RV Sites with KOA Patio® and Deluxe Cabins with full baths for camping in comfort. Bring your family, bring your friends, or bring the whole group – there's plenty of ways to stay and explore.
KOA Holidays Feature:
RV Sites with a KOA Patio®
Deluxe Cabins with full baths
Premium Tent Sites
Group meeting facilities
Directions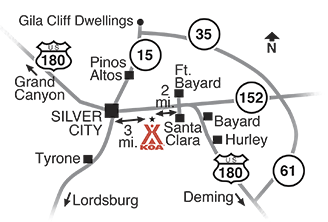 Three miles east of Silver City on US 180 between mile marker 118 and 119.  If coming from Deming on Highway 180 E, GPS may show you have to go past our entrance and turn around.  This is incorrect.  There is a turning lane that most GPS think is a median.
Get Google Directions
Jan 19, 2021
Property is VERY well taken care of. We loved our spot and that there was room for the kids to play safely.
Jan 18, 2021
Great quiet location close to Silver City.
Jan 12, 2021
KOA has easy access from the highway, the entrance is well marked and road directions are easy to follow upon arrival. Check in during Covid is made easy by a staff who understands the difficulties. Sites are spacious and well maintained. Main office is well organized and always staffed with friendly work campers to answer questions. Laundry room is large, with plenty of machines. A must stay!
Jan 10, 2021
Very clean and nice
Jan 06, 2021
The best kept KOA I've ever stayed at
Jan 04, 2021
We stayed in the deluxe cabin and it was great. The cabin has a great set up with the propane grill and the fire pit on the front patio. We enjoyed the fire pit, and would like to come back when it's warmer to enjoy the patio. The inside also has everything you need. This was a great place to stay and then explore the Gila sites.
Jan 04, 2021
Friendly staff, very clean public spacesand out cabin. Enought heat and hot water ! Nice private patio, table set there, and great firebit with chairs around it. Stayed in deluxe studio cabin as family of 4 on December for 3 nights, good base to go nearby hikes, Catwalk, Gila national forest, Cliff Dwellings, Silver City, Rock City. Starwatching at night from your own patio. Thank you!
Jan 04, 2021
This is the second time we have stayed with you. Your KOA is very clean and well kept. We enjoyed the stay and especially having the dog park and walking trail. I would like to see you add the dragon fly trail to your brochure if possible. It is a nice hike only a few miles from your KOA. Thank you for everything.
Dec 29, 2020
Immaculate facilities, gorgeous parklike, everything we needed. Just great! Exceeded expectation. Deserves your award!
Dec 29, 2020
Very short visit, but the grounds were well maintained, and had a pleasant appearance. We were greeted at our vehicle upon check-in to accommodate COVID protocol, and led to our site. First campsite that I have had a welcome packet at our power pedestal. Close to several attractions and shopping. We will be back.
Dec 29, 2020
Very clean and quiet enjoyable scenery .
Dec 29, 2020
Liked all our experience.
Dec 28, 2020
Very clean, very well kept campground.
Dec 26, 2020
This was the second time we have stayed at this KOA. It is very clean and in a nice location. Our only concern was that the individual that took us to our site was not wearing a mask. We saw him helping someone get propane and he again was not wearing a mask or the individual he was helping. This state has a mask mandate.
CAMPGROUND RESPONSE / COMMENTS:
Thank you for bringing this to our attention. We will address it with our staff right away.
Dec 24, 2020
Best KOA in the United States ...and we have stayed in bunches of them... from Alaska all the way to Arizona!!!!
Dec 21, 2020
Perfect and a very nice stay with nice people !!
Dec 10, 2020
Very clean and quiet nice KOA
Dec 08, 2020
We arrived after hours and warmly greeted by Rod. The bathrooms were clean and warm and the staff couldn't have been nicer. Great place after a long day on the road. And for all you Shasta Reissue owners- they had a large selection of canned ham decor! Thank you.
Nov 30, 2020
Rod and Tammy were awesome. Helped everyone stay safe but enjoy themselves. Hope the pandemic subsides soon so can attend the Blues festival. Hope to be back in the first quarter of 2021 if not sooner.
Nov 30, 2020
We had a wonderful time everyone was friendly the grounds were very clean easy to get around and hook up
Nov 30, 2020
Awesome place and koa the cat was a wonderful campground host. Lots of space, plenty of activites with walking trails that start right at the edge of the campground. Would have liked to have had another outlet in the cabin but we made the two in there work. Thanks for the great memories team Silver City KOA!
Nov 30, 2020
The staff was friendly, the park layout was well organized and everything was very clean. We will definitely stay there again.
Nov 29, 2020
I've been here twice in the last two months, and it's my favorite KOA so far! I'm pretty new at having a travel trailer, and they are very welcoming and helpful!
Nov 29, 2020
The staff are very friendly and knowledgeable. The camp is very clean and well organized. Service is exceptional!
Nov 26, 2020
So glad to see them taking precautions with contactless check-in! They had a Thanksgiving welcome package on arrival and it just got better from there. We needed propane and they picked up and delivered, loved that. The park is well taken care of and even though Covid didn't let us enjoy all of the facilities it looked nice. Thank you for making our stay enjoyable!
Nov 25, 2020
Excellent location, great staff, perfect for a couple of days to just relax!
Nov 24, 2020
The highway noise is horrible.
Nov 24, 2020
Very nice campground and hosts.
Nov 22, 2020
Great KOA! Owners were super friendly and accommodating. Highly recommend!
Nov 22, 2020
Clean, convenient, and friendly staff
Nov 19, 2020
Loved checking in online and that you had the welcome packet in a mailbox at our site. All was super clean and we had a lovely campsite. Too bad it was windy, we would have loved a fire that night, but what can you do? Great stay.
Nov 17, 2020
Cabin was very cozy.
Nov 16, 2020
Impressive: 1. Curb-side check-in 2. Clean, quiet 3. Lots of trash cans 4. Amusing and creative playground
Nov 15, 2020
Very clean park. Couldn't tell you about the restrooms as we were not allowed in because we were self sufficient. Park is next to main road and is very noisy at times. Nice staff. Store is very cute with lots of goodies! Great wifi in spot 18!
Nov 13, 2020
Nice and relaxing
Nov 13, 2020
Very good campground with outstanding staff. Spacious pull through with fire rings. Very good location for exploring the area.
Nov 13, 2020
The best KOA and the best private camp we have stayed at over our 5 week trip this year. Wonderful owners who really care and it shows.
Nov 12, 2020
Very nice and clean. Very little hot water in bathrooms/showers.
CAMPGROUND RESPONSE / COMMENTS:
Thank you so much for your feedback. We did have an issue with our hot water heater for a couple of days that we discovered and have fixed it now. Sorry for any inconvenience.
Nov 11, 2020
We stayed for a weekend and visited the "Catwalk" and Gila Cliff dwellings. The facility is pet friendly and they were very accommodating with a late departure for us. Very clean well kept campground. We will stay there again if we return to Silver City. Signage at entrance on Hwy 180 could be better, went right past it the first time.
Jan 07, 2021
Immaculately cleaned sites. Very quiet.
- Woody Feffer on Google
Jan 01, 2021
Very clean cabin and the campground, nice big patio with outdoor table & chairs, firebit with chairs, deluxe Cabin with enough hot water for all 4 of us to shower. Very Friendly staff. We would stsy again in in the area. Thank you!
- Kirsi Etling on Google
Nov 29, 2020
Great campground to use to explore the Gila. Staff was very friendly. Had a great time! Will definately come back!
- Robert Coulthard on Google