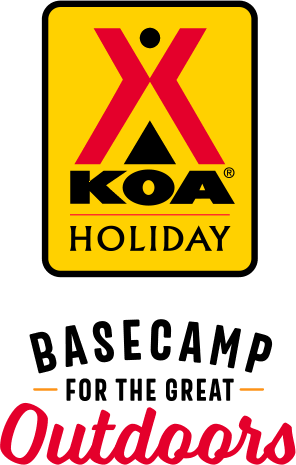 KOA Holiday Campgrounds
Whether you're exploring the local area or hanging out at the campground, KOA Holidays are an ideal place to relax and play. There's plenty to do, with amenities and services to make your stay memorable. Plus, you'll enjoy the outdoor experience with upgraded RV Sites with KOA Patio® and Deluxe Cabins with full baths for camping in comfort. Bring your family, bring your friends, or bring the whole group – there's plenty of ways to stay and explore.
KOA Holidays Feature:
RV Sites with a KOA Patio®
Deluxe Cabins with full baths
Premium Tent Sites
Group meeting facilities
Directions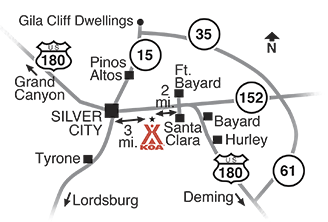 Three miles east of Silver City on US 180 between mile marker 118 and 119. If coming from Deming on Highway 180 E, GPS may show you have to go past our entrance and turn around. This is incorrect. There is a turning lane that most GPS think is a median.
Get Google Directions
Sep 24, 2021
A very clean well run campground.
Sep 24, 2021
We were going to be arriving past closing time and they told me they would stay there and wait for us to get there which they did ! This was my first time staying at a KOA and we were doing a cross country trip and since staying here we liked it so much that the first place we look for when trying to book an RV spot is a KOA.The park was clean well kept and we had an excellent stay
Sep 24, 2021
It was an awesome stay. Wish we could of got there earlier so we could of got wood, but it's a very nice, very clean place and my grand daughter loved the playground!
Sep 23, 2021
Very friendly hosts! Nice sites.
Sep 20, 2021
We stayed two nights. We unhitched our truck and explored the Silver City area. We bought take out food in the city. The dog park was right across the road from us and was very convenient and fun for our dog.
Sep 20, 2021
This campground is a gem. Close to so many amazing things to see and the campground is so well cared for and appointed. We love it!
Sep 20, 2021
Greeted by a wonderful young woman . She offered an upgrade to pull through same charge, the laundry room was clean and all working. The showers were spotless and water was warm all the way through. The dog park was right next door and was well tended .
Sep 19, 2021
We love it here! Staff is friendly and efficient. Clean restrooms! Will be back�
Sep 18, 2021
Our deluxe Kabin was clean and in good working order. The extra amenities were a welcomed and unexpected pleasure. This was our second stay at KOA Silver City, N.M. and each time was comfortable and restful. The grounds and pool areas are kept clean and well organized.
Sep 14, 2021
I could not get away from work on Friday to check in before 6:00pm so I called ahead to let them know that I was running late and could not give them an exact estimated time of arrival but nevertheless when I arrived shortly after 8:00pm Josh was there and ready to check me in and get me parked in my RV space! Very nice well maintained and pleasant place to stay!
Sep 14, 2021
Beautiful place, very clean, excellent wifi, staff amazing - they worked very hard but always had a smile and a pleasant greeting. They even offered us fruit from trees on sight.
Sep 13, 2021
Josh & Mary the sweetest hosts you could ask for, they were very on top of things, and you could tell they really love koa and thier guest
Sep 13, 2021
We had stayed 5 years ago and figured it was time to stay again. 2 adults in the cabin with the separate bedroom. Perfect size, and clean.
Sep 13, 2021
This stay was wonderful, the staff is stellar, customer service at its best. We stayed in a deluxe cabin. The Cabin was very clean and kept up. five stars for this KOA Campground.
Sep 13, 2021
This is a terrific KOA Holiday. Recently redone bathrooms, very clean with lovely new tile. Good size pool, sparkly clean with pool toys, floaties and noodles for guest use. Large level gravel sites, some terraced, all with clean picnic tables. Large rec room with ping pong table, shuffleboard, and large HIDef TV. Excellent WiFi, with instructions on how best to stream on your tv. Great Park!
Sep 12, 2021
Favorite site 15, great new owners, lots of space. What could be better.
Sep 10, 2021
Everyone was extremely friendly and helpful. I really enjoyed my stay.
Sep 10, 2021
First time we stayed in a cabin. We now travel in a Class B. Gets cramped so we decided to try a cabin and stretch out. We got a deluxe cabin with shower. The cabin at Silver City KOA was excellent. Very clean and had everything we needed, including linen and dishes.
Sep 09, 2021
It was a great place to stay. The staff was great and very helpful. I would defenetly come back.
Sep 09, 2021
The nicest KOA I've ever stayed in! The family owned grounds are immaculate and the family is amazing! My grandkids had a blast playing, riding bikes, exploring and swimming with the owner's kids who are fabulous! It was our daughter's second there and she brought 3 more families with her this time. We've already recommended this KOA to several people. Will go back for sure!
Sep 08, 2021
Great host great rv park
Sep 08, 2021
A great KOA. Really well kept facilities and sites. Staff was great to interact with at all times. Highly recommend this well run KOA...
Sep 07, 2021
The staff are very friendly. Allana made us feel very welcomed when we first arrived. Josh and Mary visited at the campsite to make sure everything was going well. The campsite is well kept. The bathrooms are clean. They have a nice swimming pool. It is close to the Gila Cliff Dwellings and The Catwalk.
Sep 07, 2021
Loved all the updates around the park: playground equipment, pool pump house, garbage bin surround. Had problem with my cable connection on site 14. Was fuzzy on all channels. Some channels not even viewable. So I switch to my digital antenna and received clear channels over the air.
Sep 07, 2021
We had an amazing weekend. The hosts were very good. We appreciated the personnel touch.
Sep 07, 2021
Beautiful grounds. Very nice all around...
Sep 07, 2021
This place is amazing! Owners are amazing and wonderful and kind!
Sep 07, 2021
The grounds are so clean and the owners were so nice. Can't wait to go back!
Sep 07, 2021
The management and staff were excellent. They were very helpful and accommodating. Very nice sites and park. Karen Miles
Sep 07, 2021
The best campground we have stayed at in NM. Josh and Mary were excellent!
Sep 07, 2021
Was a nice stay, the hosts treated us very well. They answered all our questions, and were very friendly. The park it self was very well kept.
Sep 07, 2021
We had a great time. Very clean, nice place to camp.
Sep 04, 2021
We love staying at the Silver City KOA. The new owners are assuring the continuity of great customer service that we have appreciated and we wish them much success in their new endeavor. Thank you!
Sep 03, 2021
fantastic well maintained KOA, hosts were wonderful
Sep 02, 2021
Very nice well kept quiet park. We stayed in a Deluxe Cabin and had a very nice relaxing & enjoyable time. Great views and some nice uphill trails. We brought our two smaller breed dogs and we're accommodated well. Very private site and we'll furnished inside and out. The Saturday pancake breakfast was fantastic and we all throughly enjoyed it. The sign is easily mistaken for the gas station.
Sep 02, 2021
Great campground, great people, great amenities. Clean grounds and bathrooms and laundry room. They work hard to make sure we have everything we need.
Aug 31, 2021
This KOA is awesome! The property is very well taken care of and the management was on top of everything. I was truest amazed how well we were treated and would recommend staying here.
Aug 31, 2021
The Campground was great at a more affordable rate than others. The new owners were great and you can tell they care about the grounds and the experience of visitors. They were very helpful and great to talk to!
Sep 07, 2021
The best campground we have stayed at in NM. Josh and Mary are excellent. Super well maintained and clean property. Very kid and pet friendly!
- S. Flowers on Google
Aug 29, 2021
We enjoyed our 2 day stay here so much! Clean bathrooms and campground, wi-fi worked well. The campground host was all around great and our kids loved the unique construction themed playground.
- Charity Wickliffe on Google
Aug 28, 2021
The friendliest staff and best pancake breakfast of any KOA in New Mexico! Well maintained with fabulous cabins and a nice dog park. They truly care about all of their campers.
- Kristen Young on Google