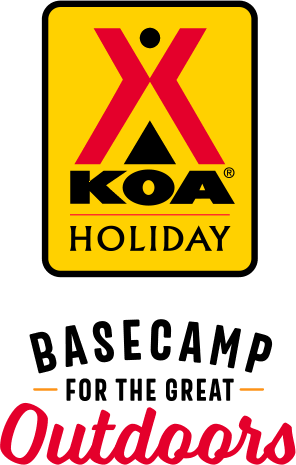 KOA Holiday Campgrounds
Whether you're exploring the local area or hanging out at the campground, KOA Holidays are an ideal place to relax and play. There's plenty to do, with amenities and services to make your stay memorable. Plus, you'll enjoy the outdoor experience with upgraded RV Sites with KOA Patio® and Deluxe Cabins with full baths for camping in comfort. Bring your family, bring your friends, or bring the whole group – there's plenty of ways to stay and explore.
KOA Holidays Feature:
RV Sites with a KOA Patio®
Deluxe Cabins with full baths
Premium Tent Sites
Group meeting facilities
Directions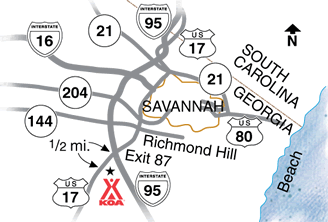 Located 18 miles south of Savannah. On I-95 take Exit 87 at Richmond Hill. Turn left at the end of the ramp, Go south 1/2 mile on US 17, Turn left across the median into the KOA.
GPS Coordinates: N 31° 55.261' W 081° 20.380'
N31.920883, W81.339381
Address is not GPS friendly!
Get Google Directions
Apr 06, 2021
The grounds were well cared for. Lots of amenities and places for the kids to run around. The cabin was very comfortable and the lake and birds a beautiful scene. We'll be back!
Apr 06, 2021
Very clean. Courteous staff. Well spaced sites. Wonderful bird life!
Apr 06, 2021
The park is loud at night with road noise and trains going by. For some reason they block the front gate with people camping, when there are open spots in the park. Also, a worker continued to blow dirt off the parking lot right by us when we were hooking up our tow vehicle to leave.
Apr 06, 2021
Very clean and pretty. Loved the swans!!
Apr 06, 2021
Just a great KOA campground. All the amenities needed, a friendly staff, and lots of activities near by.
Apr 05, 2021
GREAT GROUNDS AND YOU HAVE AN AWESOME TEAM
Apr 05, 2021
Folks were great, bugs were out of control.
Apr 05, 2021
Neat clean campsite. Workers pleasant and helpful.
Apr 05, 2021
Beautiful KOA , very friendly staff. Priced a little too high.
Apr 05, 2021
We overnight here on the way home from Florida. It is such a lovely, serene campground we are going to spend a few extra days on our trip in the fall. The swans are absolutely majestic!
Apr 04, 2021
Our stay was okay. Our site was very small, very little yard space. My main "complaint" would be this campground seems to be a pit stop for most travelers. There was a lot of turn around with new campers everyday which made the campground quite busy. Amenities were good, nice bath houses and cute lake but no fish.
Apr 04, 2021
Convenient to area attractions. All the staff members were very pleasant and helpful.
Apr 04, 2021
We stayed a week before Easter. Easy check in and escorted to our site. Site was pretty level and well tended. we were in a standard gravel pull through. There are deluxe paved pull through there too. There are also 2 back in sites that have decks built over the lake. Nice. Easy access to I95 and to Savannah.
Apr 04, 2021
Beautiful campground. Great staff
Apr 03, 2021
Nice and clean. Friendly staff. A lot of cars in the KOA coming and going.
Apr 03, 2021
Near 95 a plus!
Apr 03, 2021
Great place to stay overnight or a few days. Extremely friendly personnel and clean campground. The kids love fishing at the lake.
Apr 03, 2021
we enjoyed our stay. The staff was very friendly and helpful.
Apr 03, 2021
Clean, friendly, great site set up!
Apr 03, 2021
Really a nice campground, very clean and the wifi actually worked. This campground is close to everything savanna offers. We enjoyed our stay and will return.
Apr 02, 2021
Beautiful spot, clean and well kept campground. Many spaces were close together.
Apr 02, 2021
A little tight but manageable. And Pune cones falling from 40 ft above and hitting the roof. That wakes you up. LOL. Always stay here.
Apr 01, 2021
Love this Campground Well managed Great, helpful staff
Apr 01, 2021
Very nice, friendly & accommodating ladies in the store when we checked in. Impressed with cleanliness of the entire campground. We weren't fond of our site that backed up to the lake when it actually backed up to some cabins with a group playing games of corn hole a few feet from our camper & a game with a soccer size ball that kept hitting our travel trailer. Overall we were pleased.
Apr 01, 2021
Excellent. Will return n I would highly recommend this KOA.
Apr 01, 2021
We loved this campground. Very beautiful area right on a lake. We were sad that we had only booked one night. We tried to stay another night but they were completely full. The staff were exceptional. We plan to visit again for a longer time in the future.
Apr 01, 2021
Very organized easy check-in and site locater was great. Beautiful park. Easy access
Apr 01, 2021
Friendly, helpful staff.
Apr 01, 2021
Campsite was reasonably spaced. It was quiet and near the lake. Our site was backed by pine trees. Bathroom was clean and well maintained. It was a convenient drive to Savanna.
Mar 31, 2021
One of our favorite campgrounds! Well located in conjunction to Savannah, Tybee Island, Jekyll Island and Hilton Head. Well keep grounds, nice ponds, beautiful swans!
Mar 31, 2021
You need to restrict motorcycle noise, loud pipes should be illegal.
Mar 31, 2021
Very helpful and friendly staff. It was perfect for a couple of days but sites are a little close for a longer stay. Still we were very pleased and the grounds were clean and the lake beautiful.
Mar 31, 2021
I enjoyed my stay at this campground very much. I use it as a stop over on the way to and from Florida. Love the pull-in slots, the bathroom is very clean, the store is well stocked for this size campground, staff are friendly, and the swans are beautiful. I prefer it more for short stays. The only issue was there is no traffic light when taking I-95 North to the main road.
Mar 31, 2021
We stay overnight here on all our trips to and from Florida. Highly recommend. Great staff and a really nice campground.
Mar 31, 2021
Greatest lodging I never knew about! We stayed in the Magnolia Cottage and all I can say is Wow! It truly does sleep six (Comfortably). Incredible décor with that rustic cabin vibe throughout. Covered Porch with Ceiling Fans and Mister lines to keep you cool as well. Just a couple things would make it better, 1. Noon checkout would be great. 2. Talk the fish into biting anybody's line..Lol
Mar 31, 2021
Very nice park and great staff, but expect to drive if you want to see local sites. The traffic is heavy anywhere you want to go in the Savannah area.
Mar 31, 2021
Clean and friendly
Mar 31, 2021
Nice, clean facilities. Very friendly staff.
Mar 31, 2021
Only stayed one night on our way back home. People in the office are very friendly and polite. We like being led to our campsite and having our leader flagging us in to the appropriate position...close to the hook-ups before he/she leaves. Would come back again.
Mar 31, 2021
The people were nice as can be during checkin and getting directions to the site. The campground is deceivingly big around a small lake. The only reason I'm not giving a 5 star is the site was a bit tight getting out in the morning with the way campers had to park their tow vehicles.
Mar 31, 2021
It was our first visit and we really enjoyed !Check - in could be a little later �
Apr 03, 2021
Great place to stay overnight or for a few days. Super friendly staff and clean campground. The kids love fishing at the lake.
- Rick Bosarge on Google
Apr 02, 2021
Clean and new dog park
- derek imes on Google
Apr 02, 2021
Loved this place ! It was our first visit and a day in we're planning to come back ‼️
- Trina G on Google