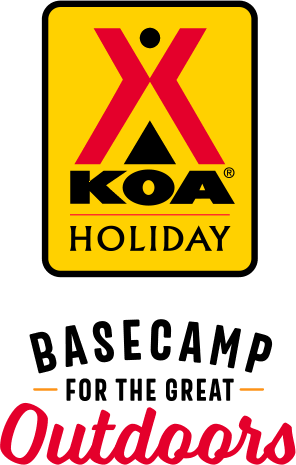 KOA Holiday Campgrounds
Whether you're exploring the local area or hanging out at the campground, KOA Holidays are an ideal place to relax and play. There's plenty to do, with amenities and services to make your stay memorable. Plus, you'll enjoy the outdoor experience with upgraded RV Sites with KOA Patio® and Deluxe Cabins with full baths for camping in comfort. Bring your family, bring your friends, or bring the whole group – there's plenty of ways to stay and explore.
KOA Holidays Feature:
RV Sites with a KOA Patio®
Deluxe Cabins with full baths
Premium Tent Sites
Group meeting facilities
Directions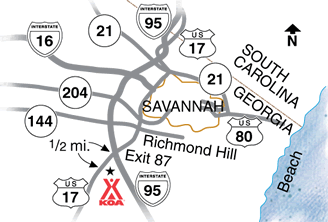 Located 18 miles south of Savannah. On I-95 take Exit 87 at Richmond Hill. Turn left at the end of the ramp, Go south 1/2 mile on US 17, Turn left across the median into the KOA.
GPS Coordinates: N 31° 55.261' W 081° 20.380'
N31.920883, W81.339381
Address is not GPS friendly!
Get Google Directions
Oct 18, 2021
My family and I have been here 3 years in a row and already have next year reserved! Love it here! Beautiful grounds. Helpful employees. Well run!
Oct 18, 2021
Love love LOVE this campground!! It's clean, the employees are friendly, and there's a neat community vibe in the campground! We will definitely stay again!
Oct 18, 2021
Quiet, clean
Oct 18, 2021
Really enjoyed the full patio site with BBQ, fire pit, furniture and fenced in area. Grounds were clean and well maintained. Staff very friendly and helpful.
Oct 18, 2021
We have stayed here on 6 occasions and we love it. Lovely lake with beautiful swans.
Oct 17, 2021
I wish the people in site 38 would follow the 10pm quiet time. They were talking so loud I could hear them inside my camper.
Oct 17, 2021
Nice location. Easy in and out. Very nice and friendly staff
Oct 16, 2021
Beautiful, peaceful campground. We enjoyed our stay very much.
Oct 16, 2021
Staff was very helpful and pleasant. Campground was well maintained. This was our first stay at a KOA campground and will stay there again.
Oct 16, 2021
Espectacular lugar,espectacular momentos
Oct 16, 2021
The grounds are nice enough and the sites are roomy however there was a lot of masquitos. I would recommend spaying for them.
Oct 16, 2021
Everything was very nice easy access to pool bathrooms were extremely clean. About 20 miles from the center of Savannah that would be the only slightest of drawbacks and only if you have a class C or class A with no tow car. You can by tickets for the trolly car and spend all day in Savannah (TOTALLY WORTH IT) with a shuttle to and back to your camp ground. No stress, good time!
Oct 15, 2021
Three nights. Facilities were fabulous. Carol, Laurel,Lanie and Ken made the stay even more enjoyable. Shuttle service including Trolley Tour available. Pool area spacious. Overall great place look forward to another visit there.
Oct 15, 2021
Site was very narrow. Lots of noise from highway and train. Check in was simple and quick.
Oct 15, 2021
Staff are very welcoming ready to assist you should you have questions and always a enjoyable stay.
Oct 15, 2021
Campground is noisy at all times but early mornings is the worst. the back of the camp ground is full of long term campers with loud trucks and motor cycles. Also LOTS of loud trains day and night.I will not stay here again.
Oct 15, 2021
Beautiful campground. Great staff!
Oct 15, 2021
Nice spot and clean campground. Staff was very nice and polite. It was a bit crowded/tight but but it is a nice place.
Oct 15, 2021
Clean campground, new amenities, and friendly staff. Convenient location as well.
Oct 15, 2021
The staff was so accommodating
Oct 14, 2021
Nice place, just wish they would put you toward the back if you're staying more than one night.
Oct 14, 2021
Stayed for 2 nights. Campground clean and well maintained. Staff is very friendly. Site was level as a board (Site 40) and roomy.
Oct 14, 2021
It was just an overnight but I was checked in in less than five minutes and escorted to my site. The patio site was clean and easy to pull through. I was hooked up and settled in for the night in no time at all.
Oct 14, 2021
Great site by the lake. Very relaxing watching the Swans. Very quiet, and bathroom.was very clean. Will return soon.
Oct 13, 2021
We stayed in cabin L104. Everything was there just like a hotel except for one thing, hotel taxes!!! they are 3x as hi compare to the KOA stay. we loved being able to walk right out to the truck and pack up for our days adventure. And seeing the turtles and swans was just a bonus. Everyhting was very clean , just a bit musty smell but not a big deal. we will definitely do it again!
Oct 12, 2021
It's easy in and out. Beautiful lake and swans. We so enjoyed sitting by the lake and watching them. Very nice pool. We will be back!
Oct 12, 2021
Love the swans! It is such a nice place to walk around. Everyone is friendly and helpful. We have been coming here for a decade now with both family and friends.
Oct 12, 2021
Very Personable meets all your expectations and clean Thanks
Oct 12, 2021
Check in was easy and the ladies at the front were pleasant and knowledgeable. The gentlemen who took me to spot was helpful in helping me back into my spot. He was very patience with me, I'm learning to back up, so kind of slow sometimes. The only small complaint were the small roads in the back by the lake. They were also a little rough. I had no problem but I would imagine a large RV would.
Oct 12, 2021
Exceeded my expectations.
Oct 12, 2021
Wonderful KOA
Oct 11, 2021
Great campground with great people. Thanks.
Oct 11, 2021
Repeat visit - always enjoy our one night visits at this KOA. Conveniently located off I95. Check-in is always a breeze, staff is friendly, escort to site is much appreciated. Have stayed on the lake side, the shaded tree side and both are excellent sites. Camp store is well stocked and the campground itself is always in great condition and clean. Reliable and friendly stop as we travel.
Oct 11, 2021
We've only started at one other KOA before, but this KOA was much cleaner and the bed was more comfortable. Friendly staff as well! Would recommend ����
Oct 11, 2021
We were very pleased with the efforts of the staff to accommodate our overnight stay.
Oct 11, 2021
Campgrounds were clean and well-managed. Caomp site was very special. Will be back!!
Oct 11, 2021
It was good. We stayed in a tent, the pad was nice but around the pad and the picnic table was like mud, we were lucky that it didn't rain. It should have some gravel around it. The people that were there were helpful and nice.
Oct 10, 2021
Being in the middle of busy is not camping. Lots of internal traffic. Sites too close to each other.
Oct 10, 2021
Great park close to Savannah very clean and well run will be back
Oct 14, 2021
We stayed at Lot 14 for 2 nights in October. This lot was a premium site with a fire pit and a deck that overlooked a pond with ~20 swans swimming around each evening around sunset. The campground was very busy and we had mechanical issues that delayed our arrival by a day…They still arranged for our stay to be the same number of nights, which was greatly appreciated considering their overflow parking was full each night. The campground was clean and quiet and dog friendly. The dog park is all sand, so we avoided that…but the pool was pretty and clean.
- Y4583LIpaml on Trip Advisor
Oct 12, 2021
The staff is SO friendly and helpful! Particular thanks to Gail and Ellen! ❤ Nice tent sites, beautiful views, fantastic wildlife - lots of swans and other shorebirds, cool birds (iningas?) that look like snakes in the water, turtles, lizards, and alligators! Also very clean restrooms, a convenience store, and a really nice community room. I'd give more stars if Google would let me.
- EvenNote Emerald on Google
Oct 11, 2021
Had a great weekend. Kinda hard to find cabin in the dark. We shined a flashlight up on the cabin to find the numbers cause the map isnt exactly accurate. Nice and clean and had what we needed. Nice hot water & a/c worked great! Watching the turtles from the deck was my favorite!
- Angie Joyce on Google