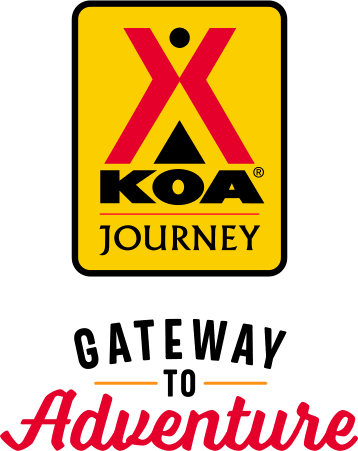 KOA Journey Campgrounds
KOA Journey campgrounds are the perfect oases after a day on the road. Whether it's along the way or a quick getaway, they've got you covered. Located near the highways and byways of North America with long Pull-thru RV Sites, they deliver convenience to the traveling camper. Pull in, ease back and take a load off.
KOA Journeys Feature:
Pull-through RV Sites with 50-amp service
Premium Tent Sites
Well lit after hours check-in service
Directions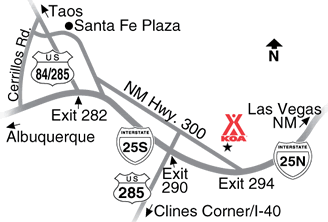 DO NOT RELY ON GPS DIRECTIONS!!
Lat/Lon +35.546735 -105.836635
Northbound I-25: use Exit 290, left 1/2 mile to 3-way stop, right on Hwy 300 (Old Las Vegas Highway) 3 miles.
Southbound I-25: Exit 294.  Right at the bottom of the off ramp.  Left at Old Las Vegas Hwy.  About 1 mile on your right.
US 285 Northbound: go under I-25 overpass to 3-way stop, right on Highway 300, 3 miles.
Get Google Directions
Oct 23, 2021
Best of three KOA stays in a one week trip! Friendly and accommodating staff, clean facilities and quiet. Staff was very patient with me as I tried to change arrival dates over weather issues. Will return.
Oct 23, 2021
Clean, quiet cabin. Grounds are nice, love that the location is away from town. 2nd time there, will stay again in the future.
Oct 23, 2021
Thank you ����You were ALL so friendly snd accommodating ����
Oct 23, 2021
AMAZING staff! Very clean & quiet park. Great stop over for a one night stay! Would definitely come back again
Oct 22, 2021
Very tight spaces.
Oct 22, 2021
Great place to stay with great service and very friendly and helpful staff. Thank you!
Oct 22, 2021
Staff was very helpful.
Oct 21, 2021
People were very friendly and helpful. Site was small and we were up against a metal structure ( garage and game room). The internet was great. The laundry new and clean. 15 minutes to Santa Fe Center
Oct 21, 2021
Such a nice campground! Everyone who works there is so helpful and friendly. Kid-friendly yet peaceful and relaxing for adults at the same time. Everything was clean and comfortable. Will definitely be returning!
Oct 21, 2021
We stayed in the deluxe kabin. It was awesome for a family of 6 to have the comforts of home but give the kids a small taste of camping. The store staff was friendly and helpful and the owners were awesome. We would definitely stay here again!
Oct 21, 2021
Nice Campground, Great owners and family. I would highly recommend this KOA.
Oct 20, 2021
Lorraine and the rest of the staff all made me feel safe and welcome when my husband had a medical emergency while we were traveling and ended up in the hospital in Santa Fe. Although I ended up here unintentionally, I loved the beautiful campground and friendly, helpful staff so much that I told my husband we definitely will be returning once he's back on his feet!
Oct 19, 2021
Clean park, easy to get around, pleasant and helpful staff
Oct 19, 2021
Fantastic stay! Wonderful experience with very hands on owners! We'll definitely be back!
Oct 19, 2021
Best KOA I have been to. Clean, quiet and great staff. We will be back 100%
Oct 18, 2021
We were there for one night. Very short stay, left before daylight. My only complaint was that big dogs outside of the campgrounds barked most of the night. Very easily heard from our site. The park itself was excellent. Very well maintained. Staff was super helpful & looked great for kids.
Oct 18, 2021
We enjoyed our stay. All facilities are clean and well cared for. Having an escort to our site was great!
Oct 18, 2021
KOA was great! Clean & friendly staff. But if you're looking to go into Santa Fe, particularly the plaza, beware of parking for large vehicles!
Oct 18, 2021
Good bathrooms. Good spaces to walk. Not on freeway but not far.
Oct 17, 2021
Good bathrooms. Good laundry. Good dog park
Oct 16, 2021
Very nice place, met all expectations. Very nice fenced in dog walk area which we really liked.
Oct 16, 2021
Very pleasant, very clean including bathroom
Oct 15, 2021
Wonderful people. Clean facilities. Only issue is the 2 hour restroom closure for cleaning from 11 am to 1 pm.
Oct 14, 2021
Very clean and well maintained, super nice people with great recommendations for local food and entertainment!
Oct 13, 2021
Very friendly front desk. Helped us find a better shopping area. Was a little out of town but not a problem. Only difficulty was lack of cell service (Verizon) in the valley.
Oct 13, 2021
Our site was clean but not large enough for a big rig. The site was not level. Cable,, wifi, antenna, weather station, phone and tv were all sporatic. We have had no problems elsewhere. Office staff was pleasant. Signage along the road is easy to miss. No rig washing, even with a bucket and sponge.
Oct 13, 2021
The owners are the most delightful, friendly people. The accommodations were just fine. The campgrounds well kept. Would definitely stay here again!
Oct 11, 2021
Clean, friendly staff, separate but close parking tow vehicle, nice. Gameroom. Tacoma pulling 2018 Apex Nano 25'
Oct 11, 2021
This was our 2nd trip. Very friendly staff. Most organized, clean, and pretty KOA we have ever stayed at. The interstate was hardly audible at all. There are a couple of "upgraded" sites with Adirondack chairs, paved fire pit area, and a gas grill! Never seen that anywhere.
Oct 11, 2021
Excellent except for the barking dogs during the night, in the area over the fence
Oct 11, 2021
Very accommodating.
Oct 11, 2021
Easy in and out. Nice facilities. Friendly and helpful people.
Oct 11, 2021
Very nice, friendly campground. Comfortable cabins. Great service. Highly recommend.
Oct 11, 2021
Price was rather high. Glad there was after hours registration. Would be nice to have block ice for campers. Would be very helpful if the mobile hotspot was bigger - we had to be in just the right spot in order to use it. 2 hours is egregiously long to close the restrooms for cleaning - there are no other restrooms available in the campground, so that's a big problem.
Oct 10, 2021
It was excellent! The staff are SUPER FRIENDLY and helpful! This is our second stay and we loved it!
Oct 10, 2021
Would like to see a microwave and office open early, for coffee service. Or move to a space in laundromat
Oct 10, 2021
Stayed one full day at this KOA. Staff was great st check in and we were shown to our spot and offered any assistance setting up. Gravel pads and gravel roads but no problem for me. All the facilities were spotless. Very quiet park at night. Small amount of traffic noise from te interstate but not bad. Would recommend staying here if you are in the area. It is about 11 miles North of Santa fe.
Oct 10, 2021
Loved our stay in Santa Fe KOA! Very clean campground. The host was very helpful with many great eating and site seeing suggestions. Enjoyed their complimentary hot coffee in the morning!
Oct 10, 2021
Hosts were great, site was great, highway noise was a bit much, but not KOAs fault.
Oct 09, 2021
Clean, well managed and staff went above and beyond to make our stay enjoyable. We will definitely be back. Thank you.