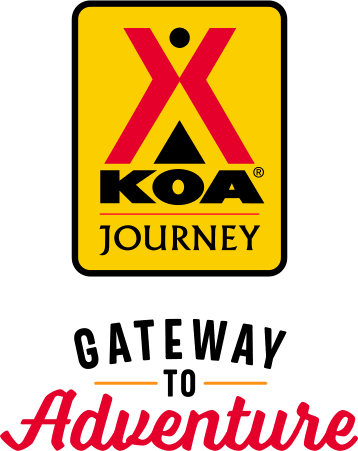 KOA Journey Campgrounds
KOA Journey campgrounds are the perfect oases after a day on the road. Whether it's along the way or a quick getaway, they've got you covered. Located near the highways and byways of North America with long Pull-thru RV Sites, they deliver convenience to the traveling camper. Pull in, ease back and take a load off.
KOA Journeys Feature:
Pull-through RV Sites with 50-amp service
Premium Tent Sites
Well lit after hours check-in service
Directions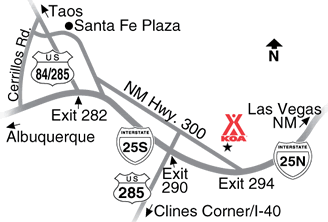 DO NOT RELY ON GPS DIRECTIONS!!
Lat/Lon +35.546735 -105.836635
Northbound I-25: use Exit 290, left 1/2 mile to 3-way stop, right on Hwy 300 (Old Las Vegas Highway) 3 miles.
Southbound I-25: Exit 294.  Right at the bottom of the off ramp.  Left at Old Las Vegas Hwy.  About 1 mile on your right.
US 285 Northbound: go under I-25 overpass to 3-way stop, right on Highway 300, 3 miles.
Get Google Directions
Nov 03, 2020
Nice park with friendly staff. Clean facilities.
Nov 02, 2020
Short, about 17-18 hours. First time experience, for s campground employee or person to stop by our site at 10:35 am to inquire if we were leaving by 11:00 am because they were locking the gates at 11:01 am. Will we come back? Not sure, nice location, but someone needs to educate the staff on proper etiquette.
Nov 01, 2020
Our favorite KOA of all times. Everything about it is perfect!!! We've been staying here since 1998 with many improvements in the last 9 or 10 years. Perfect location, staff and owners. Beautiful, ultra-clean bathrooms and laundry. In the hills with lovely cedar trees. Small, intimate campground. A++
Nov 01, 2020
Out location was prime!!! The staff was great! We can't wait to go back!!
Nov 01, 2020
Amazing experience
Nov 01, 2020
Everything was well organized and satisfactory except the water supply simply owing to the low temperature.
Oct 31, 2020
So clean!!! Friendly staff.
Oct 31, 2020
Location was great and the spots were perfect. Only small item was we were a night arrival and they forgot to leave out the site map with the wifi info but other than that it was great.
Oct 30, 2020
Bathroom was very clean. Our stay was short as we arrived in the dark and left in the dark.
Oct 27, 2020
The setting and campground were lovely. I was uncomfortable with indoor check-in, however, as the woman registering me wore a very loosely fitting mask (hanging down so low I could see her chin). She eventually pulled it up slightly when she reviewed a sheet with COVID information, but even so, how she wore it was tantamount to no mask at all. A pleasant man showed us to our campsite.
Oct 27, 2020
We tent camped with no utilities services but there was a courtesy outlet by the public sink area and we were able to pump to our air mattress. Had a great stay and the amenities were very clean. We would come back and stay if ever back in Santa Fe.
Oct 27, 2020
We had two nights to stay but two different sites. The host found a way to stay on the same site for both nights. The KOA campground was very close to Santa Fe area to see. Thank you
Oct 26, 2020
The G loop was way to crowded. The hosts were great as usual
Oct 26, 2020
Prissy, our Australian Shepherd, loved the dog park. We did not go out much because of COVID 19! Everyone was very nice!
Oct 26, 2020
Great location, nice camp and Kelly was very helpful. She even provided us with a mobile repair service so we could get the generator on our motorhome serviced...greatly appreciated!
Oct 26, 2020
Excellent location! All systems worked well and the staff were very capable and friendly.
Oct 26, 2020
Just an overnight. Very nice. Seems like a lot of dogs were barking, but it stopped before bedtime.
Oct 26, 2020
Facilities were clean and nice. Social distancing and masks required. Not excited that our tent site was buy the highway.
Oct 25, 2020
One of the best run KOAs I have stayed in. Clean and well thought out. Sites were a bit small but not a lot could be done about that. Really appreciated the folks who ran the camp. Thank You!
Oct 25, 2020
Always clean, comfortable, and well managed. Lots of shade here. Very nice.
Oct 24, 2020
Friendly help on site. Richard was great!. Bathrooms very clean.
Oct 24, 2020
Great spot, friendly people. Very clean.
Oct 24, 2020
Did a bit of sightseeing and hiking. Super weather. Great hosts, service level outstanding!
Oct 24, 2020
Beautiful setting...so typically New Mexico landscape. Wonderful service. Clean bathrooms, laundry etc. great location off of 27 - 10 miles to downtown. Nice people. Everything we expect from a KOA. Abit pricier than good Sam but worth it. Check out Pecks historical park while here. Very interesting.
Oct 23, 2020
A great place to stay. Not far from downtown Santa Fe and close to I-25. Friendly staff and very clean and neat. Pea gravel sites and fire pits. Only downside for us was the lack of Verizon coverage.
Oct 23, 2020
The owners are great! Very nice place.
Oct 21, 2020
Great place...well kept. We missed not having a swimming pool or Putt-putt golf area like other KOAs...but we made due by spending more time offsite
Oct 21, 2020
Stayed there on the way to another destination both coming and going. On the first night, we were met by the staff that helped get us settled quickly. On the return trip we were delayed by a highway closure and didn't arrive at the campground until 11:00 PM. The instructions left for us at the office were helpful and we were able to pull in and get a needed rest. I'll use this KOA site again.
Oct 21, 2020
Wonderful facilities. They were so helpful in arranging extra days we could stay there. We come from Estes Park, CO and the forest fires in the area were keeping us from driving home due to road closures
Oct 20, 2020
What a beautiful facility and the hosts were amazing. All COVID precautions in place, clean restrooms and level sites. We loved the deluxe patio. We will be back! Thank you �
Oct 20, 2020
More investment into site "pad" leveling. Really difficult to get a trailer "flat" as well as remove so much dirt...more gravel or add some astro turf. More importantly, from a security and safety standpoint, work with your carriers, e.g. Verizon, ATT, etc. to have a DAS (Distributed Antenna System) installed in or around the KOA. Having no cell coverage so close to I-25 was really surprising.
Oct 20, 2020
Great place! Very convenient to town. Excellent accommodations in the dulex site- grill, chairs, fire pit. Will come back soon!
Oct 20, 2020
Friendly staff but pretty dusty Paarl with no cell service.
Oct 20, 2020
4 night stay on a busy weekend. Had to change sites three times and the KOA staff made it ALMOST painless. Campground clean and orderly, bathrooms spotless. We'll be back.
Oct 19, 2020
We loved it!
Oct 19, 2020
We loved it!
Oct 19, 2020
Great staff & park! Highly recommend!