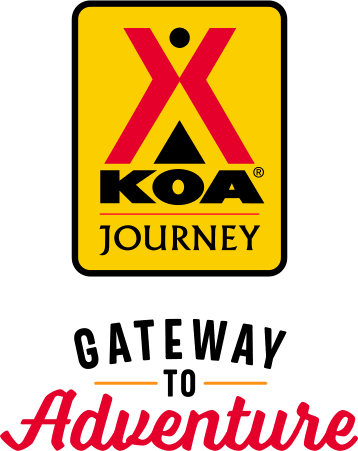 KOA Journey Campgrounds
KOA Journey campgrounds are the perfect oases after a day on the road. Whether it's along the way or a quick getaway, they've got you covered. Located near the highways and byways of North America with long Pull-thru RV Sites, they deliver convenience to the traveling camper. Pull in, ease back and take a load off.
KOA Journeys Feature:
Pull-through RV Sites with 50-amp service
Premium Tent Sites
Well lit after hours check-in service
Directions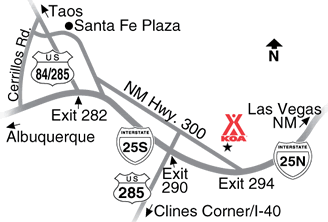 DO NOT RELY ON GPS DIRECTIONS!!
Lat/Lon +35.546735 -105.836635
Northbound I-25: use Exit 290, left 1/2 mile to 3-way stop, right on Hwy 300 (Old Las Vegas Highway) 3 miles.
Southbound I-25: Exit 294.  Right at the bottom of the off ramp.  Left at Old Las Vegas Hwy.  About 1 mile on your right.
US 285 Northbound: go under I-25 overpass to 3-way stop, right on Highway 300, 3 miles.
Get Google Directions
Apr 05, 2021
We actually weren't able to stay long - arrived late and had to head out early. But our tag and map were waiting for us and the camp site was beautiful! We were very sad we couldn't stay longer.
Apr 05, 2021
the spaces are really close to each other
Apr 05, 2021
Customer service was excellent
Apr 04, 2021
It was a good stay the grounds, laundry were all kept clean. The only draw back was no propane so we could refill. They did say they would have someone starting the weekend.
Apr 04, 2021
Clean facilities. Courteous staff.
Apr 04, 2021
Love the dog yard!
Apr 04, 2021
Excellent site pick for us. We arrived at dusk. Instructions were easy to follow and the site was perfectly level. The cable connection had a perfect signal. Definitely on our repeat list.
Apr 03, 2021
The campsite was clean, safe and quiet. Wish we could have stayed longer than overnight. We rented a pull through but could not pull through due a car being parked from another site blocking our exit. Restrooms do not open until 11 am. Drive way into campground was rough and pot holes.
Apr 02, 2021
We had a great 2 night stay at this KOA. The hosts were amazingly hospitable. Would definitely stay here again!
Apr 02, 2021
Very nice campground, nice children area. Bathrooms were excellent very clean as well as showers. Good for certain travelers - no pool which, for me, was lacking. Host and others were very friendly and excellent. Stayed in a cabin - the wash station was excellent (hot water & little trash can). Area is a little remote so would need own entertainment. Verizon does not work at this campground.
Apr 01, 2021
Very clean and easy access!
Mar 31, 2021
Lovely site. Fresh air. Truly kind people. Thank you!!!
Mar 31, 2021
Short but comfortable clean
Mar 31, 2021
Friendly folks in a clean and quiet facility!
Mar 28, 2021
Family and I had blast. The staff member amazing and very welcoming.
Mar 28, 2021
Clean and quiet place! Staff was very friendly! Kids just wished there was a jump pad.
Mar 27, 2021
Excellent campsite with a beautiful location. Very well kept and friendly hosts.
Mar 25, 2021
It was GREAT but my water did freeze. I guess that is a mother nature problem!!~!
Mar 24, 2021
The staff was very friendly and the facility is well maintained including clean bathrooms
Mar 24, 2021
The playground was awesome for the kids a big plus. We rented a full service cabin; awesome. we also had a pull thru site. The services were well placed for our trailer. The private side was very limited and we had to set up our chairs and fire behind the trailer. Not great but workable. Everything is gravel and the site was not level unless we crowed to one side. Not great but workable.
Mar 23, 2021
Nice enough. Expensive laundry and poor wifi. Sites were very tight.
Mar 23, 2021
Love coming up.
Mar 23, 2021
it was great, came in late, they had everything ready for us easy as pie, didn't even have to talk to anybody is was great so easy GREAT JOB GUYS
Mar 23, 2021
DVD's available on the honor system.
Mar 23, 2021
Great service -superbly clean facility. Will definitely be back next year.
Mar 22, 2021
Campground was nice, staff was friendly and helpful. Our kids loved the playground and it felt safe. The deluxe cabin was clean and provided everything needed. Only complaint is that wifi was EXTREMELY slow. The deluxe cabin touts 2 TVs, but they wouldn't connect to the wifi. Not a huge deal but would have been really helpful for getting on Netflix when our kids needed a little cool down time.
Mar 22, 2021
Nice KOA and very clean laundry rm. Only drawback was it was farther from downtown than I thought.
Mar 22, 2021
Always enjoyable
Mar 22, 2021
Friendly staff, clean, beautiful setting.
Mar 22, 2021
Nice Place Friendly People!
Mar 21, 2021
The only complaint I have about my stay at the Santa Fe KOA is the WIFI did not work.
Mar 20, 2021
We enjoyed our stay. The kids loved the playground and tetherball court. The hosts were extremely helpful with recommendations of things to see and do around Santa Fe. Easy access off the highway.
Mar 20, 2021
The facility was beautiful, well kept, scrupulously clean, very friendly staff, and extremely helpful. I was disappointed that the WiFi was so weak given the canyon location prohibited cellphone use except by the office.
Mar 19, 2021
Facilities are all very nice. My only complaint is I feel like there are too many lights that stay on all night.
Mar 17, 2021
KOA was fantastic! Everyone was very helpful and accommodating.
Mar 17, 2021
I had a great time and the crew working there went beyond their duties to make me feel welcome.
Mar 17, 2021
The staff was fabulous! They worked so hard to get us and our friends next to each other. They were so nice and friendly. From the escort to our RV site to the checkout, thy were awesome!
Mar 16, 2021
Great staff people were helpful I had a problem there were quick to assist and help this is going to be marked on my to stop place every year thank you.
Mar 16, 2021
Great campsite - easy access - could not have been more impressed! Thank you.
Mar 16, 2021
One of the best RV sites we have ever been to. Clean, friendly and relaxing! Thank you Santa Fe