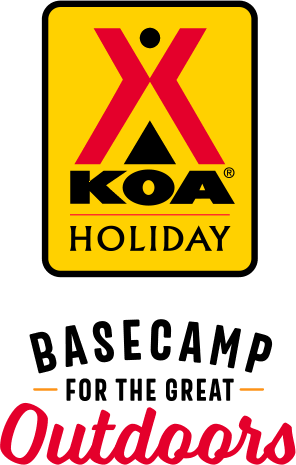 KOA Holiday Campgrounds
Whether you're exploring the local area or hanging out at the campground, KOA Holidays are an ideal place to relax and play. There's plenty to do, with amenities and services to make your stay memorable. Plus, you'll enjoy the outdoor experience with upgraded RV Sites with KOA Patio® and Deluxe Cabins with full baths for camping in comfort. Bring your family, bring your friends, or bring the whole group – there's plenty of ways to stay and explore.
KOA Holidays Feature:
RV Sites with a KOA Patio®
Deluxe Cabins with full baths
Premium Tent Sites
Group meeting facilities
Directions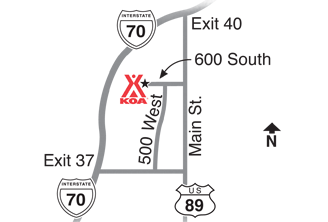 Exit 37 off I-70: 0.6 mile to 500 West turn left (north), 0.7 mile to 600 South, turn left (west), 2 blocks to KOA. Exit 40 off I-70: 2 miles on Main St to 600 South (First Street past Quality Inn), turn right (west), go 6 blocks to KOA. GPS: N38.759782, W112.094455
Get Google Directions
Dec 10, 2020

well maintained nice hosts cabin good value for money
Nov 14, 2020
We Pulled in at Midnight and were exhausted. Signing in was super easy and they caught my mistake writing down te space # I was to tired I couldn't read the space tag! Our stay was quiet and enjoyable and we did stay over another night just to get some rest. Those folks are GREAT!!
Nov 13, 2020
Nice clean campground and helpful staff.
Nov 04, 2020
Great location and terrific management team,
Nov 02, 2020
The owners were super accommodating and friendly. Sites are spacious and level.
Nov 02, 2020
The owners were wonderful! The bad part of our stay was that someone broke in to the back of our motor home while we were out on a walk. They were able to take my laptop & ipad that were in the front pocket of a suitcase that was next to our back window. I've never had anything taken from me, so it was very upsetting to realize that some items were missing.. I do not feel safe coming back.
CAMPGROUND RESPONSE / COMMENTS:
This is an issue that should have been brought to our attention. We have never had any issues like this at our campground. I tried calling you and never received a call back so I have a hard time believing this is true.
Nov 01, 2020
Very pleased with the amenities and cleanliness at this campground. We spent 3 nights there in Oct for a state volleyball tournament. The owners were Excellent to deal with.
Nov 01, 2020
Had a wonderful stay, KOA was clean, the grounds were kept nice.
Nov 01, 2020
Only 1 bite but would enjoy spending more time. Super clean bathroom facilities
Oct 31, 2020
Friendly people nice clean park would stay there again.
Oct 30, 2020
We had a pleasant stay here while day-tripping to Capitol Reef NP.
Oct 30, 2020
Very short stay. The RV park was as advertised and met my needs. Nothing fancy, but a nice one night stopover.
Oct 29, 2020
It was cold.
Oct 29, 2020
Everything we needed was at the KOA - full hookup, laundry, close to shopping . Owners helpful & courteous !
Oct 29, 2020
Well kept campground. On road trip, so only stayed one night but had a very good impression.
Oct 29, 2020
Least amenities of any KOA I have stayed at. Lowest level of customer service. Very disappointing.
CAMPGROUND RESPONSE / COMMENTS:
Not sure where you are coming from. We have a pool, horse shoes, Frisbee golf, corn hole, big playground, basketball, 2 dog parks and bike rentals. Make sure you are rating the correct campground.
Oct 28, 2020
Awesome park staff is great
Oct 28, 2020
These folks are very nice. Nice quiet camp ground
Oct 27, 2020
1 night stopover on our way east. We got a late start in the AM. We called office and were granted a later checkout. So nice!!!
Oct 26, 2020
Great place to stay! They employees are always so helpful and friendly. Have stayed multiple times now and have enjoyed each of the different sites. Nicely centralized to many great places to visit.
Oct 25, 2020
Very clean. Nice people running it. Very cozy and relaxing place to stay with a ton of shade.
Oct 25, 2020
We were only there one night and didn't get to use many of the amenities, but the campground itself was quite lovely with pretty leaves falling from the many trees.
Oct 25, 2020
The park was one of the best RV parks I've visited. Very clean with convenient amenities much needed as we only were passing through on our way home. Sink where we could wash dishes (didn't bother hooking up our trailer to water), CLEAN showers and bathroom. Large trees made you feel you were nowhere near a town, even though you were in its center. Kudos to management. You got it right!
Oct 24, 2020
The team was helpful and friendly. The WiFi was awesome. Enjoyed the large, mature trees.
Oct 23, 2020
Great place to stay. Very friendly staff,
Oct 23, 2020
Very relaxing! I love the crunchy leaves! Beautiful weather, clean RV park.
Oct 23, 2020
Very nice KOA. Nice sites, impressed with how much space we had. We could barely hear any road noise. Easy in and easy out. We will be back.
Oct 22, 2020
Love it here. Staff is very friendly. Picnic table is on a nice patio. Site has a grassy area too. Lots of trees for shade. Restrooms and showers are always clean.
Oct 21, 2020
We've been coming here for a few years now on our annual atv trip. This KOA is one of the nicest, cleanest, well kept RV parks we've been to. Mike and Julie (the owners) are fantastic people, very friendly and always there if you need something. Our pup, Scooter, goes to the office daily for a treat. We can't say enough good things about this Koa and look forward to our month stay every
Oct 21, 2020
This park is clean and shady. We have stayed there twice and have enjoyed both visits!
Oct 21, 2020
It was an overnight rest stop before proceeding to tour Utah's National Parks.
Oct 21, 2020
Best site we've seen in a long time. f4 had a very large patio.
Oct 21, 2020
Very nice campground! Cleanest town we have been to!!
Oct 20, 2020
A little tight getting in spot
Oct 20, 2020
We enjoyed our stay here. We just would have preferred a pull thru site.
Oct 19, 2020
Very nicely maintained and clean park
Oct 19, 2020
Nice place. We stopped after a long drive from Moab. The park is clean with lots of shade trees and very easy access from the freeway. Thank you.
Nov 18, 2020
Great place to rv. Large sites. Well maintained. Easy access to utv trails.
- Terry Weir on Google
Oct 31, 2020
Very quiet and VERY shady park. Could not use Sat Dish. Bathrooms are great.
- Nancy Prudhomme on Google
Oct 21, 2020
Very nice RV Park. Lots of trees and shade. Bathrooms are nice and clean. They have cement patios at each site. We enjoyed our stay. We will go back!
- Pat Wittmann on Google