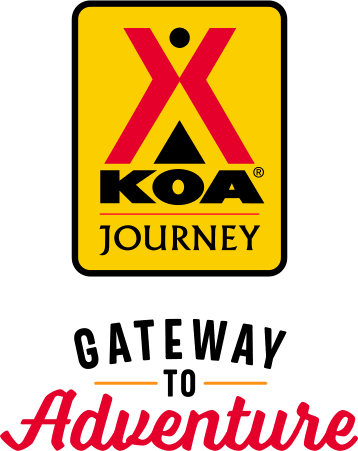 KOA Journey Campgrounds
KOA Journey campgrounds are the perfect oases after a day on the road. Whether it's along the way or a quick getaway, they've got you covered. Located near the highways and byways of North America with long Pull-thru RV Sites, they deliver convenience to the traveling camper. Pull in, ease back and take a load off.
KOA Journeys Feature:
Pull-through RV Sites with 50-amp service
Premium Tent Sites
Well lit after hours check-in service
Directions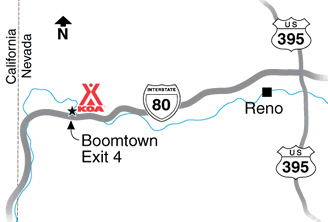 At the Jct of I-80 & US 395 - go west 11 miles to Exit 4, behind the Boomtown Resort & Casino. We are 4 miles east of the CA/NV state line
Get Google Directions
Jan 23, 2021
Used to stay here while working in the area. Employees are great, new owner however has changed the rules to exclude any RVs not to his liking. (Age/length/etc) Also charges extra for kids, and pets. Also overpriced for the condition of the park. Laundry/showers are inside the main office, so availability is limited. Call ahead before driving there for details.
Jan 20, 2021
Quicks and easy access to fuel and the intestate. Nice convenient and quiet stay.
Jan 16, 2021
Staff was great taking care of our needs
Jan 12, 2021
Good stay. Will be better once bathrooms are finished and able to be used. Store could be better stocked/provide more items.
Jan 08, 2021
I love the staff here at Boomtown KOA. Always smiling and very helpful at all times. The staff I give a 10! However, as far as the overall facilities, well below average of the other KOA's we've stayed at across the country. This is the most rundown. I see some of the park has been newly paved since I was here last year. Pretty rough out there. The indoor showers are being remodeled also.
Jan 06, 2021
The absolutely best staff. The grounds are in excellent condition. If you do have a problem it is resolved within minutes to my complete satisfaction.
Jan 04, 2021
This is our first stay at a KOA. We had a good time. The park was quiet and clean. I'm pretty sure the park was a little more lively and staff a bit more upbeat before COVID-19. There are things like The laundry room allowed 1 person (even family, still 1), but the office/lobby allowed more. The space was extremely similar so it was a little weird, but then Covid rules are weird. We will return
Jan 03, 2021
Campground was great and the late check in process was easy. Got to our site around 11p and someone had parked their truck right across the middle of our site and their trailer (for an ATV) was also on the paved part of our site. To avoid waking up the whole campground with moving trucks and trailers around, we drove around to find an empty spot that fit our rig to camp for the night. Terrible.
CAMPGROUND RESPONSE / COMMENTS:
I am sorry to hear that your space was blocked by another person. That usually doesn't happen. I hope you come back and thank you for your feedback.
Dec 29, 2020
Very non eventful. Was glad the campground was open during COVID. We stayed to ourselves. Used our own restroom and showers.
Dec 24, 2020
The facilities were not available. Very disappointed in the campground. Many sites available and we were squished in next to many. Lots of construction going on.
Dec 21, 2020
IT WAS GREAT
Dec 20, 2020
Toilets not available (renovation), no propane gas (broken) and no discount offered despite so many issues.
Dec 17, 2020
I've stayed at KOAs across the country and this was probably my worst experience, and still not all that bad. The night was supposed to freeze, so the clerk told me not to hook up any water. No water? When you rent you get full services, including water.. It should be up to the park to heat tape their water spigot if they're going to stay open year round. I wasn't impressed.
Dec 17, 2020
Arrived late, left early. $52, with my KOA card, and restrooms and showers only available during business hours, 8 AM to 6 PM. Totally ridiculous!
Dec 13, 2020
Staff was friendly and very g elpful. The Campground was very clean and well keep up.it is a good place to stay!
Dec 07, 2020
Clean and quiet. Melissa and her staff are amazing.
CAMPGROUND RESPONSE / COMMENTS:
Thank you and we look forward to having you again.
Dec 06, 2020
The utilities and grassy/picnic table area are on the same side. You have to park with your RV door on the wrong side and constantly walk around the RV to get to your "area". Horrible design for campers.
Dec 05, 2020
At tbe last moment we decided to get the space. I reserved online and the receptionists were very polite and delightful. The kamp was very clean and comfortable.
Dec 02, 2020
Was too quick!
Nov 30, 2020
Beautiful location. Easy to navigate. No problems at all. Will stay here again when in Reno!
Nov 30, 2020
Everything was fine except bathrooms and showers didn't like the fact that were inside the office and hours. I will rate the bathroom and showers 1.
Nov 29, 2020
Pleasantly Surprised by how clean and well-maintained this KOA campsite was. We arrived from a long drive in the evening and the woman who helped us was very friendly and had great customer service.
Nov 28, 2020
Enjoyed,as usual.
Nov 26, 2020
Friendly. Very helpful. A pleasure fom arrival to departure. We'll be back.
Nov 25, 2020
Bathrooms were locked overnight due to Covid. No sign on door sharing this information. No verbal communication at check in stating no bathrooms. No paperwork at check in stating no bathroom access either. Needing the bathroom at 430 and being met with a locked door is not a good way to impress me.
Nov 23, 2020
The office staff was friendly and courteous. For a winter, local getaway for us to disconnect and unwind, they were attentive to our needs and placed us ina remote location. Social distance initiatives were in place, and the campground/facilities we very well maintained. We will definitely return again!
Nov 16, 2020
Staff was really nice...somebody was riding mini bike at 5am...other than that all good.
Nov 16, 2020
Over a 3 week period we stayed at multiple koas. This was the worst. Restroom and showers locked during office closed time, not mentioned on website. Very inconvenient. Only koa in 7 states this happened. Very bad set up!!
Nov 16, 2020
The staff is great and the grounds clean
Nov 10, 2020
It was very peaceful and quiet. The park is in a good location.
Nov 06, 2020
Nice and quite place, set just outside Reno so you can enjoy the city but still go home to piece and quite.
Nov 04, 2020
We've stayed here before, but not impressed this time. Extremely narrow site, couldn't put out awning for trees, fall leaves cl9gged up top of slide, steps went down to dirt/uneven asphalt surface (dangerous!!), very small dirt dog park, playground was 1 piece of equipment.. For $55 a night, we expect better.
Nov 03, 2020
The few bathrooms that were available due to Covid should have been cleaner.
Nov 02, 2020
To many people living there placed between trashy trailers in tire park dirty leaves every where won't be back
Nov 02, 2020
The staff was great.
Oct 29, 2020
Facility was clean and staff very friendly. Due to COVID-19 the showers were on a limited timeframe of being open for use. Also would have appreciated if the shower rooms were a slight bit warmer.
Oct 29, 2020
Very easy check in. Stay helpful. Great site.
Oct 29, 2020
Easy in/out even with our late arrival. Would have liked to get to the casino but the park is a bit away, we're walking challenged, and only staying one night so didn't want to unhook the 5th wheel.....otherwise, it would have been 5 stars.
Oct 28, 2020
Staff was wonderful and friendly. Very helpful with the warning regarding freezing temperatures and our water line. Thank you!
Oct 27, 2020
The trees on the sites need to be trimmed, they were hard to avoid scrapping the top of our motorhome, and branches laid on the top of the motorhome. They use to provide a shuttle to the casino, but no long offer that and the casino is pretty far from the sites.
Oct 27, 2020
Park is clean. Staff very helpful. Sites very narrow but level. Good for overnight stay. Uninspiring.
Dec 05, 2020
Very clean and quiet. Lots of spaces. No reservation needed this time.very reasonable on peices too.
- paul anderson on Google
Feb 07, 2019
So you might think that a campground is a campground right? Well I beg to differ. As far as amenities go this place is not much different than any other campground but it's the people that run it and manage daily that really make the difference. They are so kind and generous and friendly. I also really like the fact that is close to Boomtown casino which is great because it's my favorite casino. Despite it being a few miles out of town there's still plenty of amenities close enough, shopping, laundry, haircuts, etc that it is still very convenient.
- Dale Terry on Google
Dec 15, 2020
Went there to watch Sunday afternoon football. They have a great selection of beer, friendly employees, watched all the games with locals.
- Jackie Hager on Google