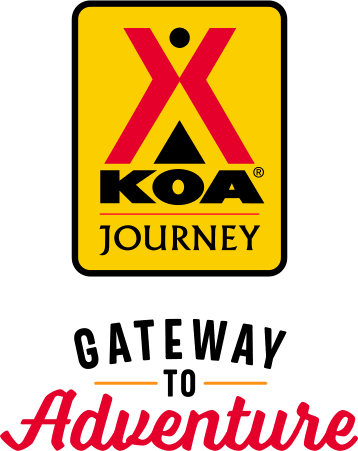 KOA Journey Campgrounds
KOA Journey campgrounds are the perfect oases after a day on the road. Whether it's along the way or a quick getaway, they've got you covered. Located near the highways and byways of North America with long Pull-thru RV Sites, they deliver convenience to the traveling camper. Pull in, ease back and take a load off.
KOA Journeys Feature:
Pull-through RV Sites with 50-amp service
Premium Tent Sites
Well lit after hours check-in service
Directions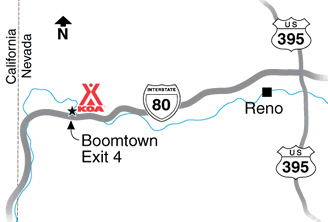 At the Jct of I-80 & US 395 - go west 11 miles to Exit 4, behind the Boomtown Resort & Casino. We are 4 miles east of the CA/NV state line
Get Google Directions
Apr 05, 2021
Everyone was extremely nice.
Apr 05, 2021
Very quiet and peaceful very clean staff very polite and kind...
Apr 03, 2021
Overpriced. We paid 50$ for a parking space. Bathroom and shower closed from 7pm until 8am. We have a solar powered camper van with no need of power hook up and we didn't use the waste or water connections. Had a beautiful spot the next night at an Oregon state park with privacy and a hot shower at our time preference for 19$
Apr 02, 2021
We did not use the bathrooms. Nice concrete pads. Owner was very nice. Nice dog run.
Mar 31, 2021
Thank you! It was great. Wish the pool was open, it looked fun but great place!
Mar 31, 2021
The staff is wonderful and the ladies are so helpful. Thank you ��
Mar 28, 2021
The staff was awesome. The property was well kept and clean.
Mar 27, 2021
I have been here a handful of times, but this time was disappointed as the propane source had to be removed due to a leak and the Chevron advised their tank was down. Also no access to the restrooms/showers, which the shower was needed as unfortunately my trailer water heater would not operate and it would have been nice to know during check- that facilities were closed.
Mar 26, 2021
Boomtown KOA is a lovely place. We enjoyed our stay.
Mar 23, 2021
Did not meet my KOA expectations. The website advertises internet, 24 hour bathrooms and showers; however, the bathrooms and showers were closed "due to Covid-19" ( not the case at other KOA campgrounds we have stayed over the last three months) and we could not connect to the internet. Emailed the campground host and received a weak response about the wind impacting internet connectivity.
Mar 21, 2021
Was there for 6 months and enjoyed every minute
Mar 20, 2021
First let me say I travel full-time in my rv. Staff was very friendly. Their bathrooms are still closed?? Only campground I have come across that this is still the case. Also there is only one and its a quite a walk from the far end of the site. There was trash against the fence line by the river. Office and laundry room were very clean. It was quite.
Mar 17, 2021
Other campers (with and without dogs) were inconsiderate. They would walk between our truck and trailer and behind our trailer between our table and decorative flags. You'd have to watch where you stepped as there was a lot of dog poop everywhere. On a positive note, the boomtown security would drive through campground on a regular basis.
Mar 16, 2021
My only complaint is about the wi fi. It sucks
Mar 15, 2021
Very easy to pull into and large enough for the truk and trailer. Very well maintained nice and quiet.
Mar 07, 2021
Very nice camping. Quiet. Staff was very friendly.
Mar 01, 2021
Have stayed at Reno KOA at Boomtown multiple times as our halfway rest stop. Highly recommend! Staff is always very helpful, courteous, and kind. Has a nice view the hills/mountains.
Feb 25, 2021
It was very convenient..expensive for bathrooms not functioning..but very enjoyable esp to help w ailing godparents
Feb 24, 2021
Staff was great! Helpful and friendly.
Feb 19, 2021
Good job Everyone was friendly and the facility it's very clean and very clean a campground and we will be back again next year thank very much
Feb 13, 2021
It was very nice but it was a little uncomfortable not to be able to have 24 hr. Access to the restroom and shower. The Ladies were very nice thank you so much.
Feb 13, 2021
No bathrooms and no wifi but full price.
Feb 04, 2021
It's very quiet and pretty
Jan 25, 2021
I wouldn't really consider this a "campground" to be honest. It's just a generic RV park. There are no fire pits, which was misleading, and everything is closed. There are no trails leading from the park itself, and there was nothing to do. It was basically just a place to stay for a casino. Which only had gambling and food so no family stuff. Plus another RV was blasting radio until midni
Jan 23, 2021
Used to stay here while working in the area. Employees are great, new owner however has changed the rules to exclude any RVs not to his liking. (Age/length/etc) Also charges extra for kids, and pets. Also overpriced for the condition of the park. Laundry/showers are inside the main office, so availability is limited. Call ahead before driving there for details.
Jan 20, 2021
Quicks and easy access to fuel and the intestate. Nice convenient and quiet stay.
Jan 16, 2021
Staff was great taking care of our needs
Jan 12, 2021
Good stay. Will be better once bathrooms are finished and able to be used. Store could be better stocked/provide more items.
Jan 08, 2021
I love the staff here at Boomtown KOA. Always smiling and very helpful at all times. The staff I give a 10! However, as far as the overall facilities, well below average of the other KOA's we've stayed at across the country. This is the most rundown. I see some of the park has been newly paved since I was here last year. Pretty rough out there. The indoor showers are being remodeled also.
Jan 06, 2021
The absolutely best staff. The grounds are in excellent condition. If you do have a problem it is resolved within minutes to my complete satisfaction.
Jan 04, 2021
This is our first stay at a KOA. We had a good time. The park was quiet and clean. I'm pretty sure the park was a little more lively and staff a bit more upbeat before COVID-19. There are things like The laundry room allowed 1 person (even family, still 1), but the office/lobby allowed more. The space was extremely similar so it was a little weird, but then Covid rules are weird. We will return
Jan 03, 2021
Campground was great and the late check in process was easy. Got to our site around 11p and someone had parked their truck right across the middle of our site and their trailer (for an ATV) was also on the paved part of our site. To avoid waking up the whole campground with moving trucks and trailers around, we drove around to find an empty spot that fit our rig to camp for the night. Terrible.
CAMPGROUND RESPONSE / COMMENTS:
I am sorry to hear that your space was blocked by another person. That usually doesn't happen. I hope you come back and thank you for your feedback.
Dec 29, 2020
Very non eventful. Was glad the campground was open during COVID. We stayed to ourselves. Used our own restroom and showers.
Dec 24, 2020
The facilities were not available. Very disappointed in the campground. Many sites available and we were squished in next to many. Lots of construction going on.
Dec 21, 2020
IT WAS GREAT
Apr 09, 2021
Great campground about 15 minutes west of downtown. Walk to Boomtown Casino...great steakhouse! Gas and diesel near by, Cabelas also. Spots are well spaced, paved and fairly level. Showers are brand new! Each stall has sink, vanity, toilet and a shower. Laundry facility.
- Linda Jarzynka on Google
Apr 06, 2021
Slightly out of the way of actual town but there is a casino down the road providing food and entertainment if needed. KOA's are always a good stay.
- K2 Intruders on Google
Mar 29, 2021
Easy on and off the freeway, easy to find, a lot of pull throw sites.
- Kathy Schwerdtfeger on Google