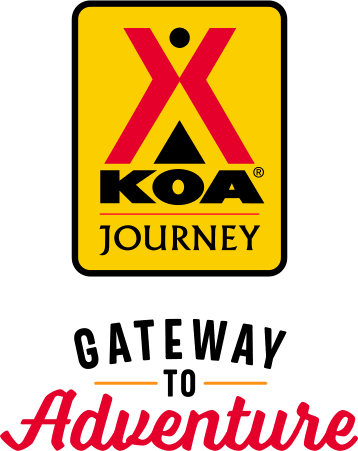 KOA Journey Campgrounds
KOA Journey campgrounds are the perfect oases after a day on the road. Whether it's along the way or a quick getaway, they've got you covered. Located near the highways and byways of North America with long Pull-thru RV Sites, they deliver convenience to the traveling camper. Pull in, ease back and take a load off.
KOA Journeys Feature:
Pull-through RV Sites with 50-amp service
Premium Tent Sites
Well lit after hours check-in service
Directions
From Sequim: Take Highway 101 west 8 Miles past the River Road Exit in Sequim. Just past the Olympic Cellars Winery (on left side of road), turn left onto O'Brien Road. Entrance is 100 Meters on the right.
From Port Angeles: Take Highway 101 East 3.5 Miles past Walmart/Dollar Tree in Port Angeles. Look for the KOA highway sign, then take next right onto O'Brien Road. Entrance is 100 Meters on right.
GPS: N48.093869, W123.305408
Get Google Directions
Oct 18, 2021
Friendly, clean and a good campsite.
Oct 17, 2021
Unfriendly / probably overworked employees. Facilities were just ok.
Oct 17, 2021
Beautifully landscaped campground, friendly and helpful hosts. The bathrooms and showers are cramped and could stand to be updated. The kids enjoyed renting the go-kart bike to burn some energy.
Oct 16, 2021
This place was wonderful. Clean. Super helpful staff and a lovely place to stay and tour Olympic National park!!
Oct 15, 2021
The cabin was perfect. Our family really enjoyed our stay. The cabin and grounds were very clean and well kept. I appreciated the family atmosphere with many amenities and although I did not bring my pets the dog park looked amazing!
Oct 14, 2021
The spot is cool but the workers aren't! They freak out when you leave and come back, thinking you're sneaking in.
Oct 14, 2021
Nice huge setting with differing acomodations from tents to bus size RV's. Too bad they do not offer cable TV. One set of rest rooms seems inadequate for the size of the area and number of sites.
Oct 13, 2021
Pros- Beautiful, clean, spaced out, nicely landscaped. Close drive to area activities. Cons - Staff - they are cold bordering on rude. No welcome: just read the rules and warned us not to break them. The park is right on the highway, traffic noise is kinda loud.
Oct 13, 2021
Clean and well maintained grounds, friendly and helpful staff, gorgeous views, ravens and canada geese around as well as lots of other birds (for us birders) and a few cute cows on the other side of the fence/neighboring property. Thank you.
Oct 13, 2021
Two friends and I spent three nights in a camping cabin, using the camp as a base for some bicycling trips. The facility is extremely well kept; the staff are very personable, friendly, and helpful; the bathroom is the cleanest I have ever seen at a KOA or similar camp, the scenery is quite nice, and the dish washing station (which had tons of hot water AND soap!) was a total surprise. Thanks!
Oct 13, 2021
Absolutely loved it again. We will See you again next year!!
Oct 12, 2021
Everybody was so friendly and helpful we would definitely stay there again. Already planning on it for next year.
Oct 11, 2021
Clean and well maintained. Beautiful setting. Kids loved watching the cows that live in the adjacent fields.
Oct 11, 2021
All Good except we would like to have Cable connection available.
Oct 10, 2021
Very disappointed in this place! Small sites, NO cable TV and staff not that friendly or helpful. I asked to be moved to a site with no trees so my satelite would work but they said no. Definit Would NOT STAY HERE AGAIN! actually we cut our stay from four nights to two!
Oct 10, 2021
Friendly staff. Great place to stay. Responsive to needs and extremely helpful. Super job by all.
Oct 10, 2021
They only have 1 cabin with a bathroom. Only one bathroom facility, long walk at 3am! There was no water available at the rustic cabin we stayed in, nor any of the rustic cabins, all the spigots had been capped. And disturbingly the cabin was not very clean, lots of dirt under the bed. On the bright side the views were spectacular! The washers, dryers were new and the bed mattress was good
Oct 09, 2021
Great location, very clean wonderful staff! Only thing that could have been better is if front desk lady would have told us to unhook our truck, before we entered campsites lol we're 40 ft and tow a full size truck so 1/2 way to site we had to unhook. But all in all it was good
Oct 08, 2021
The facility is very nice.. the camp spots were very nice.. but the employees were very unfriendly and borderline rude.. we found this to be true in our encounters with all 3 employees we saw in our two day stay.. we had privy booked 3 nights but left a day early partly due to the lack of customer relations.. absolutely would not recommend this KOA
Oct 07, 2021
Owner is very knowledgeable of the area, loved our patio site!
Oct 07, 2021
Very clean and great layout. Lots to do and something for everyone.
Oct 06, 2021
the host was a very helpful guy and was quit a guy
Oct 04, 2021
Clean well prepared camp site, great amenities with hot showers, clean restrooms and well stocked camp store. Staff was friendly and helpful
Oct 04, 2021
The grounds are beautiful but the roads were hard to maneuver due to sharp corners. The worse part was the staff. The gal in the store was condescending which is the last thing people want while on vacation. Definitely not a welcoming vibe...
Oct 03, 2021
We loved staying at the Port Angeles KOA. The Check in was easy and friendly, we shared a laugh. The kampground is clean, neat, and well laid out. Bathrooms are clean with nice music playing. The landscaping between sites was really nicely done. We had lots of fun playing air hockey! The dogs liked the fenced dog area while we sat and enjoyed the view of the mountains. We'll be back.
Oct 02, 2021
People were friendly, the park acceptable, and the surroundings pleasant. The amenities were lacking CATV or a good selection of current DVD or Bluray
Oct 01, 2021
This is my third time staying at this KOA. It is always a good experience here, although this time it seemed that they were not cleaning the bathrooms as frequently, it was still generally clean. Overall great facility and helpful staff. Will definitely return to this location anytime I am in the area.
Sep 30, 2021
One of the most well maintained, spacious and beautiful spots we've stayed. We looked out on the mountains. We weren't cramped up right next to someone. Nice and relaxing. All amenities were nice and clean. Definitely will stay here again
Sep 28, 2021
Enjoyed our stay in a pull-thru rv spot. Nice amenities. Beautiful view of the Olympics. Don was extremely helpful and friendly. Would stay again!
Sep 28, 2021
Everything was great, nice, and clean. The staff was very nice and accommodating, shout out to Don who was hilarious and very helpful with anything we needed help with. It would have been a 10/10 stay if the hot tub wasn't broken :/ I would stay here again.
Sep 28, 2021
Clean facilities— kind staff.
Sep 28, 2021
Great employees and location.
Sep 28, 2021
Very poor communication and lacking common courtesy to return phone calls, not a user friendly place and couple of the female staff members were extremely rude to me. I was greeted on the first night with a flashlight in my face and treated as a homeless person trying to use the shower. I've always had good experiences with KOA so it surprised to have these incidents.
Sep 28, 2021
We had a great stay. Staff were friendly and helpful. The campground and facilities were clean. Convenient location for daily adventures on the Olympic Peninsula. There is some road noise from Hwy 101, but not too bad at all in the lower campground. We will be back for sure!
Sep 28, 2021
The Staff was very kind and I enjoyed talking to them on multiple occasions. There was nothing wrong with the KOA itself. The highway noise was the only downside.
Sep 27, 2021
Everyone at the Port Angeles KOA were great. We were treated like family from the first phone call to reserve a spot, to our last day when pulling out. The sites are well kept, bathrooms and laundry are clean. It was a great home away from home. Thank you everyone for a great summer! F&C
Sep 27, 2021
Was very enjoyable. Plenty of things for kids to do and very clean and pleasant. Allowed the partying crowd to have fun and was not upset about elevated noise on Saturday night. Our neighbors were noisy but nice.
Sep 27, 2021
Incredible park . Every one was so helpful. They even unhooked our tow trailer and put it in the parking lot with their tractor.
Sep 27, 2021
This is my second stay at this KOA.It's always very enjoyable the grounds are kept so clean and well maintained even though the campsite was packed your staff is always so friendly and outgoing much appreciative. We will be back �
Oct 09, 2021
This is our 2nd stay at this KOA. The folks are nice, the sights are clean and well maintained, and it's very close to the Olympic wildlife park and Port Angeles, Squim And other points of interest.
- Lynnette Nelson-Erickson on Google
Sep 29, 2021
This is a step above most RV parks . Incredible staff . Helped with everything. Moved our two .
- TrapBag: Flood and Erosion Protection on Google
Sep 15, 2021
Beautiful spot in one of the most beautiful places in the country.
- kent thorne on Google