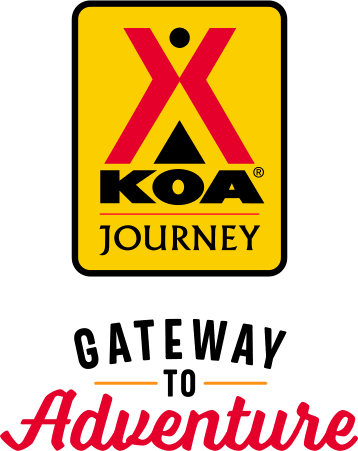 KOA Journey Campgrounds
KOA Journey campgrounds are the perfect oases after a day on the road. Whether it's along the way or a quick getaway, they've got you covered. Located near the highways and byways of North America with long Pull-thru RV Sites, they deliver convenience to the traveling camper. Pull in, ease back and take a load off.
KOA Journeys Feature:
Pull-through RV Sites with 50-amp service
Premium Tent Sites
Well lit after hours check-in service
Directions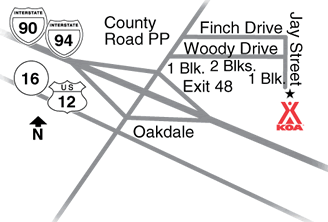 From I-90/94 Exit 48 (Oakdale Exit): Go north 1 block to Woody Dr. Turn right, go 2 blocks to yield sign, turn right onto Jay St.
GPS: Please use Tomah. N43.963570, W90.372460
Get Google Directions
Sep 08, 2020
It was ok would have been better if the people across from us wasn't having parties until 2 am keeping my 3 year old awake
Sep 08, 2020
Everything was perfect.
Sep 07, 2020
Nice tent camp site, Very flat glass ground.
Aug 14, 2020
Friendly staff, and nice tent sites.
Aug 14, 2020
Small but very family friendly KOA. We stopped over just for a night but were welcomed by the staff even after hours. Check in after the office closed was easy and as it wasn't too late we were able to call someone on staff to bring us over some firewood. Plots were nicely spaced and bathrooms were clean. Highly recommended.
Aug 12, 2020
Staff very helpful. Very clean and restful environment. My husband and I follow our KOA book religiously and camp as often as possible! This KOA is a 5 star! You obviously care about your families. Keep up the good work!
Aug 11, 2020
The kids had a great time swimming, bouncing, and hanging out but our electric tent site was mostly dirt. There was not a lot of grass. Just wasn't as comfortable as it could of been. But otherwise its a nice campground.
Aug 03, 2020
Our stay was great overall. The pool was a little to bleached and the showers were a little small. The staff was very friendly and dripped wood off to our site very fast. It was a great weekend and we will be back!
Jul 30, 2020
Very nice and welcoming staff. The campground and facilities were very clean. Overall, a really nice place to stop for a night or two.
Jul 27, 2020
Late arrival was not a problem. They called us to let us know the details. Very clean. Nice tent sites with fire pits and picnic tables. Bathrooms were very clean.
Jul 21, 2020
Very clean and friendly.
Jul 20, 2020
Too close to the freeway. I could hear the traffic all day and night
Jul 20, 2020
Awful for tent camping, but really friendly service.
Jul 20, 2020
Show on map where dish washing facilities are located for tent campers
Jul 19, 2020
This Campgrounds had a nice layout and the owners were really friendly. But the tent sites in the back of the lot were right next to a stagnant swamp which meant it was very buggy. The reason I would not quickly reccomend this to others if they are tenting is only because of that. I for one was ill-prepared to deal with them but I still wouldn't want to stay here again if I was putting a tent up.
Jul 07, 2020
Outstanding customer service. Friendly, helpful staff. The grounds and pool are well tended.
Jul 04, 2020
Very cute little campground with everything you need for a fun weekend getaway. Bathrooms and showers were clean and the staff was very friendly!
Jun 22, 2020
Though the camp was nearly full, we felt a sense of privacy and companionship. The office staff were all wonderful! Kudos to Donna, Kathy and Herb. We got rained out after one night and our tents and sleeping bags were soaked. Kathy refunded the 2nd night of our stay. We will be back! Thank you, KOA! -Nathan Stoffregen
Jun 16, 2020
Great stay with comfortable accommodations. Nice bathrooms and showers. Accommodating staff.
Jun 15, 2020
Staff was friendly campground was clean and well taken care of
Sep 30, 2019
The campground itself is clean, and The office people we dealt with were helpful and friendly. Our biggest complaint is the interstate noise,as well as train noise,which is no fault of KOA,but sleeping in a tent does not work with these issues. Also,the small bathroom does not keep hot water long enough for a decent shower.people coming in late next door were not considerate of the time either..12
Sep 09, 2019
GREAT PLACE!!! Super friendly staff (OF COURSE!!) and a neighbor that was in the cabin behind me in my tent. I was going North to the Fall ride get together and just came from Western Iowa area. Pretty tired out and the folks there helped me fix my tent pole which had broken an the finally split in another spot. ( I have since bought another tent). Long story and will be back to this one next yr
Sep 07, 2019
Stayed here one night. We got in late but there was our site info and a map left for us. Was very clean and quiet. Sites were decent size. The noise from highway was a little much for us but it worked for what we needed.
Sep 01, 2019
Had a great time. We've been to many KOAs and campgrounds recently. Some of the nicest most helpful staff! Nice campground as well.
Aug 30, 2019
Awesome hosts! Nice neighbors and clean facilities!
Aug 20, 2019
One of the best Camp experiences I ever had. Staff was superbly friendly, campground clean and organized, and there were different activities and "play things" - both sporty and indoors - for the kid. I especially appreciated the recycling corner, which one unfortunately does not find in every campground. We loved it!!!
Aug 12, 2019
Highway noise made sleeping difficult even with good earplugs. Otherwise very good stay.
Aug 09, 2019
We loved that little bathroom close to our site.
Aug 05, 2019
We had a great stay. The only comment i have for improvement would be maybe add another bathroom by the cabins. Its a long walk for kids to walk to the other bathrooms if someone is showering
Aug 03, 2019
Nice campsite but rather noisy
Aug 01, 2019
Well run-very nice folks.
Jul 28, 2019
geweldig goed en rustig
Jul 27, 2019
Showed up at 7:30 left at 8:00, never spoke to anyone as they closed at 7:00. Had a night registration box that had all my info in. Bathrooms were nice, pool looked nice but didn't use as everything shut down when we got there.
Jul 26, 2019
We had a wonderful experience. We stopped at this KOA for one night while driving across the country. The staff was friendly and facility was clean .
Jul 22, 2019
Camp hosts were so nice and they went above and beyond. Made us feel like we were visiting friends instead of just camping.
Jul 18, 2019
Tried to set up a tent and was besieged with mosquitoes. The reason - the tent sites are literally next to an algae laden swamp. Probably okay with an RV.
Jul 09, 2019
Absolutely fantastic! The crew was always on top of things. Keeping everything clean. LOVED the welcome envelope! Friendly staff! Cute goats. Really nice pool. And did I mention it was clean?!! :)
Jul 09, 2019
Friendly, helpful staff. Clean. Nice pool and activities for kids. Great shower house. Off leash dog areas. Easy access from freeway.
Jun 30, 2019
I stayed with my family in a tent for one night but had to leave early in the morning to go to a hotel and sleep because the people beside us was up drinking and partying all night. Yelling playing music. I thought there was a strict quiet time!
Jun 16, 2019
First time using KOA, and have already scheduled a stay for the next leg of our road trip and recommended KOA to others. Owners were great to work with, location is incredibly convenient, services were excellent, and the campground was very quiet and clean.
Oct 01, 2018
Everything was nice and clean, but it was just very noisy. Between the freeway and the trains it made it hard to sleep. Staff was very friendly.
Oct 13, 2020
Have stayed 4 times this year, love it, have made new friends.
- Tim Mundwiler on Google
Oct 11, 2020
Nice campground. Friendly staff.
- Denise Harrison on Google
Sep 24, 2020
Great place. Really nice people and very clean. We would definitely stay again!!!!
- Lori Funk on Google