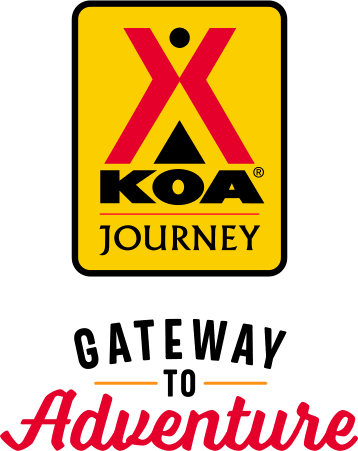 KOA Journey Campgrounds
KOA Journey campgrounds are the perfect oases after a day on the road. Whether it's along the way or a quick getaway, they've got you covered. Located near the highways and byways of North America with long Pull-thru RV Sites, they deliver convenience to the traveling camper. Pull in, ease back and take a load off.
KOA Journeys Feature:
Pull-through RV Sites with 50-amp service
Premium Tent Sites
Well lit after hours check-in service
Directions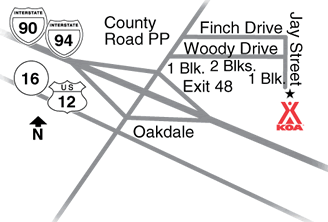 From I-90/94 Exit 48 (Oakdale Exit): Go north 1 block to Woody Dr. Turn right, go 2 blocks to yield sign, turn right onto Jay St.
GPS: Please use Tomah. N43.963570, W90.372460
Get Google Directions
Sep 19, 2021
Congrats to the new owners. This campground is very well groomed. The staff is really friendly and helpful. We stayed in cabin #1 WOW... there was a TV, microwave and mini fridge!! There is a individual bathroom/shower right near the cabin. The mattress in cabin #1 will need to be replaced in the near future. Overall very pleasant stay. They even spread out the new arrivals as they showed up.
Sep 19, 2021
Very friendly and clean
Sep 18, 2021
We had a campsite and our sons and there family had cabins. Very clean and well taken care of had enough activities for their 2 year old. Only negative is road noise from the highway. We stayed 3 nights and enjoyed all of our time there.
Sep 17, 2021
They graciously got us settled as a last-minute reservation. Gave us some freebies, we were right by the dog park, which was a great space, and our dogs loved it. A little noise from the freeway but nothing that kept me awake.
Sep 15, 2021
Asked for a different site and there was no problem. Very accommodating.
Sep 15, 2021
Was able to get us in at last minute
Sep 14, 2021
A good place to stay with good facilities and pull thru sites. Very friendly staff. The only reason I did not give it 5 stars is that it is so close to the freeway that I had to have ear plugs to sleep.
Sep 14, 2021
Under new ownership, common events such as the weekend breakfast and ice cream social are currently not available due to code updates. Pool closes automatically after Labor Day. Arbitrary date for closure in my opinion (had a 14 year old Grandson visit and was hoping to swim).
Sep 14, 2021
Congrats to these new owners,very clean rest rooms and the grounds were clean. Very nice stay.
Sep 13, 2021
very clean, well kept up
Sep 13, 2021
It was clean, staff were very personable
Sep 13, 2021
Best camping cabin we have stayed in. Had TV, micro, frig, heater and AC. A little crowded but that's a KOA. Staff very friendly yet not interfering.
Sep 13, 2021
We did not like our spot we stay in the cord had to run to the otherside and we had full hookup but we couldn't use the sewer because our hose doesn't reach that far.
Sep 13, 2021
It was clean, the staff was very friendly. Will definitely come back!
Sep 12, 2021
New owners are very friendly, facility is very clean and neat, downside is it's a bit noisy being close to the hwy. but was easy to locate.
Sep 12, 2021
Convenient, lots of shade and grass. Only issue is traffic noise from the interstate, but this is a common KOA occurrence. The price of convenience.
Sep 12, 2021
Great hosts and service...freeway noise bothersome but nothing can be done about that!
Sep 12, 2021
Very noisy highway traffic, right next to a truck stop with trucks running all night. The campground was great but the location was not!
Sep 12, 2021
We enjoyed our stay at this beautiful park. The staff was friendly and helpful. The sites were layed out nicely. The dog park was the best we ever saw. This park is on our list of places we plan to return to.
Sep 11, 2021
Excellent customer service
Sep 10, 2021
Very clean, organized and friendly folks. Thank you!!
Sep 10, 2021
Great park. Clean, friendly and helpful staff. Escorted to your site. Sites are clean and flat. Highly reccomend.
Sep 09, 2021
Excellent RV park. Very well maintained and quiet. Huge pull through with green space.
Sep 09, 2021
We booked two sites one for us and one for my husband brother and his wife, they were put in the big site and told the man that they would go to smaller site the man was very very rude to them and made some comment about the computer assigns the spots well then the computer don't understand lengths we had to squeeze in between 4 trees with our 5th wheel and only had a couple of inches for slide
Sep 08, 2021
Just an overnight stay. Park staff very friendly & accommodating. We have stayed here before & would stay again.
Sep 08, 2021
We were told when booking the pool was heated. So for my small grandchild he was excited to swim,only to find out it was ice cold. No heat. Otherwise keep-up was very great.
Sep 08, 2021
The campground itself was great. The location is really bad. I had no clue it was right on the interstate. The noise was horrible!
Sep 07, 2021
A surprise for sure. Friendly staff, super clean, recycling, and much pride in what they do. A bit close to the highway but it is a Journey. Night directions make turning tough in campground. Need to do outside loop for sight. Also, it was a bit shocking to learn they closed at 7:00 pm on a Friday and holiday weekend. Would be better to be received in person but a very awesome experience!
Sep 07, 2021
Very well maintained grounds and facility. Staff was very friendly and accommodating.
Sep 07, 2021
Very nice place to visit very clean very friendly people! Pool was cold but understandable due to the time of year we went thank you very nice campground
Sep 07, 2021
We were not very enthused with our stay. The sewer line at our site backed up on us so our site stunk so bad and had raw sewage everywhere also some of the staff not all of them were not friendly in any way. Just not the inviting atmosphere we enjoy when staying at most other KOA campgrounds.
Sep 07, 2021
Extremely clean campground, staff went out of their way to make our 40 foot coach fit nicely in our spot. Highly recommend for a short or long stay. We will stay again in the future!
Sep 07, 2021
Sites were spacious. Friendly staff. Clean facilities. Great place to stay. I would stay again
Sep 07, 2021
Nice campground, a lot of things to do for the kids!! Very friendly staff!!
Sep 07, 2021
Very clean campground. Friendly staff with new owners who are working through the ownership transition with grace and patience. There's a chicken running around the campground who adds to the charm.
Sep 07, 2021
Decent campground but the address link in their confirmation email sent me to LaCrosse, adding 100 miles and an extra two hours of driving to what was already a long day on the road. Owners didn't seem too sympathetic. Not a place I would stay in again.
Sep 06, 2021
The park layout was exceptional and eliminated people cutting through your site. The sites were very spacious, clean and level, WITH GRASS!! The location so near fuel stations was a bonus when leaving. I only stay at KOA'S and have stayed at many between Wisconsin to Colorado to Idaho and thus KOA is by far one of the nicest for a Journey. I'll be back.
Sep 06, 2021
Labor Day weekend. NO WI- FI . Non
Aug 31, 2021
Great place to stay. Very clean and well maintained. Sites are somewhat small but mostly pull thru to accommodate all sizes of campers. Very friendly and helpful staff. Will stop again when pacing thru
- Gary Riemer on Google
Aug 27, 2021
One of the nicest and cleanest KOA campgrounds we have stayed at. The owners are the managers and want to make sure the campground is the best it can be. They have succeeded!
- Russell Crago on Google
Sep 16, 2021
This was a very clean and nice KOA. Proprietors were super friendly and helpful. I rated as a 4 due to the location. Right next to I90 and a truck stop. Let's not forget the railroad tracks. We will visit again for sure.
- Chris Batson on Google