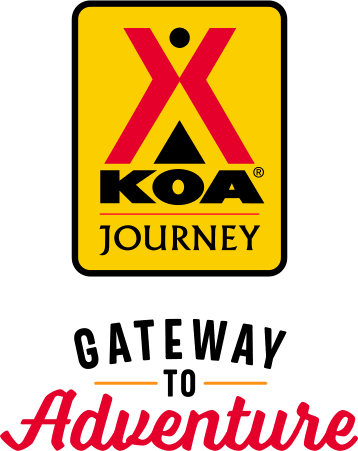 KOA Journey Campgrounds
KOA Journey campgrounds are the perfect oases after a day on the road. Whether it's along the way or a quick getaway, they've got you covered. Located near the highways and byways of North America with long Pull-thru RV Sites, they deliver convenience to the traveling camper. Pull in, ease back and take a load off.
KOA Journeys Feature:
Pull-through RV Sites with 50-amp service
Premium Tent Sites
Well lit after hours check-in service
Directions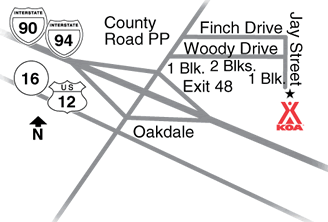 From I-90/94 Exit 48 (Oakdale Exit): Go north 1 block to Woody Dr. Turn right, go 2 blocks to yield sign, turn right onto Jay St.
GPS: Please use Tomah. N43.963570, W90.372460
Get Google Directions
Oct 20, 2022
Very nice place. Definately would stay again.
Oct 19, 2022
The cost was more than some motels. I don't think the KOA is the deal it used to be. Will probably avoid them from now on.
Oct 15, 2022
It was great. Hosts were very helpful. Super clean campsite
Oct 15, 2022
Convenient location, nice sites
Oct 11, 2022
Pleasant stay on our trip home to Indiana. The campground was well maintained. The restrooms were being upgraded with new showers planned for this winter. Brand new sinks and toilets were already installed. Anxious to see it next year. Security was good. Beautiful fall colors in the campground. The personnel were helpful and extremely pleasant.
Oct 11, 2022
We arrived after office was closed. Site was as we requested.
Oct 09, 2022
The place was very clean and well maintained. We came after hours and our instructions were clearly spelled out for us. Everything was very easy.
Oct 09, 2022
Really a great idea having a bathroom with shower close to the cabins we stayed in.
Oct 09, 2022
Beautiful little campground, great couple operating it. Thank you for being "Consistent KOA Quality"...
Oct 08, 2022
Grounds are beautiful ly kept, the owners / staff are GREAT / we will be back as long as these owners are there.....
Oct 07, 2022
Friendly staff, quick & easy check in, and clean grounds & facilities.
Oct 05, 2022
We spent one night with our dogs. The park was almost empty but unfortunately the site they chose for us was right next to 4 other families all of whom had dogs. We were grouped all together which was very unpleasant. Our dogs and another person's dog aren't fond of other dogs. Their dog also was tied outside and barked a lot. The sites are close together we had to keep our curtains closed.
Oct 04, 2022
Very clean place, helpful foks.
Oct 04, 2022
Even in the rain, there were so many fun things to do. We even had a pizza party with our grandchildren in the game/party building
Oct 04, 2022
One of the nicest Parks we stayed in. love the dog run, it was super clean lots of room after being in a car all day, it was great to let our puppy run free. My husband loved the cabin with the TV great for Sunday night football game. Good job you guys one of the best cabins we've ever had. And the pretty fall colors on all your trees was an added bonus.
Oct 02, 2022
The people running the campground deserve 10 stars! They were very friendly and helpful, and even upgraded us to a campsite farther from the highway traffic noise. We had some issues with our truck battery, and they went above and beyond to help. They jumped the truck, told us the best place to go to buy a battery, and didn't charge us extra for staying past checkout time. Great people!
Sep 30, 2022
We enjoyed our stay very much. Would definitely stay there again. Thank you.
Sep 29, 2022
always friendly people and a very well kept and clean campgrounds its so pretty in the fall great place to stay
Sep 28, 2022
The gentleman that was helping for the summer was very friendly and pleasant. He is an asset to the campground.
Sep 27, 2022
Stopped on way to Minnesota. The campground was wonderful and we enjoyed our night off the road! Thank you!
Sep 27, 2022
Very nice quiet clean. My dogs loves dog park.
Sep 26, 2022
Owners were friendly. our site was clean and ready for us when we arrived
Sep 26, 2022
Rented a cabin so we had our own bathroom but had no hot water to shower, fridge handle duct taped on, mini blinds broken and very noisy so close to highway
Sep 26, 2022
I think it would be nice to have a hose over at the dump station so one can rinse off connections before hitting the road. But overall really nice and friendly people running this KOA and it's very clean.
Sep 26, 2022
The staff was extremely helpful! The facility was also very well maintained.
Sep 26, 2022
Weekend of a festival. so they were full. Office people were friendly. Everything good.
Sep 26, 2022
Clean, very helpful personnel.
Sep 25, 2022
Convenient location on I90 for an overnight stop. A little tight but was able to navigate with a 44' class A. A number of tees but was able to get satellite signal. We stayed on a busy weekend with a local festival.
Sep 25, 2022
The staff was very friendly. The facilities were very clean. The road noise from Hwy 90/94 was a bit loud, but this is a KOA Journey. Location near major routes is key to a KOA journey.
Sep 25, 2022
The staff is simply awesome! Their friendliness and helpfulness made for an extremely pleasant stay.
Sep 24, 2022
We stayed for the week, and absolutely enjoyed our time at Oakdale. We have stayed here before and will be back. Staff is great and grounds are kept up very well. Great place to stay.
Sep 24, 2022
Very nice, helpful staff. But we found that at every KOA we've stayed at. Nice organization. Always can count on a decent place to stay while traveling. Thank you again.
Sep 24, 2022
Extremely loud. Hard to sleep. Right next to a highway and could hear the sounds of cars and trucks all night long. Everything else was sublime. Clean grounds, nice people, good facilities. This place is good if you're a heavy sleeper. Terrible if you're a little sleeper.
Sep 23, 2022
Nice site, well maintained property; friendly, helpful people.
Sep 23, 2022
Nice site, well maintained property; friendly, helpful people.
Sep 23, 2022
Very clean well maintained campground with good electric, water, sewer and cable.
Sep 22, 2022
I recommend the patio site if available. Depending on time of year be aware of falling acorns hitting the roof of your rig. Sounded like golf-ball size hail but didn't do any damage. Pretty park and great staff.
Sep 22, 2022
Brenda greeted us graciously & every staff member we encountered offered a welcome along with any help we might need. Tom was especially awesome, even on his day off. When a dryer refused to start after I had the proper coins, & after the office had closed, he cheerfully got up & solved the problem, acting pleasant and friendly despite my intrusion into his free time. Site was well maintained.
Oct 08, 2022
A wonderful friendly campground, for RV's tents and they have small cabins you can rent. A place that is pretty much off the highway and has a dog park so you can bring your furry friends 🤗.
- Robin H on Google
Sep 29, 2022
Convenient, quiet, nice koa.
- tom hartley on Google
Sep 26, 2022
Close to the highway is double edged. Easy access, but there is road noise. Place is clean and orderly. Staff is friendly and helpful.
- Bryan Habeck on Google