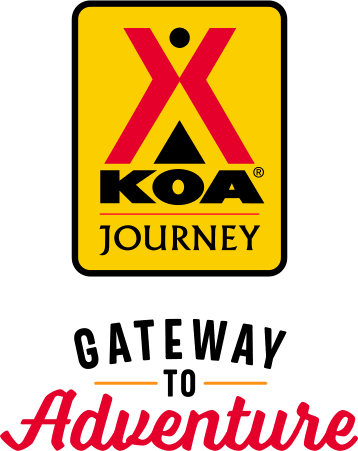 KOA Journey Campgrounds
KOA Journey campgrounds are the perfect oases after a day on the road. Whether it's along the way or a quick getaway, they've got you covered. Located near the highways and byways of North America with long Pull-thru RV Sites, they deliver convenience to the traveling camper. Pull in, ease back and take a load off.
KOA Journeys Feature:
Pull-through RV Sites with 50-amp service
Premium Tent Sites
Well lit after hours check-in service
Directions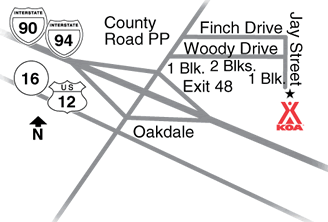 From I-90/94 Exit 48 (Oakdale Exit): Go north 1 block to Woody Dr. Turn right, go 2 blocks to yield sign, turn right onto Jay St.
GPS: Please use Tomah. N43.963570, W90.372460
Get Google Directions
May 04, 2021
We love Oakdale KOA!! Top notch hospitality every time!!!
May 04, 2021
Neat, clean, and friendly. Enjoyed our stay.
May 04, 2021
We hit Oakdale on a rainy night, but the campsite was dry. Lovely hosts. Clean facilities. Nice tree coverage.
May 03, 2021
Beautiful, clean and easy to get in and out RV park! We are very long and we fit in perfectly.
May 03, 2021
Cannot say enough positive things about this stay. Grounds and cabins were immaculate, hosts were so kind and accommodating, I LOVED the texted reminders and welcome format and the K9 area was great. We will definitely be coming back and have already started sharing our experience with friends and family!
May 02, 2021
The campground is updated, clean, inviting, and very comfortable.
May 02, 2021
Super helpful hosts. Great communication. Thanks for having recycling on site too!
Apr 28, 2021
We only stayed overnight, but the staff was very friendly!!
Apr 27, 2021
Totally adequate for my needs...........
Apr 26, 2021
Just passing through, but it's a great place to stop.
Apr 26, 2021
Friendly and courteous staff. Campground is clean, quiet, and well kept.
Apr 26, 2021
We had a brief stay in late April but it was clean, quiet and had a terrific dog area.
Apr 22, 2021
Very friendly reception. Clean facilities! Highly recommend.
Apr 22, 2021
Nicely kept. Very friendly staff!
Apr 20, 2021
had a cabin with our 2 dogs. Indoor toilet/sink were a big sell.(esp for the middle of the night).Having appliances was a plus for multiple reasons. Very best part fenced in doggy area for our 2 "kids" to run and burn off some energy 2-3x / day in a safe place. Will be scheduling future visits this summer-approx 1x/month. Firewood started easy Clean Place . Awesome Hosts-Gracious,Friendly Luv it
Apr 20, 2021
We enjoyed staying here on opening weekend. There were a small amount of campers here. We will definitely be going back. The campground was clean and the staff was great. They implemented a new text service so you can send a text if you need something from the store, wood or.... If you want to avoid contact with other persons. The only downside was the traffic noise from the interstate.
Apr 18, 2021
I stayed 2 days, arriving around 1:00 PM and leaving around 10:00 the second morning. I arrived on opening day and there was a kink or two that needed to be addressed. That did not take away from the overall wonderful experience provided by Donna and Scott. Often it is the people who make a good experience great.
Oct 16, 2020
My stay was short, just two nights in the Amish Cabin. It had everything I needed and I enjoyed it very much. I was cozy and warm when the temperatures dipped. Having a toilet in the cabin was monumental for for a 75 year old woman. I thought I wasn't going to turn on the TV, but I ended up turning on the Hallmark Channel to watch movies, so I was glad the TV was there. The cabin was very clean.
Oct 15, 2020
Nice campground with good facilities. Very friendly and helpful staff Only problem was the location which is adjacent to interstate 90 / 94. Our site was about 200 yards from the extremely noisy highway. The trucks screamed by all night. No restful sleep. I will bring ear plugs next visit.
Oct 14, 2020
Friendly staff, property was will kept. Site was not as level as others we have been at. Due to the proximity to the interstate it is a bit noisy. Would have been nice if there had been something about the area and places in the area(wineries,distilleries,Amish,landmarks,museums,etc).
Oct 13, 2020
Everything was good and just as it was advertised. We had no kids with us so can't give any information about that
Oct 08, 2020
Very nice campground this time of year with all the fall colors. Winding down for season so not too many campers!
Oct 07, 2020
Clean and really nice people who run it. A lot of freeway noise which nothing can be done about. Great dog park and lots of other amenities that we did not utilize.
Oct 07, 2020
We enjoyed our short 2 night stay at the Oakdale KOA. We had a pull thru patio site which was perfect for our 40 ft travel trailer with 3 slides on opposing sides. Our family enjoyed the small petting area, swings, bounce pillow, etc. Our pups enjoyed getting some energy out at the dog park too. We used the laundry and all were working well. Low road noise! We would stay again!
Oct 05, 2020
Helpful workers, pretty setting under trees, clean bathrooms, newer electric boxes, great large dog park.. only drawback noise from interstate.
Oct 05, 2020
Our season is just about to an end but this was our last weekend with Oakdale KOA. Donna and Scott are always so accommodating, friendly and helpful. Our planning for next year has already begun. We greatly miss Andrew and Dinah but look forward to seeing them next year.
Oct 04, 2020
Coming in late, the Camp Host / Owner opened his store office and got us checked well beyond the store hours. If we're ever back in the area, we'd make sure to camp again at this beautiful KOA! W/ Regards & Thanks Ray & Pam
Oct 03, 2020
Wonderful KOA, huge sites, great amenities. Cable TV, the best Wi-fi, we have experienced.
Oct 03, 2020
Espcially loved the animals! Lovely location. Friendly, efficient staff
Sep 30, 2020
Great campground
Sep 30, 2020
Nice folks, clean, well cared for campground. Easy to get to
Sep 29, 2020
Friendly staff, facilities were good. Convenient location, close to the freeway. That's also the downside in that the freeway noise is significant. Overall this is a good , well-run KOA.
Sep 29, 2020
The staff at the campsite were TERRIFIC! They were welcoming, helpful, and kind. This is our third time staying here and it was great. The campaign signs in neighbors' yards on the way into the campsite was a big turnoff and made me a little fearful.
Sep 28, 2020
Friendly staff, clean campsites
Oct 13, 2020
Have stayed 4 times this year, love it, have made new friends.
- Tim Mundwiler on Google
Oct 11, 2020
Nice campground. Friendly staff.
- Denise Harrison on Google
Sep 24, 2020
Great place. Really nice people and very clean. We would definitely stay again!!!!
- Lori Funk on Google