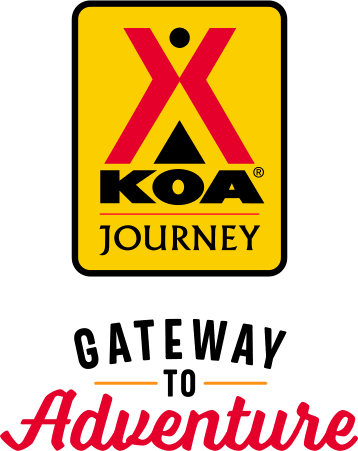 KOA Journey Campgrounds
KOA Journey campgrounds are the perfect oases after a day on the road. Whether it's along the way or a quick getaway, they've got you covered. Located near the highways and byways of North America with long Pull-thru RV Sites, they deliver convenience to the traveling camper. Pull in, ease back and take a load off.
KOA Journeys Feature:
Pull-through RV Sites with 50-amp service
Premium Tent Sites
Well lit after hours check-in service
Directions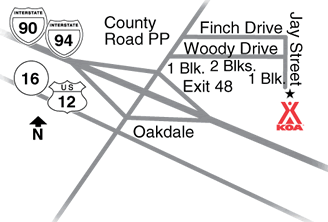 From I-90/94 Exit 48 (Oakdale Exit): Go north 1 block to Woody Dr. Turn right, go 2 blocks to yield sign, turn right onto Jay St.
GPS: Please use Tomah. N43.963570, W90.372460
Get Google Directions
Jul 20, 2021
Great place for us to stop on our trip. Friendly staff and well maintained campground. With our new 42 ft fifth wheel it us a bit tight going through the campground but sight was perfect.
Jul 20, 2021
Very clean campground! Friendly staff, clean pool, great new playground for the kids, new gaga ball pit and great jumpy pillow! Corn hole game too! We will be back!
Jul 20, 2021
Too much traffic noise. Otherwise quiet. Showers cramped in Size and somewhat moldy.
Jul 20, 2021
Nice campground. Level sites, easy access, clean, and friendly staff. Ice Cream social was fun. The only issue was with the cable TV. Picture was really fuzzy until about 11 pm, then it cleared up. Thought it was my cable/camper or specific site, but other campers experienced the exact same thing. I'm sure they will get it corrected soon.
Jul 19, 2021
Nice Park. Dirt roads made a mess of the RV and truck. Recommend something that did not create a dust storm
Jul 19, 2021
Clean cabin. We were surprised at how quiet it was inside. Couldn't hear other campers or interstate traffic when inside!
Jul 19, 2021
Excellent staff very friendly treated everyone like family. Will definitely visit again. Facilities where excellent as well.
Jul 19, 2021
Wonderful campground. Well kept.. Restrooms were clean. Staff was very friendly and helpful.
Jul 19, 2021
We were first time campers at KOA. Could not have been more impressed with the experience. Super clean, and super friendly. We will be back for sure.
Jul 18, 2021
Very friendly staff and the campground is super clean.
Jul 17, 2021
Clean. Easy in and out. Sites are fairly large and level
Jul 17, 2021
Very conveniently located, just off the interstate. Easy off, easy on. You do get road noise, but it's worth it because the campground itself is pretty nice, with lots of trees, nice sized sites (including lots of pull thoughs), two fenced Kamp K9's for dogs, and more. It's clean and well maintained. We've stayed here a couple of times as we've passed through Wisconsin and will stay again.
Jul 15, 2021
Nice staff, nice LEVEL campsite, good shade trees around sites. Good perimeter to walk the dogs, too.
Jul 15, 2021
Really nice campground. Wish the dump station was a little more convenient. We would stay here again.
Jul 14, 2021
Stayed here to enjoy the bike trails and hiking. We did spend a day in the Dells, too. Campground is well maintained with mature trees. Nice dog run. Hosts very friendly and helpful.
Jul 14, 2021
Very nice clean place, friendly people, nice pool. Get a spot further back from the Interstate as that is very loud. Would definitely stay again.
Jul 14, 2021
Second time we've stayed here. Sites are level and well maintained. Only there for one night both times. Never had occasion to use the laundry or the restrooms, but I would expect them to be as well maintained as the grounds!
Jul 13, 2021
Very well kept property. Bathrooms clean, game room very nice. Employees were very nice and helpful.
Jul 13, 2021
The entire campground and all facilities were immaculate. There was noise from the nearby highway but our stay was otherwise very pleasant.
Jul 13, 2021
We had 6 RV'S staying at Oakdale. What a great KOA! The owners were very welcoming and accommodating. The campground was very well maintained. Looking forward to a possible return in the future!
Jul 13, 2021
it worked for a stopping place on our way, the interstate noice was a little much but they cant control that
Jul 13, 2021
Very friendly people who run and work the campground. Also very nicely kept place.
Jul 12, 2021
Wonderful! Very clean! Friendly staff!
Jul 12, 2021
Clean and extremely accommodating. Staff was friendly. Pool was nice to relax.
Jul 12, 2021
Very nice campground. It shows the labors of love of the owners. Friendly people. Nice amenities for kids. We were just on a fly-by for one night but with all the fishing nearby it would be a great spot to camp out for a few days for fisher folk. For a highway location campground it was not at all noisy either. We'd definitely make it a pit stop on our next journey west.
Jul 12, 2021
We loved it!�� thank you for the wonderful service!!
Jul 12, 2021
Facilities were clean and safe. Everyone we encountered was very friendly. We had a lovely stay.
Jul 12, 2021
Friendly owners/workers, clean, well maintained, Saturday morning breakfast for small fee and Saturday evening ice cream and nice swimming pool! Wished checkout time was noon rather than 11:00. Wouldn't hesitate to return in the future!
Jul 11, 2021
We only stayed one night as we were passing through on our way home. My wife and I very much appreciated the ease of access to the campground from the interstate. The staff were efficient and genuinely pleasant. Our site was top notch.
Jul 11, 2021
Over night nice
Jul 11, 2021
Very nice campground with lots to do! Very friendly staff who delivered wood and ice to our site. A little noisy next to interstate. Also the camp store closed a little early for a Friday night in my opinion.
Jul 10, 2021
Nice wide sites. Campground was full but quiet. Large dog park.
Jul 10, 2021
Very nice campground. Our grandson enjoyed the pool. I thought the traffice noise from nearby highway would bother at night but it didn't. would stay here again. Very easy set up and didn't have to drive into the forest to find it.
Jul 10, 2021
We pulled in after hours but our reservation paperwork and map to our site was ready to go. Unisex shower houses were a nice surprise… very convenient and clean. Level site. Will stay there again.
Jul 10, 2021
Beautiful park like campsites. Donna and Scott welcomed us by escorting us to our campsite. Will definitely come back when in the area
Jul 10, 2021
The host are very acamadating and friendly. The cabin was very nice and clean. The shower and bathroom was very clean. We would stay at it again and have already talked to another camper and told them to try it out.
Jul 09, 2021
Just overnighted. Nice campground, just a shame it's so close to the highway.
Jul 09, 2021
Vary helpful. Loved the placed.
Jul 08, 2021
We enjoyed our long weekend stay at Oakdale KOA. Trees were trimmed to accommodate big rigs and the place is well groomed including the gravel pads and roads. The pull-thru sites are very long and angled nicely for easy in and out. We were with our friends on the site next to us. They had a very nice patio site. The only con to is the interstate being so close which made for constant noise.
Jul 18, 2021
Thank you... we got our 5 days in there.. best we could do and appreciate your great assistance when needed and so appreciate you all! Bella my fog knows Tunces the cat who could drive, from Saturday night live!!❤
- Kristin Heisinger on Google
Jul 18, 2021
Very nice owners. Helpful and friendly. Close to expressway. Trikes to ace, arcade, outdoor games. Small park but very handy access for our trip.
- Danny D on Google
Jul 18, 2021
Conveniently located just off the highway with very easy access. Staff were always friendly and made us feel at home. Park is exceptionally clean and well maintained. Lots of activities and campground amenities To include, pool, camp store, very clean laundry room with well kept washers and dryers. Restrooms and showers were always clean and maintained. Saturday they offered breakfast for $5 and had an Ice cream social on Saturday evening for only $3. Great experience! Will return. Thanks so much.
- GrandTour17563665180 on Trip Advisor