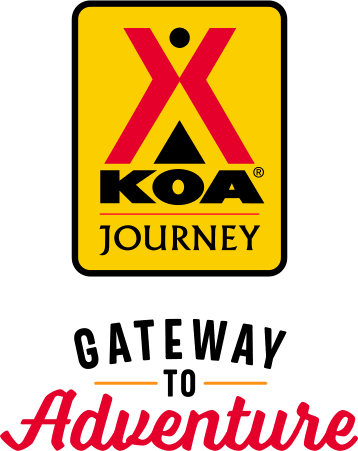 KOA Journey Campgrounds
KOA Journey campgrounds are the perfect oases after a day on the road. Whether it's along the way or a quick getaway, they've got you covered. Located near the highways and byways of North America with long Pull-thru RV Sites, they deliver convenience to the traveling camper. Pull in, ease back and take a load off.
KOA Journeys Feature:
Pull-through RV Sites with 50-amp service
Premium Tent Sites
Well lit after hours check-in service
Directions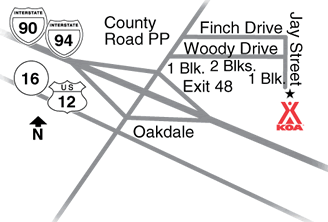 From I-90/94 Exit 48 (Oakdale Exit): Go north 1 block to Woody Dr. Turn right, go 2 blocks to yield sign, turn right onto Jay St.
GPS: Please use Tomah. N43.963570, W90.372460
Get Google Directions
Oct 16, 2020
My stay was short, just two nights in the Amish Cabin. It had everything I needed and I enjoyed it very much. I was cozy and warm when the temperatures dipped. Having a toilet in the cabin was monumental for for a 75 year old woman. I thought I wasn't going to turn on the TV, but I ended up turning on the Hallmark Channel to watch movies, so I was glad the TV was there. The cabin was very clean.
Sep 08, 2020
We rented one of the cabin's. Staff was very helpful and friendly. Campground was full due to Labor Day Weekend. Very quiet after 10 pm. Grounds were very clean and well kept.
Sep 08, 2020
I had a great time. The campground is run efficiently and well maintained. The owners are not only on top of things, they are great people. I really enjoyed getting to know them and I had great neighbors. Very peaceful and relaxing. The couples cottage is really cute and very accommodating. Thanks guys for a great time!!���
Sep 06, 2020
I didn't care for all the Trump political signs the owners had on display. I want to get away from politics. Let's be honest, whoever endorses Trump is basically saying that they are racist. Trump is a divider and this KOA won't be getting my money again and I will be warming others about it.
CAMPGROUND RESPONSE / COMMENTS:
To be clear, the owners of this KOA does not display any political affiliation on our grounds. Our neighbors coming into the park have their own views which we cannot do anything about it.
Aug 24, 2020
We had a wonderful stay at this KOA. Probably THE cleanest campground I have ever stayed at!! They do a fantastic job with everything and are so friendly. We're already planning a return vacation next summer with a bigger group!
Aug 17, 2020
We had a great time. The cabin was super clean and the patio was spacious and perfect for our family. The campsites were close together, but we didn't mind - it was quiet and peaceful. My kids loved the pool and jump pad. Having never camped with the kids before, it was a perfect way to try it out together. We will definitely do this again!
Aug 16, 2020
A relaxing country atmosphere with clean facilities. Nice location for our site seeing in all directions. Friendly, informative and always helpful staff. Thank you!
Aug 12, 2020
It was an in out stay for us again on the way to Sturgis and it was great. Owners were nice folks and made us feel at home and welcome. Cabins had extras we didn't expect which was really nice. I would go back again for sure.
Aug 10, 2020
We had the best experience, as we celebrated our family reunion from Friday through Sunday!!!! We will be back. Thank you for going the extra mile, to make sure we created wonderful memories!!! We so appreciate you for all that you did for us.
Aug 09, 2020
Came in late to stay in cabin. Night check in was easy! Cabin was excellent. Requested close to bathroom and was placed right next door. Bathroom was prefectures clean and nice size.
Aug 08, 2020
It is very well maintained, the kid's amenities are fun and kept us busy!
Jul 27, 2020
great campground, clean and plenty to do.
Jul 25, 2020
We stayed one night in a cabin. Our cabin had a half bath, but there was a small (one toilet, one sink, one shower) full bath house only 30 ft away. Bathhouses, grounds, and swimming pool we very well maintained and clean. Check-in/out was easy; everyone was helpful and friendly. We bought 1 bundle of wood, it burned 3 hours. Added attraction was the goats/chicken cage at the entrance.
Jul 20, 2020
We had an Amazing time. The Staff there was very friendly and extremely helpful.
Jul 19, 2020
We were very pleased with the service and cleanliness. It was great to visit the state parks that were close:)
Jul 18, 2020
We would recommend this LOA to everyone. Very clean and very friendly. We would like to book a cabin end of September that has full bathroom. Let us know please. Thank You. Joe & Lori
Jul 16, 2020
Great cabin!! Would definitely stay again if in the area!
Jul 16, 2020
Enjoyed it so much the week before we decided to travel home the same route and stay again! Got the same awesome cabin!
Jul 13, 2020
Herb and Kathy were helpful and very accommodating. Offered us a cabin with half bath that came available with details in pricing when we arrived. Opted for reserved cabin with no bath and it was fine, close to facilities. Amish cabin was roomy and clean but AC was lacking, just needs an upgrade. Ceiling fan and reading light in cabin are welcome touches. Roads maintained, guests quiet.
Jul 08, 2020
Everyone was so friendly!! Kids loved the pool mostly but the GAGA pit was also a big hit! Wonderful to have wood and ice delivered to our tent site, one less thing to carry! The greatest thing was we were able to get a cabin out last night since we were exhausted from the heat and they credited our tent site cost towards the cabin! Thank you OAkdale team for a great time, you ll see us again!
Jul 07, 2020
Awesome place. The couples cabin was perfect. The bar and stools by the window were a nice touch. We could avoid the bugs and still sit by the window and watch the fire. We will be back.
Jul 06, 2020
Very nice people!
Jul 06, 2020
Everyone was very friendly and super helpful. Every area was very clean. Very happy with our stay, loved the pool!! We will be coming back!
Jul 04, 2020
Our cabin was very clean and had a wonderful cedar smell. Delightful! Thank you so much.
Jun 30, 2020
The staff are so friendly. Our cabin was so cute and very clean The pool had perfect temperature. Loved it here will definitely come back!
Jun 29, 2020
Staff is super friendly and helpful. Everything is well-kept and clean. We've been coming to Oakdale, KOA for almost 10 years. It's one of our favorite summer destinations.
Jun 29, 2020
Awesome place, awesome people. That's why we keep coming back every year!!
Jun 23, 2020
Completely perfect hospitality an cleanliness are top notch.
Jun 16, 2020
The hosts were very nice and it was clean
Jun 01, 2020
Everyone was nice. Wish the highway wasnt so close.
Jun 01, 2020
We loved the big cabin that we rented! It was more than I ever thought I could get for $100 per night!
May 27, 2020
The staff was very welcoming and friendly. We were happy to be able to get away and be in a safe environment while still social distancing.
May 27, 2020
Danna was really friendly make you feel like home
May 26, 2020
Most wonderful host/hostess I have ever had the pleasure to meet.
May 18, 2020
Our stay was very pleasant, our Dog Max and Marlo loved the dog park!
May 17, 2020
everything was great!!!!
Oct 14, 2019
Have stayed at the KOA several times over the past several years, and will go back again.
Oct 07, 2019
Great people and awesome grounds! Thank you so much for a lovely weekend!
Oct 13, 2020
Have stayed 4 times this year, love it, have made new friends.
- Tim Mundwiler on Google
Oct 11, 2020
Nice campground. Friendly staff.
- Denise Harrison on Google
Sep 24, 2020
Great place. Really nice people and very clean. We would definitely stay again!!!!
- Lori Funk on Google