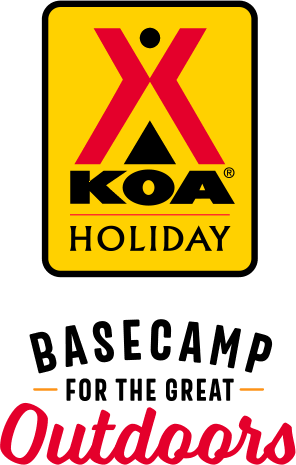 KOA Holiday Campgrounds
Whether you're exploring the local area or hanging out at the campground, KOA Holidays are an ideal place to relax and play. There's plenty to do, with amenities and services to make your stay memorable. Plus, you'll enjoy the outdoor experience with upgraded RV Sites with KOA Patio® and Deluxe Cabins with full baths for camping in comfort. Bring your family, bring your friends, or bring the whole group – there's plenty of ways to stay and explore.
KOA Holidays Feature:
RV Sites with a KOA Patio®
Deluxe Cabins with full baths
Premium Tent Sites
Group meeting facilities
Directions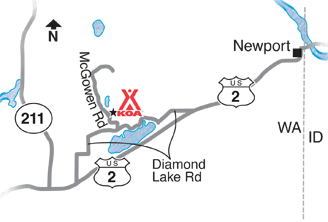 Spokane: From Division St "Y" on north end of town, travel about 27 miles on US 2. Turn left onto Northshore-Diamond Lake Rd. Follow signs 4 miles. Turn left onto McGowen Rd. Follow 1 mile to KOA.
From Newport: Take US 2 south for about 6 miles. Turn right onto Southshore-Diamond Lake Rd. Follow 2 miles to Diamond Lake. Turn right onto Northshore Rd. Follow 2 miles. Turn right onto McGowen Rd, follow 1 mile to KOA.
Get Google Directions
May 03, 2021
Our stay and camp site was wonderful. Many things were available but we didn't mind explore the area. Loved waking up to turkeys every morning.
Apr 26, 2021
The tent site was too small for my tent, it was so small I couldn't have a campfire. The bathrooms broke down on Friday and we had to walk several hundred yards to use the others. It was nice to have water and electricity at the site. The people were friendly. Left a day early because of the rain. Didn't get offered a refund for that day.
CAMPGROUND RESPONSE / COMMENTS:
Were sorry we didn't meet your expectation. Your tent was larger than our 16x16' tent pads. We did offer to move your site and we allowed you to use the site next to you for fires. You left after 6pm on your last day and check out is noon and when you spoke with the ranger you understood no refunds.
Apr 23, 2021
Tent camped for turkey season. nice tent pad clean area with power outlet and water, spotless bathrooms and shower, solid water pressure and hot water.
Sep 08, 2020
We had an amazing time at Little Diamond. Made some new friends while there. We are planning on returning next year for Labor Day!
Sep 01, 2020
Little Diamond lake is more like a duck pond and big Diamond lake is residents only. Overall very disappointed
CAMPGROUND RESPONSE / COMMENTS:
Were sorry we didn't meet your expectations. Little Diamond is a small FISHING LAKE on our park. Big Diamond lake has public access ONLY at the boat launch with WA state discovery pass.
Aug 24, 2020
Very clean facilities. Friendly staff. Would definitely recommend.
Aug 22, 2020
Campground is beautiful. The issue was the staff were extremely rude aside from a gentleman named Nate. The bathrooms had excrement on the ground, diamond lake is a private lake with on emplacement if you have a explorer pass.The day of departure my friend acroos from us had staff ask her if she was leaving and today I had the same experience when I was almost done packing with an 90 minutes to go
CAMPGROUND RESPONSE / COMMENTS:
We're sorry we didn't meet your expectations. We are sorry if the staff was rude. We don't have any staff named Nate. Big Diamond lake has a public boat launch area. For checkouts, we do have to make sure sites are empty; we then clean for the next guest, we usually ask if you would like to stay ano
Aug 18, 2020
Very nice campground, bathrooms and showers very clean, and the employees all very nice. But the check in process is poor. There is one person actually doing the check in, but there is several employees around the check in booth. I came in on a Friday and was third in line, by the time I got to check in there 8 rv's waiting to very checked in. Seems there is a better process to get check in done
CAMPGROUND RESPONSE / COMMENTS:
We're sorry we didn't meet your expectations. We sorry you thought there was only one person doing check-ins. We have a large crew on Friday nights, some getting info, some doing computer work, and others doing the escorting. Thank you for your patience as Fridays are sold out in the summer months.
Aug 17, 2020
Staff was so friendly. It was a really nice campsite too. Place was very clean, we found the lake so easy. They have area for our dogs so that's really a plus! We had so much fun on our little vacation. We are highly recommending this place. We would come back soon.
Aug 04, 2020
Tent campsites are very small with no privacy. You literally right next to each other. Ours was about the size of a pickup truck. If you have noisy neighbors, as we did, really no way to escape. The dust from the cars flying past campsite was pretty bad. The staff was nice and there is a lot to do if you have kids. Campground felt very clean. I would camp here again only in an RV.
CAMPGROUND RESPONSE / COMMENTS:
Were sorry we didn't meet your expectations. The site you were in is a 35' site with woods in back and trees on both sides. Next time please let us know while your here about loud guests so we can help you. Call the park next time and we'll try to get you a site that better fits your needs.
Jul 31, 2020
Was a great place to stay very clean people are very courteous campsites are great
Jul 28, 2020
This place was awesome. Loved the clean bathrooms
Jul 28, 2020
I loved how clean the campgrounds and bathrooms were! The beach front was small and extremely crowded. With covid going around and amenities are closed the camping should be discounted. We didnt get to go swimming I never got there in time to reserve a spot. No boat rentals no activities. Some of the camps spot were also really small. But overall it was very nice, and we enjoyed the outdoors.
CAMPGROUND RESPONSE / COMMENTS:
Were sorry we didn't meet your expectations. Lots of amenities are open, pool,fishing lake, playgrounds, store, laundry, wifi. The pool is currently open six days a week with sign up due to covid19. We have lots of great individual tent sites, you were in tent village where it is shared power.
Jul 21, 2020
It was a wonderful experience. We've already recommended it to friends and are looking forward to being back! So quiet, clean, friendly campers and staff, great amenities, just a perfect weekend! Thank you!
Jul 20, 2020
This was our first time at any KOA camp grounds. It was beautiful and clean. The staff was friendly. Even with covid, they had a lot to do for the campers!! I will camp there again in the future!!
Jul 16, 2020
It was peaceful the only concerns I had are a few staff kept lingering and hiding behind trees around our campsite listening to us. The frequent( about every hour) drive bys from staff made us feel unwelcome. This years experience was horrible compared with last year. Also this lady's bigger dog jumped up towards me and she couldn't control the dog and then she got mad at me when I walked awa
CAMPGROUND RESPONSE / COMMENTS:
Were sorry we didn't meet your expectations. Staff were working in the area near your site. You were spoken to after a half hour of profanity, and yelling. Then staff drove by one more time about an hour later. We want all our guests to enjoy the park, not listen to this. Were sorry about the dog.
Jul 12, 2020
The campground was well kept. The staff was very friendly and helpful. The restrooms were kept clean. I enjoyed my stay here.
Jul 10, 2020
My baby loved the pool and seeing the wildlife around the KOA!
Jul 07, 2020
Our stay here was great! Lots of room to play, clean sites, clean restrooms, clean pool, nice workers, and beautiful location. Check out diamond lake while you are there!
Jun 25, 2020
Clean bathrooms! Nice place to stay.
Jun 04, 2020
Sites are small and very close together. Too few bathrooms and they were not kept clean.
Sep 13, 2019
It was quiet this time of year that was expected. We enjoyed the quiet. Every one was very polite and helpful. The grounds were very clean and everything in good working order. We enjoyed our stay and will definitely be back to stay again.
Sep 06, 2019
A beautiful location with friendly staff. Very quiet with super clean facilities. Well maintained. On my motorcycle so I was tent camping without an air mattress. The tent sites are pea gravel so I couldn't get a good night's sleep because it was so darn uncomfortable to lay on. That's the only improvement needed, tent sites that are dirt and grass, not gravel.
Sep 05, 2019
We didn't get our favorite camp site but we got one and it was still great. The staff are all very friendly and helpful with everything. Little diamond koa is our favorite thus far.
Sep 03, 2019
The staff was great! The sites are a little too cramped for what we like. The site and the bathrooms were clean. The crafts were great. The pool was very small and busy. The lake had a great view, but too dirty to swim in. We enjoyed the boat rentals.
Sep 03, 2019
My fiancé and I have stayed here a few times now and can both agree it is our favorite campsite! There is so much to do! The bathrooms are well kept, the staff is super friendly, the area is beautiful, the list goes on. I highly recommend this KOA!
Aug 26, 2019
From the very beginning our stay was great. Everyone had a smile on their face and looked genuinely happy to be there. Bathrooms were very clean, camp sites were well kept, and The prices are wonderful!
Aug 19, 2019
My company supports children and adults with intellectual disabilities. We have made an annual camping trip to Diamond Lake (little diamond koa) for the last three years. Lori and her Staff are amazing and worked very hard to take care of the eighty plus people we had attend this year. The facilities are top notch. My personal favorite for ALL KOA's! Has amenities but it still feels like camp
Aug 15, 2019
The 11pm quite time is to late, rowdy campers next to us, couldnt get grandkids to sleep, everyone else was quite by 9pm Needs to be 10pm quite time
CAMPGROUND RESPONSE / COMMENTS:
Were sorry we didn't meet your expectations. Currently pm quiet hours are 11pm BUT noise levels at all times must be contained to your own site. Next time please let one of the rangers at the check in center know and we will be happy to go talk to the other campers. Hope to see you again
Aug 13, 2019
The check in confusion left everyone sitting and waiting in their cars, continued for way to long, consuming the only decent weather we had. Other sites screaming loud, mangmt did not respond. Our guests were charged a campsite fee to visit for a few hours. We would not stay again. Lori was confusing and rattled, appreciate her apologies and partial refund after a huge nightmare and stressed wkn
CAMPGROUND RESPONSE / COMMENTS:
Were sorry we didn't meet your expectations. There was confusion, because of the # of people you told us at check in that where here and then had five more cars of people which exceeded your site limits, which is why you had to rent another site. we refunded the folks who pd a car fee when the additional site was rented. We apologize, for the confusion that's why we ask at check in # of people.
Aug 12, 2019
good stay, thank you
Aug 12, 2019
Very friendly staff, nice relaxed camp site and lovely pool!
Aug 11, 2019
Great campground!! This was my first time tent camping. I felt safe and relaxed!!! The bathrooms were clean! The clubhouse was well stocked with pool tables and our favorite ping pong!! The pool and lake were great too! Hope to come back again!!
Aug 09, 2019
It was a nice experience in this KOA . I just hope that there are "golf carts style " to go to the pool , it's a little bit far to walk to , especially for seniors and with small kids
CAMPGROUND RESPONSE / COMMENTS:
There is parking at the clubhouse, pool/spa area and the fishing lake so campers are able to drive their vehicles to these areas if they don't want to walk. We do not have golf cart rentals.
Aug 08, 2019
We absolutely enjoyed our recent stay. The staff were friendly and efficient in the camp's care. We were very impressed by the cleanliness of all of the amenities. This will be our go to camp site in the future.
Aug 07, 2019
Our stay at Newport KOA was great! The staff was friendly and accommodating. The campground had many amenities and activities to do at the clubhouse for all ages. However, the last night of our stay we were abruptly startled at 12:30 am with a RV coming in and setting up for well over an hour. l think that maybe some restrictions should be in place for people who are coming in late