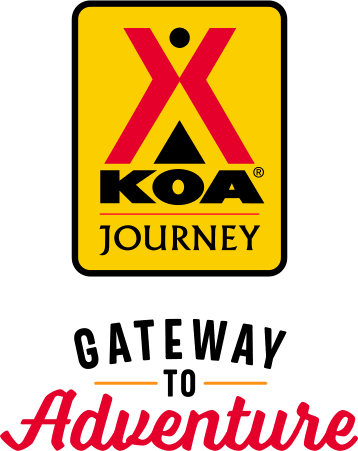 KOA Journey Campgrounds
KOA Journey campgrounds are the perfect oases after a day on the road. Whether it's along the way or a quick getaway, they've got you covered. Located near the highways and byways of North America with long Pull-thru RV Sites, they deliver convenience to the traveling camper. Pull in, ease back and take a load off.
KOA Journeys Feature:
Pull-through RV Sites with 50-amp service
Premium Tent Sites
Well lit after hours check-in service
Directions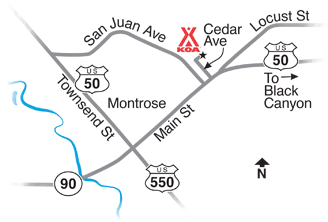 From Highways 50 & 550: Turn east onto Main St (which continues as Highway 50). Turn left [north] onto Cedar Ave. Follow one block to park. From Highway 50 east: Go 4/10 mile past first stop lights, turn north onto Cedar Ave.
Get Google Directions
Sep 16, 2021
Have stayed here for 15 years now and have always been treated like family. Great campground, great people !
Sep 16, 2021
Louise was super friendly and helpful. We had the tipi and a spot for a small RV. The area is treed and the bathrooms are new and very clean. The property is very well kept. Thank you
Sep 16, 2021
We have stayed here several times as our son and his family live in Montrose. It is quiet, and kept clean. I have nothing to complain about!
Sep 15, 2021
This is a very nice KOA, and perhaps the best campground we stayed in this year. This includes 3 other KOA's.
Sep 15, 2021
Nice park; unfortunately, they need to pay some SERIOUS attention to the dog park and upgrade it. (This goes across the board for ALL KOAs! Fortunately, Montrose had a great city dog park. Otherwise, a nice park that could use some overall TLC.
Sep 15, 2021
the place was clean. the staff was friendly
Sep 14, 2021
Stayed in Rustic Cabin. Clean and comfortable. Nice friendly check in. Two thumbs up��
Sep 14, 2021
Deluxe cabin - better than hotel room but glad we didn't pay full rate. The Good: located at entrance of campground, full-size kitchen appliances, plenty of storage and outlets, pool and hot tub were still open. The Not so Good: Window A/C not sufficient to cool whole cabin, ceiling lights in bedroom didn't work, dirty oven, no staff available to refill propane tank for grill, spotty WiFi.
Sep 14, 2021
Fantastic staff!! Very friendly and helpful!! Great accommodations as well!
Sep 14, 2021
Rented a Cabin for an overnight stay. Really nice, very quite and well kept campgrounds. Check in was fast and easy, Mary and her husband were awesome. Thanks for a great stay.
Sep 13, 2021
Sites are tiny. No privacy. Our cabin site faced the storage unit. A foot away was the public bathroom, on the other side was a pitiful gravel only rv site that at first glance we thought was our parking space. A road no fence is the only thing that separated us from what was a potential meth house. Couldn't get out of there fast. Frt desk friendly, some nice touches. Felt like a trl park
Sep 13, 2021
Just a one night getaway with wife. Stayed in a very affordable cabin. Very quiet and clean. Cozy little Koa.
Sep 12, 2021
Very nice campground. Sites were roomy but a little challenging to maneuver around. Lucky for us people across from us left at same time so we were able to pull through their site to get out. Very well maintained campground.
Sep 12, 2021
Great stay in clean, well cared for park.
Sep 11, 2021
Store was poor never any ice had to leave camp ground find a store
Sep 11, 2021
Stayed at the lodge. Neg: Surfaces were dusty, floors were extremely dirty. Knives were dull. No coffee filters, no complimentary shampoo/body wash. Glass table on the deck was covered with a thick layer of some kind of residue with a joint butt. Pos: Bathtub was clean, no mold. Clean sheets. Close to Black Canyon. Pool & hot tub.
Sep 11, 2021
Had a good stay but the park is in town thought it would be closer to black canyon,
Sep 11, 2021
Had difficulty getting out of park in dark, leaving before daylight to get thru construction on Hwy 50. Exit signs would be helpful.
Sep 11, 2021
Super convenient with the proximity to the National Park as well as downtown Montrose. The staff were very friendly and the facilities were wonderful.
Sep 09, 2021
Really enjoyed my stay met alot of friendly people will look forward to staying there again
Sep 09, 2021
Great location. Great facilities. Easy check in.
Sep 07, 2021
Great staff and location. Distance between sites is amazing.
Sep 07, 2021
We had a great stay and enjoyed the pool and pavilion! Thanks!
Sep 07, 2021
Lot of permanent residents, firewood that I paid for and fire ring were never delivered to campsite, dog park is in the back of the camp which isn't upkept well, dog run on the side of camp needs to be mowed. Other than that it was clean, bathhouse was well maintained.
Sep 06, 2021
Loved the quiet setting and clean facilities!
Sep 05, 2021
Great place to stay! Thank you for the great service.
Sep 04, 2021
It is a great stop if you're enroute to the Black Canyon..probably one of the quietest Koas we've stayed at in a long time (not too close to the highway)
Sep 04, 2021
One of the nicest KOA's we have stayed in. The Hosts were so friendly and went out of there way to find us a place for 5 nights without moving to another site. An hour before we arrived. Beautiful pool, very clean bathrooms and amazing showers. Met a very nice man from Texas that stays with you every year. He calls himself The Mayor of the park. He went around talking to everyone. Excellent K
Sep 03, 2021
Always a pleasure to stay here in the woods by the Dolores River.
Sep 02, 2021
It was great. Thanks.
Sep 02, 2021
Staff was very friendly.
Sep 01, 2021
Very comfortable beds! Also appreciate the light being on and key ready when we arrived late.
Aug 31, 2021
Nice camp ground
Aug 31, 2021
Love the campground. Wish they had a heated pool. When I reserved the place we wanted to stay I specifically asked for the mobile home that was at the rear of the property. Upon arrival they had us in the Park Model called The Lodge. I had my brother, brother in law and a friend with Parkinson's. We were going to take him in the mountains for possibly the last time. The cabin was to small.
Aug 30, 2021
This review has been removed by KOA due to profanity.
Aug 29, 2021
One of the nicer KOA's we've been to for sure!
Jul 31, 2021
Nice pool and playground for the kids. Each spot has their own like grass area and a good amount of trees. Would stay here again.
- H K. on Google
Jul 21, 2021
Great walking along river. Playground good for kids.
- Zeke Knipps on Google
Sep 04, 2021
Parts of the site's need updating Some lots have dead grass
- Jim Pettit on Google