Local Area Attractions Near Medina / Wildwood Lake KOA Holiday

Niagara Wine Trail (access 2 miles from our KOA)
The Niagara Escarpment and Lake Ontario have created a unique microclimate suitable for the production of World Class Wines. Experience the beautiful countryside of this area as you spend the day traveling from one winery to another. www.niagarawinetrail.org

Amish Shops (3 miles from our KOA)
Amish shops are available in our area including bulk foods, furniture, woodworking, fencing and more!

Farmers Markets (starting 3 miles from our KOA)
Orleans County is plentiful with farmers markets and stands. Get any kind of summer fruits and veggies straight off the farm!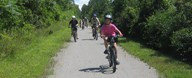 Erie Canal Bike Path (access 5 miles from our KOA)
Erie Canal Heritage Trail is approximately 70 miles long between Lockport and Palmyra, the trail passes villages whose development centered around the canal. There are numerous access points where roads intersect the trail.
Trail Surface: Lockport to Medina - stone dust
Medina to Rochester - gravel
Rochester to Pittsford - asphalt
Pittsford to Palmyra - stone dust
Trail Use: Walking, hiking, bicycling, roller blading and cross country skiing.
www.nycanal.com/recreation/hikebikemain.html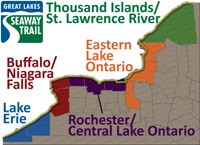 Scenic Seaway Trail (access 5 miles from our KOA)
To experience the Great Lakes - in your time, at your pace, in your style - drive the Great Lakes Seaway Trail. This America's Byway is a well-marked leisure driving alternative to interstate highways. The route parallels 518 miles of shoreline along the St. Lawrence River, Lake Ontario, Niagara River and Lake Erie in New York and Pennsylvania, and is also a National Recreation Trail! Come experience the journey! www.seawaytrail.com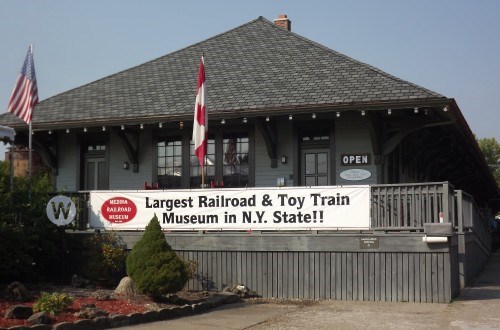 Medina Railroad Museum, Medina, NY (10 miles from our KOA)
Located in the old New York Central freight depot in Medina, NY, the Medina Railroad Museum is the largest freight depot museum in the country. The building itself was built in 1905, and is one of the largest (301ft. by 34ft.), last surviving wooden freight depots in the United States. Featuring the largest collection of artifacts and memorabilia known to exist under one roof. Enjoy a train ride along the Erie Canal. www.railroadmuseum.net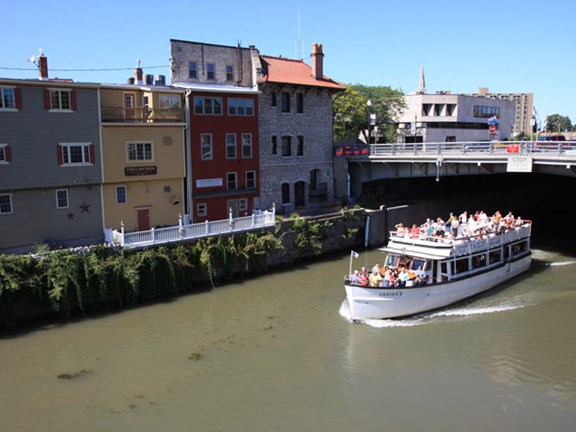 Lockport Locks, Lockport, NY (17 miles from our KOA)
Experience a 2-hour cruise which includes "locking through" and being raised the 49 ft. elevation of the Niagara Escarpment (the same one that creates Niagara Falls) in the only double set of locks on the Erie Canal. You will pass under bridges that raise straight up, see water cascade over Lockport's famous "Flight of Five" 1840's locks, and travel through the solid walls of the "rock cut" as your Coast Guard licensed captain describes the architecture, sights, and folklore along the way. www.lockportlocks.com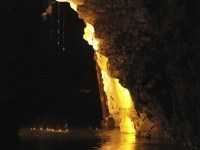 Lockport Caves, Lockport, NY (17 miles from our KOA)
The Lockport Cave & Underground Boat Ride in Lockport, NY, on the Erie Canal, offers the public an exciting 70-minute guided tour through America's past. You will explore the historic Erie Canal Locks 67-71, constructed in 1838. You will also view ruins from an earlier industrial age, walk safely through a water tunnel that was blasted out of solid rock in the 1850s, viewing stalactites, flow stone, various geological formations and artifacts left behind by the men who built the tunnel in the early days of the Erie Canal. If you are lucky you may even find a fossil or two. www.lockportcave.com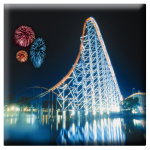 Darien Lake Theme Park, Darien, New York (30 miles from our KOA)
Darien Lake is a full size theme park with over 100 rides and attractions. The park also includes a large water park.
Fort Niagara, Youngstown, New York (35 miles from our KOA)
Today Old Fort Niagara is a National Historic Landmark and New York State Historic Site that welcomes more than 100,000 visitors every year. It offers a unique collection of original military architecture and fortifications from the 18th Century and the 19th Century, as well as living history events and programs, historical exhibits and collections, archaeology, and education.
The fort played an important role in the struggles of France, Great Britain, and the United States to control the Great Lakes region of North America, and also helped shape the destinies of the Iroquois (Six Nations) peoples and the nation of Canada. www.oldfortniagara.org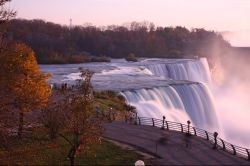 Niagara Falls, Niagara Falls, New York (40 miles from our KOA)
Come see one of the greatest tourism attractions in the United States. The mighty Niagara is something you don't want to miss if you are in Western New York. www.niagara-usa.com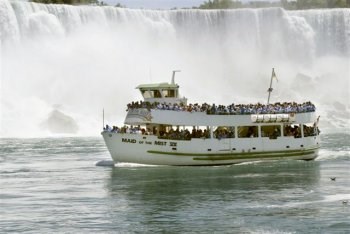 Maid of the Mist, Niagara Falls, New York (40 miles from our KOA)
View the mighty Niagara Falls from the bottom up. Don't forget to wear your poncho! www.maidofthemist.com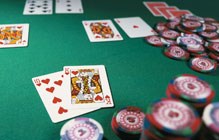 Seneca Niagara Casino, Niagara Falls, New York (40 miles from our KOA)
68,000 Sq ft of World Class Gaming and entertainment. www.senecaniagaracasino.com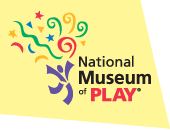 The Strong Museum, Rochester, New York (50 miles from our KOA)
The Strong National Museum of Play is the only museum in the world dedicated to play. The museum provides and entertaining and educational family experience unlike experienced elsewhere. Strong Museum is the home to the National Toys Hall of Fame. www.museumofplay.org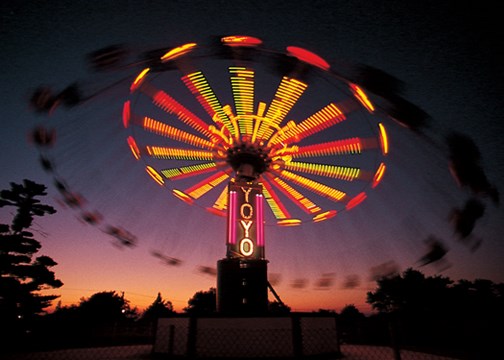 Seabreeze Amusement Park, Rochester, New York (55 miles from our KOA)
Seabreeze is a traditional amusement park including water features. Give your family all the fun and excitement of more than 70 great attractions at Seabreeze. You'll find thrilling adult rides and classic family rides - plus some cool kiddie rides too. www.seabreeze.com