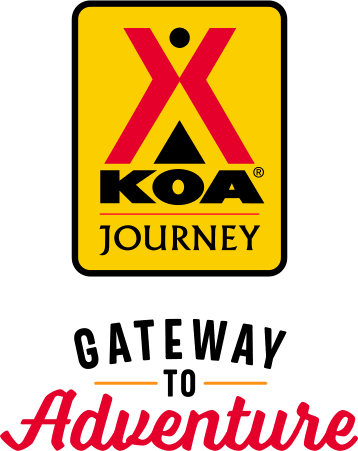 KOA Journey Campgrounds
KOA Journey campgrounds are the perfect oases after a day on the road. Whether it's along the way or a quick getaway, they've got you covered. Located near the highways and byways of North America with long Pull-thru RV Sites, they deliver convenience to the traveling camper. Pull in, ease back and take a load off.
KOA Journeys Feature:
Pull-through RV Sites with 50-amp service
Premium Tent Sites
Well lit after hours check-in service
Directions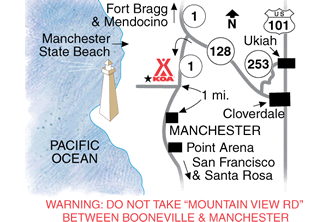 Hwy 1 at Manchester State Beach. 5 miles north of Point Arena; 38 miles south of Fort Bragg.  30 miles south of Mendocino. Mountain View Rd in Booneville not recommended (16% grade and winding). Stay on Hwy 128 to Navarro River Bridge, turn left and go over bridge. This is Highway 1 South. KOA is 25 miles south, then make a right turn onto Kinney Road.
IF COMING OVER HIGHWAY 128, DO NOT TAKE MOUNTAIN VIEW ROAD, CONTINUE ON 128 UNTIL HWY 1 NAVARRO BRIDGE AND TURN LEFT OVER BRIDGE TOWARDS POINT ARENA.
Get Google Directions
Dec 02, 2020
Very clean and friendly staff. A great beach seems like you can walk for miles
Dec 02, 2020
We booked late for a very busy Thanksgiving week but the staff was very helpful in finding us a great spot.
Dec 02, 2020
the cabin was extremely cold even with heater, it doesn't really work properly as it's very weak and even running it for many hours we had to sleep in jackets, we were thinking about moving somewhere else but it was too late. We informed the reception in the morning so it should be fixed.
Dec 01, 2020
Well maintained cabins and the trees providing shade are majestic.
Dec 01, 2020
We enjoyed our first time visit to KOA Manchester and has become our favorite KOA in NorCal. Would definitely recommend to others and will definitely return again in the future.
Dec 01, 2020
1st time at a KOA. Would definitely come back. Sites are setup well, beautful trees throughout and the beach is just down the road.
Dec 01, 2020
Camp site where very clean. Staff was alway helpful and nice. easy to get around the property. We will be back.
Dec 01, 2020
Such a wonderful campground and people running it. Great get away from the city life, and plenty of ocean, wildlife and sunsets to reset your soul. Thanks for everything you guys. Can't wait to see you again!!
Dec 01, 2020
Clean, organized campground with lots of trees and the spaces are fairly private - not too close on most of them. Staff is friendly and efficient and were very approachable with any questions or requests for changes. With smaller children you do need to drive to the beach which was a surprise - you can walk but with it being about a mile, and carrying beach stuff it was just too long. Loved it!
Nov 30, 2020
Staff was very friendly. Loved the store. Cabins, showers & Bathrooms were always clean. Love Manchester Beach. Great time.
Nov 30, 2020
We loved the kabin rental, my wife said it ruined tent camping for her cause it was so convenient. The little heater inside kept us plenty warm at night and it was really nice to have an outlet to charge items with. Can't wait for our next long weekend.
Nov 30, 2020
Lovely spot under mature trees. The staff is very friendly and the KOA is family friendly. Very nice place. For those travelling to the coast from inland, avoid 253/Mountain View Road if you are in a large vehicle or have a camper in tow.
Nov 30, 2020
Delightful, well kept, happy KOA. Thanks for a great stay we will be back. The staff were very friendly and accommodating.
Nov 29, 2020
Another wonderful Thanksgiving week. The weather was wonderful and the KOA was busy. The staff was friendly as always. Unfortunately due to covid, couldn't have the potluck this year but everyone made the best of it. My family really enjoys Manchester KOA.
Nov 29, 2020
Enjoyed our stay for Thanksgiving. Appreciated that you kept the pool open, as the kids enjoyed swimming. Loved that we could sign up for time slots, worked out great! Lots of activities for kids and families, and friendly staff. I'm sure we'll be back. Thank you!
Nov 29, 2020
Aside from most of the activities being closed due to COVID, the campground was excellent. There were only two things I found lacking. The first being the poor Internet service available. The second was the poor cable TV connection. We met some wonderful people there and will likely go back if we decide to visit that area of California again.
Nov 29, 2020
Amazing!! Friendly ladies up front. Clean!!
Nov 29, 2020
This was our first visit. It was our maiden voyage with our new class A motor home. Staff were really friendly and helpful. Bathrooms were absolutely amazing and clean. Community kitchen area was very nice. I was disappointed in that our campsite, #60, was a muddy mess. Looking around, this was not the norm. Most sites looked amazing. I was thankful that there was a spot for us on a holiday.
Nov 28, 2020
We had a lovely time during our week at KOA. The staff is always helpful. Also, the bathrooms/showers are always very clean. Can't wait to come back!
Nov 28, 2020
The campground was nice, and the staff was very friendly and helpful. The restrooms were clean. I was surprised to see individual restrooms ( instead of stalls) and fully stocked. The store and office was open till late, and they deliver the firewood to your site. Overall, it was a great experience staying at the tent site there. Walkable distance to the beach.
Nov 28, 2020
The only problem was other campers who did not comply with the mask requirements. But that was no fault of KOA who were very accommodating, professional and helpful. The site is spotless, quiet at night and a perfect location. We will definitely go back.
Nov 28, 2020
Staff is friendly warm and accommodating. The grounds are always clean and well maintained.
Nov 27, 2020
The campground was beautiful! Wide spaces, hot showers, disc golf, short bike ride to the beach.
Nov 27, 2020
My camp site was far to close to the backed up neighbors. My burn pit was essentially in their spot.
Nov 26, 2020
it was great. Never could get the "limited wifi" to hook up. Just made it a bit difficult since there was no service for me or my husband.
Nov 25, 2020
We camp a lot, and enjoyed our stay. Campground, amazing. Scenery, amazing. Beach, amazing. People renting cabins and speeding through the campground, dangerous and not appreciated. KIDS ARE PRESENT! Whether they are mine or not, the clearly posted 5 mph is for EVERYONE! Will I come back, yes.Just because you can afford to be in a cabin doesn't mean you are special! Rules are for everyone's saftey
Nov 25, 2020
We always enjoy our stay at Manchester KOA. Friendly staff, and all the amenities!
Nov 25, 2020
Crowded, noisy, and dirty. Worst KOA we have stayed at so far. Wi-Fi is terrible. TV cable did not work. Disgraceful.
Nov 24, 2020
Everyone was very friendly Beautiful place
Nov 23, 2020
Nice large RV site. Beautiful area.
Nov 23, 2020
Great time , # 60 was a great spot but muddy. Liked the closeness to the beach. Staff was friendly and helpful.
Nov 23, 2020
We loved this campground!! Walking distance to a great beach. Great service in the store, overall very clean bathrooms and great amenities!! We can't wait to come back. Only slight negative is the Wifi was not good (typical for most campgrounds) at the end of the day, just disconnect and enjoy your time!
Nov 23, 2020
Love this place. Great location and wonderful staff
Nov 23, 2020
Only downside was being parked in the trees, didn't get any sun, WiFi and cell service poor
Nov 23, 2020
As always it was a wonderful experience. All Covid measures were in place. The only weird thing was the camp flying their Trump flag during a camping trip?
CAMPGROUND RESPONSE / COMMENTS:
Thank you for choosing us, it was weird to have guest flying their Trump Flags but we have to respect everybody's privacy and rights, sorry as much as we don't want any political statements , we can't control other people actions.Come back and see as again!
Nov 22, 2020
As always, a perfect stay! Thank you Manchester KOA! I love you!�ϋ�
Nov 22, 2020
Loved it overall. We had very little contact with staff or anyone due to covid but the contact with staff that we had was lovely. I find the high degree of variability between the various cabins to make it difficult for me to choose the exact set of amenities that I want. BUT that said, we loved our cabin and it worked very well. We do plan to come there again.
Nov 22, 2020
This is really a Beautiful place! The campsites are Spacious! The staff is very friendly! Already planning our return!
Nov 22, 2020
Excellent spot, facilities, host and location. Could hear the waves crashing on the beach from spot 22!
Nov 21, 2020
The heater in k13 clicked a lot but everything else was great
Nov 21, 2020
We enjoyed our stay in the deluxe cabin, but calling it a full kitchen is a bit deceptive to me. The stove top was a plug in 2 burner electric unit, which was fine for dinner since we were cooking outside on the bbq but it made making a big breakfast of pancakes, eggs, hash rows, and bacon slow going. I'd book again but plan accordingly now that I know the limitations on cook space.
Dec 02, 2020
Great place to stay as a family
- Dharmaraj Jeevamani on Google
Dec 01, 2020
Great Kamp ground and a great location, we came here and they kept everything safe as can be during these COVID times, while not restricting the fun very much!!!
- Ralph Hershberger on Google
Nov 28, 2020
Absolutely love Manchester KOA
- Kelly DeBotts on Google