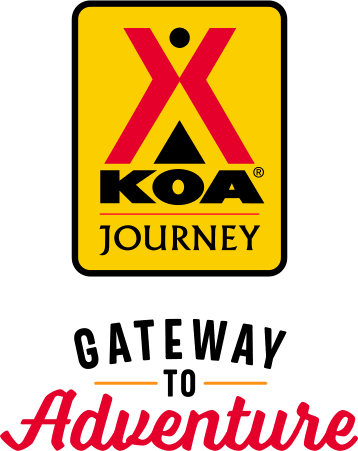 KOA Journey Campgrounds
KOA Journey campgrounds are the perfect oases after a day on the road. Whether it's along the way or a quick getaway, they've got you covered. Located near the highways and byways of North America with long Pull-thru RV Sites, they deliver convenience to the traveling camper. Pull in, ease back and take a load off.
KOA Journeys Feature:
Pull-through RV Sites with 50-amp service
Premium Tent Sites
Well lit after hours check-in service
Directions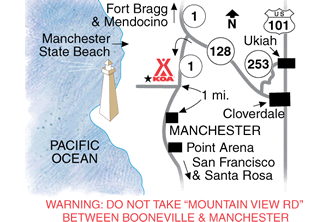 Hwy 1 at Manchester State Beach. 5 miles north of Point Arena; 38 miles south of Fort Bragg.  30 miles south of Mendocino. Mountain View Rd in Booneville not recommended (16% grade and winding). Stay on Hwy 128 to Navarro River Bridge, turn left and go over bridge. This is Highway 1 South. KOA is 25 miles south, then make a right turn onto Kinney Road.
IF COMING OVER HIGHWAY 128, DO NOT TAKE MOUNTAIN VIEW ROAD, CONTINUE ON 128 UNTIL HWY 1 NAVARRO BRIDGE AND TURN LEFT OVER BRIDGE TOWARDS POINT ARENA.
Get Google Directions
Jul 26, 2021
My favorite KOA. Beautiful and clean. We can't wait to come back!
Jul 26, 2021
After reading other camper reviews we expected a much different stay. Upon arrival the campground was extremely crowded and the facilities were dirty. The quiet hours were not enforced and the campers in this KOA were not respectful of others space or the facility. We will not book this KOA again or recommend it to anyone
Jul 26, 2021
Lugar muy Bonito y tranquilo muy bueno para pasar algunos dias con la familia
Jul 26, 2021
Well maintained, great staff and a great place for kids! We had a wonderful time!
Jul 26, 2021
Estubo bien gracias!
Jul 26, 2021
The campgrounds are all very clean, the staff is very helpful and friendly.
Jul 25, 2021
Too crowded, too loud, and the street light in the campground was terrible
Jul 24, 2021
Beautiful, well-equipped campground for all types of campers. Will definitely stay here again. Kids were very happy with the movies, pool and playgrounds. There is something for everyone.
Jul 24, 2021
too bad the dust cant be held down some how got lost walking to the beach trail sign was not clear left or right?!!
Jul 24, 2021
Your STAFF.......is amazing everyone is so friendly.
Jul 24, 2021
Everything was perfect. The staff was so friendly and nice. The facilities were always clean. The movie night for kids was a huge plus. We will be back for sure .....
Jul 24, 2021
Every one was so friendly and accommodating especially the manager Yolanda and helping find us a spot so we can stay two extra nights with her friends. Awesome
Jul 23, 2021
Family has been coming to Manchester for several years. This year we rented two separate trailers-both had issues. Refrigerator in one didn't work and the other had no hot water. Maintenance tried to fix the issues several times. Systems would work for awhile then quit again. For what we paid, it was disappointing. Campground is very pleasant and close to a great walking beach.
Jul 23, 2021
The office staff were not friendly. No internet. Creepy guy on a golf cart staring at the girls. Why close the bathrooms at 9am when everyone is trying to get ready? Not up to par with the last four KOA's we stayed at..
Jul 23, 2021
My husband and I were tent camping. This is likely the best KOA for tents anywhere. Most of the spaces are large and shaded and away from the RVs and cabins. The grounds are very well maintained and the bathrooms/showers are clean and updated. The pool and hot tub are fun additions after a day of hiking on the Stornetta coastal trail.
Jul 23, 2021
Stayed at a tent site and had a great time! Great service and clean facilities. I've stayed at this KOA about 3 times and every time was awesome! Highly recommend this KOA!
Jul 23, 2021
Had a great day and a perfect campsite. The only problem was trying to get into the jacuzzi. Each time that we went there were kids in it and not adults.
Jul 22, 2021
We've been staying at Manchester KOA for many years. We love it and will continue to go back! Great office staff!!
Jul 22, 2021
Had a fantastic time. Kids LOVED the pool. Thank you!
Jul 22, 2021
The sites were nice and well shaded. The staff was friendly. No cell reception and terrible wi-fi. It would be helpful to have a sign where you exit the KOA to walk to the beach that gave an approximate distance to the the beach. We gave up the first day, and the second day walked down the road to the Manchester Beach Park entrance.
Jul 22, 2021
Had a 2 night reservation and stayed for 1. Asked for a refund for 2nd night and were refused. Reason we left. 1 no working wifi 2 paid for cable rv and cable not working 3 pets allowed but not allowed on beach. I missed a conference call because of no access to wifi. gave a 2 rating because the maintenance man was wonderful Very disappointed as we drove up from the Bay Area
Jul 22, 2021
Lovely beach trail access and adequate amenities. Unfortunately, we were placed in a corner of the tent section that received wind from ocean so it was always freezing. May return but choose different area. Liked having access to other nearby beaches also and a fully stocked market off camp grounds that is just three minutes away by car. People did not wear masks in common areas which was bad.
Jul 21, 2021
I thought there would be more activities for the kids to do (we never did find the disc gold that the website said they had) but we all did have a great time. Pool is kinda small, but my kids didn't care they were just happy to swim. The ocean/beach is NOT walking distance e but it is a very quick drive just down the road.
Jul 21, 2021
We had a nice stay. The campground is very neat and clean. I particularly like the wood service to our site. The dog park was an added plus. The one thing that would prevent me from returning is the fact that you can't bring your dog on any of the beaches adjacent to the park. Not KOA's fault but makes it hard to go for a walk with your dog.
Jul 21, 2021
The camp was nice with many amenities. A camp cooking open kitchen for the camp guest, movie, pool etc. However the showers and restrooms definitely need more attention many more times a day!!
Jul 21, 2021
Loved it! Stayed 3 nights!
Jul 21, 2021
Pleasant, clean amenities, nice facilities. We were very content.
Jul 21, 2021
We have been coming to this campground at least once a year for the last 5 years. This is our absolute favorite campground to stay at. We always have a great time and always wishing we could stay longer.
Jul 21, 2021
Great open sites, not crowded. The only negative was the wifi. When I checked in, I was told the wifi was down for two weeks. The next morning at 7 am, I ended up driving around for 45 minutes to find very sketchy connection for an 8 am Zoom meeting.
Jul 21, 2021
We had a wonderful stay. The campsite was surrounded by trees, with only a short hike to the beach. Our spot was clean with an easy distance to the showers and store. The staff, what can I say, they were awesome as they answered all our questions and delivered wood to us in quick time. We look forward to coming back again. Thank you Manchester KOA :)
Jul 21, 2021
Great campground with privacy hedges around the individual sites, nice showers. The managers of the site went above and beyond when handling our check in after a hiccup in our itinerary and ETA. Very quiet, peaceful atmosphere.
Jul 20, 2021
We had four families that stayed at Manchester Beach KOA. We had 7 adults and 7 children, 1 5th wheel, 1 bumper pull, and 1 in a deluxe cabin. We have nothing but great things to say about the campground. The staff was efficient, friendly, and accommodating, the campgrounds were very clean and peaceful, and the setting was beautiful. The short trip to the magnificent ocean was handy! Thank you!
Jul 20, 2021
Friendly staff. Facilities well maintained. No internet or cell phone service, broken and down for "couple of weeks", (not sure why repair takes so long.) I'm self employed so I am always checking my email. Couldn't do it here. Nice walk to the beach. And a beautiful drive to Fort Bragg/Mendocino, about an hour away. Plenty to do on a day trip from Manchester koa.
Jul 20, 2021
We had a great stay. You need more showers though and more things available to buy at the store , such as blankets and sleeping bags. We were very cold the 1st night. Had to drive 1.5 hours each way to buy more blankets.
Jul 20, 2021
OUR STAY WAS GREAT. YOUR STAFF IS ALWAYS VERY ACCOMODATING AND HELPFUL
Jul 26, 2021
Glamping at its best! Bathrooms are super clean always (don't know how they do it) and have free showers. Activities for kids, a heated pool and a short walk to the beach. Weather is cool even in July and foggy so it felt like we were camping in a cloud.
- Danny Kwon on Google
Jul 25, 2021
Gorgeous location with spacious sites and lots of amenities. Everyone in our group had a great time from Kids to adults. Employees were very nice to deal with and even though we checked in late it was very easy. We most appreciated that they thought ahead to have us in the same site both nights. We can't wait to go back.
- amberdT2669OE on Trip Advisor
Jul 05, 2021
Great campground with nice facilities near the coast.
- Matt Hughes on Google