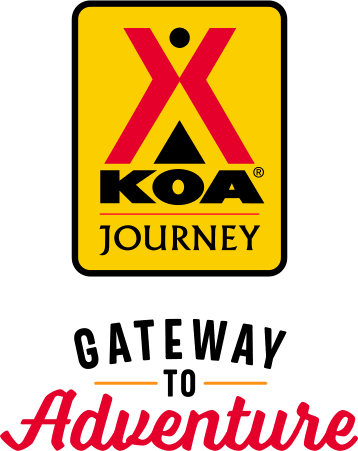 KOA Journey Campgrounds
KOA Journey campgrounds are the perfect oases after a day on the road. Whether it's along the way or a quick getaway, they've got you covered. Located near the highways and byways of North America with long Pull-thru RV Sites, they deliver convenience to the traveling camper. Pull in, ease back and take a load off.
KOA Journeys Feature:
Pull-through RV Sites with 50-amp service
Premium Tent Sites
Well lit after hours check-in service
Directions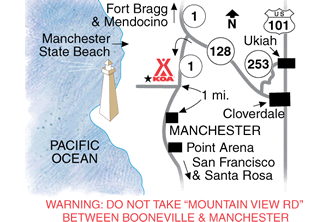 Hwy 1 at Manchester State Beach. 5 miles north of Point Arena; 38 miles south of Fort Bragg.  30 miles south of Mendocino. Mountain View Rd in Booneville not recommended (16% grade and winding). Stay on Hwy 128 to Navarro River Bridge, turn left and go over bridge. This is Highway 1 South. KOA is 25 miles south, then make a right turn onto Kinney Road.
IF COMING OVER HIGHWAY 128, DO NOT TAKE MOUNTAIN VIEW ROAD, CONTINUE ON 128 UNTIL HWY 1 NAVARRO BRIDGE AND TURN LEFT OVER BRIDGE TOWARDS POINT ARENA.
Get Google Directions
Oct 21, 2021
This is not scenic, not close to the beach -- the only thing you are close to is the tent next to you. There are not enough bathrooms -- I had to wait every time. I would only recommend staying here if you want zero ambiance and to sleep right next to strangers.
Oct 21, 2021
We really enjoyed our stay and all the staff was wonderful, lots to do very family friendly
Oct 21, 2021
We had a week stay here and loved it for the location. Very accommodating staff and great hot tub and very warm pool!
Oct 20, 2021
We had a wonderful stay!
Oct 20, 2021
We had a great time at the KOA. My daughter loved the playgrounds and my dog loved the pet park area. We did a Sat-Tues stay and it was so blissfully quiet once all the weekenders cleared out. Friendly folks at the office and working the grounds rounded out our satisfaction with our stay. Thanks! We'll be back!
Oct 20, 2021
Way too expensive, it was $109 per night for a simple cabin
Oct 19, 2021
Great staff.
Oct 19, 2021
Been going to manchester koa foe 20 years Always clean everything, great crew and the dog park is out of this world my pups love it Besides some where and tear it is a wonderful campground
Oct 19, 2021
When I booked my camping trip i googled the beaches and the KOA and online it said Dogs were allowed on the beach....that is not the case at this KOA's Beach...also don't camp here when its suppose to rain cause it floods really bad. The staff however was great! Only downfall is no dogs on the beach you can walk to, and bad flooding when its raining, but good atmosphere for camping.
Oct 19, 2021
it was the best!! Beautiful scenery, the bathrooms/showers & the campsite were clean, the store was perfect for the little things we needed and not too expensive! My kids loved the arcade, basketball hop and playground, kept them busy while we relaxed!! We will definitely be back, I can't wait!!
Oct 18, 2021
We had a great time. All areas were clean and staff was very friendly
Oct 18, 2021
Clean sites and campground!
Oct 18, 2021
Actually, everything would have been very good except when I went to the office to inform that our RV (57A) had no hot water, the woman at the desk (with the long orange fingernails) initially refused to call maintenance. An hour and a half later I went back and encountered the same employee. This time I told her I would not leave until I saw a maintenance person. Maintenance guy was great!
Oct 18, 2021
Tent camped the family And I loved it as always great staff, clean park, clean restrooms And beautiful weather wonderful place to relax and and not worry about anything.
Oct 18, 2021
Armando was particularly helpful, as he was able to get an extension cord, which provided me the ability to use my CPAP machine and charge my phone overnight. Beautiful view of the sunset from our site! Everyone was friendly and helpful.
Oct 18, 2021
Loved it as always. We will be keeping coming back. A great campground.
Oct 17, 2021
I love Manchester KOA. The classiest KOA out there. Love the billiard table. The only thing I'd change is, give the billiard table a dedicated quiet room or just put it outside under a canvas tent. The arcade games are loud and in the way of enjoying the billiard table.
Oct 16, 2021
The place itself is fine. However, your internet service was not working, even though it's advertised on your site. We mentioned it to the 4 different employees but no one called the provider or got it fixed. This caused problems for us as we had counted on being able to get online during our stay. Seems like the employees just didn't care about our inconvenience and that really bothers us.
Oct 16, 2021
This is a very nice park like setting, staff is very nice. We happened to come on a very windy day but it was better the second day. Very clean restrooms and showers. I would recommend this to anyone who wants a quite, relaxing vacation. Thank you
Oct 16, 2021
I've stayed there twice as an alone female, and then with another person. I've only tent camped there. Great service, safe campground, wonderful area. I brought my dog for an extra ($6.00). Great idea especially if you've seen and done everything in Fort Bragg and want some different coastal scenery. They drop off your ordered firewood at your camp which is very nice.
Oct 15, 2021
Excellent services. Clean well maintained. HOWEVER IN TODAYS WORLD TO HAVE NO, NO WiFi MAKES THIS A LOCATION OBSOLETE
Oct 14, 2021
Our campsite was huge. Super easy to get our 34ft trailer set up. Our family took advantage of the park, heated pool, dog park. We stopped by for some of the movie that was playing and stopped inside the store multiple times. We also rode our bikes from the camp site to coast access. One of the days we spent the day in Fort Bragg which took us less than an hour to get to. Will come back!
Oct 14, 2021
Very nice host, clean site. Only downside was noisy neighbors (barking dogs yelling kids) at 7am. But the site was good and we'd stay again
Oct 13, 2021
The workers there were very nice and very accommodating. Yolanda made special arrangements for us and made our stay more enjoyable. Great place to camp .
Oct 12, 2021
Was very friendly. Quiet. Will be back
Oct 12, 2021
Great campsite and lodge area
Oct 12, 2021
My wife my 11 yr old son and our two dogs stayed here for the 4 day weekend really i just kind of stumbled across this place while searching the web for a place to stay while we were up for a weekend and the skunk train. And i am so glad i did we had the best time this place is phenomenal and all the staff and employees are top notch very friendly we booked our next stay before we checked out.
Oct 11, 2021
It's our favorite KOA. This KOA Campground is in one of California's most beautiful locations located on the rugged north coast. The grounds are well kept and the people are friendly and helpful. You may need to do a little leveling but I'd rather have the gorgeous trees with their roots than a flat site without them. If you decide to experience this beautiful KOA then PLEASE, leave us a space!!
Oct 11, 2021
vERY CLEAN, WELL STOCKED STORE
Oct 11, 2021
Always meet new people that are friendly and have their own stories of how much fun they and their families having! This time I must have met 6-8 people that have been coming to Manchester for decades, I know one day we will be able to say that because I have never had a bad experience here
Oct 11, 2021
Very happy with the facilities and cleanliness. The shop is small but has decent essential supplies for the stuff you might have missed. Pt Arena is super close and made a fun day trip. We'd come back for sure.
Oct 11, 2021
Great time! Very clean, well run, nice store. It was everything we needed.
Oct 11, 2021
This was our first time at Manchester Beach KOA. We liked it and will be returning in the spring. I would have given them 5 stars, but the fire wood was wet and hard to burn, to much dog poop everywhere ( which is not necessarily KOA's fault ), and the WiFi was terrible. We couldn't even use it for WiFi calling. Fix these things and it would be a 5 star KOA. Thanks
Oct 11, 2021
Super amables
Oct 11, 2021
Awesome location, great amenities! Check out the beach trail and community firepit. 10/10 will be visiting again!
Oct 11, 2021
The staff did an excellent job was a 10-in professional and friendly at all times- I was very happy ���
Oct 10, 2021
went for a memorial service and stayed for the camaraderie and KOA fellowship. everyone from yolanda, terry, crystal and susana went out fo their way to fix scheduling errors. making a stressful situation much easier to deal with. THANK YOU, LADIES���
Oct 09, 2021
Campground was clean and well maintained. Trees trimmed so no problem with low hanging branches. Nice one mile walk along dirt trail to the beach.
Oct 09, 2021
Was a nice campground, bathrooms were clean too ���
Oct 09, 2021
Beautiful resort with large sites
Oct 09, 2021
Great except for the internet connection! Needs to be overhauled,
Oct 02, 2021
Great people
- Nathan Fender on Google
Oct 02, 2021
Really awesome place for your family trips. Perfect if you're looking for peace and quiet with a lot of amenities.
- Sunny Kilcrease on Google
Sep 30, 2021
Clean quiet
- john morrisette on Google