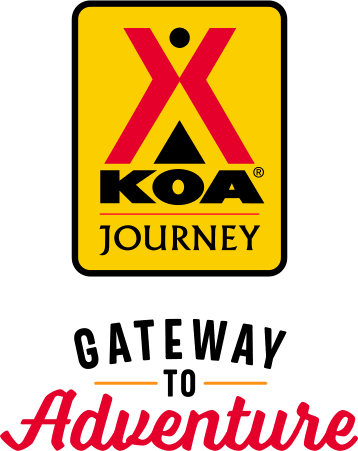 KOA Journey Campgrounds
KOA Journey campgrounds are the perfect oases after a day on the road. Whether it's along the way or a quick getaway, they've got you covered. Located near the highways and byways of North America with long Pull-thru RV Sites, they deliver convenience to the traveling camper. Pull in, ease back and take a load off.
KOA Journeys Feature:
Pull-through RV Sites with 50-amp service
Premium Tent Sites
Well lit after hours check-in service
Directions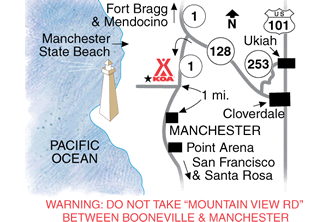 Hwy 1 at Manchester State Beach. 5 miles north of Point Arena; 38 miles south of Fort Bragg.  30 miles south of Mendocino. Mountain View Rd in Booneville not recommended (16% grade and winding). Stay on Hwy 128 to Navarro River Bridge, turn left and go over bridge. This is Highway 1 South. KOA is 25 miles south, then make a right turn onto Kinney Road.
IF COMING OVER HIGHWAY 128, DO NOT TAKE MOUNTAIN VIEW ROAD, CONTINUE ON 128 UNTIL HWY 1 NAVARRO BRIDGE AND TURN LEFT OVER BRIDGE TOWARDS POINT ARENA.
Get Google Directions
Feb 21, 2021
Nice facility and location. Roads were a muddy mess. A few loads of gravel are appropriate.
Feb 21, 2021
Roads need some work. Other than that, it is a very nice park. Staff was very friendly and helpful. Store was well stocked for the most part.
Feb 21, 2021
Friendly staff, well kept grounds.
Feb 20, 2021
Had a wonderful time at the KOA ( my first visit to KOA's) at Manchester CA The sites were spacious and well maintained, friendly staff The weather was ok had a few days of rain, few days of sunshine so it made the sites rather muddy that was the only downfall I wish some of the trails were dog friendly,however we made the best at the ocean and the botanical gardens in Fort Bragg.Highly recommen
Feb 20, 2021
The area was beautiful/well maintained & quiet. Loved my spot. Staff were friendly, but the young workers didn't have much knowledge of the local area. WiFi was horrid. They can at least have it stable. This day & age, some people want to get away & still be able to work. Lastly, it would be much better if they added gravel or decomposed granite to the roads. The level of mud was unacceptable,
Feb 20, 2021
You must give the staff, especially Yolanda, a big raise! They are truly wonderful! As for the cabin, we stayed in KT! which overall is the best fit for us and the most wonderful location on the property. The kitchen supplies need to be consistent, so I know what to bring. Also, a range in size of pans, and lids for at least two different ones. Cutting board would help. Overall, tho, wonderful!
Feb 20, 2021
We LOVED this site. Such a calm and peaceful stay. Campers were all so considerate, and friendly. Staff was so helpful with some troubles we had with our trailer. Beautiful grounds and great roomy sites. Super quiet and not crowded at all. Great clean private bathrooms and free showers. Two playgrounds which the kids loved and a long but easy walk to gorgeous sandy beach. We will be back for sure!
Feb 19, 2021
Reserved a trailer with a bunkhouse 57A, was told we were in 57. Stayed in 57 with two large teenage boys in a tiny pull out. The trailer leaked right over the boys bed, the oven didn't work right and the burner would go out while you were cooking. I loved the KOA but the sandpiper in site 57 needs to be retired and we were seriously disappointed with the reservation issue.
Feb 19, 2021
We were sorry we couldn't stay longer and definitely will next time. This was my first KOA camping experience it is was awesome. The cabins were super clean, warm and cozy, our dog was so happy in her little bunk/den. The staff was so kind and helpful.
Feb 18, 2021
We loved our stay at this campground! The location is fantastic- we were able to explore several beaches and cliffs and the area is extremely beautiful! The campground was clean and abs office staff was extremely warm and helpful. We will definitely be returning, especially once all the amenities are available after COVID restrictions are lifted.
Feb 18, 2021
We rented 4 cabins for a family group. One cabin had a problem with the heater, staff had a portable heater to us in less than 10 minutes. The grounds were kept clean at all times. The kitchen, bathrooms, and showers were well cared for. Always had HOT water! Staff was very friendly and accomadating. We have been coming here for many years and will continue to do so.
Feb 17, 2021
We stayed there because our destination was booked that night, but we were SO happy to have found the Manchester KOA. It was COVID safe, and had lots of options for outdoor activities. We stayed in a small cabin, which was warm and comfy. We will return!
Feb 16, 2021
Toooooooooo much mud. Bring in some base gravel especially for the main roads.
Feb 16, 2021
Excellent stay!
Feb 16, 2021
Mud flats Roads almost impossible to drive Left day early due to conditions Site access via roads rough and hard to drive Too many switch backs coming from any direction
Feb 16, 2021
Love live love. Great staff and awesome sites. Thank you. The Bennett's
Feb 16, 2021
We had a great time! Campground was clean and staff was friendly and very helpful. Only complain is that pool and all other amenities are still closed due to COVID.
Feb 16, 2021
I have been coming hear for over 15 years now and have always enjoyed the stay. Staff is friendly and polite, sites are always cleaned well and bathrooms and showers maintained. Great job to the staff
Feb 16, 2021
Nice place, close to the beach.
Feb 16, 2021
great stay, the only negative is the very weak WIFI signal.
Feb 16, 2021
It was an amazing weekend getaway with my boyfriend. Very clean & hospitable.
Feb 16, 2021
Great stay. The cabin was cozy ,warm and clean.
Feb 16, 2021
Staff was super friendly and helpful. Great location and an easy walk to the beach. Would have been nice to had more than one bathroom stall open at a time. Also recommend new gravel on the roads within the campground.
Feb 15, 2021
Absolutely loved the customer service! The staff was very attentive and responded with delivering wood and the black water service right away. Look forward to our next stay. Thank you all.
Feb 15, 2021
I really enjoy the tent area, especially when it is less crowded in winter. I only wish more bathrooms had been open because it seemed a bit unsafe for only one to be open. I loved the shower but it could've been cleaner. Thanks so much for your great hospitality!
Feb 15, 2021
It was good. Nice woodsy park next to a state park. Saw several deer in the evening.
Feb 15, 2021
Nice people. Clean. Hospitable. But, I can't say much because we ended up leaving and didn't stay the night. We chose this spot because the website said it had WiFi. This was a working vacation and work was impossible to do. It was such a disappointment. WiFi should not be listed on the website. WiFi is very hard to find in that section of the coast. Our previous campsite was much better.
Feb 09, 2021
This is a very nice campground. Kind staff/owner. Clean. Large dog park. Centrally located between area hot spots, although nothing is really close in that area. Fire pits, BBQ, Picnic table. We would recommend, and return again. It's a trek from Aptos. I would not recommend Hwy 1 from the south! Although you have to backtrack, take 128 from Cloverdale and head to campground from Hwy 1 north.
Feb 09, 2021
We enjoyed the campground. We loved hearing the frogs singing in the creek and being able to hear the ocean's roar in the distance. We enjoyed the mile walk out to the beach, seeing deer in the mornings and evenings, and loved the family vibe. It was our first time camping without our kids - they're grown now, but know they would have loved the campground when they were younger. We will be back!
Feb 09, 2021
Good!! Camp road were extremely muddy.
Feb 09, 2021
Great, clean and friendly people.
Feb 08, 2021
We really enjoyed our stay, and plan on returning with friends soon. Very clean and friendly atmosphere. Thank you.
Feb 08, 2021
It was wonderful. Loved the area. Have been coming there for the last 40 years.
Feb 08, 2021
Campground was ok, grounds pretty, most amenities unusable due to fears of Covid concerns, WiFi listed as limit. It was actually nonusable, I couldn't even get or pull up KOAs own website or my email. This facility needs a little updating in some areas especially if you're going to continue to charge the same rates
Feb 07, 2021
Well equipped facility with a very friendly staff.
Feb 05, 2021
I've never stayed at a KOA that was this awful. The roads were a hot mess of pot holes, puddles and just straight mud. It was unfortunate that we couldn't enjoy walking our dog through the campground at all during our 7 day stay. We were not enjoying our visit, so much that we left a day early. We did like the dog run, but the roads need gravel at absolute minimum. Won't likely be back.
CAMPGROUND RESPONSE / COMMENTS:
We are very sorry about the conditions of our road we are aware of the needs to fill up , however we cannot complete the job until we get dry weather conditions, hopefully you can give us another chance during the dry months Thank you and Happy Trails
Feb 04, 2021
This was the best KOA experience we've had. We definitely will be back and have let our friends know of this gem of a destination. The grounds were extremely well kept, the location perfect for a get away, and walking distance to the beach. We travel with our fogs and the dog park is incredible. We had problems with our rig and staff were VERY helpful. WAS VERY COVID AWARE. Thank you
Feb 04, 2021
This campground is very nice. The sites are spacious and have many trees. The staff are friendly and helpful. The dog park is spacious and lush with grass and trees. The enclosure for small dogs is too small, so we waited until there were no other dogs to run our small dogs in the entire enclosure. The dogs had a blast. No dogs allowed on the state beach, however, the humans enjoyed it a lot
Feb 04, 2021
While a lot of things are closed due to covid, there are still ways to make your campers feel welcome that was lacking from this trip. Broken and dirty bathrooms, trash and debris left in roads, limited access to showers with heaters, broken bathroom lights and locked bathrooms close to camp. If you charge me full price without all the amenities, the least you can do is make certain your clean.
Feb 27, 2021
Epic time here at Manchester Beach State Park. A wonderful family Road Trip getaway, clean, scenic grounds. We will be back for #Smores ⛱ DavidNLisaPatocchi #ROCKR 2/27/21
- David N Lisa Patocchi on Google
Feb 10, 2021
Getting there the was very windy😐😳 not good for traveling with animals once we got there it was beautiful 👌😍
- Vickie Winters on Google
Jan 23, 2021
We had such a great time! Such a beautiful place to camp. We felt super safe with our kids and the amenities made camping easy for the whole family. Thank you!
- Cassandra Helm on Google