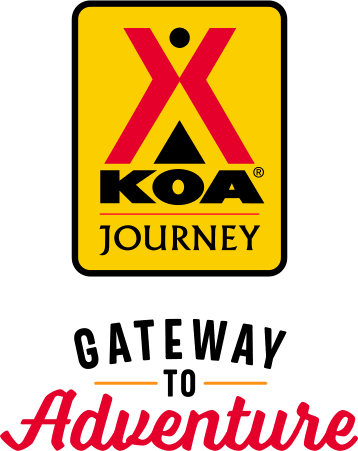 KOA Journey Campgrounds
KOA Journey campgrounds are the perfect oases after a day on the road. Whether it's along the way or a quick getaway, they've got you covered. Located near the highways and byways of North America with long Pull-thru RV Sites, they deliver convenience to the traveling camper. Pull in, ease back and take a load off.
KOA Journeys Feature:
Pull-through RV Sites with 50-amp service
Premium Tent Sites
Well lit after hours check-in service
Directions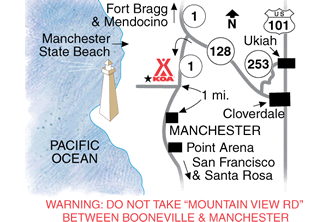 Hwy 1 at Manchester State Beach. 5 miles north of Point Arena; 38 miles south of Fort Bragg.  30 miles south of Mendocino. Mountain View Rd in Booneville not recommended (16% grade and winding). Stay on Hwy 128 to Navarro River Bridge, turn left and go over bridge. This is Highway 1 South. KOA is 25 miles south, then make a right turn onto Kinney Road.
IF COMING OVER HIGHWAY 128, DO NOT TAKE MOUNTAIN VIEW ROAD, CONTINUE ON 128 UNTIL HWY 1 NAVARRO BRIDGE AND TURN LEFT OVER BRIDGE TOWARDS POINT ARENA.
Get Google Directions
May 08, 2021
Gorgeous setting -- it felt like camping in a state park, but with all of the "glamping" amenities! Friendly staff, and everything is clean & well-maintained. Hoping to make a return visit in the near future!
May 08, 2021
We've been coming here for at least 30 plus years.We've graduated to the Deluxe cabins with their own bathroom but I always tell friends it's a great way to see the Mendocino area.its consistently clean and kid friendly.A fun way to stay near the ocean.
May 07, 2021
I love this park! It's so lovely in the beautiful woods and you can hear the ocean. The staff is so friendly and helpful. My dogs loved the dog park and walking through the trees. Can't wait to return.
May 07, 2021
The cabin we stayed in at $160 per night had water that was rusty and muddy. Apparently there was a well pipe repair and lines had not been throughly flushed. We were hesitant to take a shower or use the due to perception that water might be contaminated. There were ants all over the cabin. Also the WiFi was very slow and unavailable most of the time. The staff was pleasant and grounds were clean.
May 05, 2021
Staff was friendly, clean campsites, we rented a trailer from them it was well stock and a complimentary bottle of Husch wine upon entry. There WiFi unfortunately is terrible.
May 05, 2021
Good service, clean resort!
May 04, 2021
It was a great time. Staff was friendly, park was clean. We will be back!
May 04, 2021
It was amazing, and the staff was awesome!!
May 04, 2021
Definitely we will be back. The large campsites were nice. Campground was cleaned and well maintained. Loved the location.
May 03, 2021
Staff was amazing. Would like to see a bit more upkeep around the campground. ie roads, etc
May 03, 2021
We loved the campsite. Large sites and old growth trees make it very special. There is a nice two mile walk to the beach round trip. The bathrooms and showers need to be a bit cleaner. The WiFi was terrible. Almost useless.
May 03, 2021
Beautiful scenery, wonderful staff, warm pool�, and very clean! I can't say enough nice things about this place.
May 03, 2021
This is the 3rd time I stayed at a KOA location and it was a pleasant experience as usual. We couldn't enjoy our trip as much as we did without the clean bathroom, hot shower, store, etc. The only complaint is that comparing with KOA in San Antonio, we paid so much less (2/3 of the price) for even more amenities (like power outlets and umbrella attached to the picnic table at each campsite).
May 03, 2021
I love the Manchester Beach KOA.
May 03, 2021
Facilities were great and the staff was spectacular. We cannot wait to go back!
May 02, 2021
Sweet little cabin. Quiet in April; lots of privacy
May 01, 2021
This is a great campground! Very well organized , clean, maintained neat and orderly. Staff is friendly and attentive to every request! The only downside is the long and winding road to get there. Also, the lack of restaurants or places to shop for essentials and souvenirs may be viewed as a negative by some. Also, path to the (very nice) dog park has some exposed roots that could cause trips.
Apr 28, 2021
I was injured in my campsite and did fill out a accident report. There was a long into the ground that should have been removed long ago. Bud was going to remove it after we left on site #60. I love this campground and have stayed here many times. But this made this stay hard for I was in a lot of pain. Upon arrival at home, I had a whiplash that is pretty bad, injured wrists and ankles.
Apr 27, 2021
We had a great time. The property was very clean and well maintained. Helpful, friendly staff.
Apr 27, 2021
I wish there were more bathrooms throughout
Apr 27, 2021
Great location. Easy walk to the beach.
Apr 27, 2021
Very nice and relaxing. Beautiful setting.
Apr 27, 2021
Nice site. Would possibly look for site closer to ocean. All employees were great and informative.
Apr 26, 2021
We rented a cabin with a kitchen that was perfect for us. We had several campsites for our family and the staff made it easy for us to be close to each other. The kids loved the heated pool. We will be back! Thank you
Apr 26, 2021
Very clean. Nice hot showers. Friendly staff.
Apr 26, 2021
Too short! Nice park, clean pretty, helpful staff.
Apr 26, 2021
Your campground is in a beautiful location, on the Northern California coast. It's a short walk to the beach, you have an excellent staff. Who are always friendly and helpful, not to mention the way that they keep the camp area clean. We were very impressed by covid protocol which the staff maintained. The camp store is well stocked. We will definitely return to this KOA.
Apr 26, 2021
Been camping there since the 1970's. For the first time we had a bad experience. Camped next to someone who blared loud music for hours. Very annoying! We'll be back the weekend of 11th June. Hopefully a more peaceful stay.
Apr 26, 2021
Absolutely beautiful! Everyone was so nice! Definitely coming back!
Apr 26, 2021
Fantastic place... will come back... Staff very friendly... Only complaqint is " It went by way to fast"
Apr 25, 2021
3 of 6 driers in laundry room did not dry clothes, all clothes still wet. No reimbursement offered even after issue was reported to staff. "Don't use the drier's that don't work" was only help offered. Fire wood purchased from campground was wet and didn't burn. Again, brought to attention of staff and no help offered. Between wet firewood and driers not working, $20+ wasted.
Apr 25, 2021
Very nice park clean they had folks clean site after folks left saw them cleaning other buildings Sites were nice as well
Apr 24, 2021
Great campground with great people! Wonderful stay!
Apr 24, 2021
Stayed 3 nights in full hookup site with 35 ft 5th wheel. Plenty of room for trailer and truck. Quiet, clean and lots of trees to shade sites.
Apr 24, 2021
We were so impressed with the cleanliness and charm of this KOA! We hope they are all this nice!!
Apr 23, 2021
I understand the limited cable selection but you could only get one or two channels off of that Internet throughout the park would be nice so you're able to work or something like that if you had to
Apr 21, 2021
Very nice and a great place all around
Apr 20, 2021
This was our first time visiting this time of year. The weather was a little cooler, but the staff was just as warm and friendly as we've come to expect. The campground was beautiful and clean, and the store well stocked.
May 09, 2021
This place will work
- Manuel Rojas on Google
May 07, 2021
Loved loved loved this place I wish I didn't have to leave although there should be some type of a sign that says do not take mountain view road LOL
- Allison Cook on Google
May 04, 2021
We will be back! What a great place - all of slus enjoyed it. The little store had everything you'd want and then some. The staff is helpful and very friendly. The showers and sites were really clean. There was a little dog park if you bring your pooch. Super fun!
- Nadine Kirkpatrick on Google